40+ Self COMPASSION Quotes For Finding INNER PEACE
Self Compassion Quotes will help you to be more appreciative of yourself and find some peace in this chaotic and unfair world.
Why is self-respect important?
In order for a person to appreciate another person and to be appreciated, it is necessary to be aware of himself and his qualities and to be able to value them. Everyone has strengths and weaknesses, but it is important to recognize and distinguish them, both in yourself and in others. We have spoken about this on our quotes about dreaming big blog post.
If you respect someone because of his virtues, more precisely the qualities and values ​​that you like, it is important to know what those values ​​are, to literally count them, because you appreciate exactly those aspects of a certain person's personality.
Respect does not have to be a relationship with a person in general, but with some of his or her isolated qualities, and you have selected those qualities yourself according to your own affinities.
In the same way, when you know yourself and your qualities, you can very easily single out those qualities that you possess yourself, and appreciate them in others, but you have not realized that those qualities deserve respect in you as well.
Our Self Compassion Quotes Are Below. Also, check quotes about being unbothered and Trust Your Gut quotes.
*If you are using our images on your website, make sure to put a link back to us. THX.
---
Quotes About Self Compassion
Self-compassion is simply giving the same kindness to ourselves that we would give to others | Christopher Germer
---
Being human is not about being any one particular way; it is about being as life creates you | Kristin Neff
---
The privilege of a lifetime is being who you are | Joseph Campbell
---
It is a beautiful experience being with ourselves at a level of complete acceptance | Ruth Fishel
---
Love and compassion are necessities, not luxuries. Without them humanity cannot survive | Dalai Lama
---
Remember, you have been criticizing yourself for years and it hasn't worked. Try approving of yourself and see what happens | LOUISE L. HAY
---
Chasing a person doesn't give you value or build values in you. You earn your value by chasing morality and practicing dignity | Shannon L. Alder
---
If you do not respect your own wishes, no one else will. You will simply attract people who disrespect you as much as you do | Vironika Tugaleva
---
Prioritise self-care & incorporate a MINIMUM of 60 mins 'ME TIME' into your daily routine. YES THERE ARE enough hours in the day | Miya Yamanouchi
---
Drop the people who do not value you, respect you. Life has infinite horizons. Accept yourself, love yourself, and move forward | Amit Ray
---
Self Kindness Quotes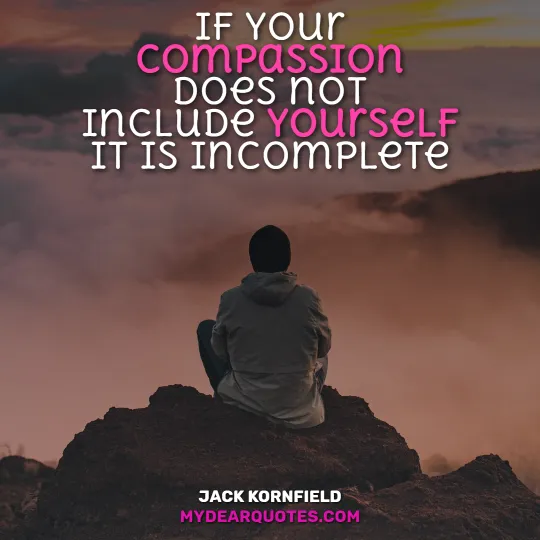 If your compassion does not include yourself it is incomplete | Jack Kornfield
---
I was once afraid of people saying 'Who does she think she is?' Now I have the courage to stand and say "This is who I am." | Oprah Winfrey
---
I am my own experiment. I am my own work of art | Madonna
---
I just want everyone to remember if you can love me. You can love yourself. Every single day | Lizzo
---
Loving Yourself is Healing the World! | Jaymie Gerard
---
You are imperfect, permanently and inevitably flawed. And you are beautiful | Amy Bloom
---
You yourself, as much as anybody in the entire universe, deserve your love and affection | Sharon Salzberg
---
Too many people overvalue what they are not and undervalue what they are | Malcolm S. Forbes
---
The only person who can pull me down is myself, and I'm not going to let myself pull me down anymore | C. Joybell C.
---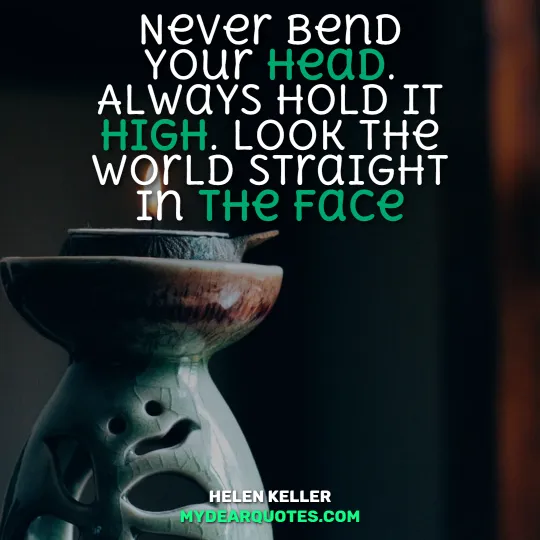 Never bend your head. Always hold it high. Look the world straight in the face | Helen Keller
---
Quotes About Self Kindness
Having compassion starts and ends with having compassion for all those unwanted parts of ourselves, all those imperfections that we don't even want to look at | Pema Chodron
---
You yourself, as much as anybody in the entire universe, deserve your love & affection | Buddha
---
"You have peace," the old woman said, "when you make it with yourself" | Mitch Albom
---
Stop beating yourself up for beating yourself up | Eleanor Brown
---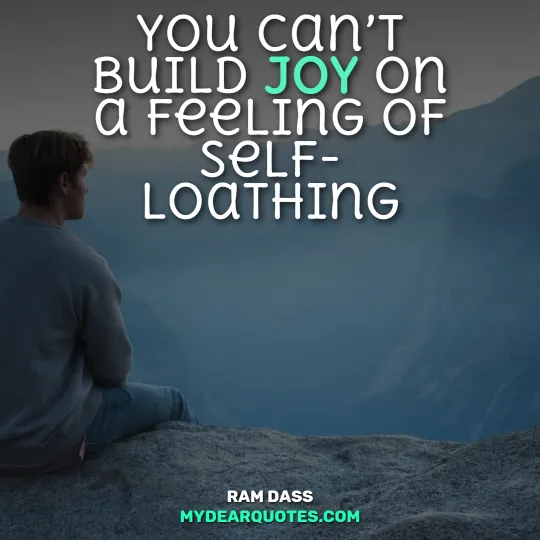 You can't build joy on a feeling of self-loathing | Ram Dass
---
When you say 'Yes' to others make sure you are not saying 'No' to yourself | Paulo Cohelo
---
Self-care is not selfish or self-indulgent. We cannot nurture others from a dry well. We need to take care of our own needs first, so that we can give from our surplus, our abundance | Jennifer Louden
---
Most unhappy people need to learn just one lesson: how to see themselves through the lens of genuine compassion and treat themselves accordingly | Martha Beck
---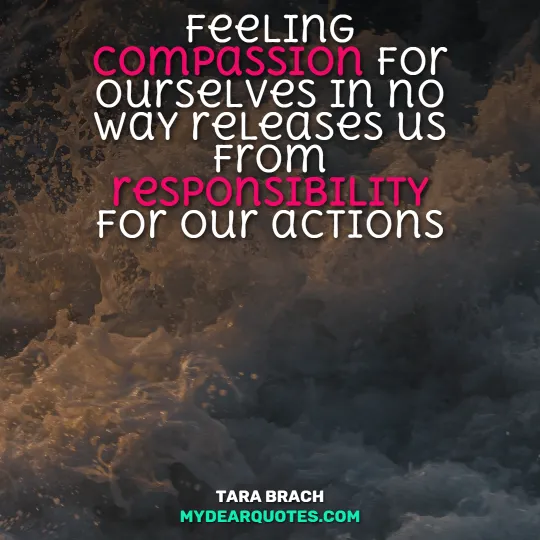 Feeling compassion for ourselves in no way releases us from responsibility for our actions | Tara Brach
---
The most terrifying thing is to accept oneself completely | Carl Jung
---
Self Compassion Sayings With Images
The irony of self compassion is that you're actually extending love to yourself
---
We all have the potential to be our own best friend, and we need to remember that when we're in tough times
---
It's not selfish to put yourself first, it's necessary
---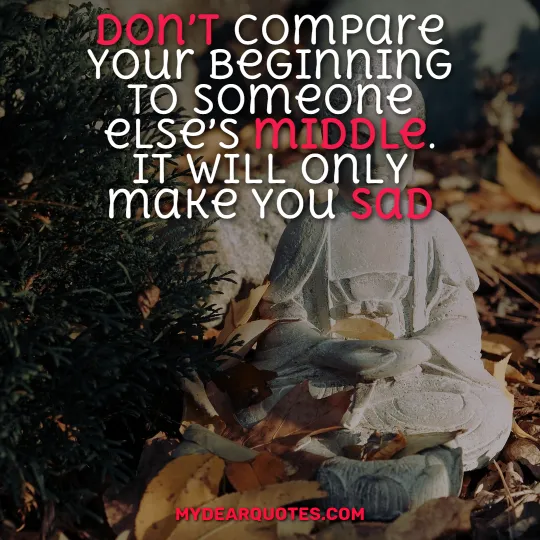 Don't compare your beginning to someone else's middle. It will only make you sad
---
Self compassion is not self-indulgence, it's self-care
---
Many of us have so many responsibilities in life that we forget to take care of our personal needs | Elizabeth Scott
---
Self compassion is how you take your power back | Lalah Delia
---
Self-love means valuing yourself as a human being, accepting yourself without conditions, and having a high regard for your own well-being | Rebecca Dolgin
---
Imagine if we obsessed about the things we loved about ourselves | Unknown
---
Self compassion motivates like a good coach, with kindness, support, and understanding, not harsh criticism | Kristin Neff
---
Share the images if you liked our Self Compassion Quotes. Thank you.
---
---