40+ HAPPY MOOD Quotes That Will Lift Your Spirit
We have more than forty happy mood quotes with images that will lift your spirit and put a smile on your beautiful face.
For some of us, the current situation is a source for a lot of stress. For others among us it is not so bad, we manage to find meaning and satisfaction in the things that new circumstances bring for us.
It is most likely, however, that you are somewhere in the middle on the scale between these two examples and that your experience of the situation varies from day to day. Quotes for good person is a resource that you can use for your research.
Wherever you are on that scale, it would be good not to wait for your mood to improve on its own once all this is over, because it probably won't happen unless you take some steps in that direction right now. Here are some specific suggestions:
Happy Mood #1 – Provide yourself with enough quality sleep
Sufficient amount of quality sleep has a positive effect on mood, our intellectual capacity, ability to work, learn and cope with stress. What should you do? Make sure you get seven to eight hours of sleep each night.
Happy Mood #2 – Be physically active for half an hour a day
If you are a person who normally likes to exercise, you will probably easily adapt to exercising in isolation. However, if you don't like it, this situation can further demotivate you, even though everybody know that physical activity is invaluable for mental health, especially in such circumstances.
Happy Mood #3 – Do something good for someone else
At a time, when everything we hear for days is "take care of yourselves", the fact is overlooked that numerous studies have shown that doing good for others has a better impact on our own sense of satisfaction than when we do the same for ourselves.
Happy Mood #4 – Write a thank you journal
Write down three to five things you are grateful for each day. Sometimes things seem so hopeless that there doesn't seem to be much reason to be grateful.
Happy Mood #5 – Do breathing and relaxation exercises
The effect that mindfulness exercises and mindfulness quotes have on our physical and mental health has been confirmed countless times. One of the simplest ways to become more resilient to stress and improve your mood is to practice breathing exercises every day.
Ok, now let`s start with our happy mood quotes.
*If you are using our images on your website, make sure to put a link back to us. THX.
---
Happy Mood Inspirational Quotes
There is no path to happiness; happiness is the path | Buddha
---
I have chosen to be happy because it's good for my health | Voltaire
---
No medicine cures what happiness cannot | Gabriel García Márquez
---
There's nothing like deep breaths after laughing that hard. Nothing in the world like a sore stomach for the right reasons | Stephen Chbosky
---
You cannot protect yourself from sadness without protecting yourself from happiness | Jonathan Safran Foer
---
Happiness is a gift and the trick is not to expect it, but to delight in it when it comes | Charles Dickens
---
The supreme happiness of life is the conviction that we are loved | Victor Hugo
---
Do not look for happiness outside yourself. The awakened seek happiness inside | Peter Deunov
---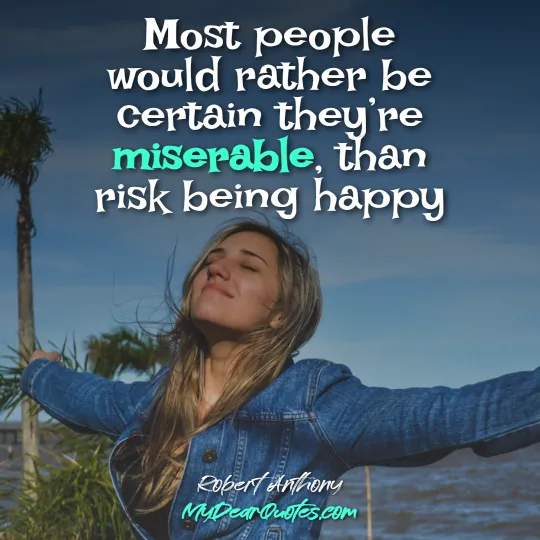 Most people would rather be certain they're miserable, than risk being happy | Robert Anthony
---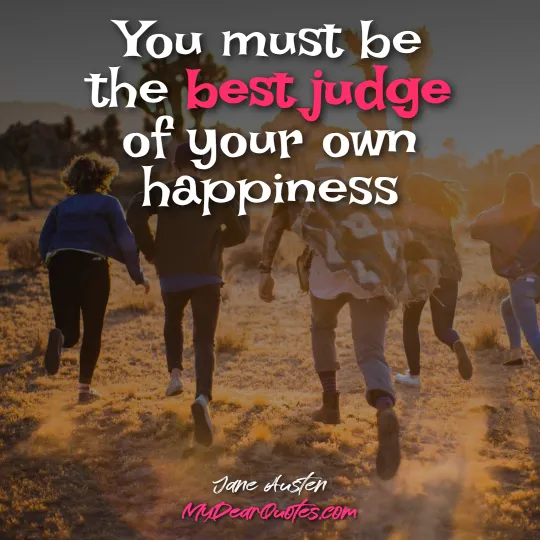 You must be the best judge of your own happiness | Jane Austen
---
Happy Mood Captions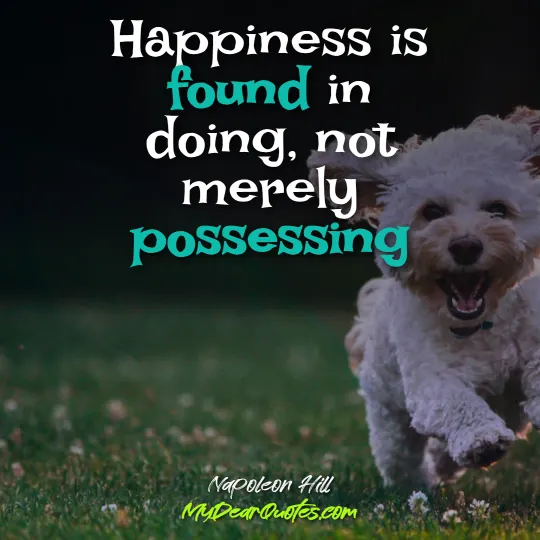 Happiness is found in doing, not merely possessing | Napoleon Hill
---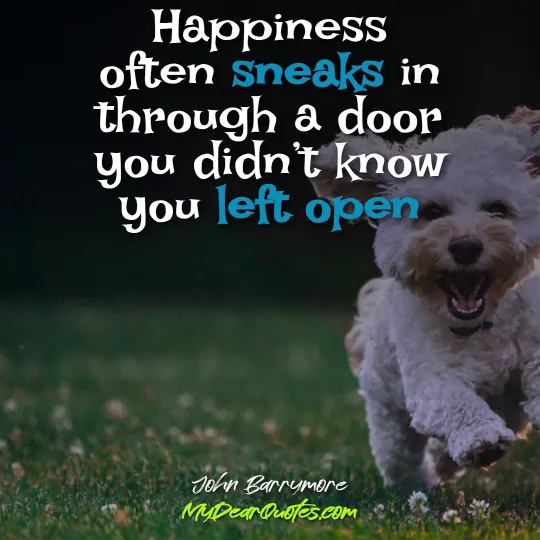 Happiness often sneaks in through a door you didn't know you left open | John Barrymore
---
Some cause happiness wherever they go; others whenever they go | Oscar Wilde
---
Happiness doesn't depend on any external conditions, it is governed by our mental attitude | Dale Carnegie
---
Happiness is the meaning and the purpose of life, the whole aim and end of human existence | Aristotle
---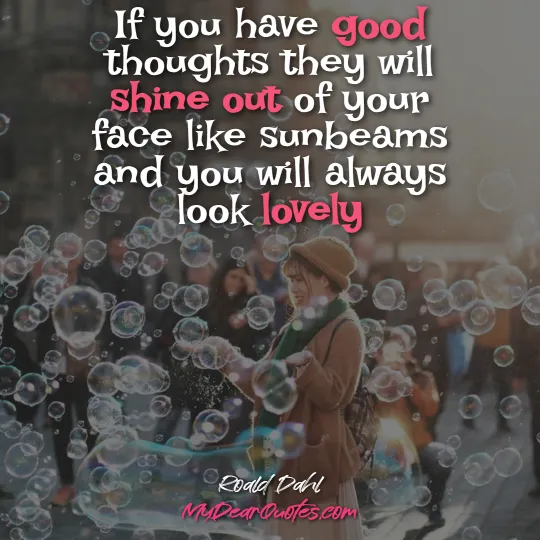 If you have good thoughts they will shine out of your face like sunbeams and you will always look lovely | Roald Dahl
---
Be believing, be happy, don't get discouraged. Things will work out | Gordon B. Hinckley
---
Every day make it a point to be the reason for someone's smile | Trishna Damodar
---
Spend more time doing things that make you forget about the time | Charlotte Eriksson
---
There is a strange comfort in knowing that no matter what happens today, the Sun will rise again tomorrow | Aaron Lauritsen
---
Quotes About Good Mood
Happiness doesn't depend on what we have, but it does depend on how we feel toward what we have | William D.Hoard
---
Success si not the key to happiness. Happiness is the key to success. If you love what you are doing, you will be successful | Albert Schweitzer
---
Very little is needed to make a happy life; it is all within yourself, in your way of thinking | Marcus Aurelius
---
There are two ways to be happy: improve your reality, or lower your expectations | Jodi Picoult
---
Don't wait around for other people to be happy for you. Any happiness you get you've got to make yourself | Alice Walker
---
My style is definitely schizophrenic; it does change from day to day a lot. It depends on my mood | Amber Le Bon
---
I feel like music can affect you in so many ways. When you hear a song with a happy melody… it can change your day | Kygo
---
A good mood is like a balloon. One little prick is all it takes to ruin it | Samsoniter
---
Stop wasting your time looking for the key to happiness… the door is open and unlocked… just walk through it | Steve Maraboli
---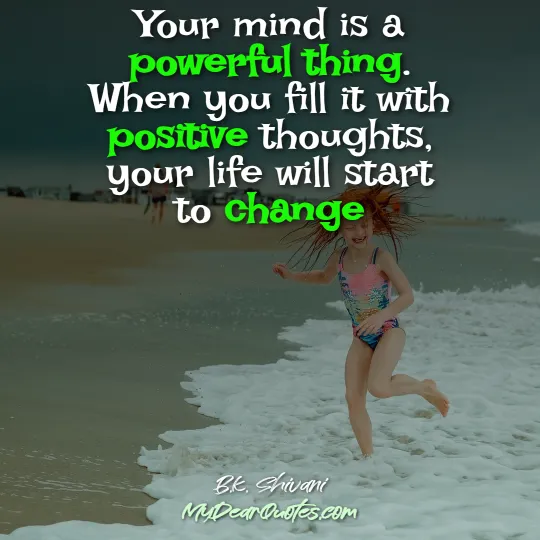 Your mind is a powerful thing. When you fill it with positive thoughts, your life will start to change | B.K. Shivani
---
Motivational sayings about happiness
Thousands of candles can be lit from a single candle, and the life of the candle will not be shortened. Happiness never decreases by being shared | Buddha
---
Most people are about as happy as they make up their minds to be | Abraham Lincoln
---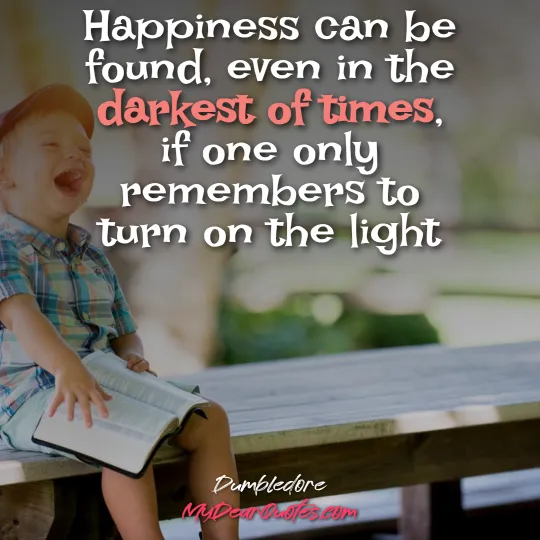 Happiness can be found, even in the darkest of times, if one only remembers to turn on the light | Dumbledore
---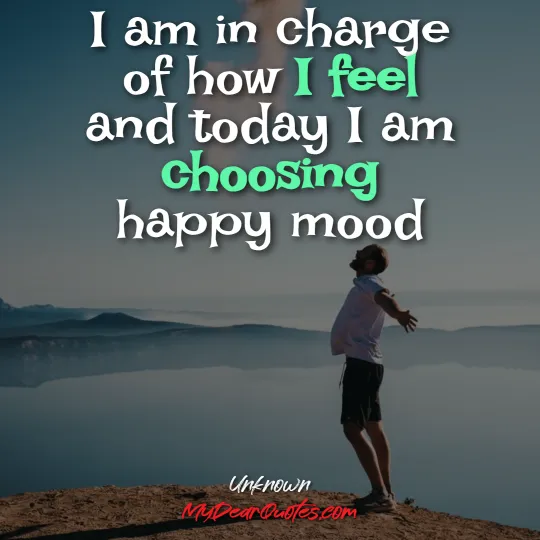 I am in charge of how I feel and today I am choosing happy mood | Unknown
---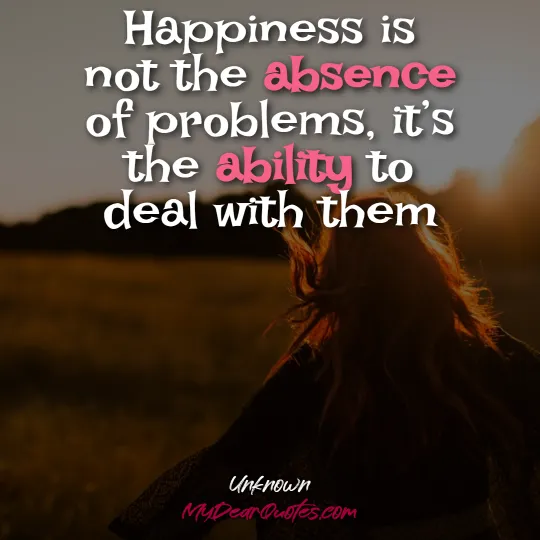 Happiness is not the absence of problems, it's the ability to deal with them | Unknown
---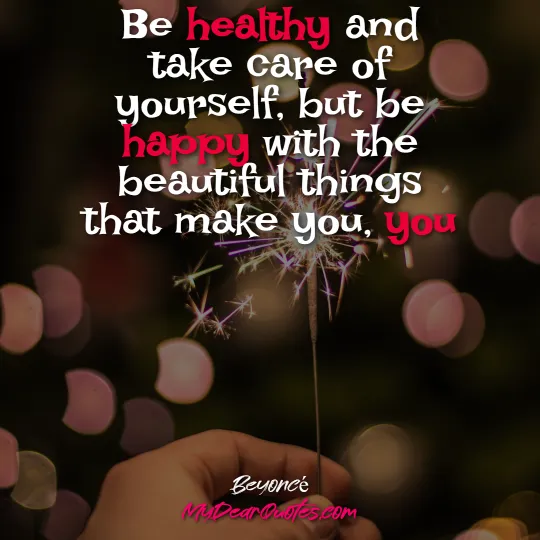 Be healthy and take care of yourself, but be happy with the beautiful things that make you, you | Beyoncé
---
You can't stop the waves, but you can learn to swim | Jon Kabat Zinn
---
If you have only one smile in you give it to the people you love | Maya Angelou
---
Embrace the glorious mess that you are | Elizabeth Gilbert
---
The only thing that will make you happy is being happy with who you are | Goldie Hawn
---
Our Happy Mood Quotes are shareable. Hover over them or touch the images(mobile), and you will get a Pinterest share option. Thank you.
---
---