Take A Chance Quotes [POWERFUL Images]
Hello. Our Take A Chance Quotes Is A Collection From Some Of The Most Inspiring Writers, Philosophers, And Actors. We All Know That Decision Making Is One Of The Most Important Skill Everybody Should Have.
Well, Getting This Part Wrong Can Take You Spiraling Down To The Bottom. Chances Make Champions. That Is Why You Should Always Take Your Chances And Don't Let Them Pass Away. In This Post, You Will Find Beautiful Images That You Can Use For Social Sharing. So, Please, Spread The Word.
*If you are using our images on your website, make sure to put a link back to us. THX.
Take The Chance Quotes
---
Take a chance! All life is a chance. The man who goes farthest is generally the one who is willing to do and dare | Dale Carnegie
---
Life was about taking chances. Going for what you wanted so that you didn't get old and have pages of regrets | Mariana Zapata
---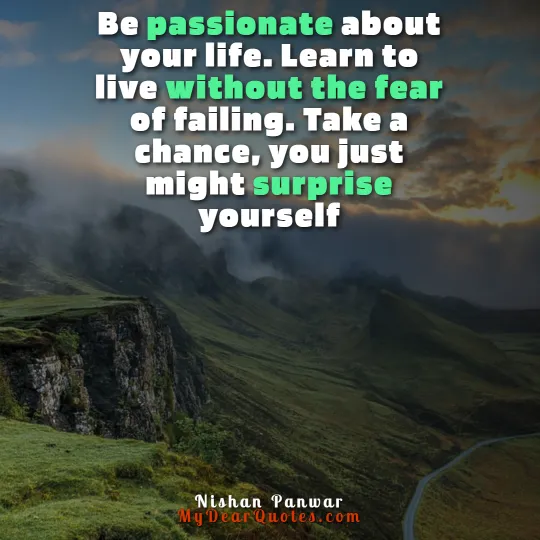 Be passionate about your life. Learn to live without the fear of failing. Take a chance, you just might surprise yourself | Nishan Panwar
---
Progress always involves risks. You can't steal second base and keep your foot on first | Frederick Wilcox
---
Our lives improve only when we take chances – and the first and most difficult risk we can take is to be honest with ourselves | Walter Anderson
---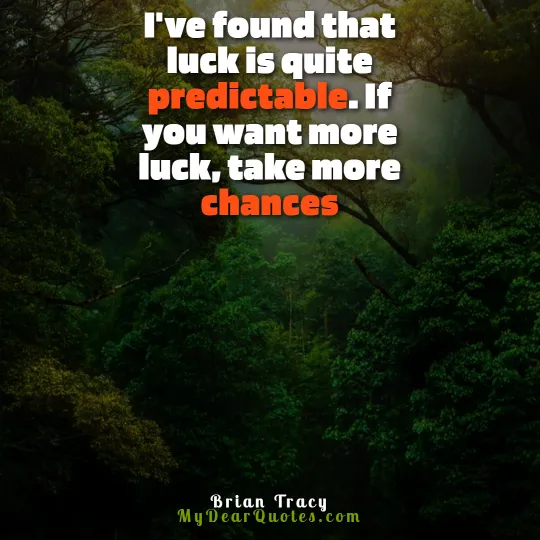 I've found that luck is quite predictable. If you want more luck, take more chances | Brian Tracy
---
Your regrets aren't what you did, but what you didn't do. So I take every opportunity | Cameron Diaz
---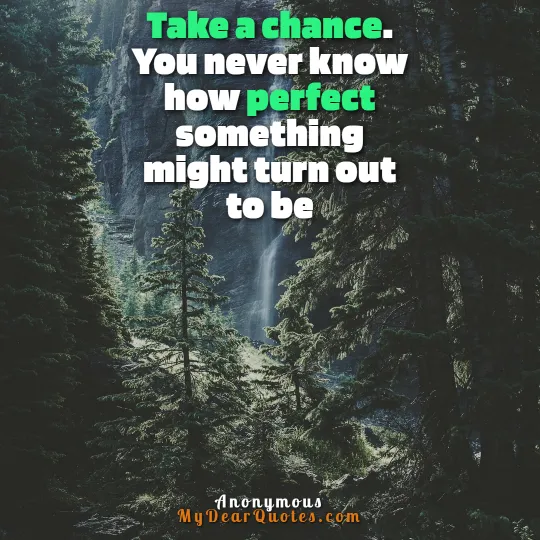 Take a chance. You never know how perfect something might turn out to be | Anonymous
---
Take A Chance On Love Quotes
---
If you stop being afraid of the word no and take more chances, you will get more yes | Jeanette Coron
---
Go out there and try to be good. If you go out there and try to be good, you've got a chance to be great | Preet Bharara
---
Do you want to be safe and good, or do you want to take a chance and be great? | Jimmy Johnson
---
I say if you're going to take a chance on something, you just go full balls to the wall | Toby Keith
---
But now I realize that this record business really needs me. No one else is trying to take a chance or do something different | Erykah Badu
---
The thing is most people are afraid to step out, to take a chance beyond their established identity | Demi Moore
---
It's so much worse to live in regret in your forties than it is to take a chance in your late twenties | Donna Lynne Champlin
---
Quotes About Taking Chances In Life
---
Trust your heart if the seas catch fire, live by love though the stars walk backward | E.E. Cummings
---
"In case you never get a second chance: don't be afraid!" "And what if you do get a second chance?" "You take it!" | C. JoyBell C
---
To live, to TRULY live, we must be willing to RISK. To be nothing in order to find everything. To leap before we look | Mandy Hale
---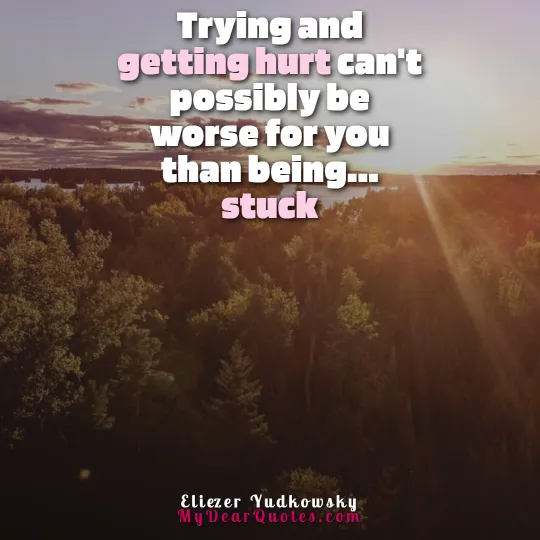 Trying and getting hurt can't possibly be worse for you than being… stuck | Eliezer Yudkowsky
---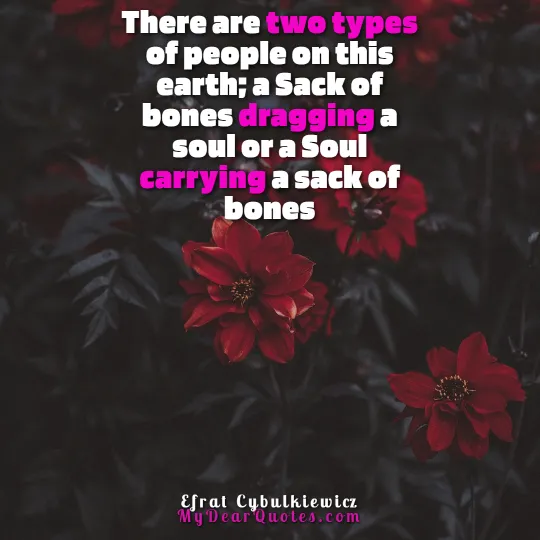 There are two types of people on this earth; a Sack of bones dragging a soul or a Soul carrying a sack of bones | Efrat Cybulkiewicz
---
If you are never scared, embarrassed or hurt, it means you never take chances | Julia Soul
---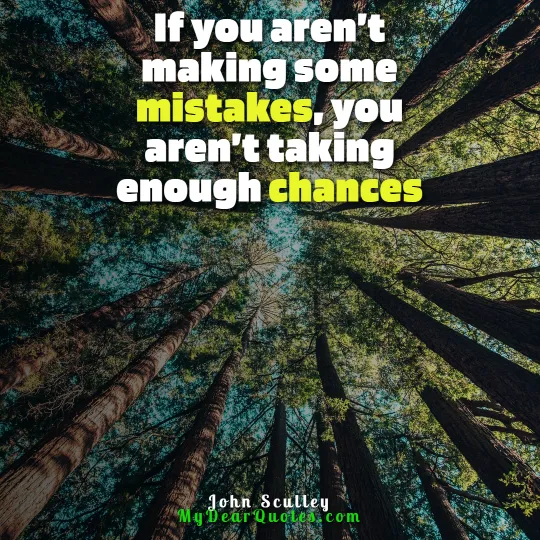 If you aren't making some mistakes, you aren't taking enough chances | John Sculley
---
In The End We Only Regret Quotes
---
It's not because things are difficult that we dare not venture. It's because we dare not venture that they are difficult | Seneca
---
Take chances, make mistakes. That's how you grow. Pain nourishes your courage. You have to fail in order to practice being brave | Mary Tyler Moore
---
If you want to achieve a high goal, you're going to have to take some chances | Alberto Salazar
---
If you're not scared then you're not taking a chance. If you're not taking a chance then what the hell are you doing anyway | Ted Mosby
---
To dare is to lose one's footing momentarily. To not dare is to lose oneself | Sren Kierkegaard
---
You learn so much from taking chances, whether they work out or not. Either way, you can grow from the experience and become stronger and smarter | John Legend
---
He who takes no chances wins nothing | Danish Proverb
---
Take a chance. You never know how perfect something might turn out to be | unknown
Take A Chance Despite The Risk
What is translated in the movies as "take a risk" in a literal translation would be "take a chance", that is, use the opportunity. You need to be clear-minded. You can read about that on mindfulness quotes. And yes, maybe someone should tell us that, every time we hesitate and before we embark on calculations.
Risk is an opportunity without a guarantee. Staying in the safety zone is a guarantee that nothing will happen. At least for a while, until the safe zone becomes so tight, restraining and threatening, that it pushes you out on its own and forces you to take risks, from which you tried to hide.
The context of the term "risk" in our language is negative. We do not have an adequate interpretation that would indicate a chance, except for this unfortunate "use of opportunity" which also has a negative context. You can read more about use of opportunity on unbothered quotes.
To take risks means to find ourselves in a situation that we cannot control and make a secure profit, and since we do not think about the broader context of courage and trust for which we receive support from the very source of life, then risk means we can lose something.
Using the opportunity usually means that we need to do something small-owned, to our advantage, which is not very legitimate, but it is reliable and is realized quickly. It was as if we were digging up the circumstances in a hurry, while they were not watching and working against us. It is as if we expect everything to work against us if we are not fast enough, skilled, and able to use opportunities.
It is harder to take risks in adulthood because we have more to lose, but there are moments when everything we have is worth the risk because we are very aware that we may have been given one last chance, while we are still strong and vital.
You should follow your dream and stay positive. These chase your dream quotes can help in achieving that.
Sometimes, regardless of age and maturity, life presses us so much that we clearly feel that we will just break down if we just twist a little more to adjust. Then we become aware of how long we have been living accustomed to an extremely uncomfortable position, how much we have dislocated and stiffened trying to understand suffering as tolerance.
That was all we have for you in our Take A Chance Quotes post. We hope you enjoyed it. Feel free to look around. We have more quotes and sayings.
---
---