50+ Happy Birthday Blessings With SHAREABLE Images
We have a beautiful collection of Birthday Blessings Images to show appreciation to your close friends and make their day, a special day.
You can find inspiration in every corner of life, only if you have eyes to see it. Even the simplest words can inspire us to achieve great things in life. Birthdays are especially given of great importance in one's life, which can be great opportunities to share some wisdom.
Everyone needs some inspiration in life. Some need it for a bright future, some need it to make their dreams come true, and some just need to feel special. In one day you may have the opportunity to be their beacon, their silver lining in the clouds. More on Thursday Blessings.
Special occasions give us the opportunity to celebrate life and the multitude of wonderful memories that life brings. And, there is nothing more special than leaving a special message to a loved one. Using a blessing for a happy birthday is one of the best ways to convey our wish to someone who is celebrating his / her birthday. For good Tuesday inspiration check Tuesday blessings.
Sending religious wishes for a birthday to a celebrant is very important in the sense that it can bring positive emotions into it, including hope and optimism. This leads to the upliftment of one's spirit in order to give him / her strength in the following chapters. To better prepare them for the upcoming trip, send them a birthday prayer or Christian birthday greetings.
Instead of a traditional birthday card, here are a few inspiring birthday blessings that could motivate your loved ones, family, and friends on their special day. More on Wednesday Blessings.
*If you are using our images on your website, make sure to put a link back to us. THX.
---
Birthday Blessings Images For Loved One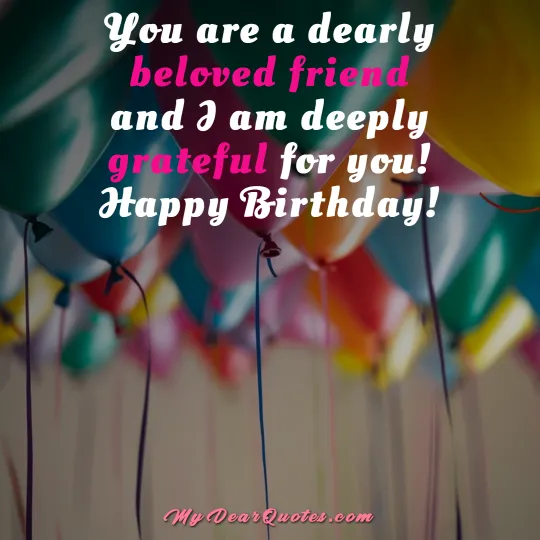 You are a dearly beloved friend and I am deeply grateful for you! Happy Birthday!
---
Wishing you a beautiful and wonderful birthday filled with abundant blessings
---
Your soul is precious to me and I wish you every blessing on your birthday
---
Hope your birthday is one of blessing, joy, peace, and love that satisfies the soul
---
A sweet friendship refreshes the soul – happy birthday to a wonderful and faithful friend
---
May showers of blessings fall upon you as you celebrate this very special day of your birth. Happy birthday, my dear
---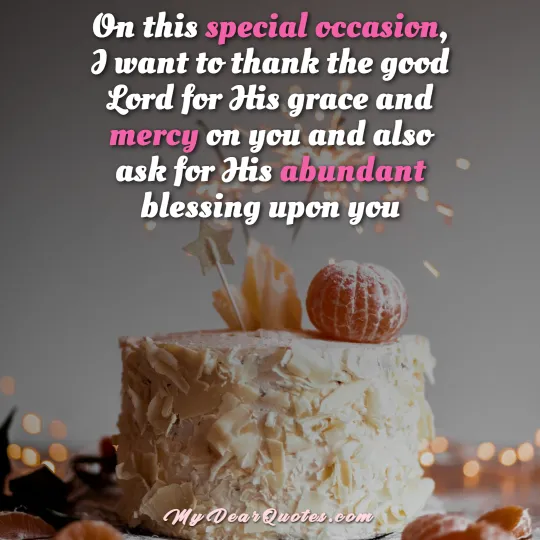 On this special occasion, I want to thank the good Lord for His grace and mercy on you and also ask for His abundant blessing upon you
---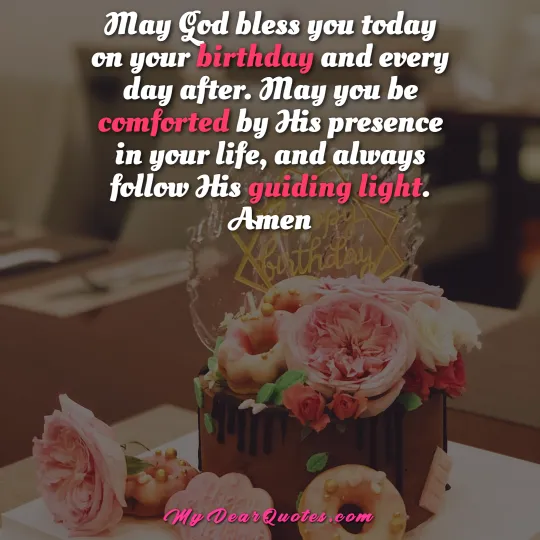 May God bless you today on your birthday and every day after. May you be comforted by His presence in your life, and always follow His guiding light. Amen
---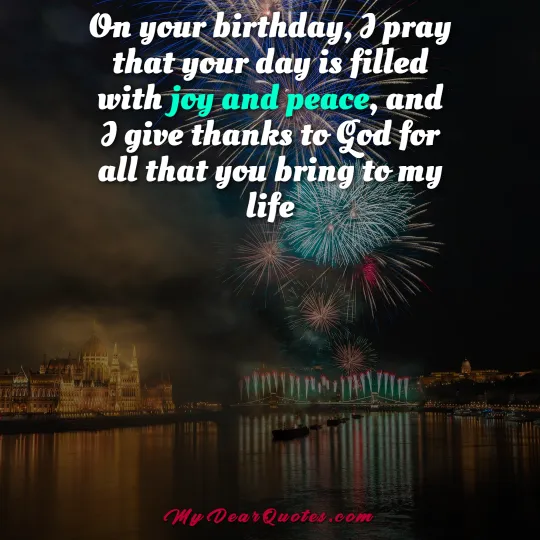 On your birthday, I pray that your day is filled with joy and peace, and I give thanks to God for all that you bring to my life
---
May the LORD bless you on your birthday, and may your day be filled with joy and your year full of many blessings. Happy Birthday
---
Happy Birthday Spiritual Images
I pray that your special day will be as amazing as you are! May God never stop showering you with so many blessings in life
---
May your birthday be filled with the peace and blessings of God's favor upon your life today and every day
---
Prayers for God's guidance and wisdom as you live out the beautiful life He has blessed you with. Happy birthday all my prayers will be with you
---
May you feel the warmth of God's love surrounding your heart today and always. Many Prayers on your birthday
---
May the blessings of our heavenly Father inspire you to live a life of joy and grace as you celebrate another birthday
---
Heavenly Father, on my daughter's birthday I pray that she will always find confidence in You, God, even when hard times come and she doesn't know what to do, by keeping her eyes fixed on You. Amen
---
Happy Birthday dear brother. May God's blessings be upon you today and every day. May you be guided by His love for you, and find comfort in His care. May you grow to know and love Him more each day. Amen
---
Dear Father, I thank you for my sister, for all that she means to you and to me. Grant her peace, happiness, and contentment in You today and everyday. Amen
---
Thank you Lord for my fantastic husband on his birthday! Bless him today and every day with love, laughter, stability, and happiness!
---
Wishing the happiest of birthdays for the best of friends! Praying for God's richest blessings for you over the year ahead
Have a blessed birthday images
Today I am wishing you a blessed birthday, my friend. You truly are one of God's greatest gifts to mankind and I am so grateful for having you in my life
---
I'm praying for God to provide you with all the love and happiness you so deserve for this glorious year ahead
---
I hope that your birthday this year blesses you with good health and surrounds you with love
---
You are the kindest, most caring human being I have the pleasure of knowing, and for those reasons alone I hope that this year ahead blesses you with all the love and joy you so rightfully deserve
---
We must bless this day, as today marks the anniversary of when a truly remarkable human being entered this world! Let us rejoice in the celebration of your special day! All my love and best wishes go out to you today, dear
---
To one of the best guys I know, I hope your birthday is as great as you are
---
Wishing you the very best of days! May God bless you abundantly this year
---
May God comfort you and bless you today with His peace-filled presence now and always
---
Wishing you a year filled with the warmth of family, the joy of friends, and the love of our father
---
Dear friend, I pray that you may enjoy good health and that all may go well with you
---
God bless you on your birthday images
Happy birthday! May the Almighty God bless you with a life that's filled with love, joy, and happiness! Above all, may you find favor in God's eyes always
---
Happy birthday, my dear! I pray that your birthday will be as fun and sweet as you are! Above all, may you remain blessed no matter what your circumstances are
---
On your special day, I just wanted to thank the Lord Almighty for His mercy and grace upon you. May he continue to shower abundant blessings upon you! Enjoy your day
---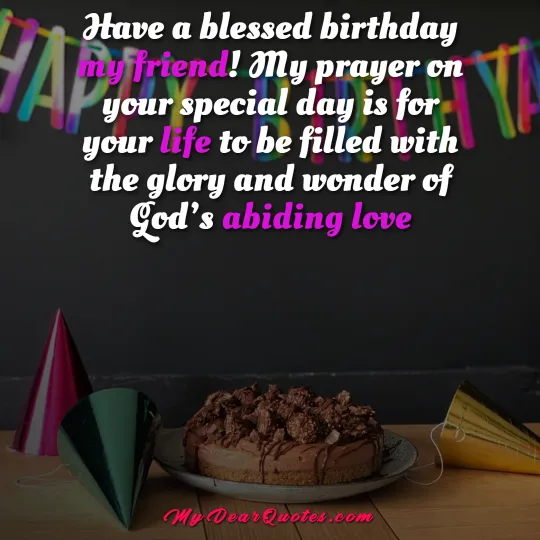 Have a blessed birthday my friend! My prayer on your special day is for your life to be filled with the glory and wonder of God's abiding love
---
Blessed birthday to someone who never stops to amaze me with her dedication and drive. Always remember that faith is the seed of inspiration so keep on aiming high until you reach your dreams
---
I praise God for you mom! Thank you for everything you have done. I hope your Birthday is filled with God's perfect love and joy
---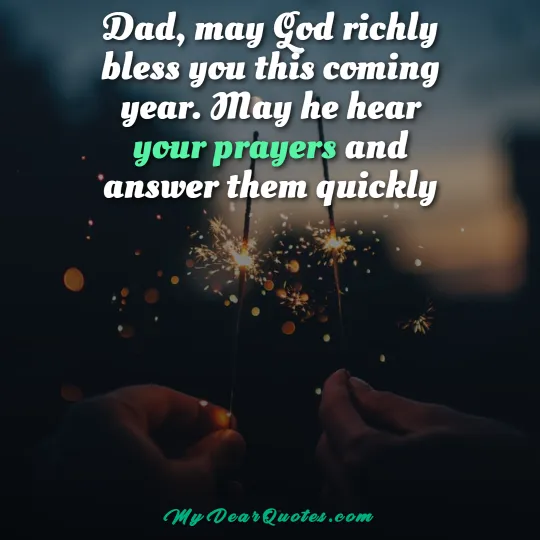 Dad, may God richly bless you this coming year. May he hear your prayers and answer them quickly
---
With every year that goes by I thank God that I get to spend it with you. Happy Birthday to my beautiful wife
---
Dearest husband, May the Lord overflow His abundant love and grace to you on your birthday
---
Grace and peace to you on your birthday. You are more than a daughter to me. You a treasure that God gave me as a gift
---
Best Wishes For You
I call for guardian angels to watch and guide you all the time. Many happy returns
---
Celebrate this fantastic day with the knowledge that the Almighty God guides and watches you as you journey through life. Have a wonderful day full of memories that you will cherish all your life
---
As you celebrate, dear friend, I pray for total happiness and sunshine in your life. Your destiny will never meet with the darkness, and have a wonderful day full of joy
---
Nobody has ever had a significant influence on my life as you have done. I pray that you remain blessed for the rest of your mortal life. Have a wonderful day, my dear
---
To someone, I am proud of in the Lord. I pray for sustained growth in grace and character are my wishes for you! May Yahweh satisfy you with His fullness. You are loved! Happy birthday my best pal
---
May you always be blessed with what you deserve. Wishing you a very happy birthday, my dear
---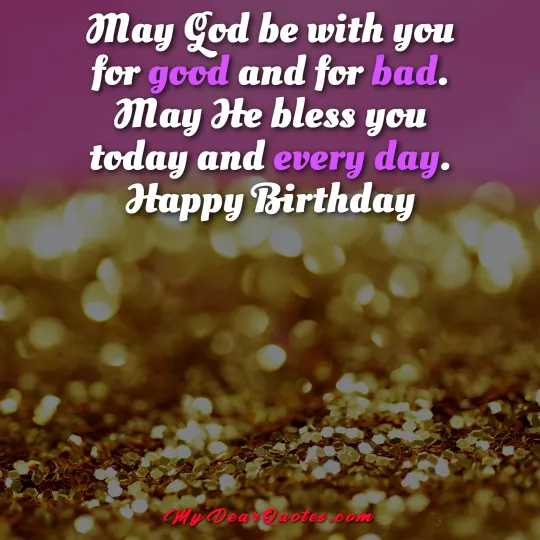 May God be with you for good and for bad. May He bless you today and every day. Happy Birthday
---
Every time I look at you, I silently chant a whisper of gratitude to God for having someone like you in my life. Happy birthday, sunshine
---
Move from glory to glory, May the Almighty save you from evil eyes. I wish you the happiest of birthdays
---
I am extremely blessed to have someone like you in my life. I pray that the Almighty showers your life with all that is good for you
---
If you liked our birthday blessings images, hit that share button.
---
---