Thursday Blessings With Images
Super Inspiring Thursday Blessings With Images for your midweek dose of inspiration and motivation. It's the best day to start your preparations for the weekend.
Our Thursday Blessings will help you celebrate the achievements you have made and reflect on the lessons learned during the week. Be filled with positive thoughts, be motivated, and encouraged on this special day. You can check images for the next day on Friday Blessings.
If you're looking for motivational good morning quotes that perfectly capture what you'd like to say or just want to feel inspired, check out the amazing collection of inspirational weekend quotes, amazing Saturday quotes, and famous new daily quotes.
you are using our images on your website, make sure to put a link back to us. THX.
---
Thursday Blessings Inspiration
I make love like I make coffee. Tuesdays and Thursdays I offer free refills | Jarod Kintz
---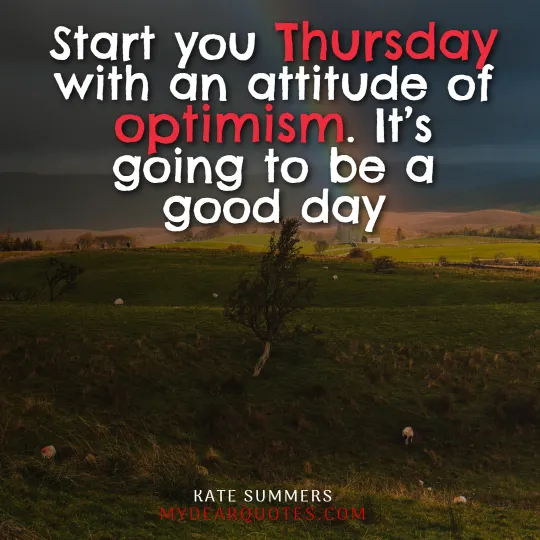 Start you Thursday with an attitude of optimism. It's going to be a good day | Kate Summers
---
Thursday is one day closer to my expectation that everything I have done through the week culminates in progress | Byron Pulsifer
---
Thursdays bring a focus to our week to complete all that needs to be done | Byron Pulsifer
---
On this Thursday take nothing for granted. Look around and show gratitude for your work, your family, and your friends | Theodore W. Higginsworth
---
Thursdays and mornings just don't mix. Nothing goes with mornings
---
One of the best things you can do on Thursday is to keep yourself held accountable for your goals
---
Good Morning! Happy Thursday! One small positive thought in the morning can change your whole day
---
Positive Thursday Blessings
---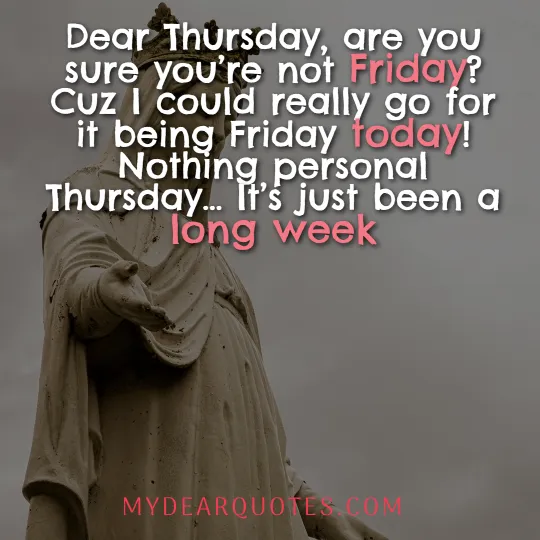 Dear Thursday, are you sure you're not Friday? Cuz I could really go for it being Friday today! Nothing personal Thursday… It's just been a long week
---
Even if you are sad, common stand up and jump up or have you forgotten that today is a Blessed Thursday
---
Here I am welcoming you to another beautiful Thursday. You're so special to God which is why He has made you see the day
---
Stay positive and courageous today. This thursday has a lot of blessings and privileges to offer you
---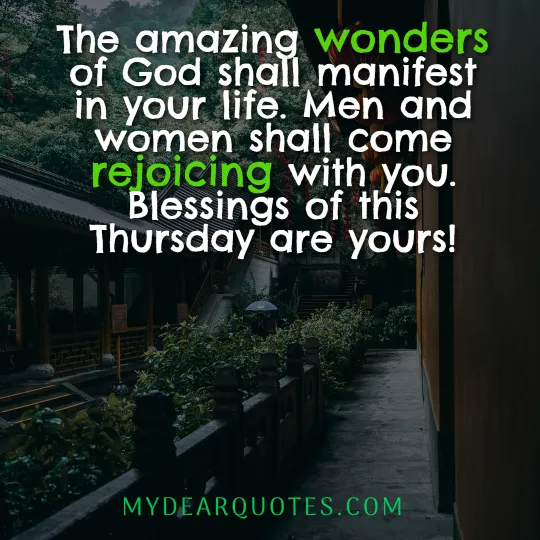 The amazing wonders of God shall manifest in your life. Men and women shall come rejoicing with you. Blessings of this Thursday are yours!
---
May you be surrounded by the love of God and the bliss of heaven. The beauty of paradise will fill your soul
---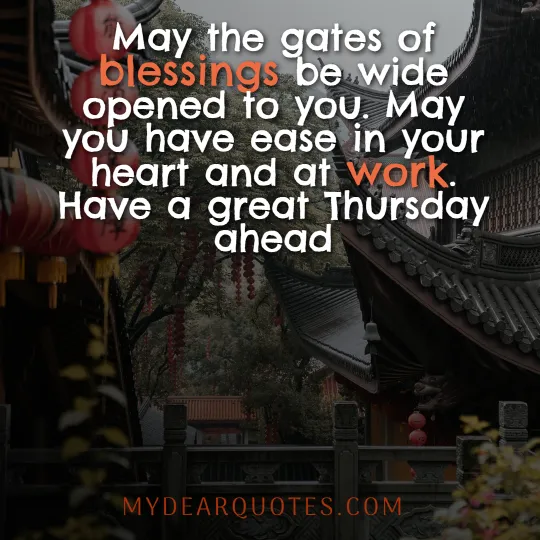 May the gates of blessings be wide opened to you. May you have ease in your heart and at work. Have a great day ahead
---
Thankful Thursday Blessings
---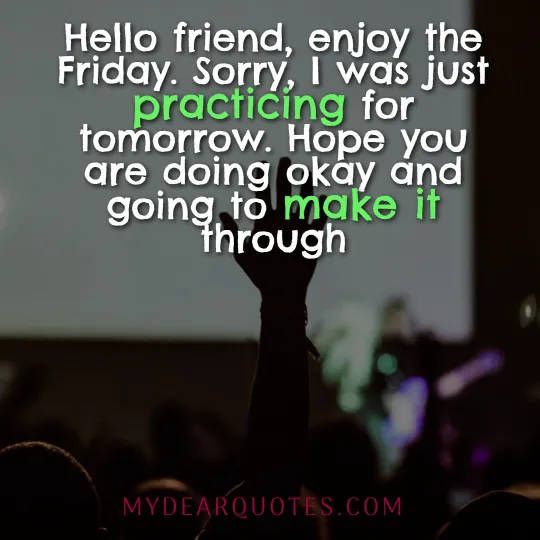 Hello friend, enjoy the Friday. Sorry, I was just practicing for tomorrow. Hope you are doing okay and going to make it through
---
Give your soul some rest and seize the moment with your charm. Have a blessed Thursday!
---
As the bright sunshine, hope your day be blessed with positivity and cheerful thoughts. Wishing you a happy Thursday
---
As it is Thursday again, make your way to greet the workload and start preparing for the weekend
---
Thursday is perhaps the worst day of the week. It's nothing in itself; it just reminds you that the week has been going on too long
---
Each Thursday is an opportunity to grow. I hope we make the most of it
---
When you arise on this Thursday, think of what a precious privilege it is to be alive
More Inspirational Quotes Below
---
This Thursday is an opportunity to find out new blessings to acknowledge and live through
---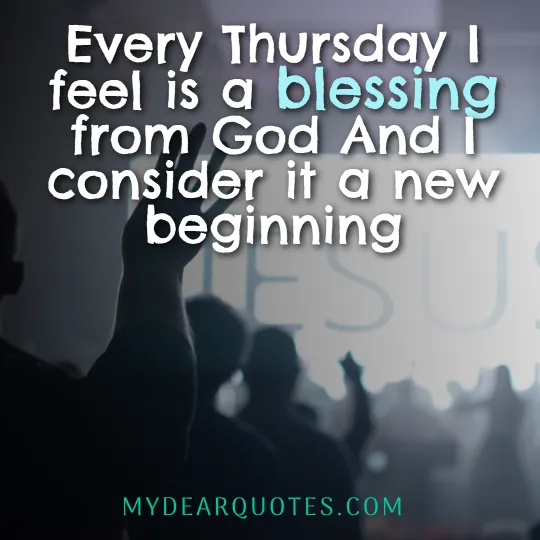 Every Thursday I feel is a blessing from God And I consider it a new beginning
---
Each morning we are born again, what we do today is what matters most
---
Today is Thursday, so put a big round smile on your face. You need to be cheerful today because it is one of the interesting days of the week
---
I get up every morning and it's going to be a great day. You never know when it's going to be over so I refuse to have a bad day
---
Let's give this Thursday our all, and we can start to enter into our weekend mood tomorrow
---
You may like to know why I am always happy on Thursdays, there is nothing behind it than the fact that I just want to have some fun
---
Have a positive thought in your mind and make it clear to yourself that you are not going to give up on this easily
---
How To Have A Blessed Thursday Morning
Life nowadays is full of stress and worries, and if you are also a parent, then everything is even harder. However, by changing your morning routine, you will be able to feel fresher and more relaxed in the day that awaits you. Here are some things each of us should start practicing to have a wonderful and blessed Thursday Mornings:
Sleeping
Sleep is a vital function necessary for a person, just like food, water, and air, however, despite that, most people do not get enough sleep. The National Sleep Foundation (NDF) conducted the research and determined that at least 40 million Americans suffer from almost 80 different sleep disorders, but also that 60 percent of adults and 69 percent of children have at least some problem with sleeping for several consecutive nights or more. A healthy amount of sleep affects many things, such as better memory, longer life, increased concentration, reduced stress, and much, much more.
Meditation
Meditation can significantly help in gaining a positive attitude, faith, calmness, and serenity, and the best time to meditate is right after waking up. People are like a magnet. If you are grateful for what you have, you will attract many more beautiful and positive things into your life. Gratitude is the key to success, so be smiling and grateful.
Physical Activity
Despite countless scientific evidence that physical activity is essential for a healthy life, only one-third of Americans ages 25 to 64 regularly engage in physical activity. If you want to be healthy, happy, and productive throughout the day, incorporate the habit of regular physical activity into your life.
Remind yourself of your life goals
You should write down your life goals and re-read them every morning. It doesn't take you much time, just two minutes. That way, you will keep in mind everything that is important to you in life and you will be focused on it no matter what happens to you during the day. Do all the important things in the morning. If there are things you would rather not do or hate to do, they are an effort, you need to know that they will be waiting for you the next morning.
---
---