Pray For House Blessing + [Warm FAMILY Images]
Christian Cleansing Pray For House Blessing To Let The Holy Spirit Into Your Home. These Blessings Will Cleanse Your Home From Negative Energy And Protect Your Family. More info and images on blessings for Friday with images.
The most important feature of a Christian and Orthodox home, above all, is that the home is consecrated. In addition, the Christian home should have an icon, a lamp, a candle, basil, an incense burner, the Holy Book, and a Prayer Book.
When a house or an apartment is built, painted, beautified, when things are arranged and when a Christian family starts living in it, it is necessary to consecrate the home. The consecration is performed by the parish priest, in the following way:
On the table in the most solemn room where the icons are, a table covered with a tablecloth is placed, and on the table are a candle, incense burner, incense, a bowl of water for consecration, basil, a bowl with a little flour, a glass of oil, four small lighted candles. and glued to the walls of the house and a small stick, wrapped in cotton wool on top, to anoint the walls with consecrated oil. More on having a blessed day quotes.
It is usually done in the morning, but it can be done at any time of the day. Since this act is combined with a festive lunch, it should be performed on fat days, or if the consecration is performed in fasting, it is obligatory to prepare fasting food. In some areas, the family's godfather is always invited to consecrate the home. Find out more on blessings for Thursday.
*If you are using our images on your website, make sure to put a link back to us. THX.
---
Pray for house blessing and protection
Dear God, I thank you for this home. I pray that you would come and protect this home against the attack of the enemies. I pray against any evil that tries to enter this home, and strength to overcome temptation. I pray we will leave no opportunity for the devil to enter, instead fill this house with your presence Lord and that our family would instead grow in you, in Jesus' name, Amen
---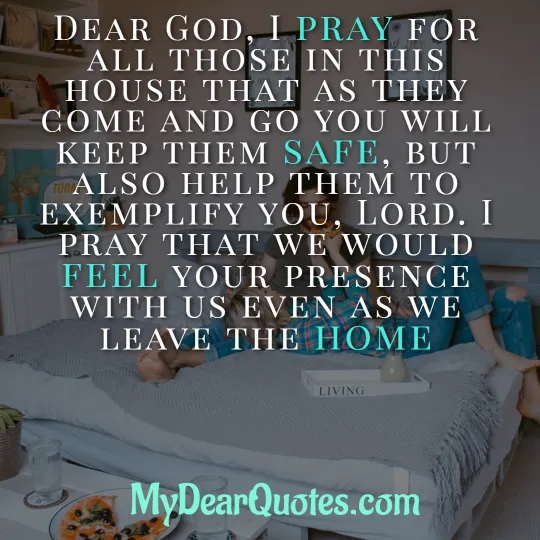 Dear God, I pray for all those in this house that as they come and go you will keep them safe, but also help them to exemplify you, Lord. I pray that we would feel your presence with us even as we leave the home
---
Dear God, I pray for your presence to invade and fill every corner of this home. I thank you that you are always with us and care for us. I pray that we would be able to feel that in our home
---
May this home be blessed with the laughter of children, the warmth of a close family, hope for the future and fond memories of the past
---
In our home let love abide and bless all those who step inside
---
May this home be a resting place for the soul, offering always a tender hand to hold, forever filled with love even after our bodies grow old
---
May your days be many and your troubles be few. May all God's blessings descend upon you. May peace be within you; may your heart be strong. May you find what you're seeking wherever you roam
---
Prayer for house cleansing
---
Bread, that this house may never know hunger. Salt, that life may always have flavor. And wine, that joy and prosperity may reign forever
---
And thus you shall greet him: 'Peace be to you, and peace be to your house, and peace be to all that you have | Samuel 25:6
---
I have indeed built you an exalted house, a place for you to dwell in forever | Kings 8:13
---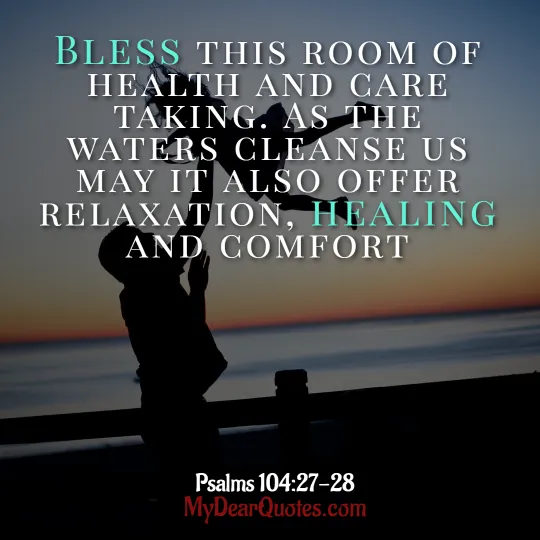 Bless this room of health and care taking. As the waters cleanse us may it also offer relaxation, healing and comfort | Psalms 104:27-28
---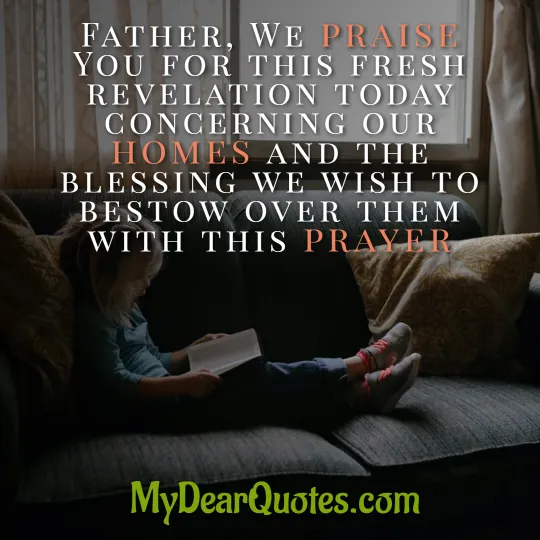 Father, We praise You for this fresh revelation today concerning our homes and the blessing we wish to bestow over them with this prayer
---
Dear Jesus, I want to build my life on the unchanging reality of Your love, so that no matter where I go, I will always feel at home. Thanks that You are always with me
---
Have you not put a hedge around him and his household and everything he has? You have blessed the work of his hands, so that his flocks and herds are spread throughout the land | Job 1:10
New home blessing prayer
---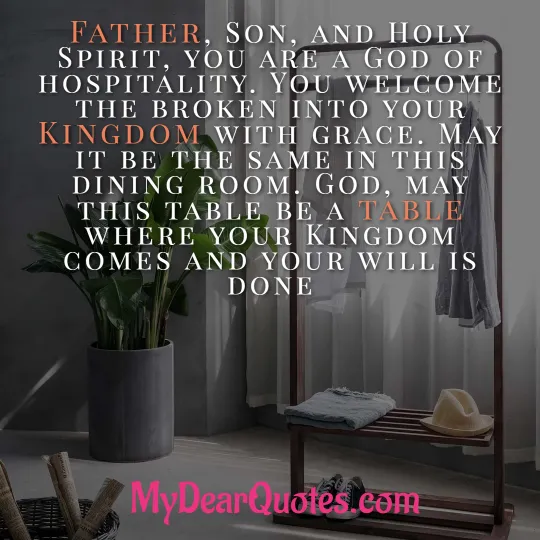 Father, Son, and Holy Spirit, you are a God of hospitality. You welcome the broken into your Kingdom with grace. May it be the same in this dining room. God, may this table be a table where your Kingdom comes and your will is done
---
May the Lord bless this house and make it home full of generous welcome for all who visit. Brimming with warmth and contentment for family and friends, overflowing with hospitality and nourishing provision
---
Peace to this household.' If a peaceful person lives there, your peace will rest on him; but if not, it will return to you
---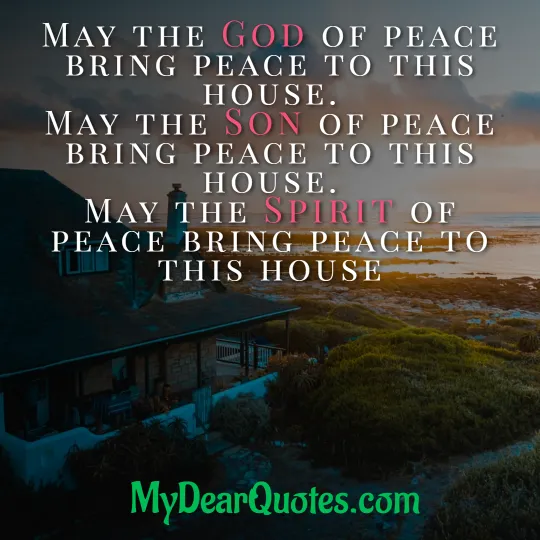 May the God of peace bring peace to this house. May the Son of peace bring peace to this house. May the Spirit of peace bring peace to this house
---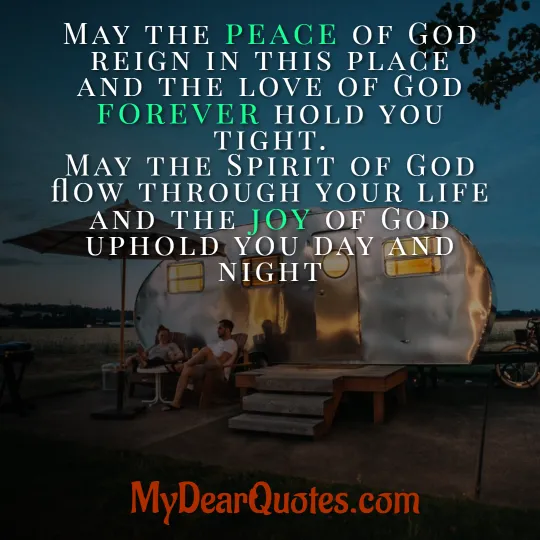 May the peace of God reign in this place and the love of God forever hold you tight. May the Spirit of God flow through your life and the joy of God uphold you day and night
---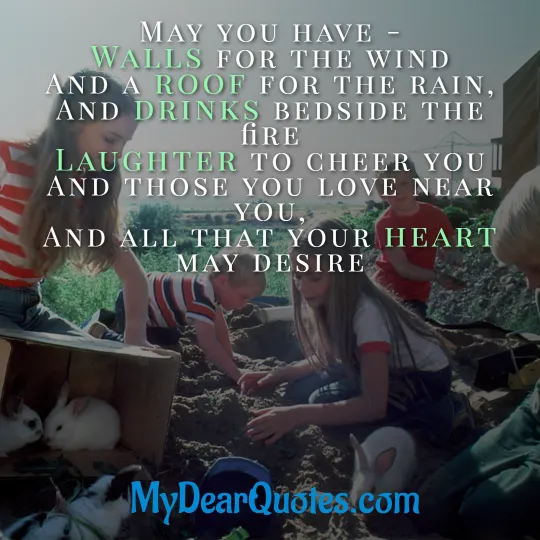 May you have – Walls for the wind And a roof for the rain, And drinks bedside the fire Laughter to cheer you And those you love near you, And all that your heart may desire
---
All Images Are Shareable. If You liked our Pray For House Blessing, hit the share button.
---
---