SPIRIT-Cleansing Saturday Blessings [With Images]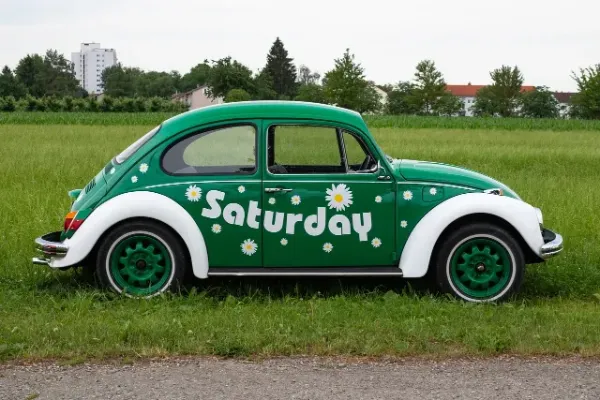 Saturday Blessings With Images To Start Your Weekend On A High. Enjoy Our Blessings And Quotes And Don't Forget To Share Them On Social Media.
*If you are using our images on your website, make sure to put a link back to us. THX.
The fact that Saturday should be completely dedicated to the Lord, the fact that it should be spent as a day of joy and praise, confirms that the provisions of the fourth commandment contributed more to the development of the spiritual man than any other commandment.
By depriving man of the spiritual advantage which Saturday has, the enemy has always sought to induce him to desecrate the sixth day of the week. Use our Sunday blessings with images for the next day.
Saturday Morning Blessings
May this Saturday be free of worry, and may you be blessed with happiness this wonderful morning
---
Saturday morning, a new day to be and do we bless you and pray that nothing makes you blue
---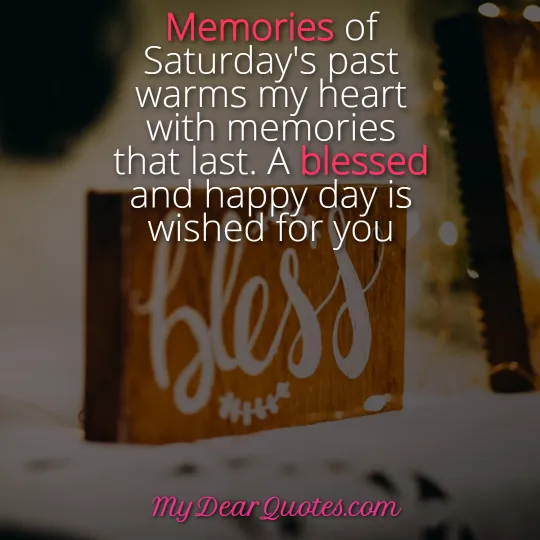 Memories of Saturday's past warms my heart with memories that last. A blessed and happy day is wished for you
---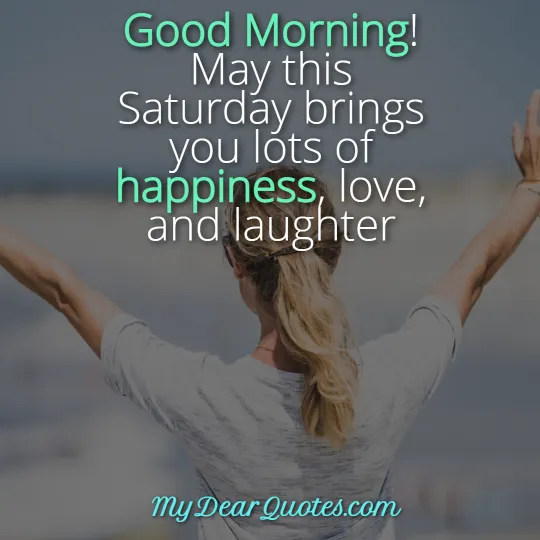 Good Morning! May this Saturday brings you lots of happiness, love, and laughter
---
I wake up this Saturday morning filled with motivation. I think I am ready for the day
---
Spread sunshine to others on this day and you will be blessed in every way. Good Morning and have a Blessed Saturday
---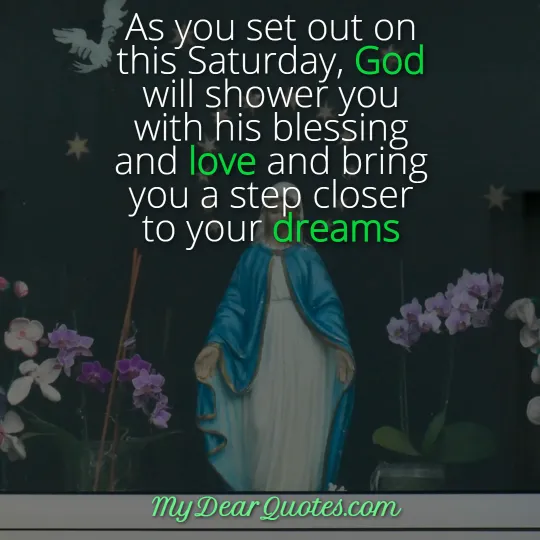 As you set out on this Saturday, God will shower you with his blessing and love and bring you a step closer to your dreams
---
Yesterday is gone, today is here and I pray it will be as beautiful as your glowing smiling face. Wake Up beautiful. It`s Saturday morning
---
Happy Saturday Blessings
---
A blessed Saturday is wished for you. May success follow you in all you do
---
You bring to us much laughter and joy. May this Saturday be returned to you ten-fold
---
May your Saturday never lack happiness. Try to see happiness in common things others overlook
---
My best days never change. They remain Fridays, Saturdays, and Sundays. Have a wonderful weekend
---
A short letter to my best day. Dear Saturday, please favor my activities. That's all I need for the day
---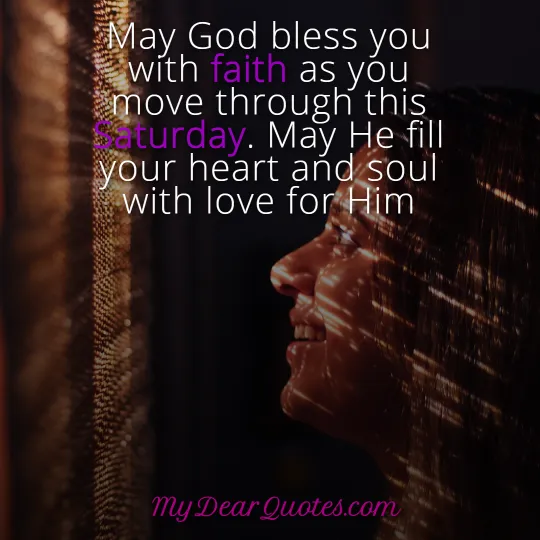 May God bless you with faith as you move through this Saturday. May He fill your heart and soul with love for Him
---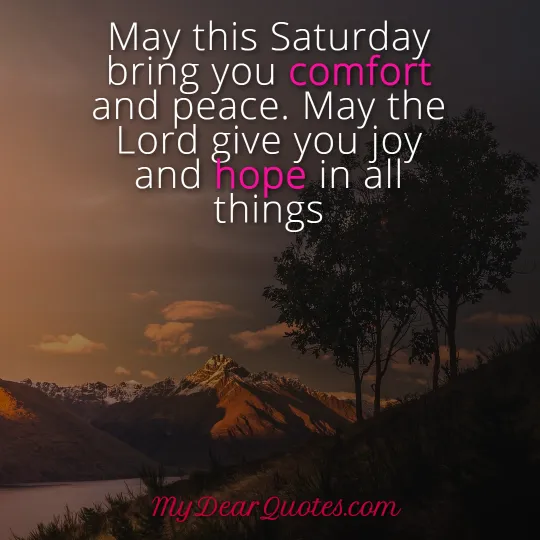 May this Saturday bring you comfort and peace. May the Lord give you joy and hope in all things
---
Have A Blessed Saturday
---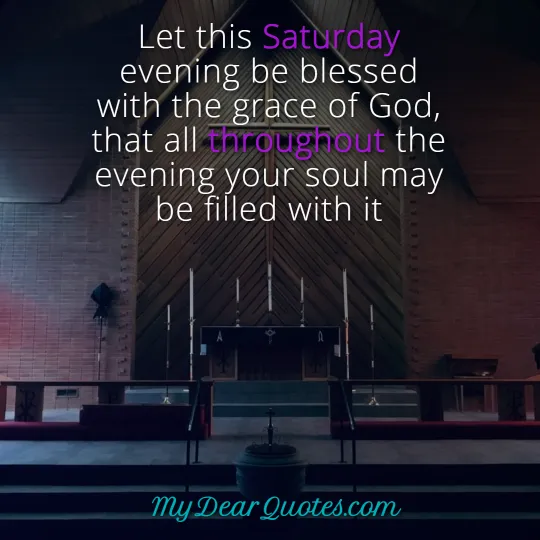 Let this Saturday evening be blessed with the grace of God, that all throughout the evening your soul may be filled with it
---
Its Saturday, so relax and fix the things that are not working in your life. May God warm your heart with love and keep your mind at peace all day long
---
There will be a lot of love and loads of cheers in celebrating this Saturday. Saying a silent Amen can make this blessing a reality
---
This Saturday will hit beyond your expectations if you believe. The goodness of the Lord will guide all your activities as you kick off this day
---
Smile to strangers, say thank you for everything done for you, give sincere compliments, laugh and have a lovely Saturday
---
I hope you have the best Saturday of your life this weekend
---
For your sake, this Saturday shall be marked for favour and sheer abundance of good things
Blessed Weekend Sayings Continue
---
All things shall work together for your good, this Saturday. Lines shall fall into pleasant places for your sake
---
You'll have many smiles to give, many laughter to share and unstinting good news to receive. All these shall be your portion this Saturday
---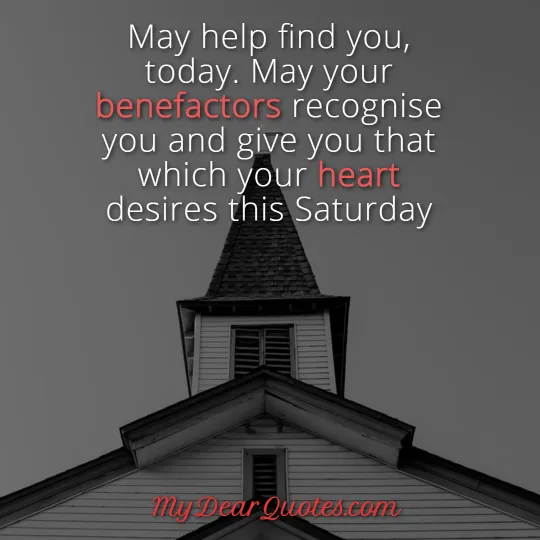 May help find you, today. May your benefactors recognize you and give you that which your heart desires this Saturday
---
Blessings to you for the choices you make this Saturday. May wisdom and happiness follow you throughout the day
---
No sense looking back on the past week, it is a new day and it is not all bleak. Keep moving forward, enjoy this Saturday
---
I hope today's kind of Saturday brings smiles and you laugh out loud. May you experience sunshine and ignore the clouds
---
May you know no stress and trouble this Saturday. Have a truly memorable weekend
---
After a rewarding week, comes a Saturday of blessings and relaxation. May yours be a blessed one
---
Saturday is the day of God's scheduled meeting when all thoughts and activities of a secular nature are postponed, as well as for coming together to listen to the word of God. Therefore, when Paul stated, "the law is spiritual," he also meant the institution of the Sabbath, which was to be devoted exclusively to spiritual things.
We ask ourselves: Was this gathering when almost the whole city gathered to hear the words of God, essential to those who were present? We notice here, and this is an inevitable fact, that Saturday was used just as well in New Testament times as in the days of the Old Testament prophets.
The New Testament references are just as clear and obvious as the ones we quoted in the Old Testament. The Sabbath institution and its purpose continue. It is not Saturday's rest that has brought the yoke of slavery, but human regulations as something that is encouraged to be kept.
Spread the word on social media if you liked our Saturday Blessings.
---
---