18+ Nelson Mandela Quotes On Education
Great Nelson Mandela Quotes On Education. He Is One Of The Most Famous Freedom Fighters In The World And A Former President of South Africa. We have previously published blog post on Malcolm X Quotes. Check them if you need extra dose of motivation.
He Even Sacrificed His Freedom And Spend Decades In Prison In Fighting The Apartheid. These Education Quotes Have Images Above Them That You Can Use For Social Sharing. Find more on Greta Thunberg Quotes with beautiful image gallery.
*If you are using our images on your website, make sure to put a link back to us. THX.
---
Nelson Mandela Education Quotes
It is not beyond our power to create a world in which all children have access to a good education. Those who do not believe this have small imaginations
---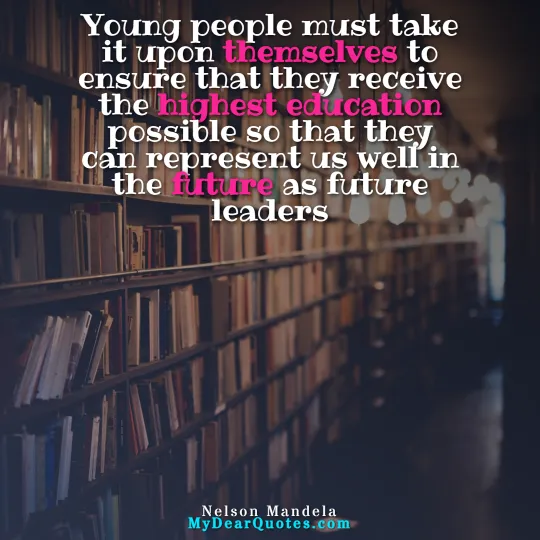 Young people must take it upon themselves to ensure that they receive the highest education possible so that they can represent us well in the future as future leaders
---
The power of education extends beyond the development of skills we need for economic success. It can contribute to nation-building and reconciliation
---
I have cherished the ideal of a democratic and free society in which all persons live together in harmony and with equal opportunities
---
A good head and good heart are always a formidable combination. But when you add to that a literate tongue or pen, then you have something very special
---
Education is the most powerful weapon which you can use to change the world
---
Nelson Mandela Learning Quotes
---
From the poorest of countries to the richest of nations, education is the key to moving forward in any society
---
Poverty is not an accident. Like slavery and apartheid, it is man-made and can be removed by the actions of human beings
---
No child in Africa, and in fact anywhere in the world, should be denied education
---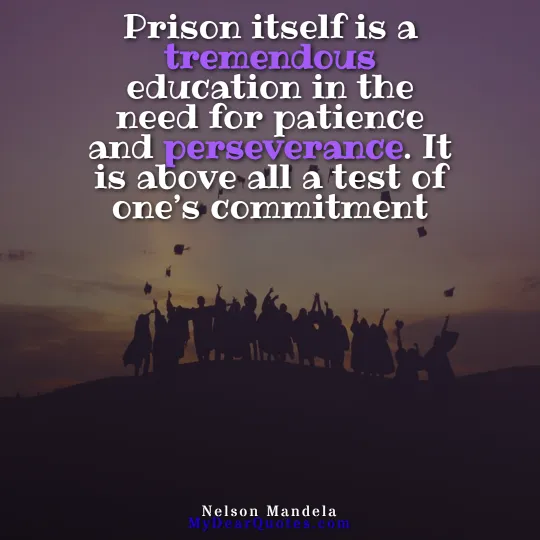 Prison itself is a tremendous education in the need for patience and perseverance. It is above all a test of one's commitment
---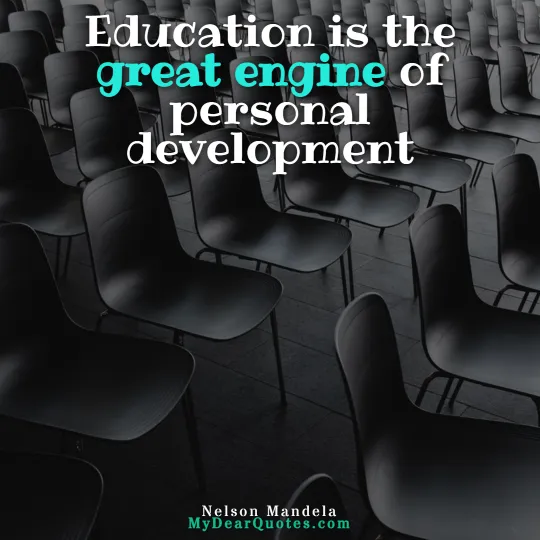 Education is the great engine of personal development
---
I will spend the rest of my days trying to secure a more educated and secure South Africa
---
More Mandela Sayings Below
---
Many students in remote rural areas in our country do not become confident readers and writers. Indeed, they are denied the creativity that in turn negates the world, the boldness of their ideas
---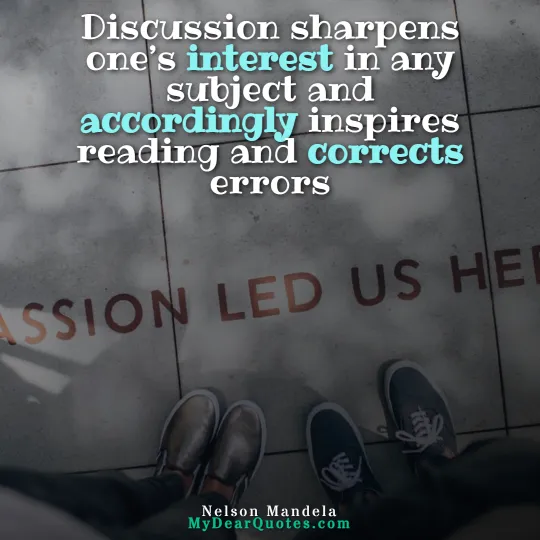 Discussion sharpens one's interest in any subject and accordingly inspires reading and corrects errors
---
There are certain precautions you should take to prepare yourself for a fruitful study career. You must brush up your knowledge through systematic reading of literature and newspapers
---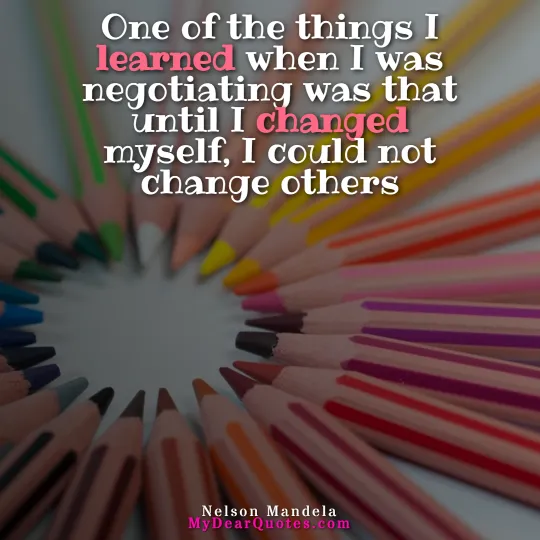 One of the things I learned when I was negotiating was that until I changed myself, I could not change others
---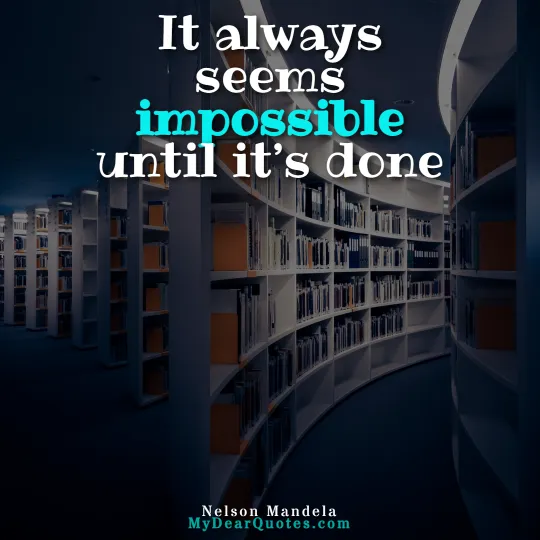 It always seems impossible until it's done
---
Everyone can rise above their circumstances and achieve success if they are dedicated to and passionate about what they do
---

20 Less Known Facts About Nelson Mandela
Mandela was expelled from Fort Hare University after taking part in a student protest
Mandela's name given at birth – Rolihlahla – is a name from the tribe of isiXhos which means "plucking a branch from a tree"
He fled the Eastern Cape to Johannesburg after Jongintaba Dalindyebo, the leader of the Tembu people, tried to impose an arranged marriage on him.
He often traveled under a false name
He was a master of disguise and escaping unwanted attention
Mandela's first wife Evelyn Mase was a nurse and she supported the family while Mandela studied law at Wits University
He was not only the first commander of the ANC's armed wing Umkhonto we Sizwe, but together with Oliver Tamba he co-founded the country's first black law firm.
Circumstances related to his arrest during the police blockade outside the town of Howick in South Africa are not very clear even today, but it is believed that the American CIA agent informed the police where Mandela is.
During his time in prison on Robben Island (6.9 kilometers west of Cape Town), Mandela was imprisoned in a cell measuring 2 x 2.5 meters.
The apartheid government offered Mandela freedom six times, but he refused each time
During the 1970s, Mandela wrote memoirs that were wrapped in plastic and buried in the ground of a vegetable garden he kept in prison.
When Mandela was released, after 27 years, he came out of prison hand in hand with his then-wife Winnie and raised the hand of a clenched fist in the air
The ANC was labeled as a terrorist organization by the apartheid government and was considered as such by other countries such as the United States and the United Kingdom.
After divorcing his second wife, Winnie Madikizele-Mandela, he also offered marriage to activist Amina Cachalia, with whom he had been in a relationship for many years, but she refused.
The United Nations has declared his birthday (July 18) Nelson Mandela International Day
Umleqwa (homemade chicken), ulus (tripe), and amasi (sour milk) are at the very top of his favorite foods
Mandela was a concert promoter
He also became actively involved in the fight against AIDS because his son Makgatho died from this disease
Despite his mild appearance and behavior in public, Mandela sometimes knew how to be quite rude
Mandela has received over 695 recognitions and awards during his lifetime, including the Nobel Peace Prize and the US Congressional Medal.
If you liked our Nelson Mandela Education Quotes, feel free to spread the word on social media.
---
---