Inspirational OLIVIA RODRIGO Quotes From Her Songs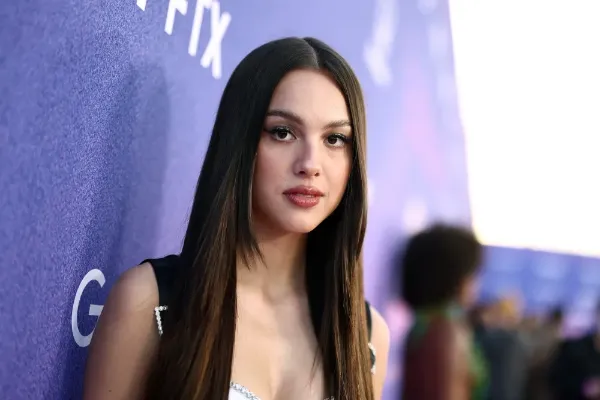 Olivia Rodrigo Quotes And Captions From The Beautiful Disney Actress And Singer. This Post Is Complemented With 25 Custom Images.
Who Is She?
Olivia Rodrigo was born on February 20, 2003 in California. Her father is from the Philippines, and her mother is from Germany with Irish roots. Olivia started singing at the age of six, and in high school she was active in school theater.
At the age of 12, she got a role in the film "An American Girl: Grace Stirs Up Success", and then in the Disney series "High School Musical" in early 2019. After two successful projects, the publishing house "Interscope" was interested in working with young Olivia.
Interscope and its sister company Geffen Records signed a contract with Olivia in early 2020. A year later, she released her first song, which immediately became a hit. If you want more music quotes, check Ariana Grande Quotes from our selection.
At just 19, Olivia Rodrigo is on an upward trajectory and threatens to become one of the greatest artists of her generation.
Below you can find Captions from Olivia Rodrigo. Let`s start.
*If you are using our images on your website, make sure to put a link back to us. THX.
---
Olivia Rodrigo Quotes And Captions
I just can't imagine how you could be so OK now that I'm gone
---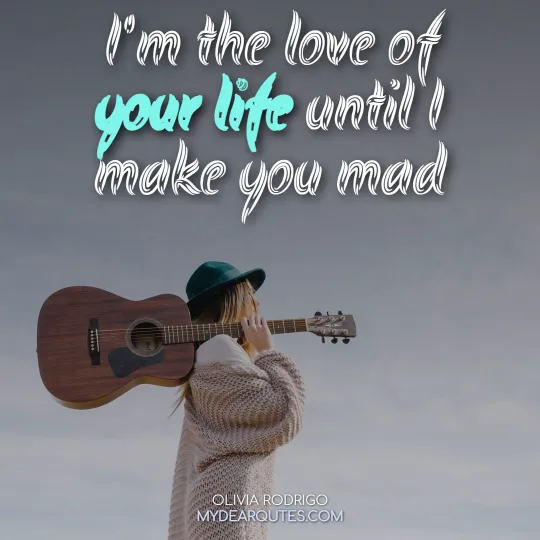 I'm the love of your life until I make you mad
---
Which lover will I get today? Will you walk me to the door or send me home cryin'?
---
I made the jokes you tell to her when she's with you
---
You're doin' great out there without me, baby, like a damn sociopath
---
I miss the days. When I was young and naive
---
And I see everyone getting all the things I want, I'm happy for them
---
As long as I'm your darling angel. I don't need anything in the world
---
I feel like no one wants me. And I hate the way I'm perceived
---
And I'm not cool and I'm not smart. And I can't even parallel park
---
But, God, I hope that you're happier today. 'Cause I love you. And I hope that you're okay
---
Does she know how proud I am she was created? With the courage to unlearn all of their hatred?
---
It's bittersweet to think about the damage that we'd do. Yeah, everything we broke and all the trouble that we made
Quotes And Lyrics From Olivia Rodrigo
I wanna be you so bad, and I don't even know you
---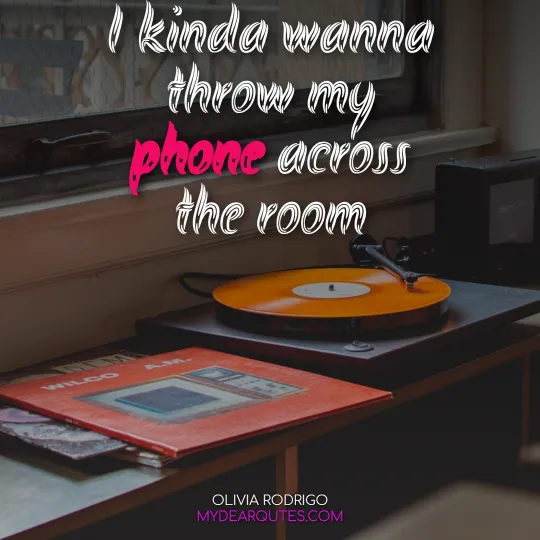 I kinda wanna throw my phone across the room
---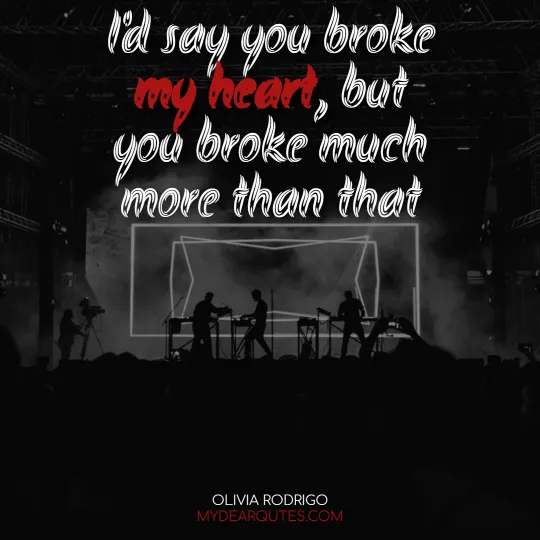 I'd say you broke my heart, but you broke much more than that
---
She thinks it's special, but it's all reused
---
You said forever, now I drive alone past your street
---
I hate to think that I was just your type
---
It's always one step forward and three steps back
---
She's beautiful, she looks kind, she probably gives you butterflies
---
I'm so insecure, I think, that I'll die before I drink
---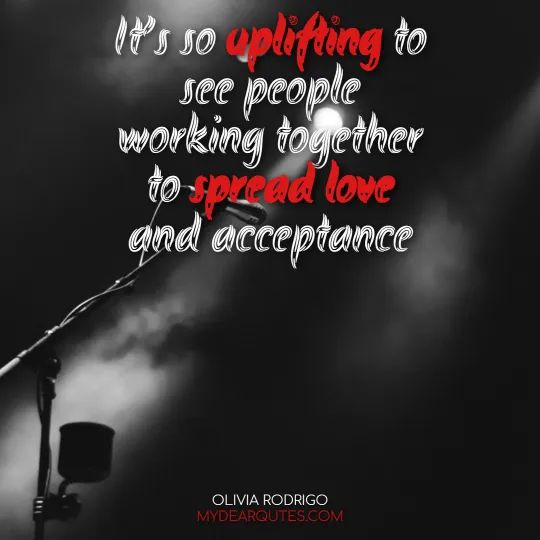 It's so uplifting to see people working together to spread love and acceptance
---
One girl's trash is another girl's vintage red carpet dress
---
Social media is not always a true reflection of real life and no place to judge your worth
---
Share the images on Pinterest if you liked our post about Olivia Rodrigo Quotes. Thank you.
---
---