30 Strong Bob Marley Quotes
Cool Motivating Strong Bob Marley Quotes from one of the most famous musicians and an all-around great guy. These quotes are really strong and uplifting that will inspire you and motivate you to do great things.
Bob Marley was a Jamaican singer, songwriter, guitarist, and twentieth-century music icon. Bob Marley is the most famous reggae music performer and is famous for popularizing this music genre outside the borders of Jamaica. Check Ariana Grande Quotes if you need more music inspiration.
Bob Marley is known for his songs and wise thoughts that he sowed behind him, and we tried to gather in one place the most interesting, wisest, and most beautiful ones. Enjoy wise thoughts in the form of Strong Bob Marley Quotes.
*If you are using our images on your website, make sure to put a link back to us. THX.
---
Bob Marley Quotes About Women
If she's amazing, she won't be easy. If she's easy, she won't be amazing. If she's worth it, you won't give up. If you give up, you're not worthy
---
Only once in your life, I truly believe, you find someone who can completely turn your world around
---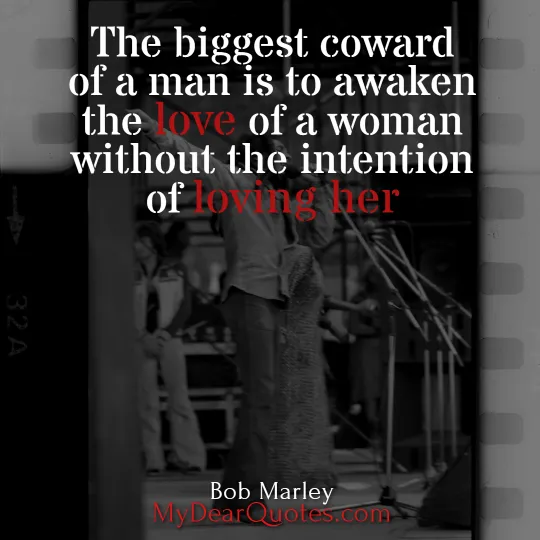 The biggest coward of a man is to awaken the love of a woman without the intention of loving her
---
The most beautiful curve on a woman's body is her smile
---
The most beautiful things are not perfect, they are special
---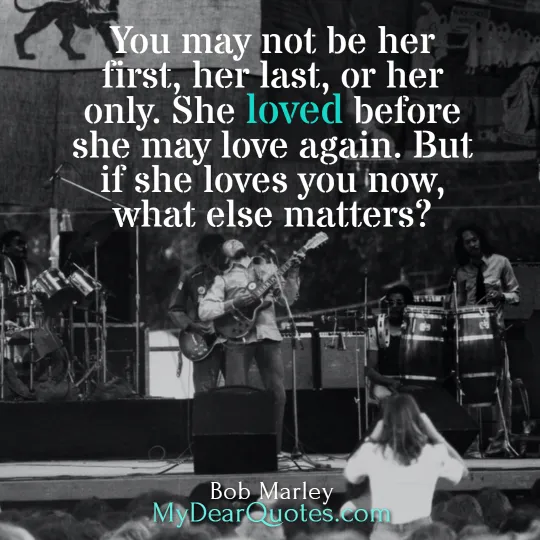 You may not be her first, her last, or her only. She loved before she may love again. But if she loves you now, what else matters?
---
Smile when she makes you happy, let her know when she makes you mad, and miss her when she's not there
---
The truth is, everyone is going to hurt you. You just got to find the ones worth suffering for
---
Uplifting Bob Marley Quotes
---
Love hard when there is love to be had
---
One love, one heart . . . Let's get together and feel all right
---
True friends are like stars; you can only recognize them when it's dark around you
---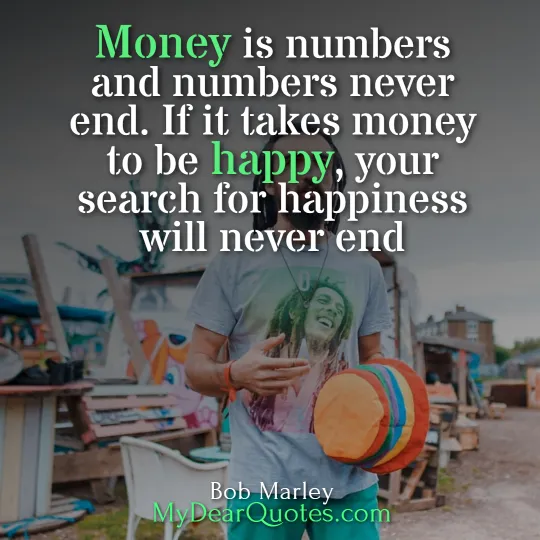 Money is numbers and numbers never end. If it takes money to be happy, your search for happiness will never end
---
The greatness of a man is not in how much wealth he acquires, but in his integrity and his ability to affect those around him positively
---
If you don't start somewhere, you're gonna go nowhere
---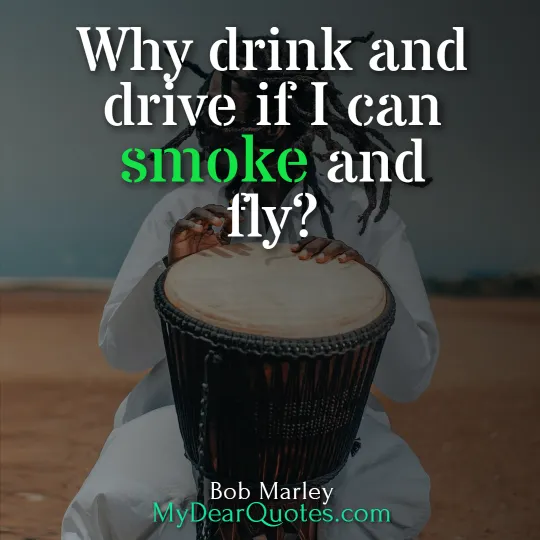 Why drink and drive if I can smoke and fly?
---
Famous Bob Marley Quotes
---
In this great future, you can't forget your past
---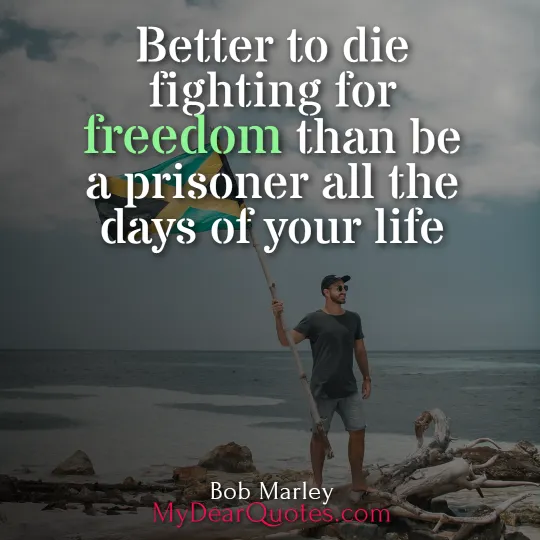 Better to die fighting for freedom than be a prisoner all the days of your life
---
Have no fear for atomic energy, 'cause none of them can stop the time
---
Live for yourself and you will live in vain; live for others, and you will live again
---
The people who were trying to make this world worse are not taking the day off. Why should I?
---
Don't trust people whose feelings change with time. Trust people whose feelings remain the same, even when the time changes
---
Just because you are happy, it does not mean that the day is perfect, but that you have looked beyond its imperfections
---
8 Raggae Affirmations To Go
---
You just can't live in that negative way… make way for the positive day
---
I will never regret you or say I wish I'd never met you, because once upon a time, you were exactly what I needed
---
The good times of today, are the sad thoughts of tomorrow
---
The road to life is rocky, and you may stumble too. So while you point your fingers, someone else is judging you
---
My music will go on forever. Maybe it's a fool say that, but when me know facts me can say facts. My music will go on forever
---
Love hard when there is love to be had. Because perfect guys don't exist, but there's always one guy that is perfect for you
---
I am not perfect and I don't have to be! Before you start pointing fingers, make sure your hands are clean
---
A phone call or two during the day helps to get you through a long day's work and always brings a smile to your face
---
We end our Strong Bob Marley Quotes feeling inspired and refreshed. If you liked our pictures, feel free to share them on Social Media. Thank You.
5 Things You Did Not Know About Bob Marley
Bob Marley Was Of Mixed Race
Because of his anti-colonial texts and Rastafarianism, many people believe that Marley was black. That, however, is not entirely true. His mother, Sedalia Booker, was black, while his father, Norwell Sinclair Marley, was white.
Bob Marley lived in the United States for a time
After marrying Rita Anderson in 1966, Bob Marley moved with her to Wilmington, Delaware. His mother lived there at the time, and for the next eight months, Marley was employed, among other things, as an assistant in the DuPont laboratory and a conveyor belt worker in the Chrysler factory.
Bob Marley survived an assassination attempt
On December 3, 1976, seven gunmen entered Marley's home in Kingston and began firing. Marley's wife and manager were wounded, and the famous singer was shot in the arm and chest. Believe it or not, just two days after this unfortunate event, he appeared on stage in Kingston and gave a legendary performance. Interestingly, the bullet remained in Marley's hand until his death, as the operation to remove it was considered too risky.
Bob Marley as a performer has never had a hit in the US
Marley's song Stir It Up performed by Johnny Nash climbed to 12th place on Billboard's singles list, and Eric Clapton's version of the song I Shot the Sheriff in 1974 was number one on the same list. Marley himself, however, did not come close to anything, at least when it comes to the sale of singles in the United States.
Bob Marley had a lot of kids
Bob Marley had many virtues, but fidelity to women is certainly not one of them. He regularly cheated on his wife Rita during their marriage, which lasted from 1966 until Marley's death in 1981. They had three children (Stephen, David, and Sedel), and Marley also adopted two children from Rita's first marriage (Sharon and Stephanie).
Marley officially had six other children (Robert, Rohan, Damian, Kimani, Julian, and Karen) with as many different women, but many believe that Imani and Madeka, who are also believed to be his children, should be added to the list.
---
---