30+ Inspirational Quotes For Hard Workers
These Inspirational Quotes For Hard Workers Are For Your Daily Pick Me Up. All Quotes Have Beautiful Images Above Them That You Can Use For Social Sharing.
*If you are using our images on your website, make sure to put a link back to us. THX.
Hard Worker Traits That Employers Love
Team Spirit
Durability
Loyalty
Empathy
Curiosity
Willingness To Learn
Leadership
Helper
Stability
Staying For The Long Run
Proactive
---
Motivational And Inspirational Quotes For Hard Workers
If you know you are on the right track, if you have this inner knowledge, then nobody can turn you off… no matter what they say | Barbara McClintock
---
Only if we understand, can we care. Only if we care, we will help. Only if we help, we shall be saved | Jane Goodall
---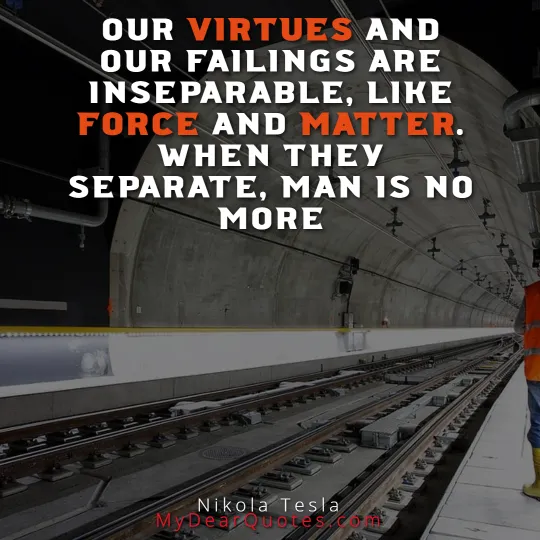 Our virtues and our failings are inseparable, like force and matter. When they separate, man is no more | Nikola Tesla
---
Do you think miners stand around all day talking about how hard it is to mine for coal? They do not. They simply dig | Cheryl Strayed
---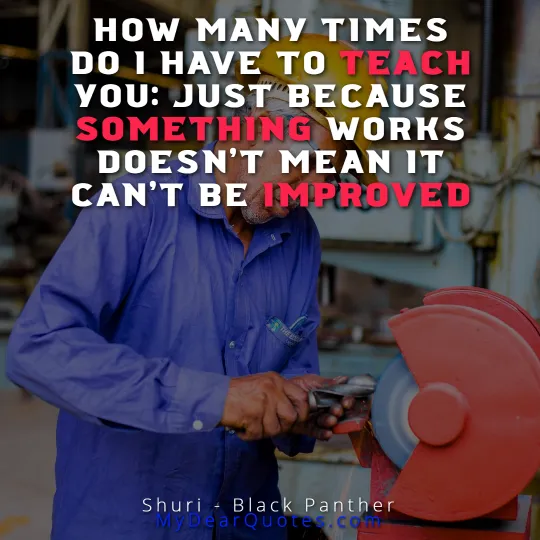 How many times do I have to teach you: just because something works doesn't mean it can't be improved | Shuri – Black Panther
---
Don't judge each day by the harvest you reap but by the seeds that you plant | Robert Louis Stevenson
---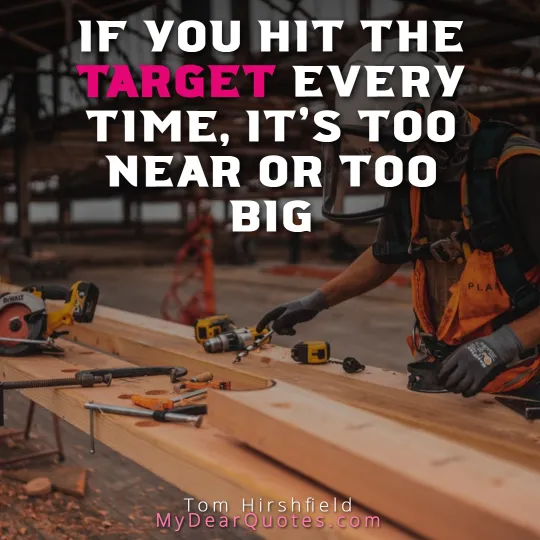 If you hit the target every time, it's too near or too big | Tom Hirshfield
---
Perfection is not attainable, but if we chase perfection we can catch excellence | Vince Lombardi
---
Hard Work Motivational Sayings
---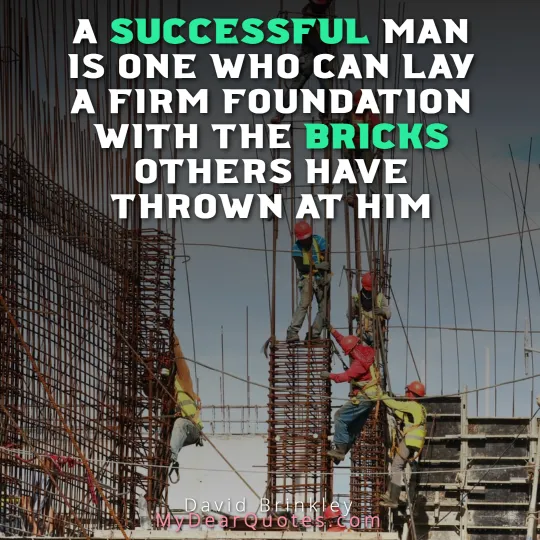 A successful man is one who can lay a firm foundation with the bricks others have thrown at him | David Brinkley
---
Hard work without talent is a shame, but talent without hard work is a tragedy | Robert Hall
---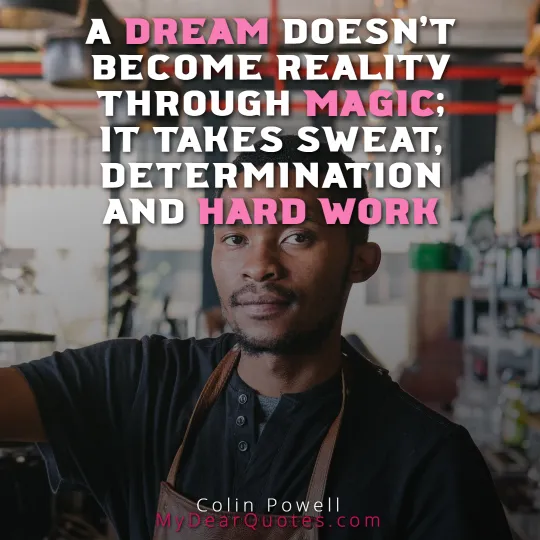 A dream doesn't become reality through magic; it takes sweat, determination and hard work | Colin Powell
---
We are what we repeatedly do. Excellence, therefore, is not an act but a habit | Aristotle
---
Limitations live only in our minds. But if we use our imaginations, our possibilities become limitless | Jamie Paolinetti
---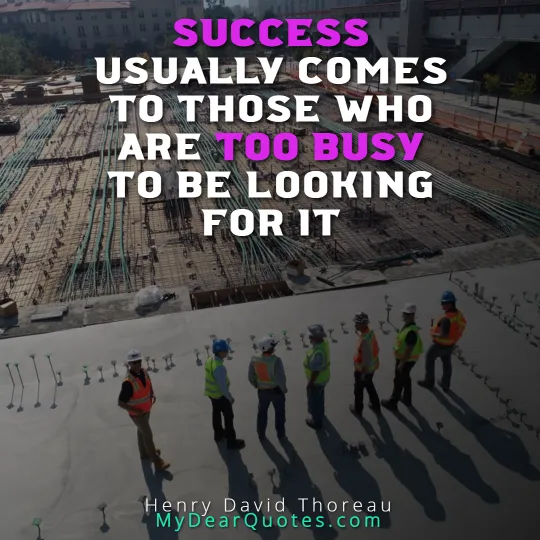 Success usually comes to those who are too busy to be looking for it | Henry David Thoreau
---
Employees engage with employers and brands when they're treated as humans worthy of respect | Meghan M. Biro
---
Short Hard Work Quotes
---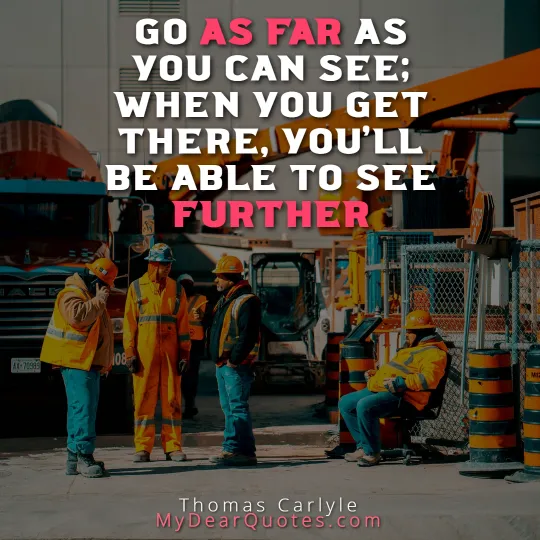 Go as far as you can see; when you get there, you'll be able to see further | Thomas Carlyle
---
When someone tells me 'no,' it doesn't mean I can't do it, it simply means I can't do it with them | Karen E. Quinones Miller
---
Never give up on a dream just because of the time it will take to accomplish it. The time will pass anyway | Earl Nightingale
---
Even if you're on the right track, you'll get run over if you just sit there | Will Rogers
---
Never allow a person to tell you no who doesn't have the power to say yes | Eleanor Roosevelt
---
I'm a greater believer in luck, and I find the harder I work the more I have of it | Thomas Jefferson
---
When we strive to become better than we are, everything around us becomes better too | Paulo Coelho
---
Encouraging Quotes For Workers
---
Whether you think you can, or you think you can't – you're right | Henry Ford
---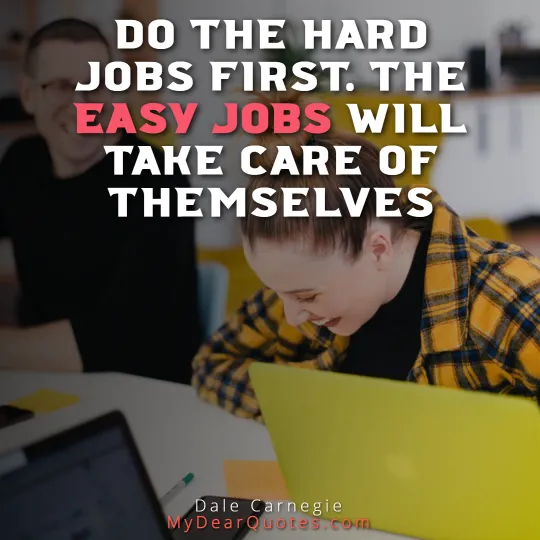 Do the hard jobs first. The easy jobs will take care of themselves | Dale Carnegie
---
The man who moves a mountain begins by carrying away small stones | Confucius
---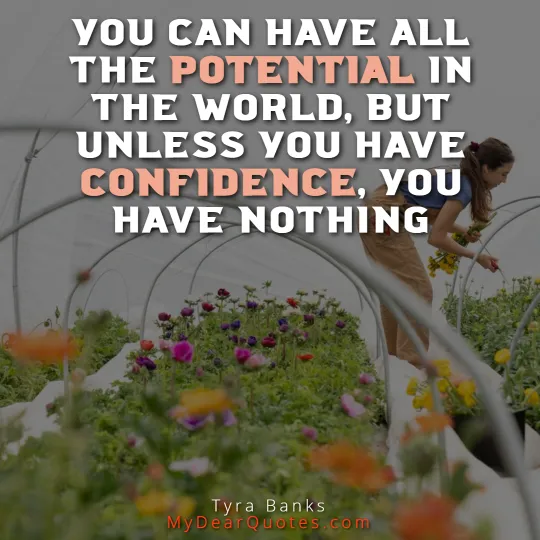 You can have all the potential in the world, but unless you have confidence, you have nothing | Tyra Banks
---
If people are doubting how far you can go, go so far that you can't hear them anymore | Michele Ruiz
---
Success is a lousy teacher. It seduces smart people into thinking they can't lose | Bill Gates
---
The secret of change is to focus all of your energy, not on fighting the old, but on building the new | Socrates
---
The sun himself is weak when he first rises, and gathers strength and courage as the day gets on | Charles Dickens
---

7 Signs That You Have A Great Employee In The Office
Written communication
Is your company excellent in written communication with clients? Many companies today rely on written communication to convey their messages – either through formal suggestions or through a blog on the company's website. An employee who has good writing skills as a key competence already has some potential. Things Will Get Better Quotes for your pleasure.
It is much easier to identify a lower- or middle-level person with this skill and train him or her for other leadership qualities than to send an existing manager to an additional writing course.
Building collaborative relationships
Every business depends on internal relationships – either internal or external. A person who shows signs of this competence will certainly help your company. What makes a relationship collaborative? An employee who demonstrates the ability to build collaborative relationships expresses interest in other people, takes time to meet associates, supports other people in achieving their goals, and develops two-way relationships.
Collection of diagnostic information
When a problem occurs in your organization, the person who possesses this competence will always try to solve it analytically. These employees not only solve the problem but also collect information about how the problem happened in the first place.
Technical expertise
Technical expertise is one of the competencies that is becoming increasingly important. A person with this ability is always looking for technical solutions to complex problems, but he also understands that technology does not solve everything.
Self-confidence
A successful leader must have confidence in himself. Self-confidence also means that you can respond positively to negative feedback without being completely overwhelmed. An employee who has self-confidence speaks when needed and keeps his mouth shut when such an approach is more appropriate.
Personal credibility
Someone can be a great salesperson, but if he often shirk responsibility and leave his job to others, you probably don't need it in the company. You need people who are honest and reliable. How to recognize a good employee with this quality? So for him, you never doubt that he will do the right thing.
Thinking about the future
To be a leader, you must have the ability to think far. If you know how to think about the current situation well, it will probably make you a good worker, but if you can make decisions today that will help you tomorrow or a few months to a few years into the future, it will make you a real leader.
note: Our Inspirational Quotes For Hard Workers are shareable. Use them for social sharing.
---
---