Babe Ruth QUOTES And Sayings
Baseball Babe Ruth Quotes With Inspirational Images From One Of The Best Baseball Player To Ever Played The Game. More positive quotes are available on our site.
He Was Not The Best Behaved Or Disciplined Man, But His Game Was Ahead Of His Time. All Images In This Post Are Shareable. So Don't Forget To Spread The Word.
*If you are using our images on your website, make sure to put a link back to us. THX.
Babe Ruth Quotes About Baseball
Never let the fear of striking out get in your way
---
I've never heard a crowd boo a homer, but I've heard plenty of boos after a strikeout
---
Every strike brings me closer to the next home run
---
It's hard to beat a person who never gives up
---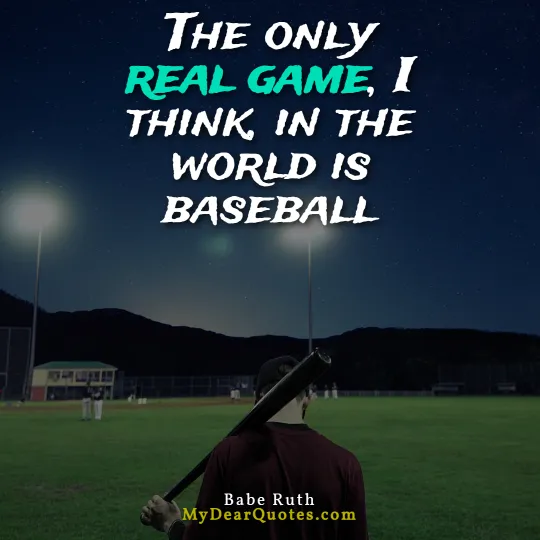 The only real game, I think, in the world is baseball
---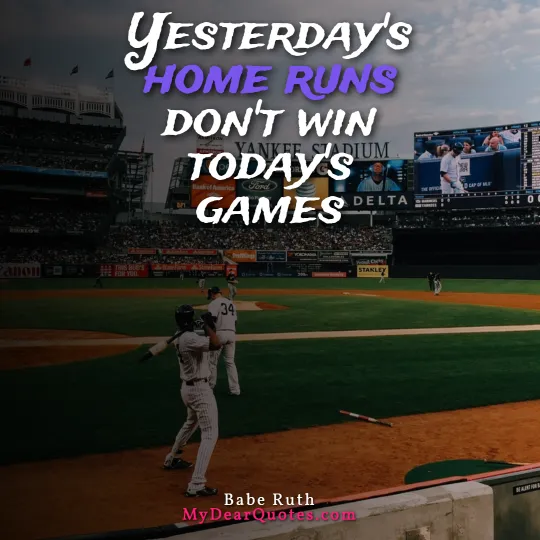 Yesterday's home runs don't win today's games
---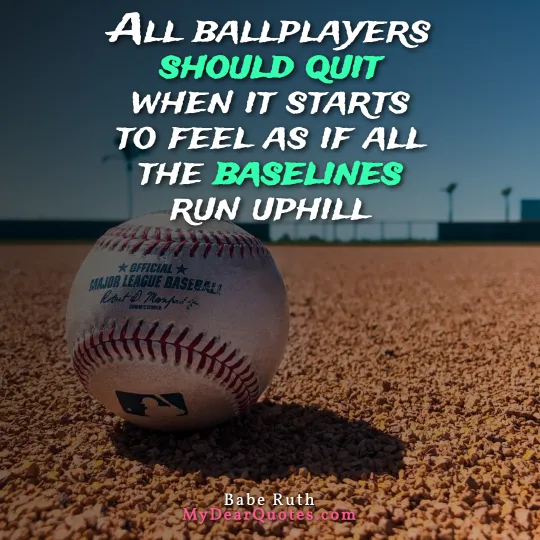 All ballplayers should quit when it starts to feel as if all the baselines run uphill
---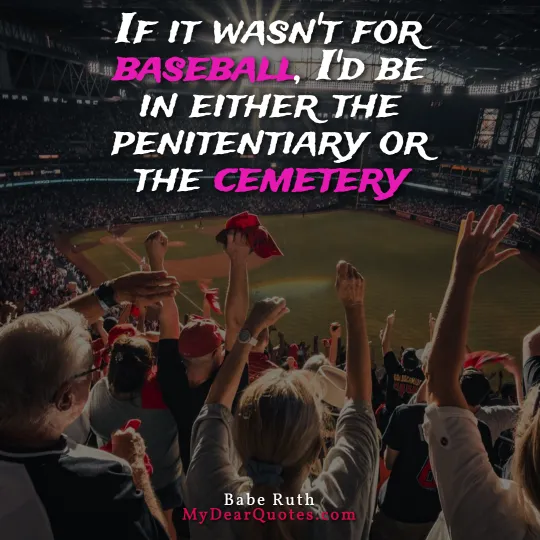 If it wasn't for baseball, I'd be in either the penitentiary or the cemetery
---
Babe Ruth Sayings
---
I had only one superstition. I made sure to touch all the bases when I hit a home run
---
How about a little noise. How do you expect a man to putt?
---
Let me show you how it's done… Loser
---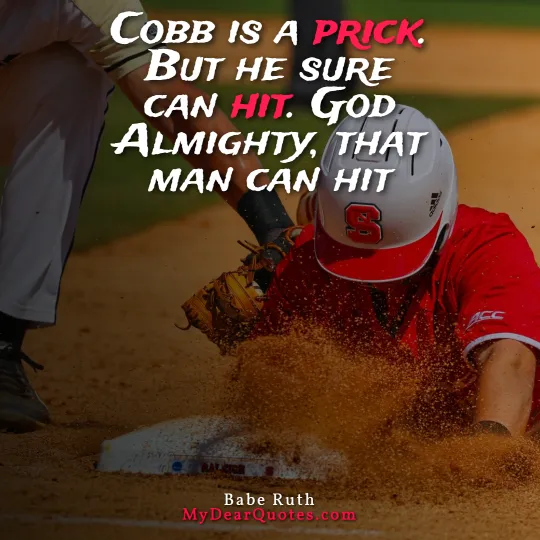 Cobb is a prick. But he sure can hit. God Almighty, that man can hit
---
Reading isn't good for a ballplayer. Not good for his eyes. If my eyes went bad even a little bit I couldn't hit home runs. So I gave up reading
---
I didn't mean to hit the umpire with the dirt, but I did mean to hit that bastard in the stands
---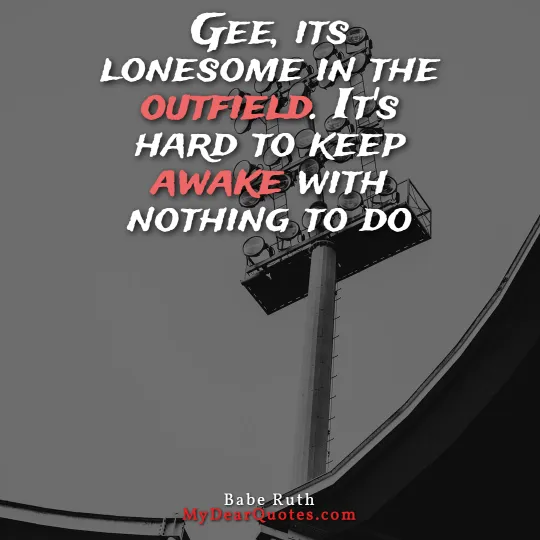 Gee, its lonesome in the outfield. It's hard to keep awake with nothing to do
---
Babe Ruth Inspirational Quotes
---
I swing big, with everything I've got. I hit big or I miss big. I like to live as big as I can
---
Love the game of baseball and baseball will love you
---
Heroes get remembered, but legends never die
---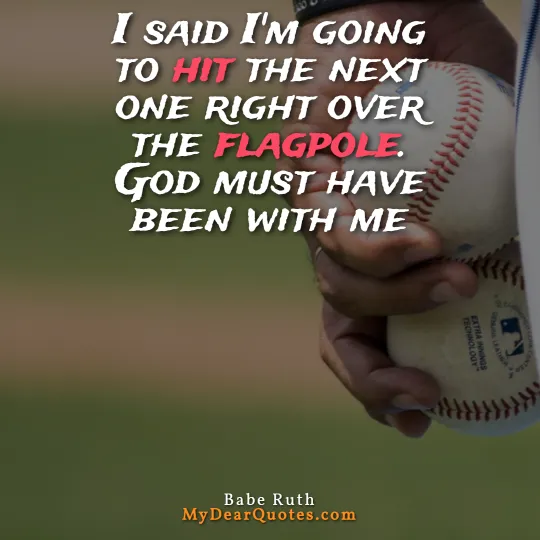 I said I'm going to hit the next one right over the flagpole. God must have been with me
---
Baseball changes through the years. It gets milder
---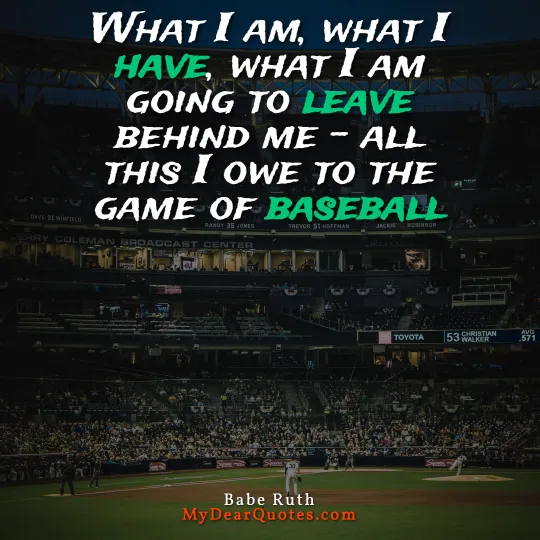 What I am, what I have, what I am going to leave behind me – all this I owe to the game of baseball
---
To my sick little pal. I will try to knock you another homer, maybe two today
---
Baseball Phrases And Sayings Continue
---
Life is a game like any other; we just don't take it as seriously
---
Don't ever forget two things I'm going to tell you. One, don't believe everything that's written about you. Two, don't pick up too many checks
---
I'd play for half my salary if I could hit in this dump (Wrigley Field) all the time
---
You may have the greatest bunch of individual stars in the world, but if they don't play together, the club won't be worth a dime
---
Paris ain't much of a town
---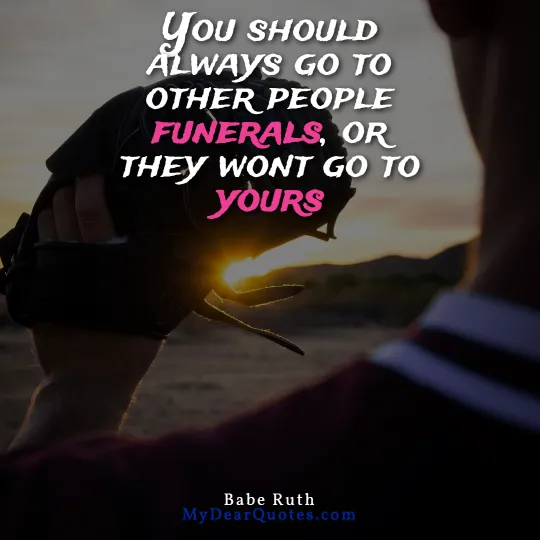 You should always go to other people funerals, or they wont go to yours
---
The loudest boos always come from the cheapest seats
---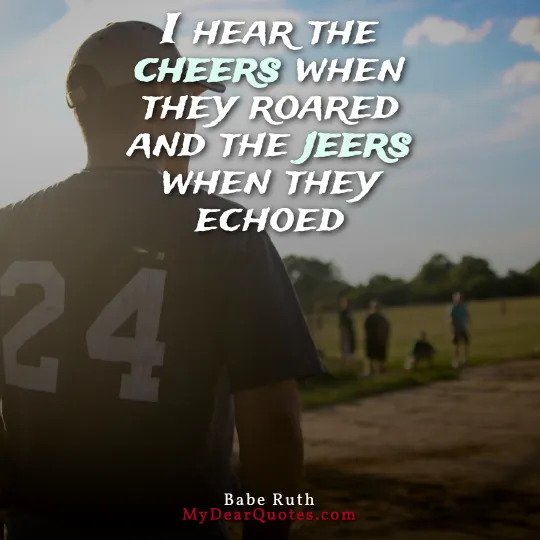 I hear the cheers when they roared and the jeers when they echoed
---

The Promise Babe Ruth Made To A Dying Boy
In 1926, an eleven-year-old boy, Johnny Sylvester, lived in the American state of New Jersey, who adored the New York Yankees, but especially their biggest star and, according to many, the best baseball player ever, Babe Ruth.
Johnny had minor health problems, but then everything changed in the spring of 1926 when he had an accident and fell off his horse. While the boy was on the ground, the horse that stumbled because he came across a hole, tried to get up and on that occasion hit the unfortunate boy on the forehead.
Johnny suffered serious injuries in that accident, and his condition worsened during the summer, so he was "dying" at the beginning of September. To this day, it is speculated what health problems the boy actually had, those close to him claim that he most likely had a skull bone infection, while others think that he had major problems with sinuses due to a horse blow or blood poisoning, while some said he had brain swelling.
As he lay in bed, aware of his difficult condition, Johnny told his father that he would like to experience "seeing" another "home run" that Babe Ruth will achieve. The family did not wait, as soon as they found out about Johnny's wish, they sent a telegram to the New York Yankees in which they explained the boy's health condition and his "last wish", but also asked Babe Ruth to answer him and "encourage" Johnny not to give up.
The Yankees leaders immediately conveyed the message they received from the boy's family to their main star, and Babe Ruth had no dilemma at all about what to do. Although the Yankees were playing the grand final of the league against the St. Louis Cardinals at the time, Babe Ruth took the time to telegram to Johnny, but also to send him two baseballs as a gift, one signed by the Yankees and the other signed by the Cardinals. On the ball with the signatures of the Yankees player, there was a personally written message from Babe Ruth for Johnny Sylvester. "I will achieve a home run for you in the game on Wednesday," the message read.
On October 6, 1926, in the fourth game of the final series, Babe Ruth fulfilled the promise given to Johnny Sylvester, but not only that. He scored an incredible three "home run" shots in that match against the Cardinals, which has remained one of the greatest achievements in the final matches of the MLB championship to this day.
If you liked our Babe Ruth Quotes, feel free to share them on Social Media.
---
---