25 Star Wars Love Quotes That Will Melt Your Heart
Star Wars Love Quotes From That Blockbuster Franchise That We All Love. Anakin, Padme, Obi-Wan, Yoda… We Have Them All. Oh, And They All Come With Beautiful Images That You Can Share On Social Media.
*If you are using our images on your website, make sure to put a link back to us. THX.
When reviews for Episode II: Attack of the Clones stated that the Jedi's could not be in a romantic relationship, many fans were understandably confused. We have more tender quotes on Deadpool Quotes blog post.
Star Wars has been around for 25 years at that point, and no one has ever heard of such a thing. The Jedi in the expanded universe had no problems with marriage and family. Even Ki-Adi-Mundi, the Jedi in the Prequel trilogy, was married in the expanded universe.
Suddenly banning romance in the Jedi order seemed like just a cheap way to add a dramatic story. Anakin and Padme can't just have romance; it must be a secret, romantic love. As the story progressed, however, there was another explanation. Visit our Scarface Quotes page for different kind of inspiration.
Perhaps the strict structure and rules of the ancient order of Prequel are nothing wrong. Perhaps, by not allowing Anakin to love, they are ultimately responsible for his fall to the dark side. Also check our Mad Max Quotes that have tons of images that you can use for social sharing.
Star Wars Quotes About Love
We're going to win this war not by fighting what we hate, but saving what we love | Rose Tico
---
You could use a good kiss | Han Solo
---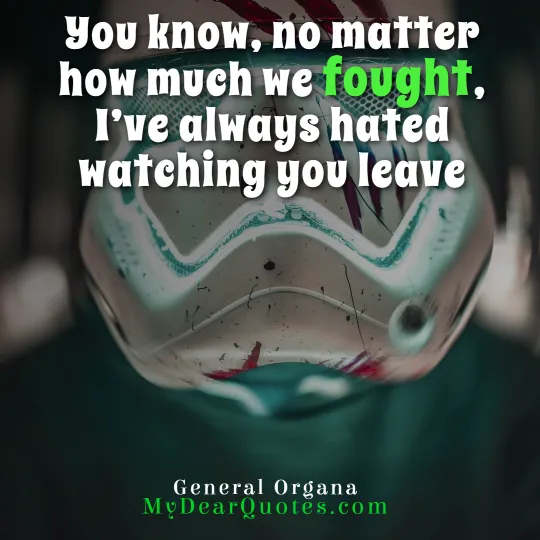 You know, no matter how much we fought, I've always hated watching you leave | General Organa
---
You were my brother, Anakin. I loved you | Obi Wan
---
My love for you is a puzzle… for which I have no answers. I can't control it… and now I don't care. I truly, deeply love you | Padme
---
That's a good story. I think you just can't bear to let a gorgeous guy like me out of your sight | Han Solo
---
Romantic Star Wars Quotes
---
Come on. You want me to stay because of the way you feel about me | Han Solo
---
Why, you stuck up… half-witted… scruffy-looking… Nerf-herder! | Princess Leia
---
You could be a little nicer, though. Come on, admit it. Sometimes you think I'm all right | Han Solo
---
Just for once, let me look on you with my own eyes | Darth Vader
---
I fear nothing. For all is as the Force wills it | Chirrut Imwe
---
You look absolutely beautiful. You truly belong here with us among the clouds | Lando
---
Star Wars Couple Quotes
---
Women always figure out the truth. Always | Han Solo
---
Help me, Obi-Wan Kenobi. You're my only hope | Leia Organa
---
To die for one's people is a great sacrifice. To live for one's people, an even greater sacrifice. I choose to live for my people | Riyo Chuchi
---
Remember, my dear Obi-Wan. I've loved you always. I always will | Duchess Satine Kryze
---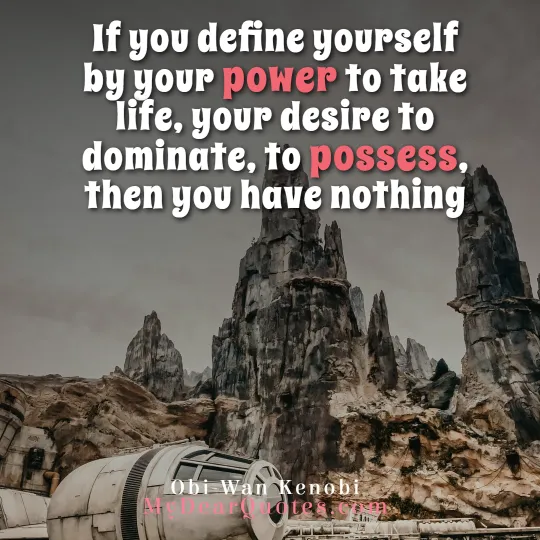 If you define yourself by your power to take life, your desire to dominate, to possess, then you have nothing | Obi-Wan Kenobi
---
Every time I walked away from something I wanted to forget, I told myself it was for a cause that I believed in. A cause that was worth it. Without that, we're lost | Cassian Andor
---
We're not alone. Good people will fight if we lead them | Poe Dameron
---
More Star Wars Movie Quotes
---
Now, be brave, and don't look back | Shmi Skywalker
---
I'm not afraid to die. I've been dying a little bit each day since you came back into my life | Padmé
---
You're asking me to be rational. That is something that I know I cannot do. Believe me, I wish I could just wish away my feelings, but I can't | Anakin Skywalker
---
I did want to take your hand, Ben's hand | Rey
---
It's mutual, trust me. She belongs with me | Han Solo
---
Compassion, which I would define as unconditional love, is essential to a Jedi's life so you might say we are encouraged to love | Anakin Skywalker
---

Anakin's And Padme's Love Was Forbiden
Anakin Skywalker is an unusual case. He did not begin training Jedi until he was nine years old; "too old," according to Yoda. The Jedi Council made an exception because of its extraordinary potential: it had the highest recorded midi-chlorine numbers, and perhaps even the Chosen One prophesied to bring balance to the Force.
Anakin had a connection to the Jedi Order, but he seems to be more attached to his master than loyalty to the Order as a whole.
Can Anakin leave the Jedi Order? Probably. He may have had nothing to return to, with his past as a slave to the Tatooine, but he had talents outside of the Jedi, as well as a relationship with a woman of great position and influence.
But what would happen then? Anakin would still be unstable, acting impulsively on his emotions. However, outside the Jedi order, he would have no one to try to keep him. He would probably become even more vulnerable to manipulation by Chancellor Palpatine. And he would certainly still give anything to try to prevent sudden death.
Click that share button if you liked our Star Wars Love Quotes.
---
---