Spider Man QUOTES And Sayings
Really Cool Spider Man Quotes And Sayings With Images From The Iconic And Beloved Superhero. All Pictures Are Shareable. Enjoy.
When it comes to American industrial comics, mostly superheroes, the name – screenwriter – is often associated with a certain period or narrative arcs. So many comic book fans have heard of Miller's Derdeville, Moore's Swamp Creature, Gaiman's Sandman or Batman's Grant Morrison… You can check our quotes from Scarface on the link.
But Spider-Man is one of the titles that was equally marked by the engagements of cartoonists, and one of them was Ross Andrew.
Marvel's real market penetration coincided with the appearance of Amazing Spider-Man. The Spiders are '62. co-created by Lee and cartoonist Steve Ditko, whose influence on the series, until he withdrew after about forty issues, was huge. High school student Peter Parker was bitten by a radioactive spider, after which he gained superpowers.
But his life, at least at first, did not get better because of it; namely, it has become more complicated. And Spider-Man was imagined by Jack Kirby as a teenager with a magic ring, thanks to whom he turns into a powerful hero. Visit our quotes from fight club for more movie quotes.
*If you are using our images on your website, make sure to put a link back to us. THX.
---
Spider Man Quotes
But No Matter How Hard I Try… People… Die!
---
My Name Is Peter Parker, And I've Been Spider-Man Since I Was Fifteen Years Old
---
When I Think Of Spider-Man? I Think, No Matter What… He's Never Going To Stop Helping People
---
No Man Can Win Every Battle, But No Man Should Fall Without A Struggle
---
Ah, Man, When Wolverine Grows His Face Back, He's Really Gonna Be Pretty Upset
---
Remember, with great power comes great responsibility
---
I'm just your friendly neighborhood Spider-Man
---
I love you… I love you so much. I always have
---
Spider Man Sayings
---
Sometimes to do what's right we must be steady and give up the things we desire the most… even our dreams
---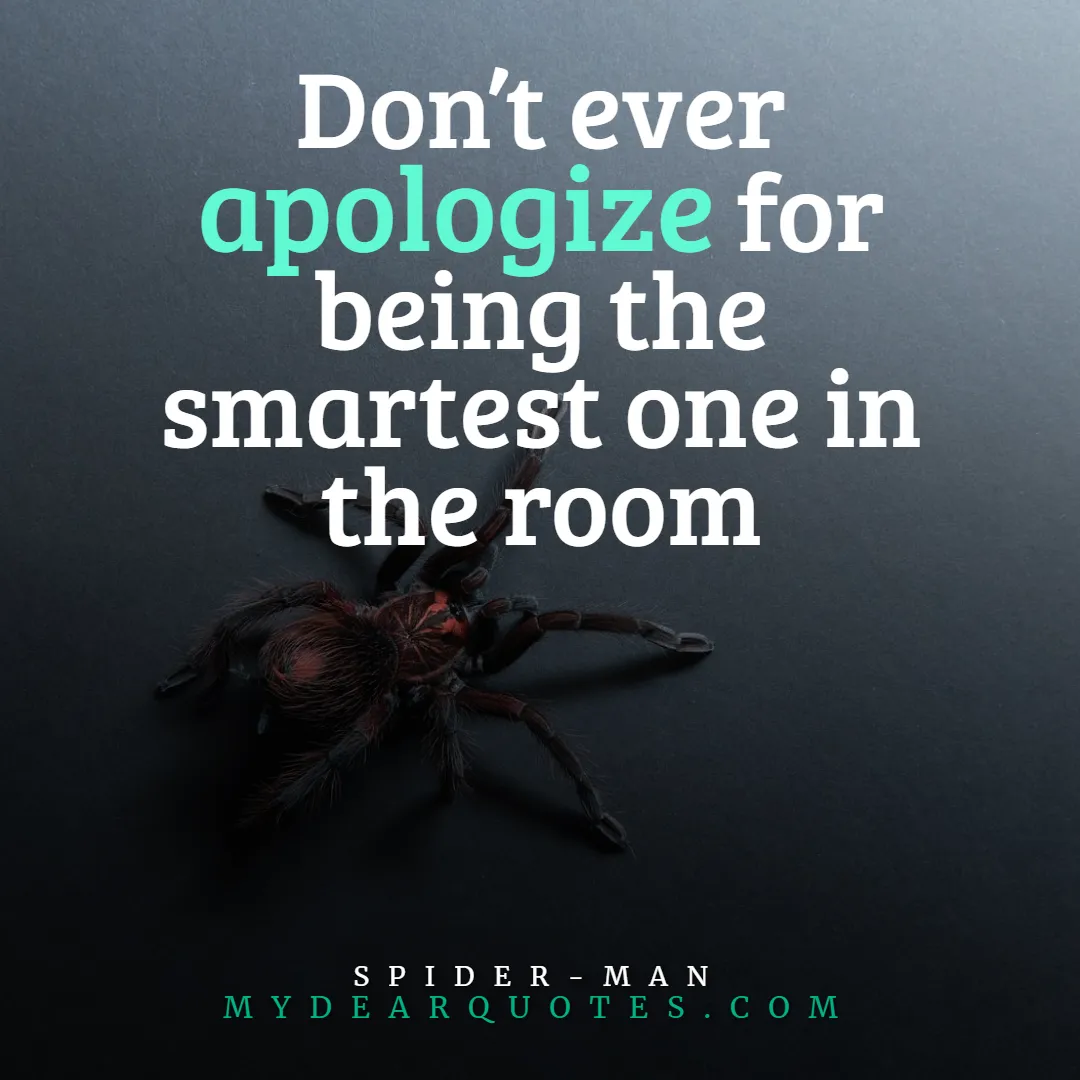 Don't ever apologize for being the smartest one in the room
---
No matter what I do, no matter how hard I try, the ones I love will always be the ones who pay
---
If you keep something as complicated as love stored up inside, it could make you sick
---
You can't think about saving the world. You have to think about saving one person
---
A man has to be understanding and put his wife before himself. Can you do that, Peter?
---
Every day I wake up knowing that the more people I try to save. The more enemies I will make
---
Far from home quotes
---
Not everyone has a happy ending
---
Never wound what you can't kill
---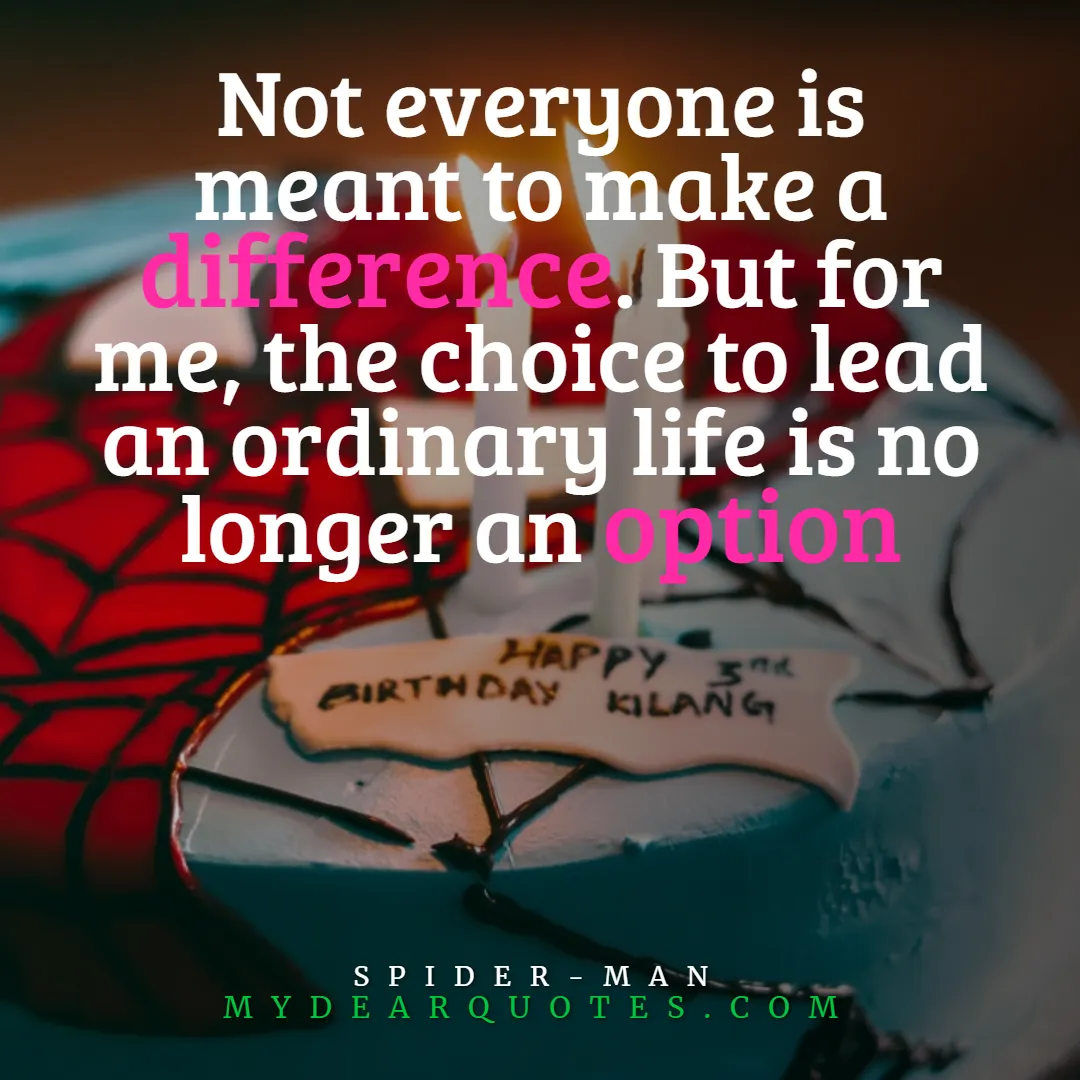 Not everyone is meant to make a difference. But for me, the choice to lead an ordinary life is no longer an option
---
Look, when you can do the things that I can, but you don't, and then the bad things happen, they happen because of you
---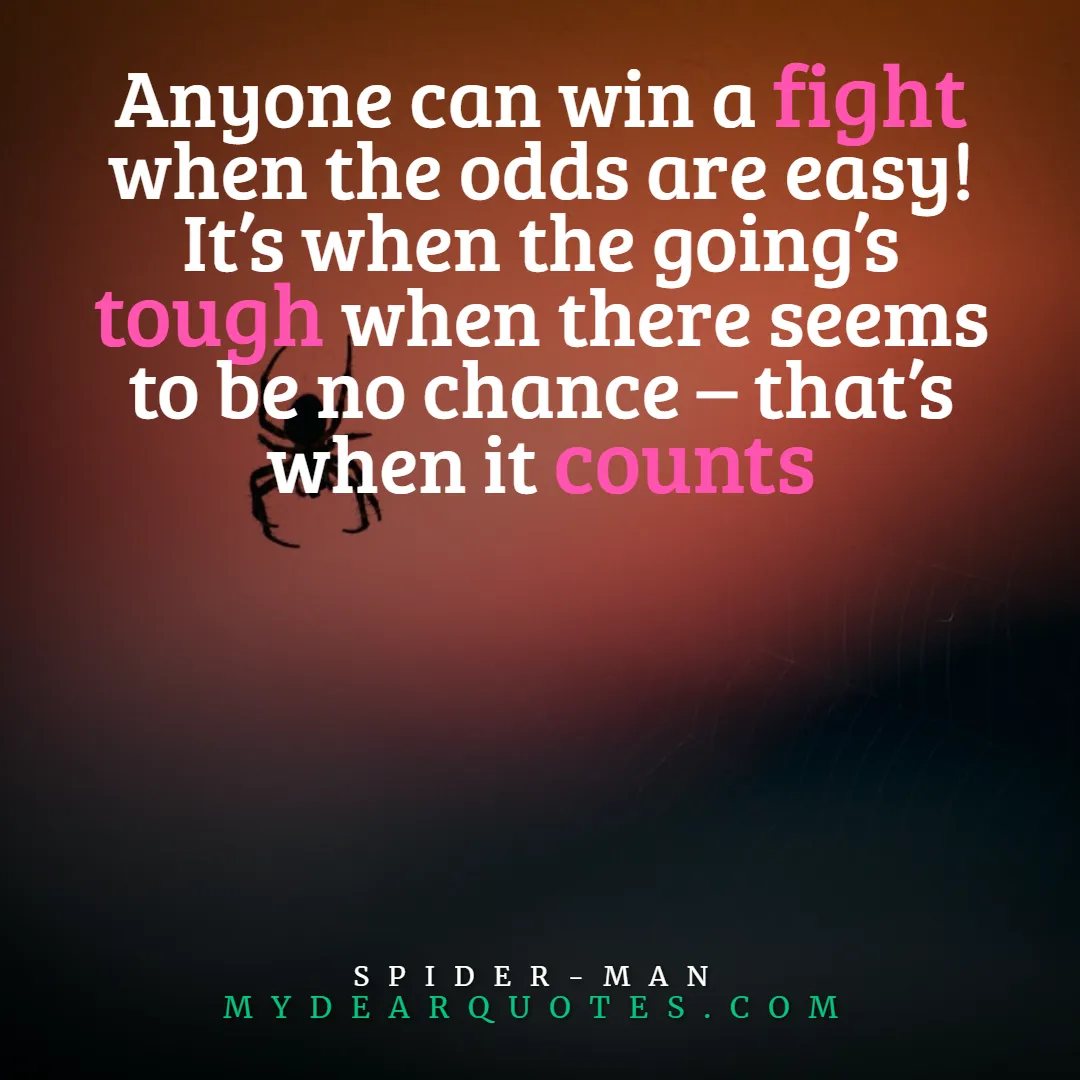 Anyone can win a fight when the odds are easy! It's when the going's tough when there seems to be no chance – that's when it counts
---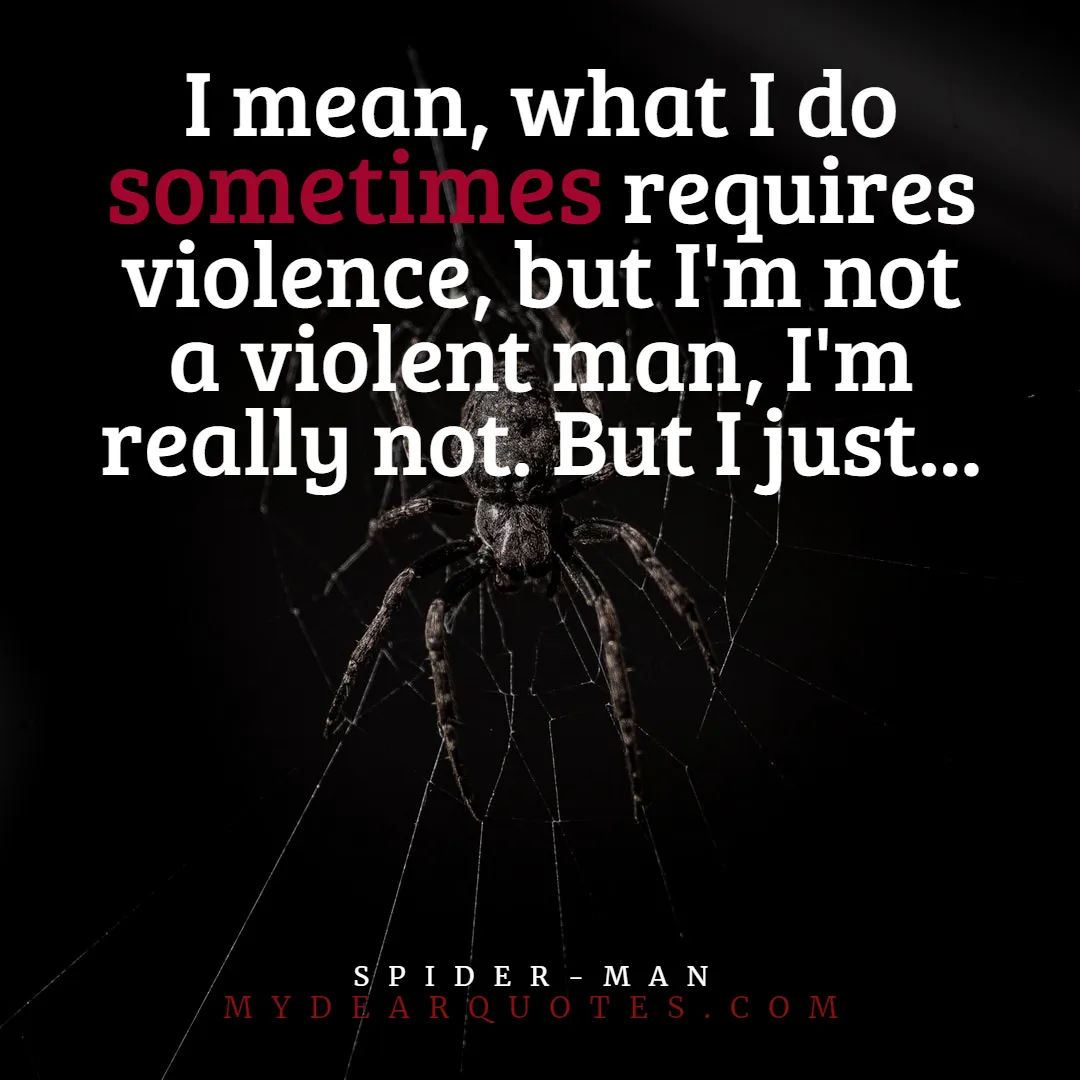 I mean, what I do sometimes requires violence, but I'm not a violent man, I'm really not. But I just…
---
You have a metal arm? Dude, that is so awesome!
---
Funny spiderman quotes
---
Why can't Spider-sense warn you when you're about to get dumped?
---
Love should never be a secret. If you keep something as complicated as love stored up inside, it could make you sick
---
The great thing about MJ is… when you look in her eyes … everything… feels… not quite normal
---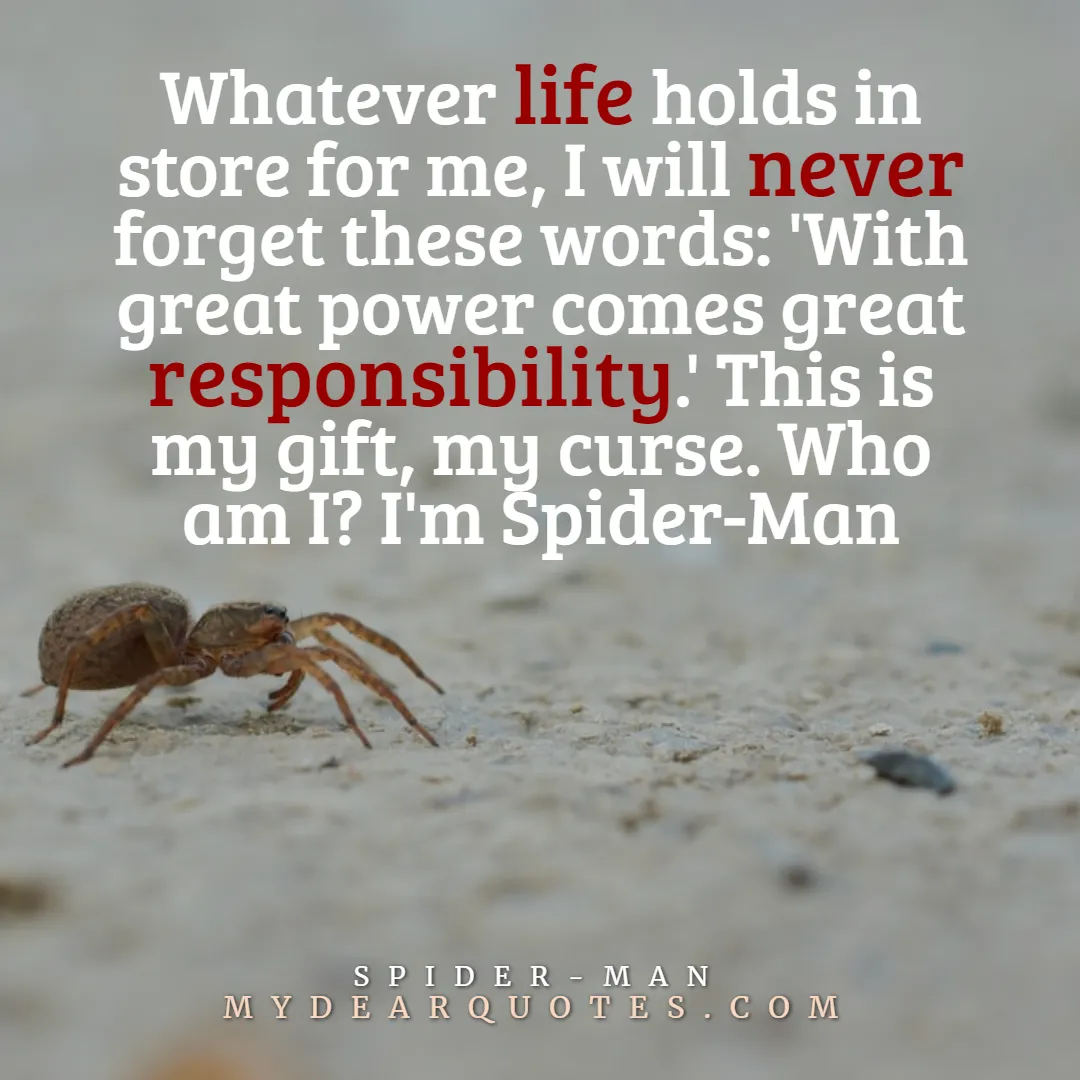 Whatever life holds in store for me, I will never forget these words: 'With great power comes great responsibility.' This is my gift, my curse. Who am I? I'm Spider-Man
---
Secrets have a cost. They're not free. Not now, not ever
---
The itsy bitsy spider went up the water spout, down came the goblin, and took the spider out
---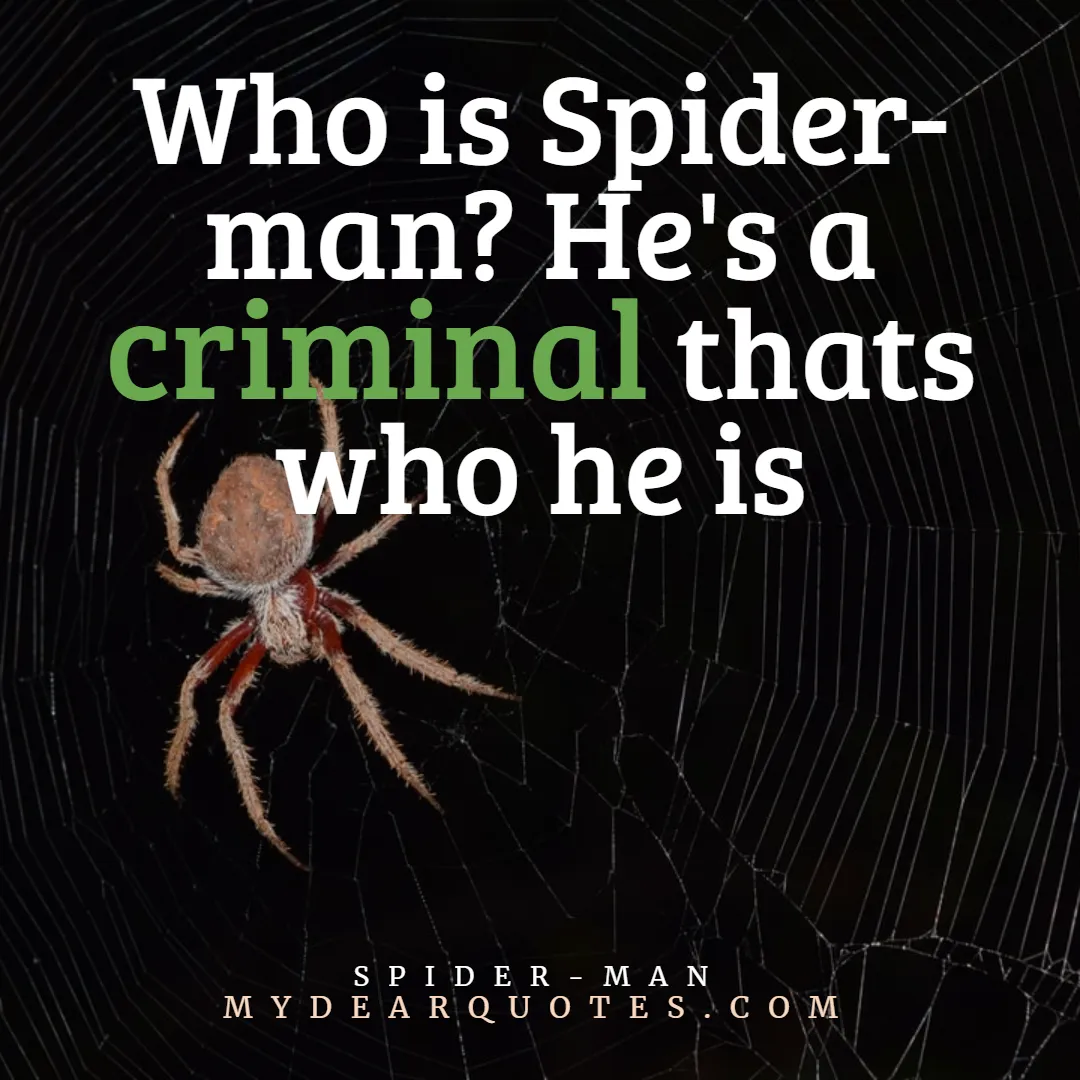 Who is Spider-man? He's a criminal thats who he is
---
Do I get to say thank you this time?
---
Those were 30 Spider Man Quotes that we have created for you. All of the pictures are shareable. Just hover over them for sharing. Thank You.
---
---