30+ Funny DEADPOOL Quotes
These Funny Deadpool Quotes With Pictures Are For Smiling, But Also For Motivation And Inspiration. This Beloved Character Owns Some Of the Funniest And Smartest Quotes From Movies.
The film is based on a Marvel comic about the unconventional anti-hero Deadpool. The focus of the story is a former member of special units – mercenary Wade Wilson, who after rigorous experiments acquires the supernatural power of healing and turns into his alter ego, Deadpool. Check Fight Club Quotes if you need more awesome movie quotes.
*If you are using our images on your website, make sure to put a link back to us. THX.
---
Best deadpool quotes
Bad Deadpool… Good Deadpool!
---
Say the magic words, Fat Gandalf
---
Guy came in here looking for you. Real Grim Reaper-type. I don't know. Might further the plot
---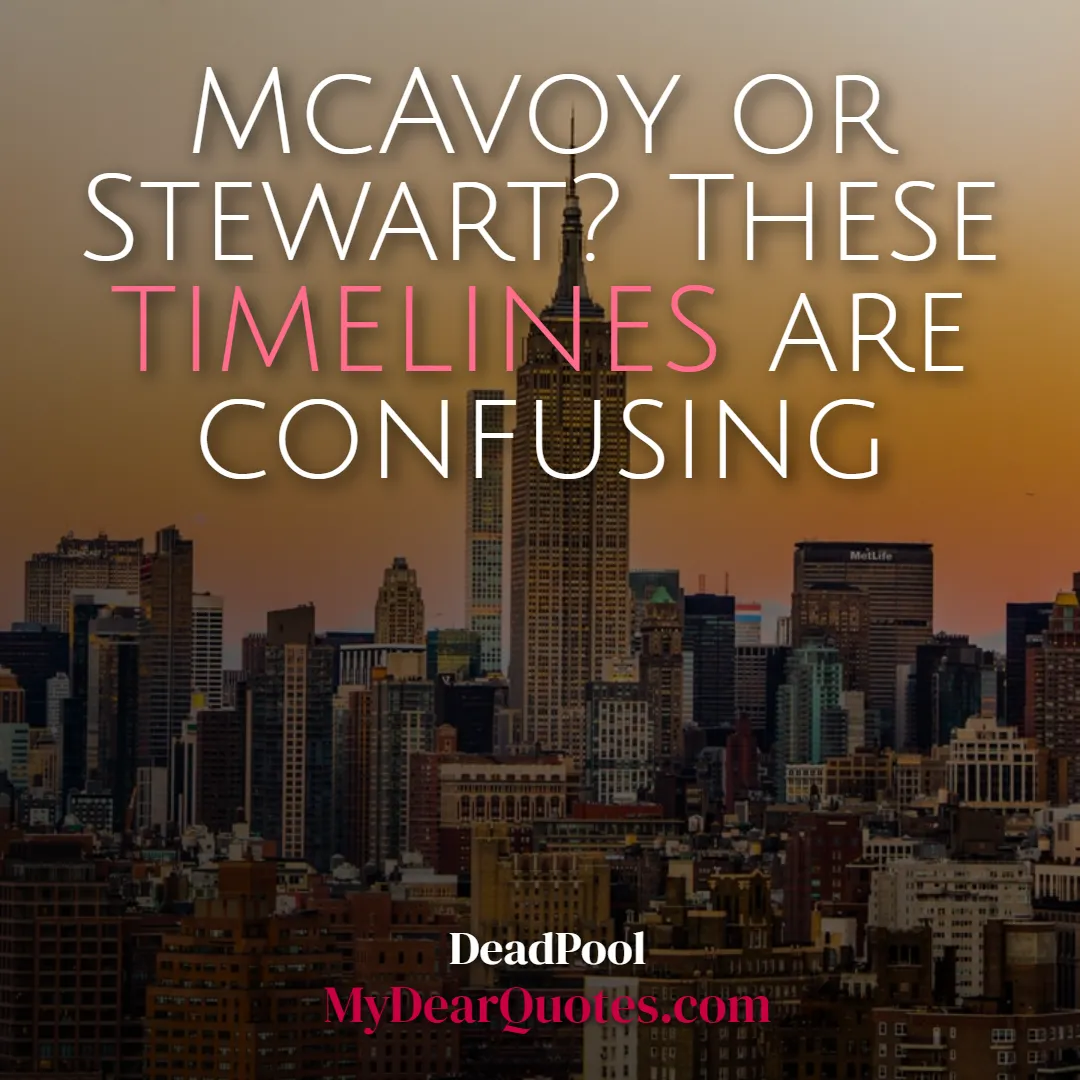 McAvoy or Stewart? These timelines are confusing
---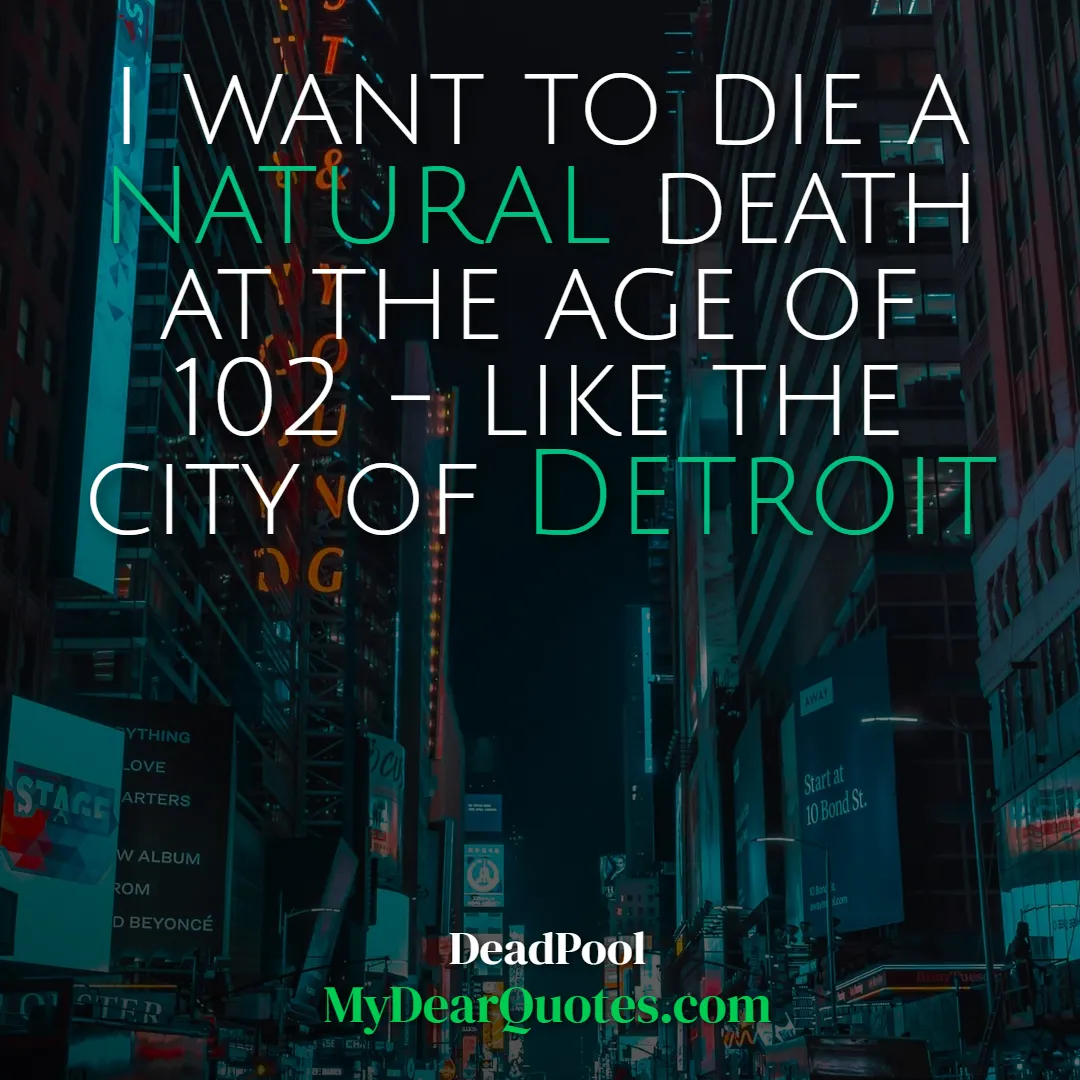 I want to die a natural death at the age of 102 – like the city of Detroit
---
Well, that's just lazy writing
---
I had another Liam Neeson nightmare. I kidnapped his daughter and he just wasn't having it
---
Negasonic Teenage – what the sh*t!? That's the coolest name ever
---
Deadpool movie quotes
---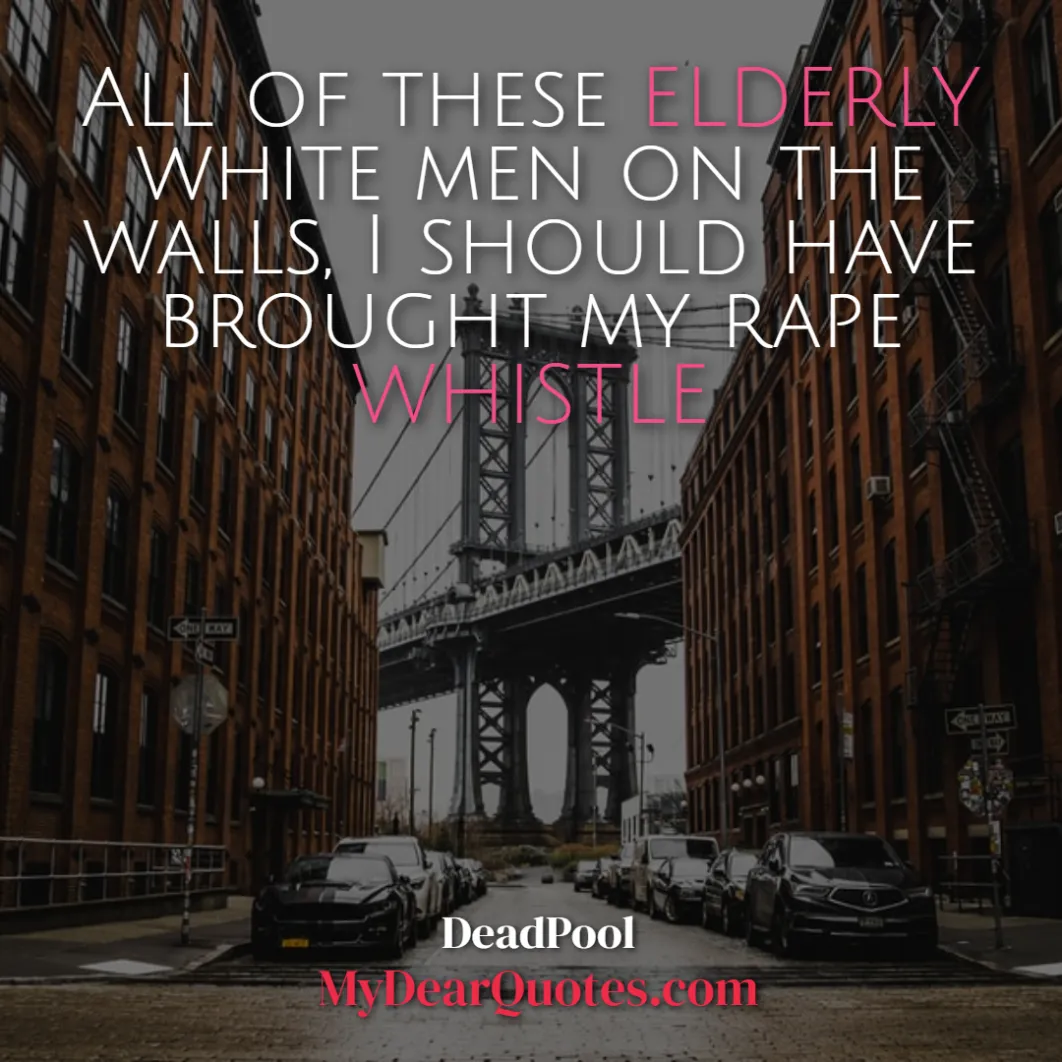 All of these elderly white men on the walls, I should have brought my rape whistle
---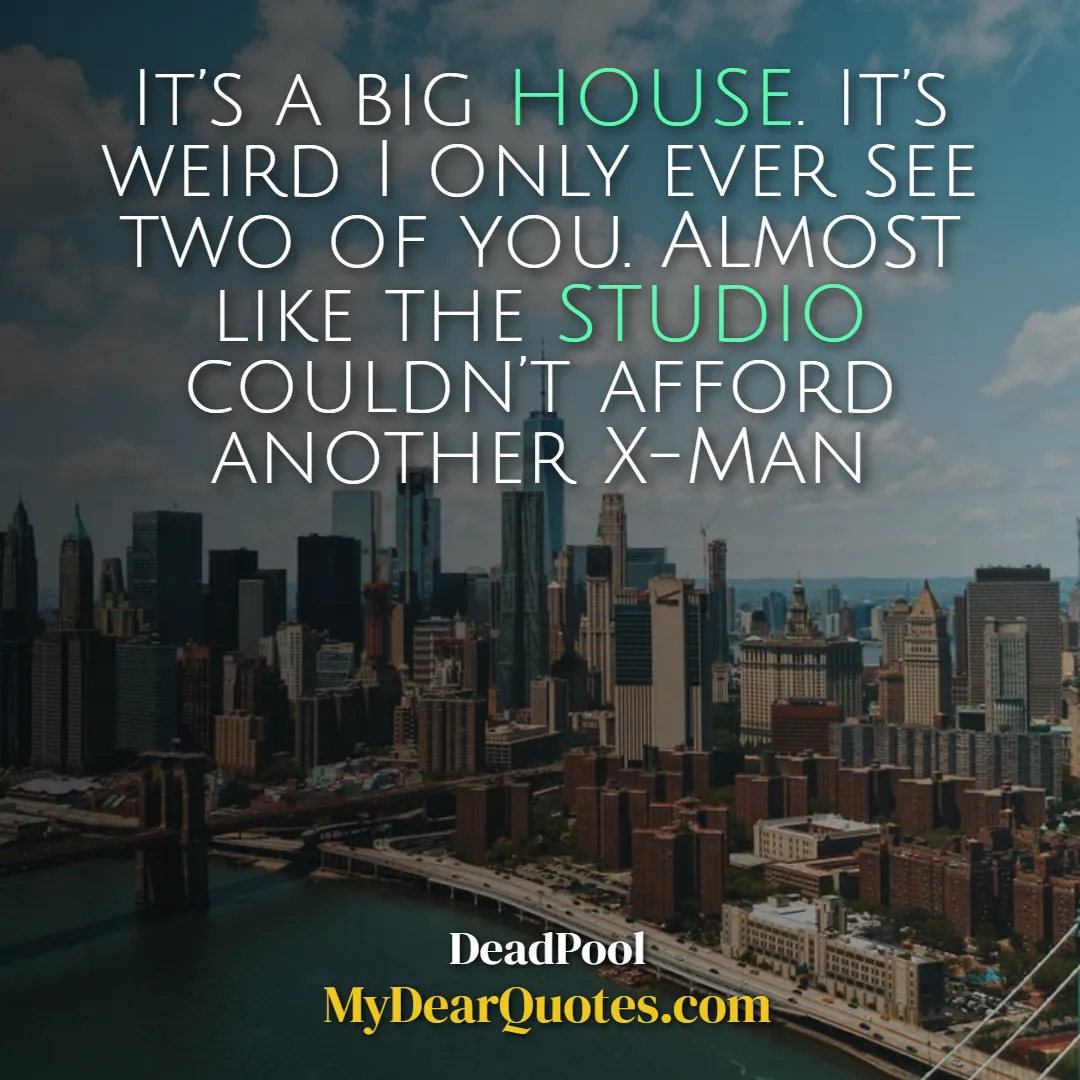 It's a big house. It's weird I only ever see two of you. Almost like the studio couldn't afford another X-Man
---
Daddy Needs To Express Some Rage
---
All the dinosaurs feared the mighty T-Rex
---
It's So confusing! Is it sexist to hit you? Is it more sexist to not hit you.. I am so confused
---
I'm touching myself tonight
---
You even look in her direction, and I'll show you that I've got some hard spots… that came out wrong… or did it?
---
Deadpool 2 Quotes
---
You know what they call cancer in Spanish? El cancer
---
I didn't just get the cure to el cancer, I got the cure to el everything
---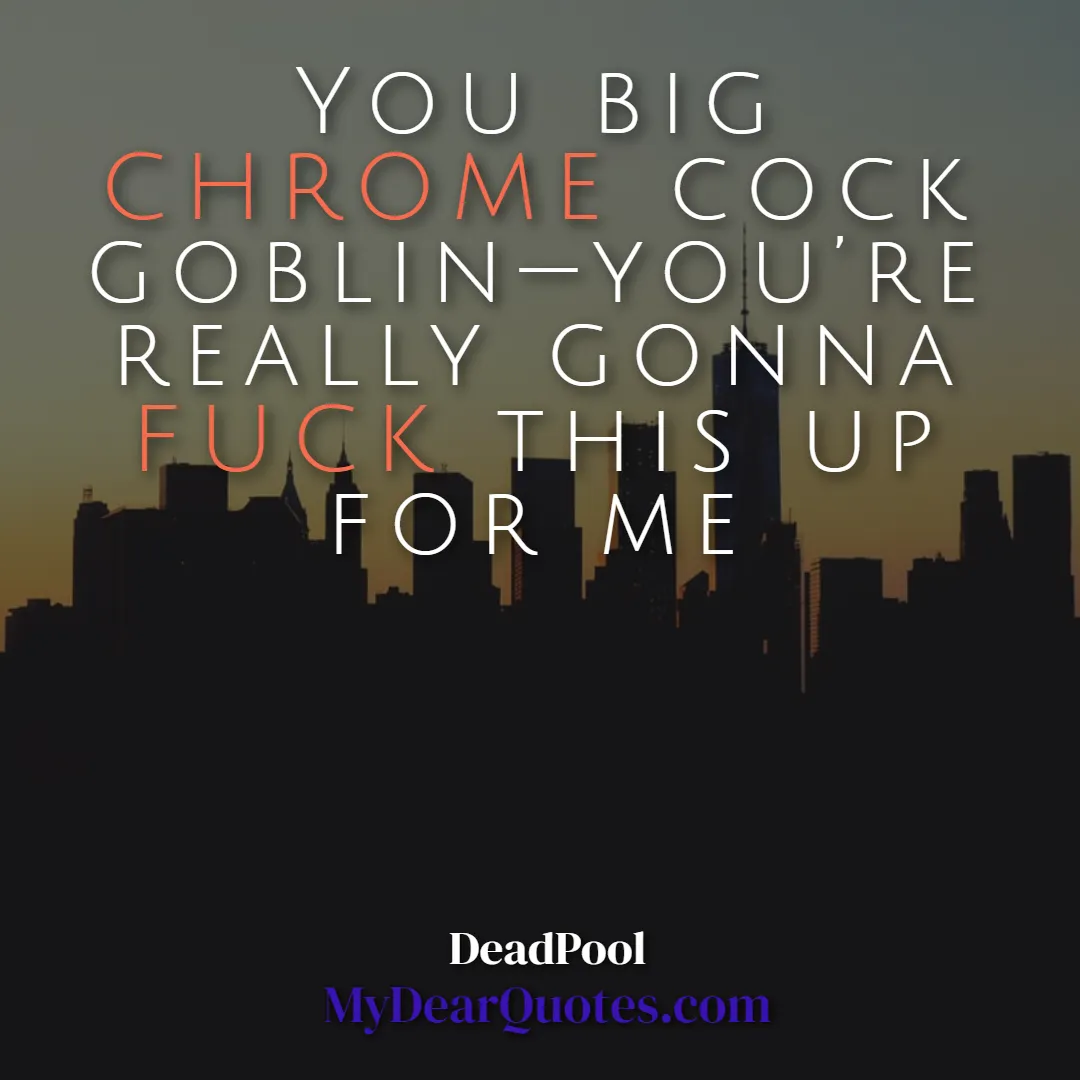 You big chrome cock goblin—you're really gonna fuck this up for me
---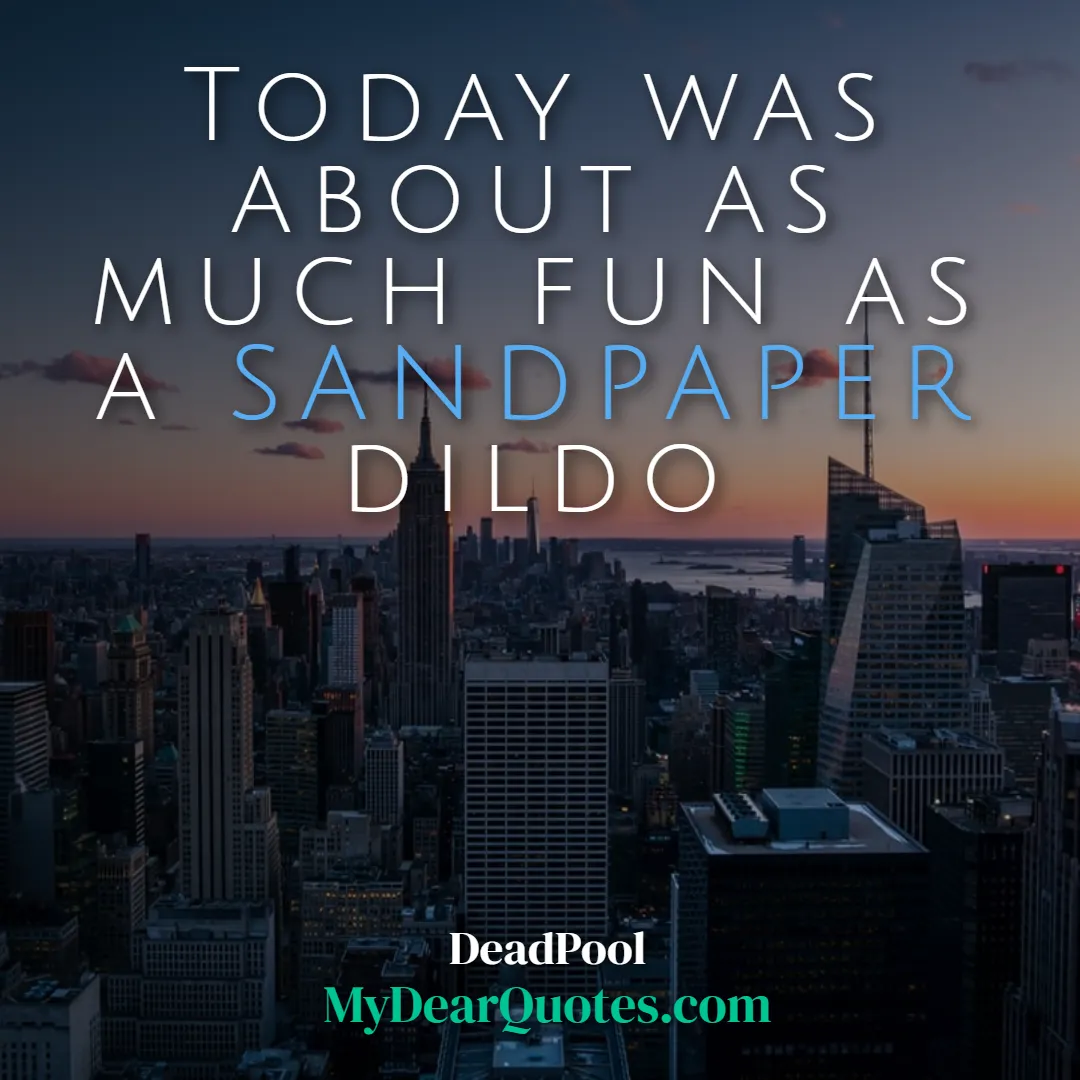 Today was about as much fun as a sandpaper dildo
---
I have every episode of Star Trek. The classic. Not the one with the bald guy that looks like Professor X
---
Whatever they did to me made me totally indestructible… and completely unfuckable
---
Superhero Quotes And Sayings
---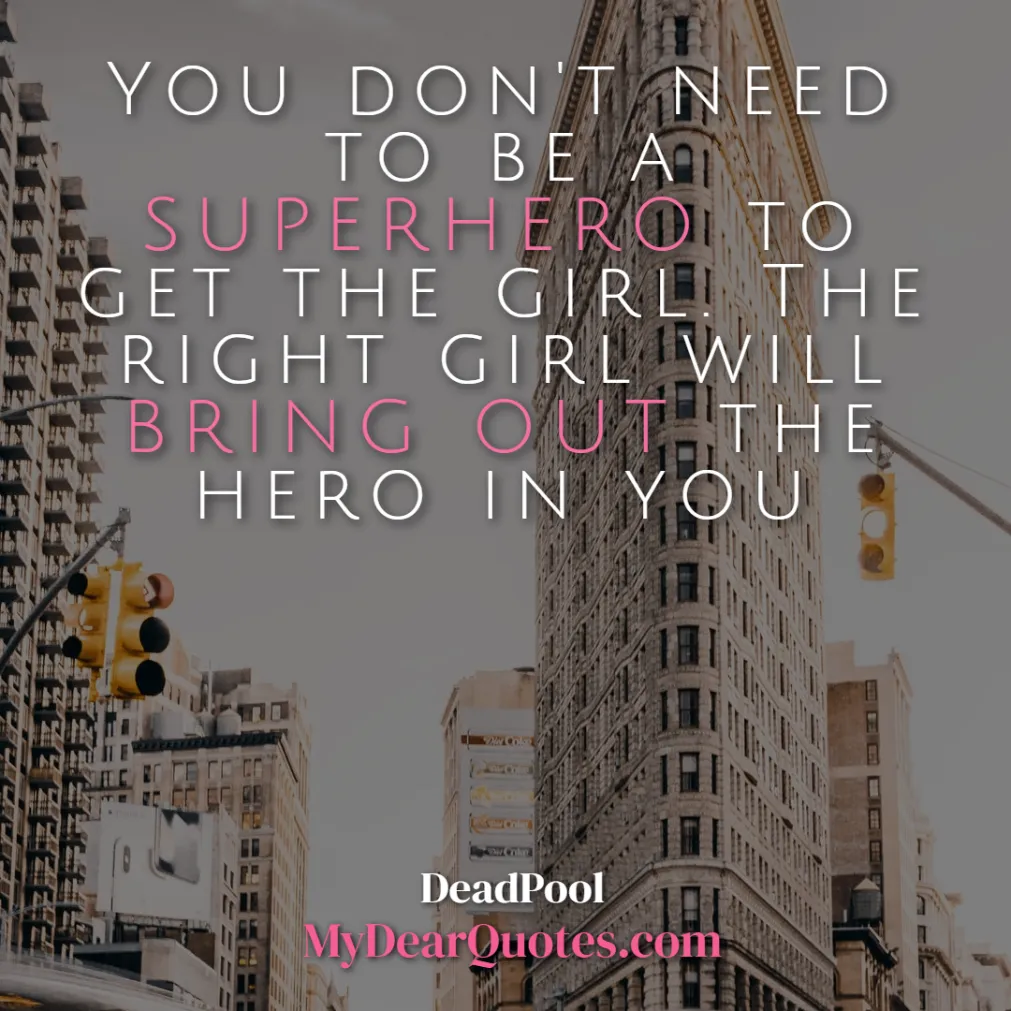 You don't need to be a superhero to get the girl. The right girl will bring out the hero in you
---
Now, I'm about to do to you what Limp Bizkit did to music in the late '90s
---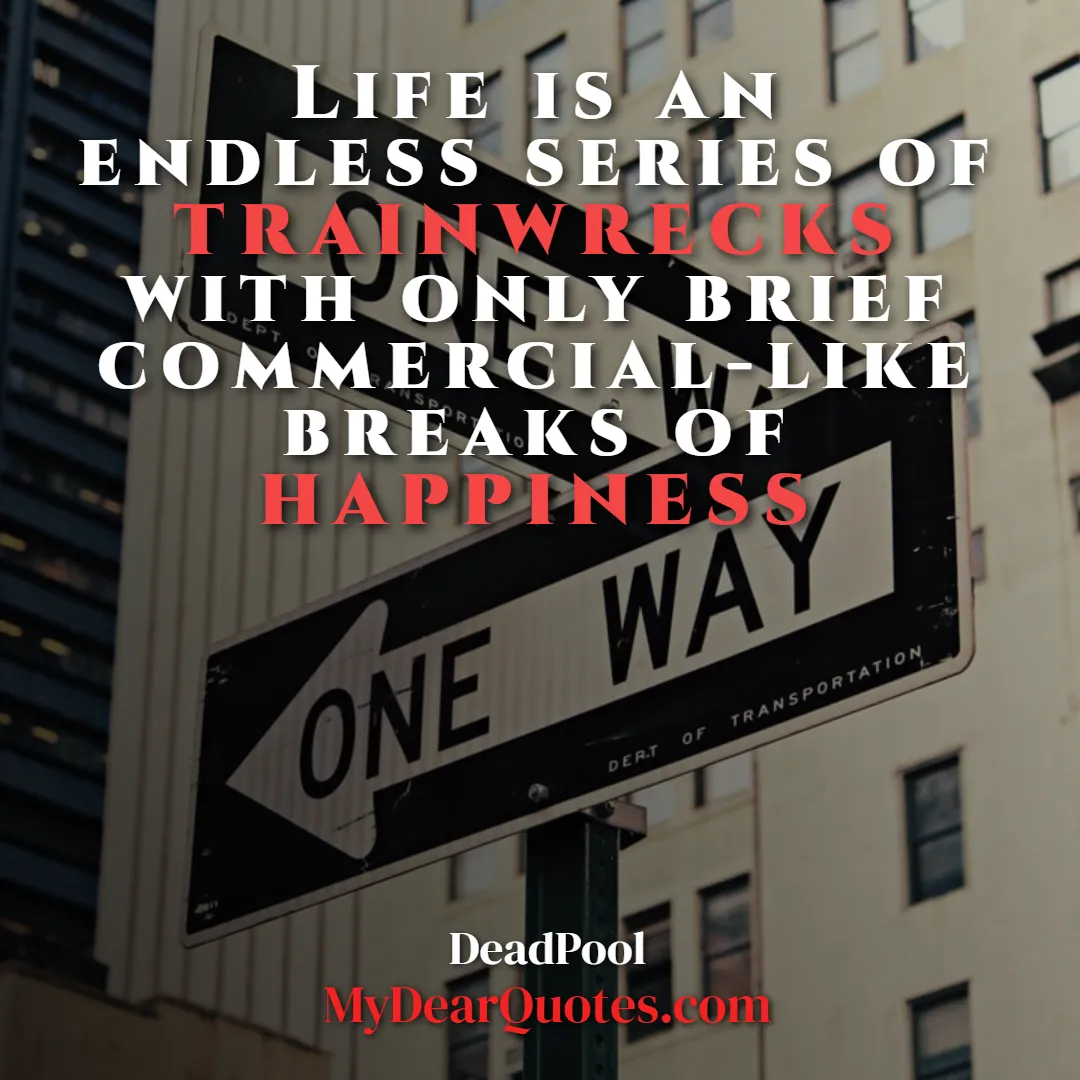 Life is an endless series of trainwrecks with only brief commercial-like breaks of happiness
---
I didn't ask to be super, and I'm no hero. But when you find out your worst enemy is after your best girl, the time has come to be a fucking superhero
---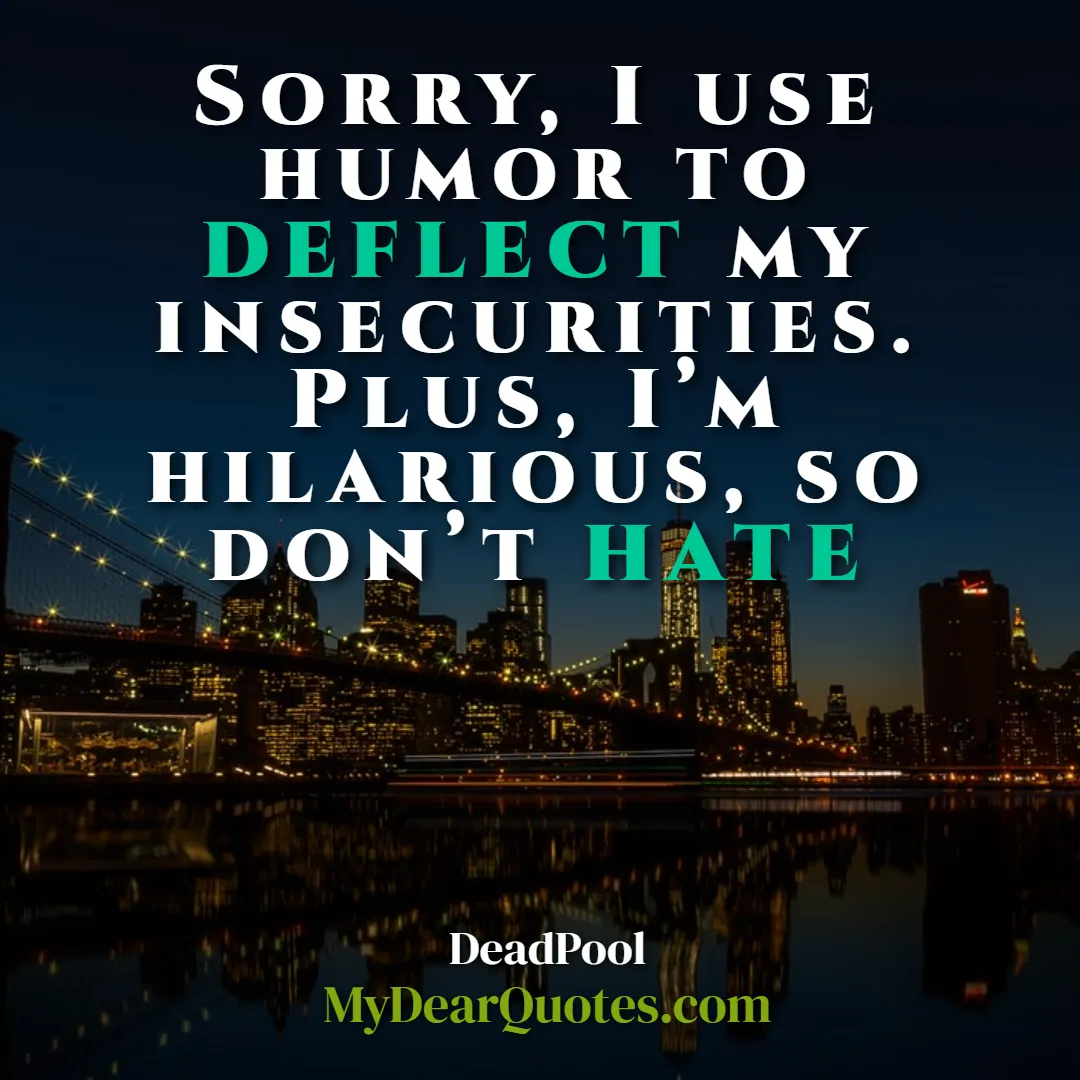 Sorry, I use humor to deflect my insecurities. Plus, I'm hilarious, so don't hate
---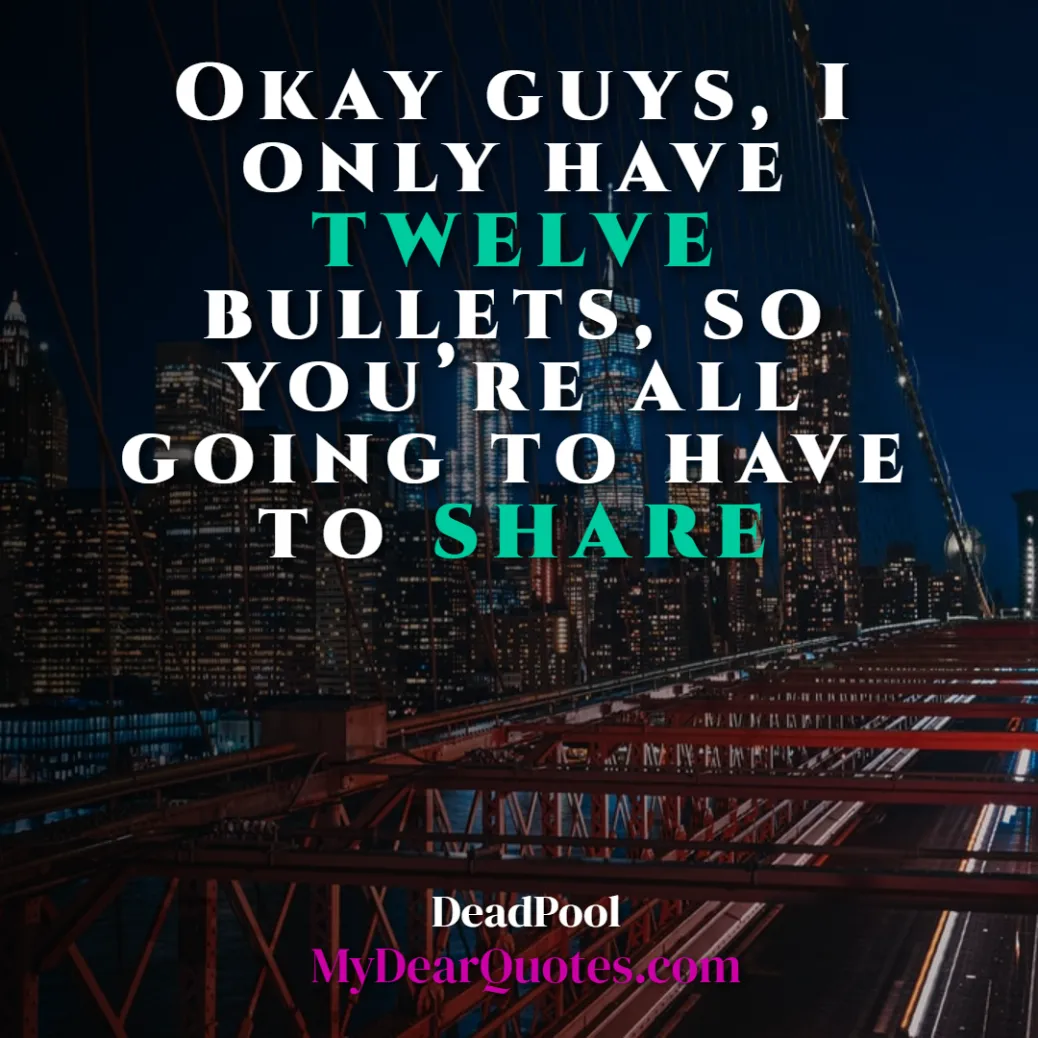 Okay guys, I only have twelve bullets, so you're all going to have to share
---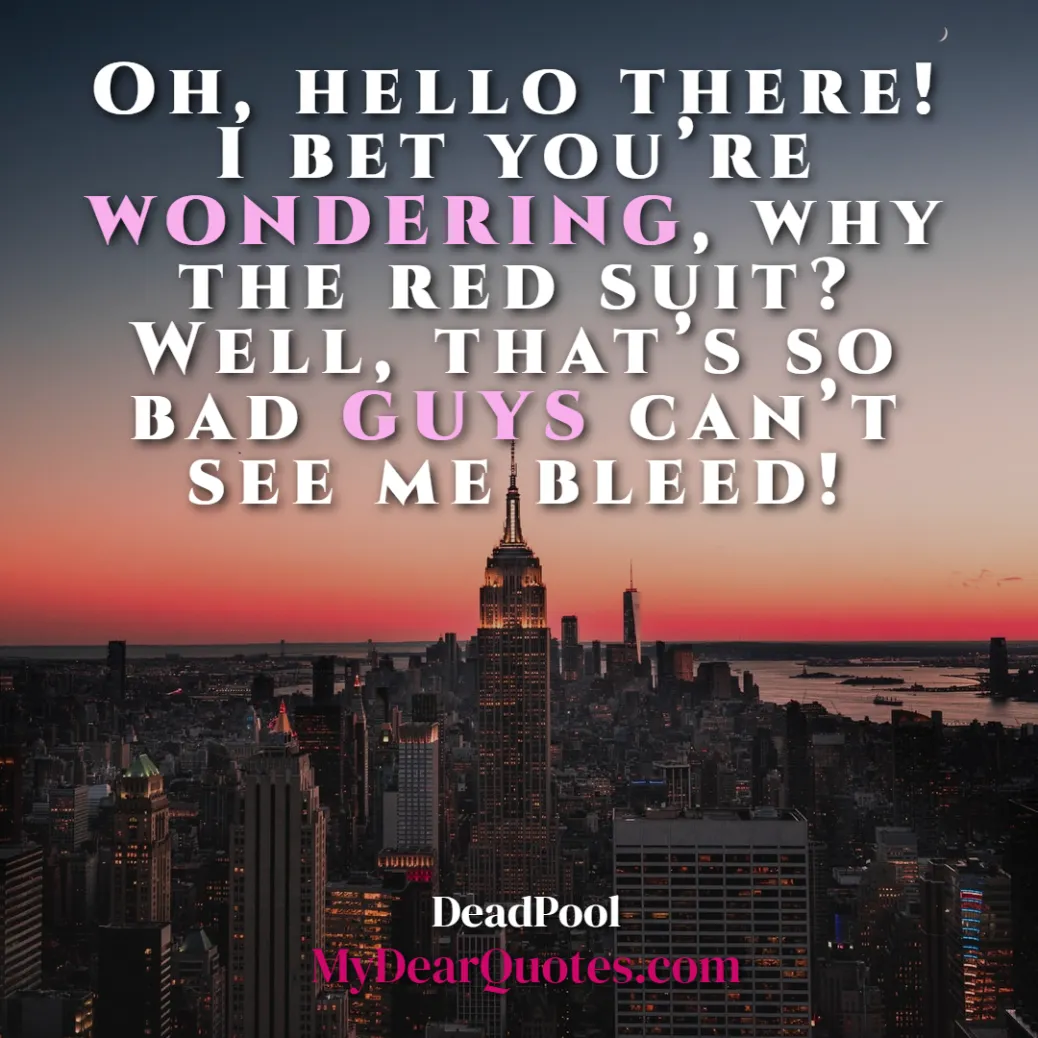 Oh, hello there! I bet you're wondering, why the red suit? Well, that's so bad guys can't see me bleed!
---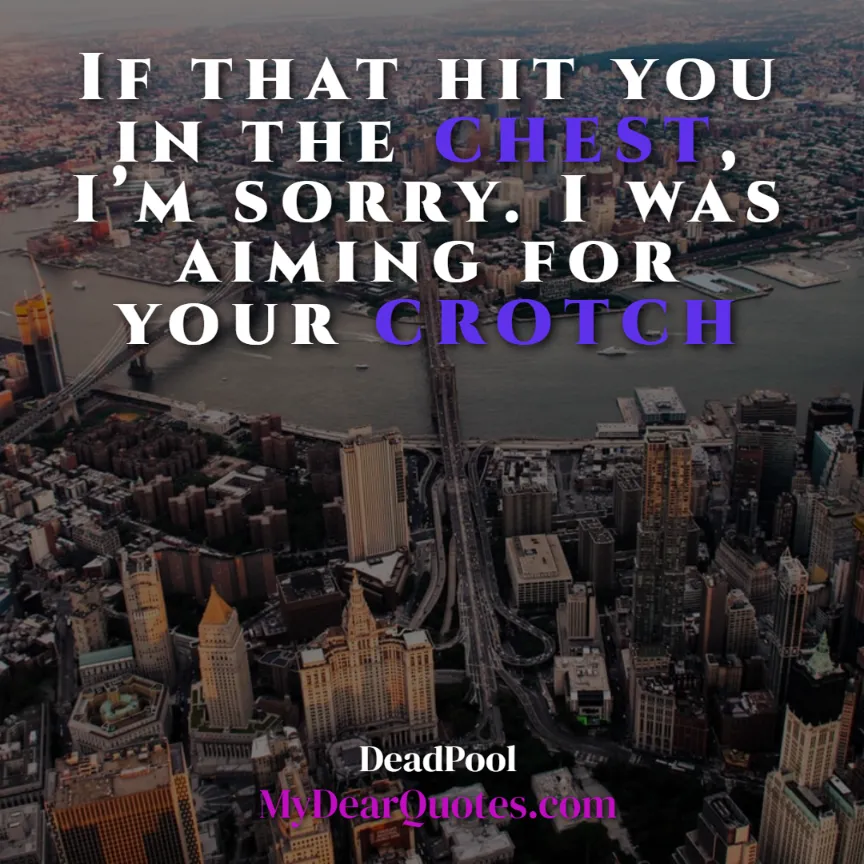 If that hit you in the chest, I'm sorry. I was aiming for your crotch
---
I can say Chimichanga in seven languages
---
That was our 30 Deadpool Quotes. We hope you liked it. If you did, hover over the pictures and you will get a share option.
---
---