PHILOSOPHICAL Friedrich Nietzsche Quotes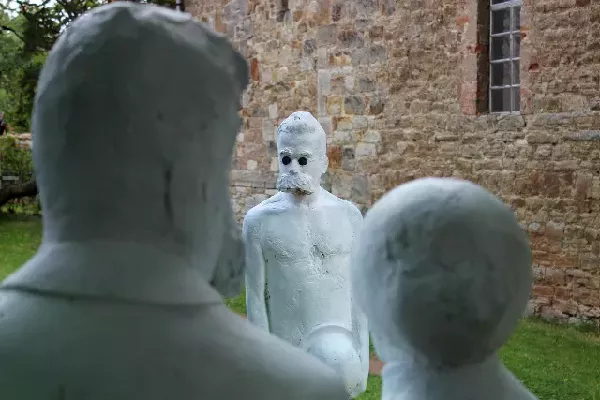 Collection of the best Friedrich Nietzsche Quotes with images. We have 30 quotes along with images from one of the greatest minds of the 19th century. Look around, make a comment, make a share, be inspired… We hope that you enjoy it.
Friedrich Wilhelm Nietzsche was a very influential German philosopher, critic, poet, philologist, and essayist. He wrote about religion, morality, good and evil, culture, philosophy, and science. He was the most provocative thinker of the 19th century.
Some of his most famous works are: On the Other Side of Good and Evil, Thus Spoke Zarathustra, On the Benefits and Harms of History for Life, Human, Too Human, Dawn, The Wagner Case, Antichrist, Cursed Christianity, Schopenhauer as a Teacher…
Friedrich Nietzsche believed that accepting difficulties was essential for fulfilling life, believing that self-knowledge was one of the most important existential problems. Visit quotes from Edgar Allan Poe for more sayings with images.
He emphasized how we find ourselves and how we present our own talents in his excellent essay entitled "Schopenhauer as an Educator".
*If you are using our images on your website, make sure to put a link back to us. THX.
---
Deep And Powerful Friedrich Nietzsche Quotes
It is not a lack of love, but a lack of friendship that makes unhappy marriages
---
It is hard enough to remember my opinions, without also remembering my reasons for them
---
Whoever fights monsters should see to it that in the process he does not become a monster. And if you gaze long enough into an abyss, the abyss will gaze back into you
---
You have your way. I have my way. As for the right way, the correct way, and the only way, it does not exist
---
The snake which cannot cast its skin has to die. As well the minds which are prevented from changing their opinions, they cease to be mind
---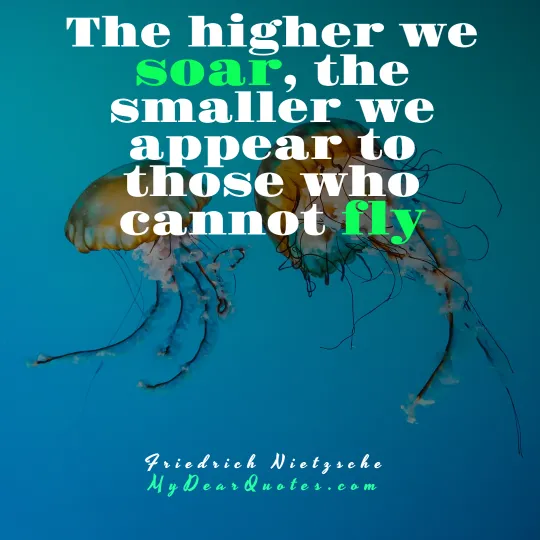 The higher we soar, the smaller we appear to those who cannot fly
---
The surest way to corrupt a youth is to instruct him to hold in higher esteem those who think alike than those who think differently
---
Today as always, men fall into two groups: slaves and free men. Whoever does not have two-thirds of his day for himself, is a slave, whatever he may be: a statesman, a businessman, an official, or a scholar
---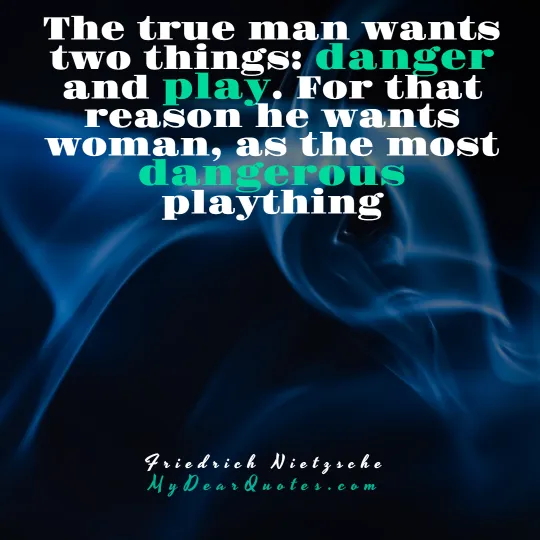 The true man wants two things: danger and play. For that reason he wants woman, as the most dangerous plaything
---
Friedrich Nietzsche Affirmations
---
What does your conscience say? — 'You should become the person you are'
---
In heaven, all the interesting people are missing
---
One ought to hold on to one's heart; for if one lets it go, one soon loses control of the head too
---
One repays a teacher badly if one always remains nothing but a pupil
---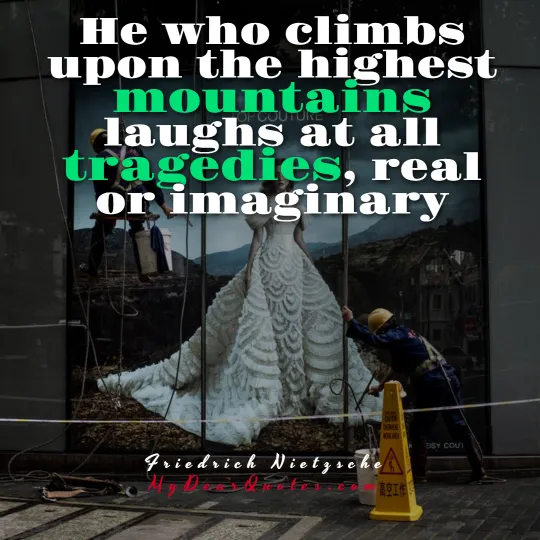 He who climbs upon the highest mountains laughs at all tragedies, real or imaginary
---
A good writer possesses not only his own spirit but also the spirit of his friends
---
Best Nietzsche quotes
---
There will always be rocks in the road ahead of us. They will be stumbling blocks or stepping stones; it all depends on how you use them
---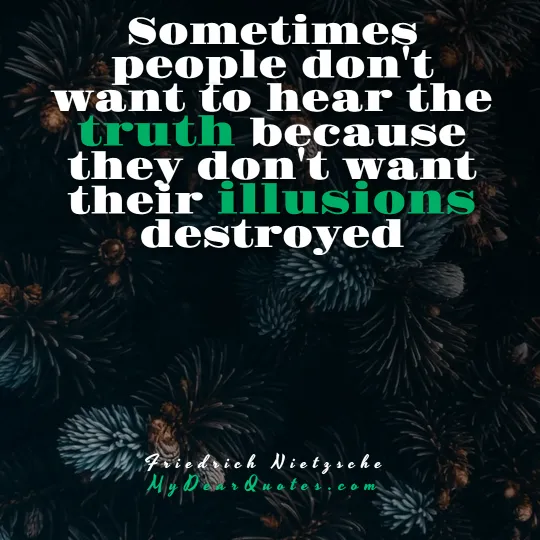 Sometimes people don't want to hear the truth because they don't want their illusions destroyed
---
And those who were seen dancing were thought to be insane by those who could not hear the music
---
I was in darkness, but I took three steps and found myself in paradise. The first step was a good thought, the second, a good word, and the third, a good deed
---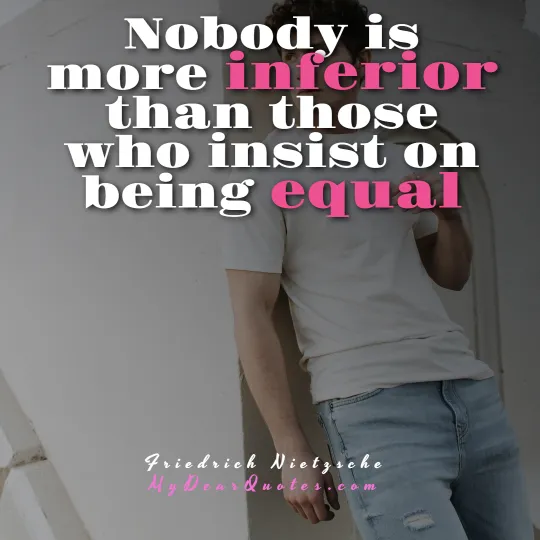 Nobody is more inferior than those who insist on being equal
---
That which does not kill us makes us stronger
Nietzsche quotes about life
---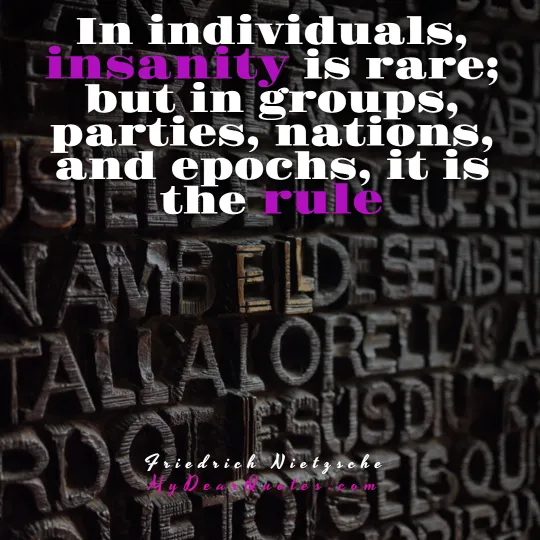 In individuals, insanity is rare; but in groups, parties, nations, and epochs, it is the rule
---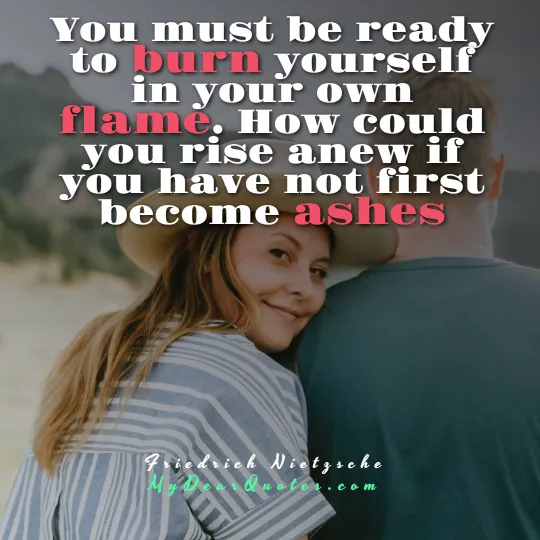 You must be ready to burn yourself in your own flame. How could you rise anew if you have not first become ashes
---
No price is too high to pay for the privilege of owning yourself
---
A sedentary life is the real sin against the Holy Spirit. Only those thoughts that come by walking have any value
---
Philosophical Affirmations And Sayings
---
Enjoy life. This is not a dress rehearsal
---
Do not allow yourselves to be deceived: Great Minds are Skeptical
---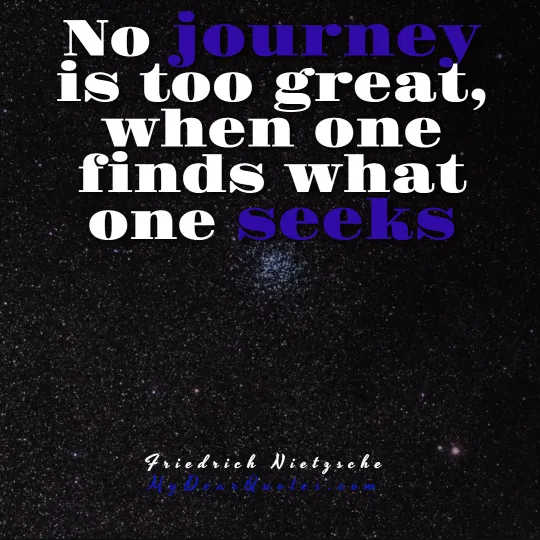 No journey is too great, when one finds what one seeks
---
My solitude doesn't depend on the presence or absence of people; on the contrary, I hate who steals my solitude without, in exchange, offering me true company
---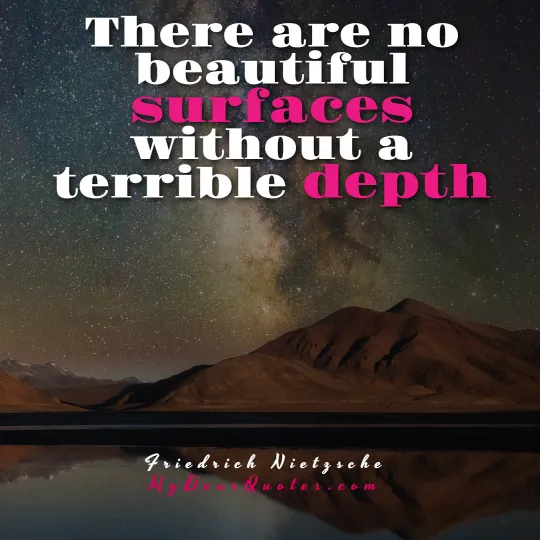 There are no beautiful surfaces without a terrible depth
---
These were the Friedrich Nietzsche Quotes that we have made for you. If you liked our post, please share it on social media. Thank You.
---
---