Short Sad Quotes About Life [Game-CHANGING]
We have Short Sad Quotes For Tender Souls That Are Seeking Some Light At The End Of A Tunel. All Quotes Comes With Beautiful Images. Please Enjoy.
If you decide to go to this site, then you are mostly in a bad mood. Here are meaningful sad quotes, which people often use to somehow survive their grief and sorrow, which they have in their hearts and soul.
Grief is an emotional state that everyone experiences at least once in their life. Because life has its stages and moments when it will let you down or even depress you. Nothing is everlasting: sorrow does not last forever. It will turn into happiness as soon as life changes phase – just as day becomes night and winter becomes summer.
It's hard to advise someone not to be sad because we understand that sometimes it's just a necessity. You are sad, you understand the world differently, you understand your life better and you prioritize. Sadness can make you so negative that you will only concentrate on the negative side of things around you.
A simple story or quote about life can't help you cheer yourself up – it's obvious, but it will grab the attention of your friends who can put you in a good mood and change the situation for the better. After all, friends should always help us in a difficult time and always support us.
Below you can find sentences and pictures with the saddest quotes ever that a mysterious person can refer to. If you are under a black cloud and want to share your grief or want others to notice that you feel alone – our collection of quotes is for you.
If on the other hand, you need motivation to exclude some bad people from your life, Remove Toxic People Quotes can help you with that.
*If you are using our images on your website, make sure to put a link back to us. THX.
---
Short Sad Love Quotes
Sadness is but a wall between two gardens | Kahlil Gibran
---
The walls we build around us to keep sadness out also keeps out the joy | Jim Rohn
---
Our sweetest songs are those that tell of saddest thought | Percy Bysshe Shelley
---
When you feel sad, it's okay. It's not the end of the world | Mac Miller
---
A sad soul can kill quicker than a germ | John Steinbeck
---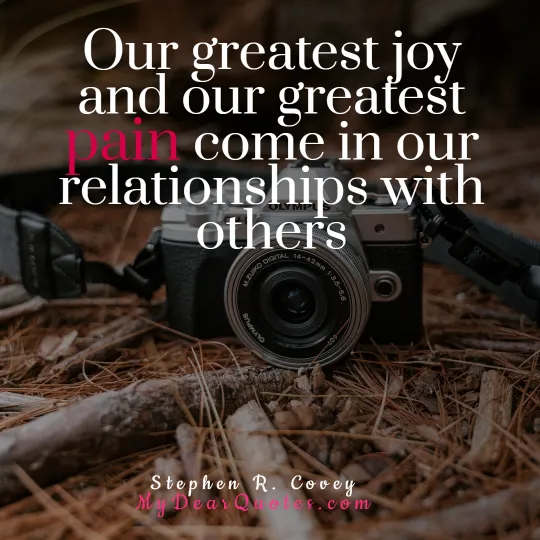 Our greatest joy and our greatest pain come in our relationships with others | Stephen R. Covey
---
It is sad not to love, but it is much sadder not to be able to love | Miguel de Unamuno
---
I wonder if I could take back every 'I love you' ever said to you, would I do it? | Faraaz Kazi
---
Short sad deep quotes
---
The walls we build around us to keep sadness out also keep out the joy | Jim Rohn
---
Tears come from the heart and not from the brain | Leonardo da Vinci
---
Heavy hearts, like heavy clouds in the sky, are best relieved by the letting of a little water | Christopher Morley
---
Nothing is more sad than the death of an illusion | Arthur Koestler
---
Crying is cleansing. There's a reason for tears, happiness or sadness | Dionne Warwick
---
Sadness flies away on the wings of time | Jean de La Fontaine
---
Red is the ultimate cure for sadness | Bill Blass
---
Deep sad quotes
---
Failure gave me strength. The pain was my motivation | Michael Jordan
---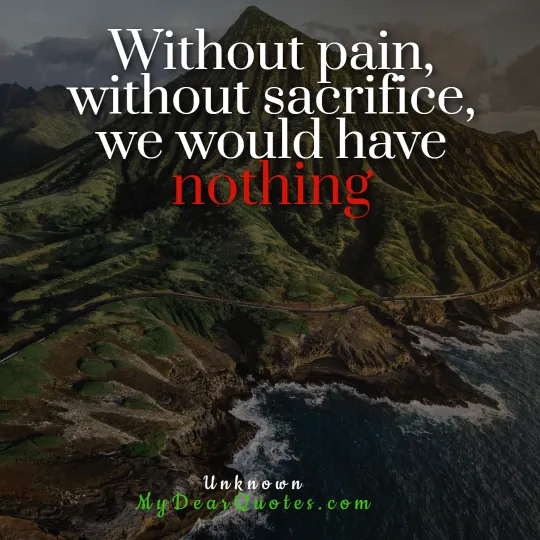 Without pain, without sacrifice, we would have nothing | Unknown
---
Use the pain in you passed as a fuel. The fuel that will drive you to a better future | Priyanshu Singh
---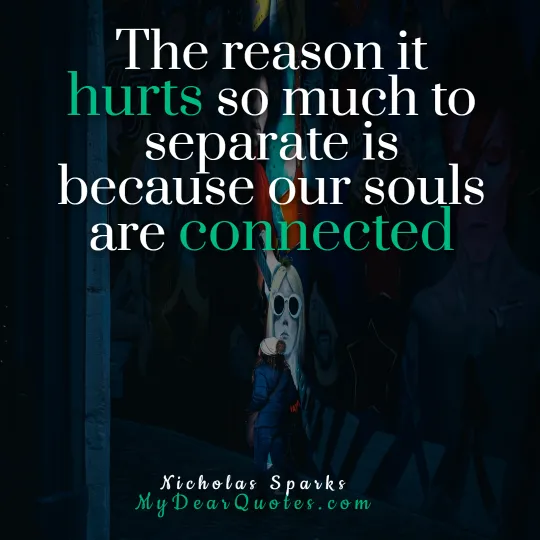 The reason it hurts so much to separate is because our souls are connected | Nicholas Sparks
---
She is with me because she needs my money, not my love | Priyanshu Singh
---
You cannot protect yourself from sadness without protecting yourself from happiness | Jonathan Safran Foer
---
Imagine smiling after a slap in the face. Then think of doing it twenty-four hours a day | Markus Zusak
---
Short Sad Images
---
Tears are words that need to be written | Paulo Coelho
---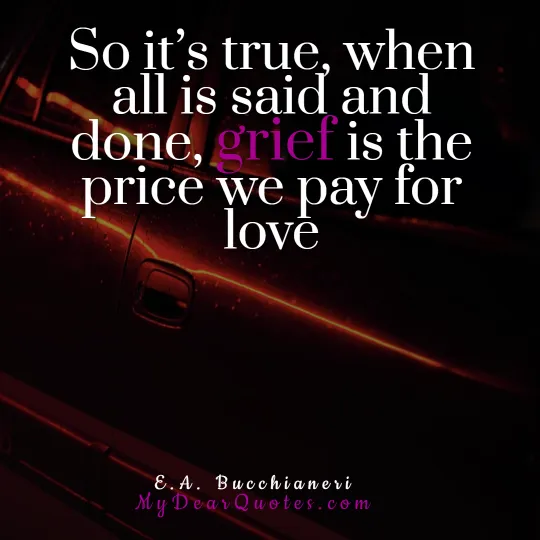 So it's true, when all is said and done, grief is the price we pay for love | E.A. Bucchianeri
---
I don't know what they are called, the spaces between seconds– but I think of you always in those intervals | Salvador Plascencia
---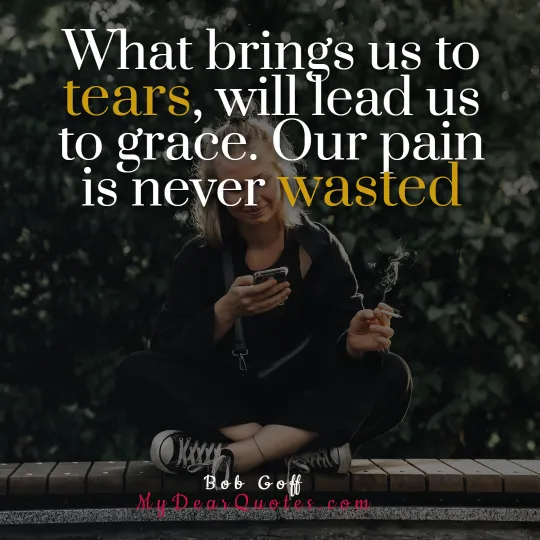 What brings us to tears, will lead us to grace. Our pain is never wasted | Bob Goff
---
There are two medicines for all ills: time and silence | Alexander Dumas
---
Sometimes you laugh because you've got no more room for crying | Terry Pratchett
---
All man's miseries stem from his inability to sit quietly in a room and do nothing | Blaise Pascal
---
Nothing changes if nothing changes | Mel Robbins
---
Let's Wrap Ip Up.
Everything I knew and thought didn't matter, the night was black and menacing outside these walls, the world awful, and I small and weak. It would be best to stay like this on your knees, to shed tears, not to get up anymore. I know, we must not be weak and sad if we are true believers, but I know it's in vain.
I am weak and sad, and I don't think I am a true believer or a man lost in the deaf loneliness of the world. Sometimes we are not happy, we are not even sad. We are indifferent. We play on the seesaw of sadness and happiness. Quotes about judgemental people covers this topic.
Then sadness prevails, and we depressed, dream of happiness as salvation. Later, when the sadness disappears, we really become happier, not thinking it's just because we're not sad anymore. And weren't we in a better position in the beginning?
---
---