Provocative DIRTY TALK Quotes With SEXY Images
Dirty talk quotes and images that will spark curiosity and desire with your partner. Send these images and spice up your sex life. You can also use some of our passion quotes for inspiration.
Most of us have a laid back attitude when it comes to sex. When you realize that quality "dirty talk" is, in fact, in the ears of the listener and that it can take on different faces, it will become easier for you.
We are all different. That is an indisputable fact. We are not all passionate about the same things, and our performances are different. Thus, "dirty talk" should be adapted to their capabilities and harmonize it with the partner's reactions and desires.
Why Should We Talk Dirty?
Dirty talk can be a great "addition" to any sexual experience, but also a great foreplay in itself. Say out loud what you would like to see, experience and feel from your partner and the result will certainly not be missed.
Not only will you ignite the atmosphere in this way, but you will also let your partner know exactly what you want to do for them or for them to do for you. Open communication is key to great sex, and there is no better way during sex than to say clearly, loudly and shamelessly what you think, want, love, feel.
How To Start
It's easily possible to feel a little silly or awkward when talking nonsense. This feeling is completely normal because you are very likely to be outside your "comfort zone", and that is actually a very good thing.
Sometimes you need to disturb things a bit and step back into the unknown so you can discover something new and exciting. After all, everyone feels that way when they try "dirty talk" a little shyly for the first time. No worries, "dirty talk" is actually a skill.
If you may find it a bit ridiculous at first, openly joke about it, it's a great way to break the ice and continue in as relaxed an atmosphere as possible. As you practice it more and more, you will sound more passionate, confident and sexy. We are taught that sex is practically a taboo topic – that we must be discreet and quiet about it and in it.
This is the wrong approach. How do we fully enjoy sex if we feel we have to hide? We need to open all our senses, move our vocal cords and indulge in the moment.
Tactics And Strategy
If you feel uncomfortable using literal expressions and a description of the genitals or sexual act, try to do it another way. As we mentioned at the beginning, find your way. If she is your first love, use some of our first love quotes and phrases. Some will find it easier to say this in part in medical terminology, while others are better off with an archaic way of describing the act.
And some are less shy and like to call a spade a spade. If your partner is more shy about it, a good way to involve them in the whole experience is by asking them questions that you expect to be answered.
That way, they will have the opportunity to relax and examine the limits to which they are willing to go.
You can find our Dirty Talk Quotes below.
*If you are using our images on your website, make sure to put a link back to us. THX.
---
Sexy Dirty Talk Quotes
I love teasing you because I love seeing how much you want me
---
Can you get off early today? I need to see you. In our bed. Naked. Right now
---
When you wake me up with your tongue. Mmmm…
---
Grab my ass and give me a sexy kiss
---
Your ass looks lonely without my hands on it
---
I don't want to be a sweetheart. I want to be the fucking love of your life
---
Feel free to use kisses as a method to shut me up anytime
---
I am always in a mood for a bit of naughty fun with you
---
To be your friend was all I ever wanted. To be your lover was all I ever dreamed of
---
I want to hold you close skin on skin and let our heartbeats have a conversation
---
Funny Dirty Talking Quotes
I swear to God I won't stop until you're shaking
---
Spank me. It's the only way I learn
---
I won't say it twice. Strip down and get on your knees. Right now!
---
Kiss the hell out of me. Please
---
It may be between your legs. But it belongs to me. Understand?
---
I am not wearing my panties tonight because of you
---
Can I take off your clothes?
---
Where is your most favorite place to touch?
---
Sleeping and waking up at your side is my utmost desire
---
I feel so uneasy until my body touches you
---
---
Talk Dirty To Me Quotes
Can you come over? I have a big hard problem I need help with
---
You would look even better on my bed
---
Your clothes look good on you, but they would make an even better decoration for my bedroom floor
---
I want to use my tongue to make you moan for hours
---
The sounds you make when we're in bed make me so weak
---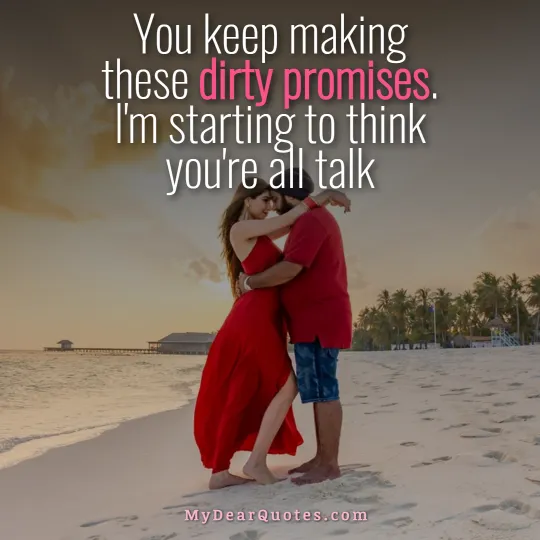 You keep making these dirty promises. I'm starting to think you're all talk
---
I'm going to give you pleasure so good you'll forget your name…
---
Are you fucking kidding me? How do you get this wet? Jesus Christ
---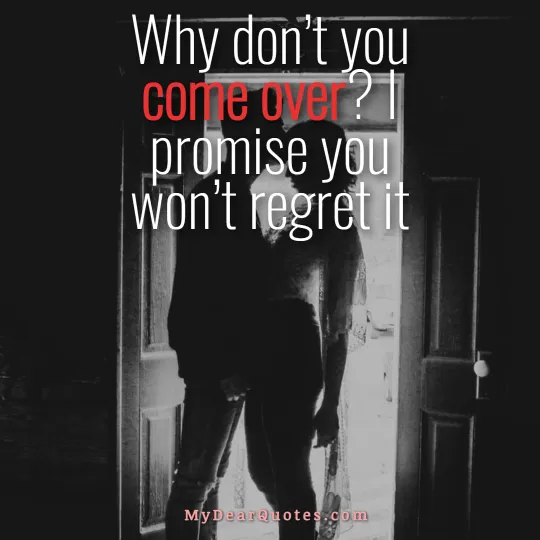 Why don't you come over? I promise you won't regret it
---
I've been thinking long and hard about what I'm going to do to you tonight
---
Sexy Talk For Loved Ones
I want you to tear my clothes off my body
---
If you keep looking at me that way, I'm not responsible for what happens next
---
Do you want me to spit or swallow?
---
Roses are red; the grass is green, I want you in my bed, if you know what I mean
---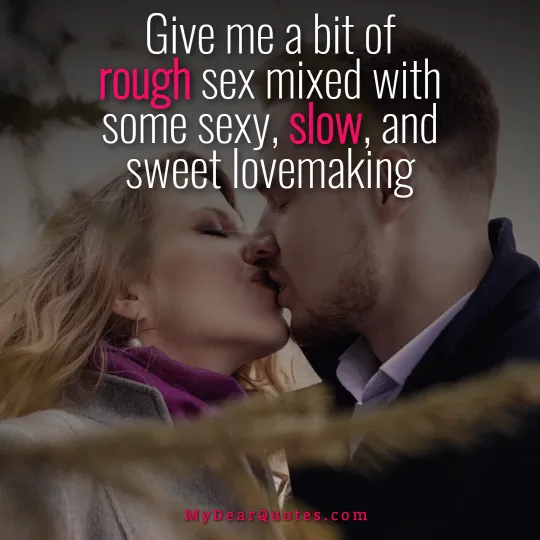 Give me a bit of rough sex mixed with some sexy, slow, and sweet lovemaking
---
I don't have a dirty mind; I have a sexy imagination
---
I'll let you play with mine if you let me play with yours
---
I swear to you, I won't stop until your legs are shaking, and the neighbors know my name
---
Let's fall madly in bed with each other
---
My tongue can do a better job of teasing you than my words can
---
All images from our Dirty Talk Quotes post are shareable. Use them to spread the word on social media. THX.
---
---