Happy Married Life QUOTES And Wishes [+ IMAGES]
We are having the best happy married life quotes for those awesome wedding days. 30 shareable images included in the post.
What to write on those wedding cards?
Wedding is one of the rare occasions that has kept the tradition of writing greeting cards. In bookstores you can buy cards of interesting design, Hot Images With Quotes can be sent also, write something beautiful to the newlyweds and give them as gifts on their wedding day.
As money is usually given for weddings today, as the most practical thing, it is nice to enclose a greeting card with an interesting text with such a gift. That way, in a few years, the newlyweds will see your congratulations while reviewing their wedding memories.
Then they will know who rejoiced most in their happiness. But what to write? If you don't like words, here are some interesting messages that you can write to the newlyweds or send them by SMS or e-mail. The newlyweds can receive the attached love cards from their parents, friends, relatives…
Love And Passion Quotes are also practical when you send them for a wedding to your brother, colleague, daughter, friends,…
Below are our happy married life quotes. Let`s start.
*If you are using our images on your website, make sure to put a link back to us. THX.
---
Happy Married Life Quotes For Friend
May your love grow stronger each and every passing year
---
Wishing you well as you embark on this next chapter of life. Cheers
---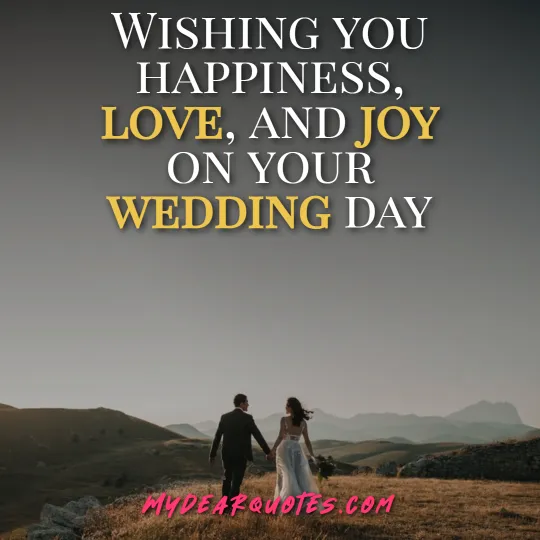 Wishing you happiness, love, and joy on your wedding day
---
So honored to spend this happy occasion with you and your family
---
Today is just the beginning of the fun! Looking forward to celebrating this season with you
---
Happy marriages begin when we marry the ones we love, and they blossom when we love the ones we married | Tim Mullen
---
Marriage is a mosaic you build with your spouse. Millions of tiny moments that create your love story | Jennifer Smith
---
Love doesn't make the world go round; love is what makes the ride worthwhile | Elizabeth Barrett Browning
---
To find someone who will love you for no reason, and to shower that person with reasons, that is the ultimate happiness | Robert Brault
---
When a marriage works, nothing on Earth can take its place | Helen Gahagan Douglas
---
Happy Married Life Message
Be kind to each other, tenderhearted, forgiving one another, just as God through Christ has forgiven you | Ephesians 4:32
---
We couldn't be happier to call you family. Thanks for allowing us to join in your Big Day
---
Today we add another family member to the tree, and we couldn't be happier
---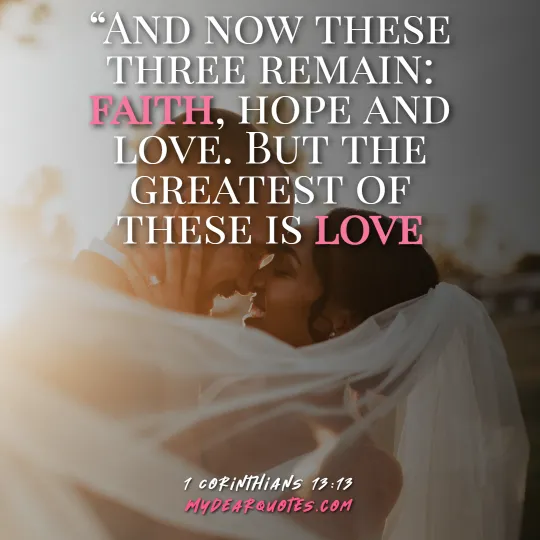 And now these three remain: faith, hope and love. But the greatest of these is love | 1 Corinthians 13:13
---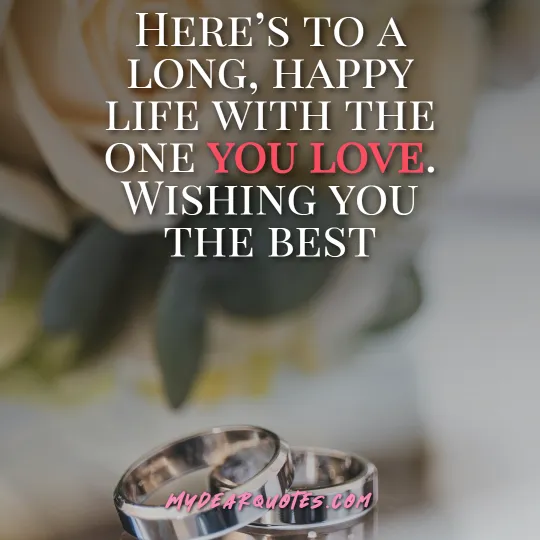 Here's to a long, happy life with the one you love. Wishing you the best
---
Best wishes on this wonderful journey, as you build your new lives together
---
Wishing you joy, love and happiness on your wedding day and as you begin your new life together
---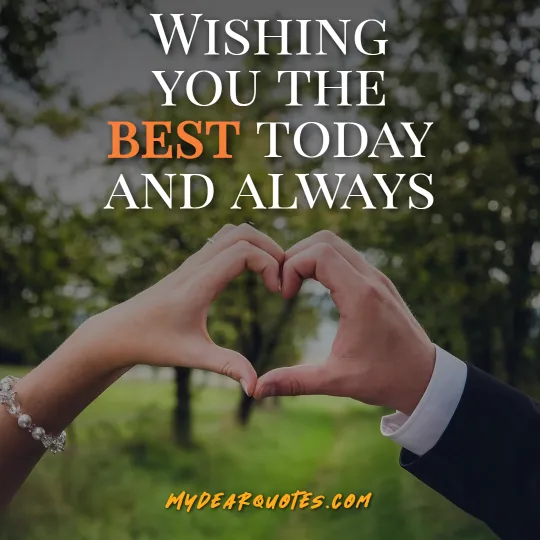 Wishing you the best today and always
---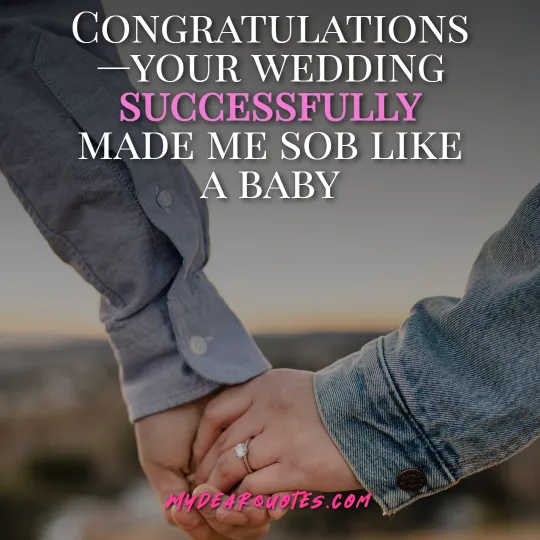 Congratulations—your wedding successfully made me sob like a baby
---
May God grant you all of life's blessings and love's joys
---
More Quotes About Weddings And Special Occasions
Happy Marriage Life Quotes
People should be jealous of your marriage, because you are the cutest couple in the world, and I am proud to call you my friends
---
On your wedding day, you promise to love and support each other at every curve of life
---
Congratulations on your wedding, dear friends, wishing you life filled with togetherness, unfading love, and friendship
---
Wishing you a glorious ceremony with an abundance of wonderful memories to follow! My congratulations to you both
---
A new and sweet chapter of your life has begun today. May you two always stay together in love
---
A successful marriage requires falling in love many times, always with the same person | Mignon McLaughlin
---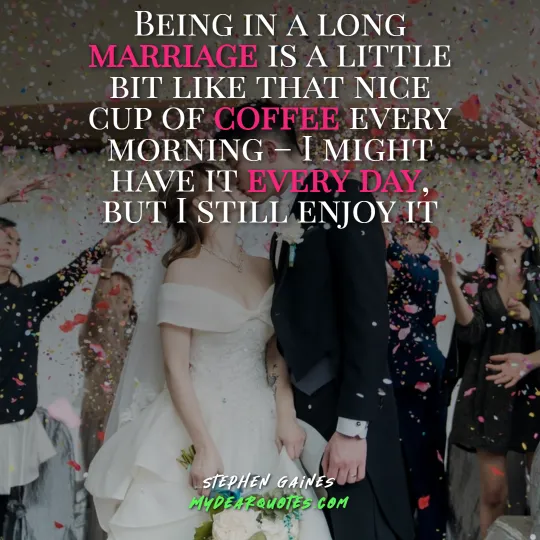 Being in a long marriage is a little bit like that nice cup of coffee every morning – I might have it every day, but I still enjoy it | Stephen Gaines
---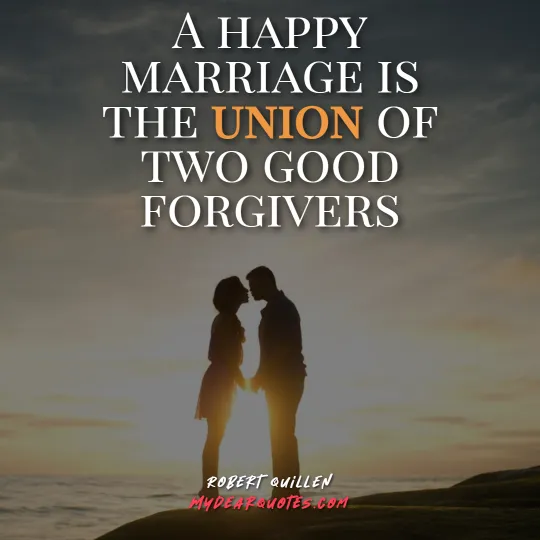 A happy marriage is the union of two good forgivers | Robert Quillen
---
We come to love not by finding a perfect person, but by learning to see an imperfect person perfectly | Sam Keen
---
People stay married because they want to, not because the doors are locked | Paul Newman
---
If you liked our happy married life quotes as much as we did, share the images on social media.
---
---