Tender FIRST LOVE Quotes That We Will NEVER Forget
40+ First Love Quotes From Some Of The Most Famous Authors That Brings Warmth To Our Hearts And Tears On Our Eyes. Please Enjoy.
First love sets the standard for all future relationships, but that is not the only way it affects us. First love is never forgotten. It is enough for "your song: to start or for someone to mention her/his name, and you are 15 years old again and remember everything for the rest of your life. If this happens to you, you are not alone.
After all, psychologists say that it is quite normal that you occasionally dream while remembering your first love, but that there are more than beautiful memories in that. Many agree that first love is something really special that helps us understand the importance of love, and it is especially so if it happens in the teenage years and lasts for a year or more. Saying good morning or sending her/him some Good Night Love Quotes can help you feel closer.
The power and influence of first love is so great that scientists say that it permanently affects us in several ways.
Living memories
Memories of first love can be so strong that at times you seem to hear the laughter of your ex-partner clearly. These memories remain alive and "in color" for years, even after many other memories fade. Feel inspired with our Love And Passion Quotes.
These memories occupy several senses at once, at the same time creating emotions and a kind of surprise, and in that way, they bind them to the brain forever. That is why the details of your first love remain as vivid and clear as the days when they happened, and that is why they stimulate an emotional response.
First love becomes your upgrade
That first love most often happens in youth, when you are innocent and open to give someone all your love, sincerely and unconditionally. You give yourself so much to that person, that you stop thinking of yourself as a separate person, but more as your "upgrade".
It is an experience that only happens once in a lifetime because it later breaks us apart and all the ugly things we experience teach us not to let people get so close to us.
It becomes the standard by which you measure future relationships
First love becomes a kind of pattern or standard with which we compare all our future relationships. Psychologist Susan Andersen agrees: "A powerful first relationship leaves a mark, it becomes a mold in our thoughts that is reactivated in all future love interactions."
That is why, consciously or not, we are so attracted to people who remind us of our first love. One part of the brain wants to experience such an experience again, which is why we are constantly looking for partners who fit into the mold of our first love.
It helps us understand what love is
When we fall in love for the first time, our perception of what is possible changes completely. Psychologist Dr. Nancy Kalisch says that the first experience or feeling is when you love and someone returns that love to you so new and unknown, that you two together have to explore that unknown terrain to come to the conclusion of what love is.
Then both partners make an identical map or guidelines for what love should look like, and with these guidelines they return again and again whenever they enter into a new relationship. In other words, first love is responsible for how we define love and what we expect from a relationship and partner.
*If you are using our images on your website, make sure to put a link back to us. THX.
---
Saying i love you for the first time quotes
The future for me is already a thing of the past – You were my first love and you will be my last | Bob Dylan
---
I was in love, and the feeling was even more wonderful than I ever imagined it could be | Nicholas Sparks
---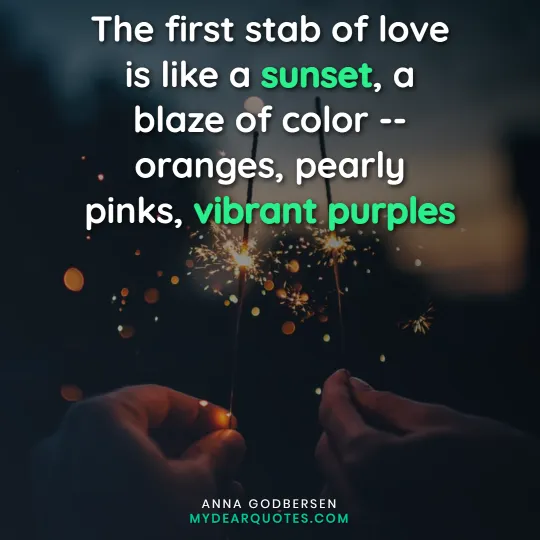 The first stab of love is like a sunset, a blaze of color — oranges, pearly pinks, vibrant purples | Anna Godbersen
---
A man is lucky if he is the first love of a woman. A woman is lucky if she is the last love of a man | Charles Dickens
---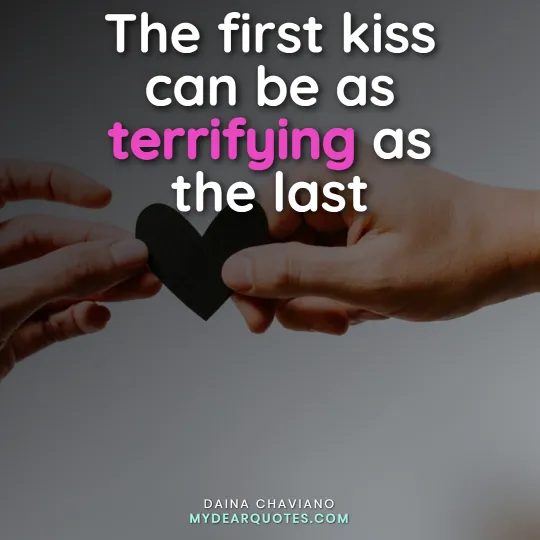 The first kiss can be as terrifying as the last | Daina Chaviano
---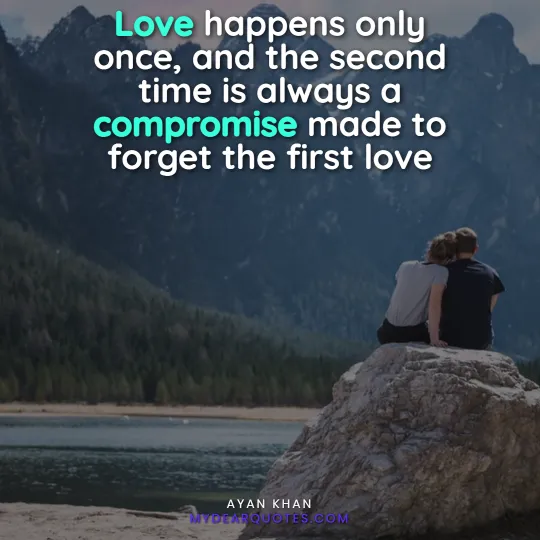 Love happens only once, and the second time is always a compromise made to forget the first love | Ayan Khan
---
We think of first love as sweet and valuable, a blessed if hazardous condition | Roger Ebert
---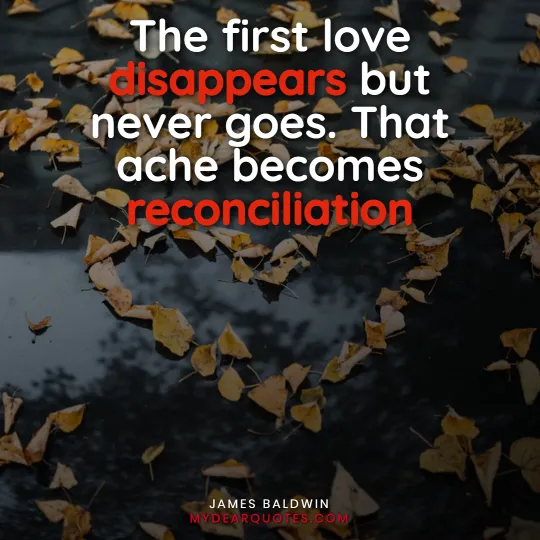 The first love disappears but never goes. That ache becomes reconciliation | James Baldwin
---
Like an old photograph, time can make a feeling fade, but the memory of a first love never fades away | Tim McGraw
---
If you've been married for 400 years, as I have, it's nice to experience first love again and you can vicariously through a book | E. L. James
---
1st Love Quotes
First love is the first time that you will fall in love. It will change your life forever, no matter how much you try. The feeling will never go away
---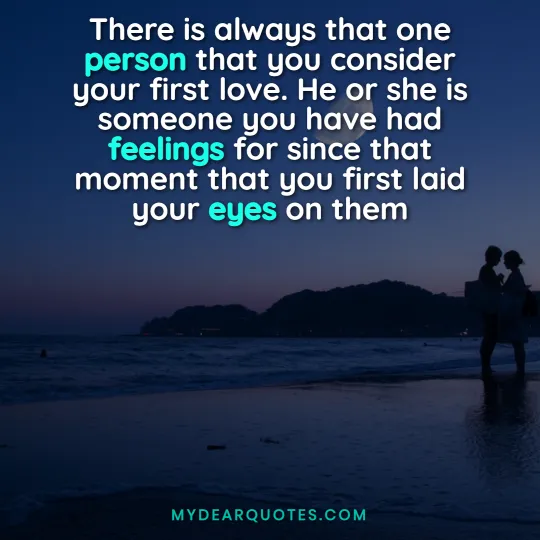 There is always that one person that you consider your first love. He or she is someone you have had feelings for since that moment that you first laid your eyes on them
---
People will always remember their first love with special tenderness. But after that, they will begin to bunch them
---
Good thing first love cannot happen twice, for it is like a fever and a burden too, just like what poets would claim
---
The future for me is like a thing of the past. You are my first love, and you will undoubtedly be the last
---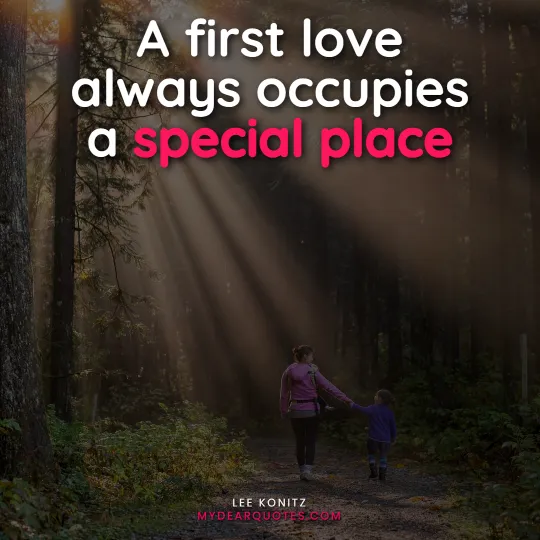 A first love always occupies a special place | Lee Konitz
---
She was my first love, and I loved her as only a boy loves | James Weldon Johnson
---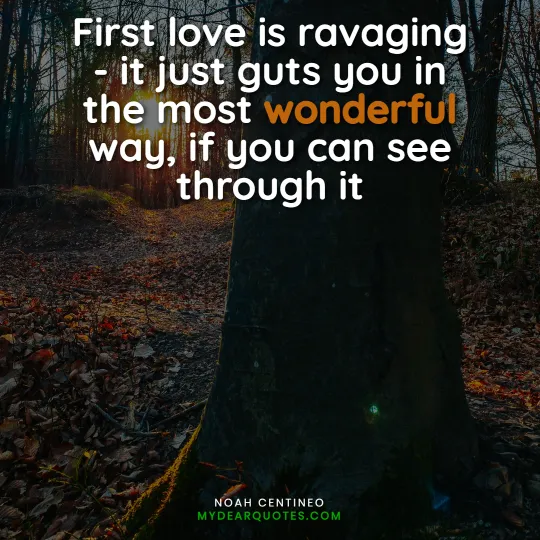 First love is ravaging – it just guts you in the most wonderful way, if you can see through it | Noah Centineo
---
You get over your first love by falling in love with something new | Mo Ibrahim
---
A first love is something that lasts forever in your heart. It's something that marks you | Elodie Yung
---
---
First love quotes for him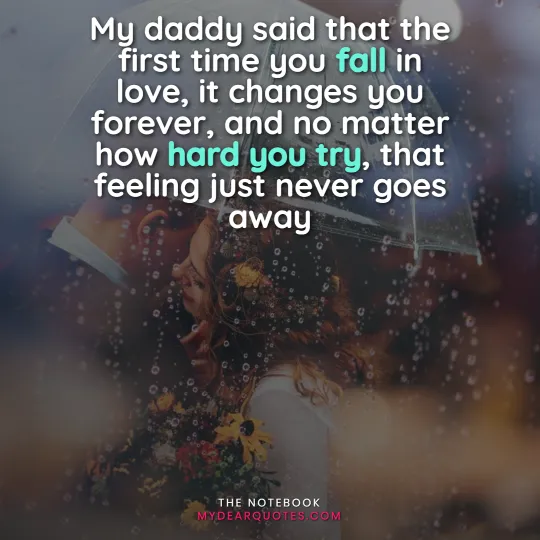 My daddy said that the first time you fall in love, it changes you forever, and no matter how hard you try, that feeling just never goes away | The Notebook
---
Your first love isn't the first person you give your heart to―it's the first one who breaks it | Lang Leav
---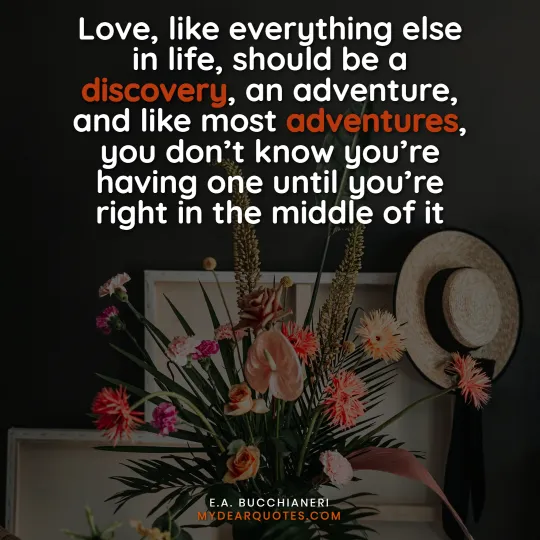 Love, like everything else in life, should be a discovery, an adventure, and like most adventures, you don't know you're having one until you're right in the middle of it | E.A. Bucchianeri
---
First romance, first love, is something so special to all of us, both emotionally and physically, that it touches our lives and enriches them forever | Rosemary Rogers
---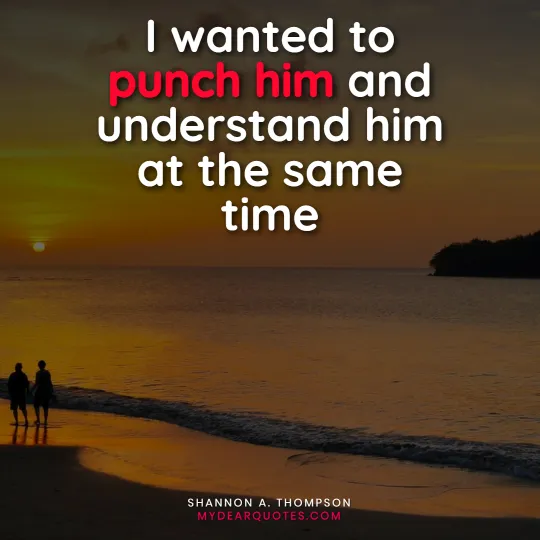 I wanted to punch him and understand him at the same time | Shannon A. Thompson
---
The loss of young first love is so painful that it borders on the ludicrous | Maya Angelou
---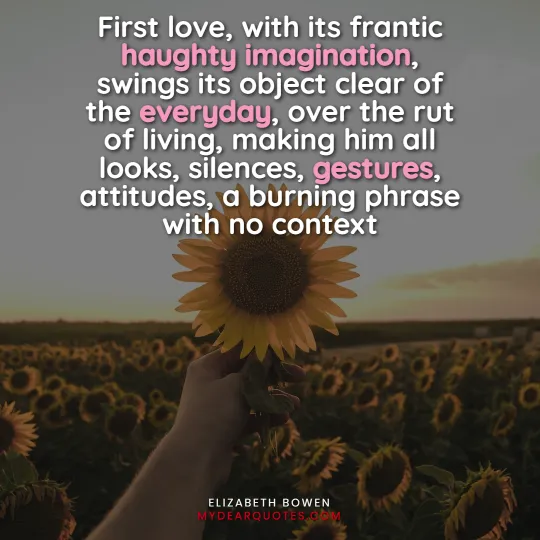 First love, with its frantic haughty imagination, swings its object clear of the everyday, over the rut of living, making him all looks, silences, gestures, attitudes, a burning phrase with no context | Elizabeth Bowen
---
They say that your first love never dies. You can put out the flames, but not the fire | Bonnie Tyler
---
Being someone's first love may be great, but to be their last is beyond perfect | Unknown
---
Every morning I still wake up and the first thing I want to do is see your face | P.S. I Love You
---
First love quotes for her
I have been looking you since I heard my first love story. Now I realize you were in my heart all along | Unknown
---
The minute I heard my first love story I started looking for you, not knowing how blind that was | Rumi
---
If I know what love is, it is because of you | Herman Hesse
---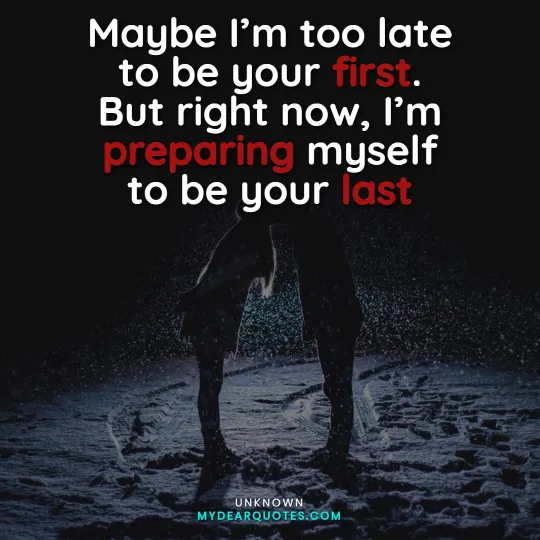 Maybe I'm too late to be your first. But right now, I'm preparing myself to be your last | Unknown
---
The best feeling in the world is kissing someone for the first time when you've really wanted to kiss them for a long time | Unknown
---
Could a scar be like the rings of a tree, reopened with each emotional season? | Magenta Periwinkle
---
Maybe we tried to leave as many memories of ourselves with each other because we knew one day we wouldn't be together anymore | Makoto Shinkai
---
I remember what it felt like to fall in love for the first time. You think you'll never love like that again. But you do | Jenny Han
---
Your first love may be the sweetest, yet, the first cut will be the deepest | Unknown
---
The memories of our first date, our first kiss and our first I love you are remembered all throughout the rest of our lives | Unknown
---
Feel free to share the images from our first love quotes blog post.
---
---