33+ CLAUDE MONET Quotes And Sayings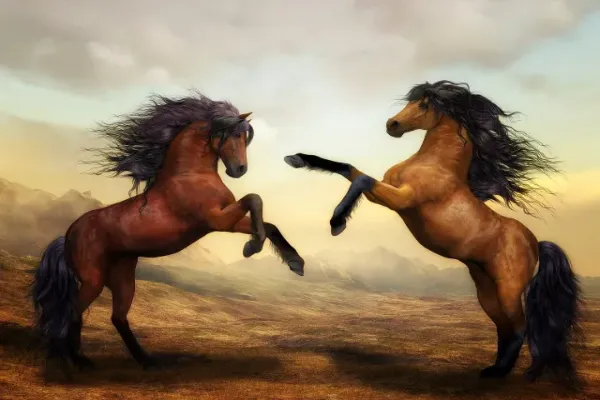 Claude Monet quotes from that awesome Impressionist painter. They are deeply philosophical as well as beautiful. Inspiring images are included in this post.
The French painter Claude Monet was the originator of Impressionism, the direction in which painters turned to nature for inspiration, using vibrant colors and light, unlike the festive brown and black colors used until then.
The name of the direction came from the title of Monet's painting "Impression, Birth of the Sun".
Little something about Monet
Oscar-Claude Monet was born on November 14, 1840, in Paris. Monet's mother Louise-Justin was a singer, and Claude-Adolphe's father was a grocer and wanted his son to inherit the family business. If you need different quotes, visit quotes from Charles Dickens.
However, Claude Monet wanted to be an artist. After moving to Le Havre with his family in 1845, in 1851 Monet enrolled in art high school.
While visiting the Louvre Museum in Paris, Monet watched other painters copy old masters. Taking his painting supplies with him, he chose to sit by the window and paint what he saw. If you want quotes from the Usa writers, visit Mark Twain Quotes for extra inspiration.
During his studies at the Academy of Fine Arts in Paris, he met several fellow painters, also impressionists, with whom he became friends.
Monet and the Impressionists have learned that even the darkest shadows and the darkest days have a wide range of colors. However, Monet realized that he had to paint quickly, using short brush strokes and separate colors.
He loved to paint nature in controlled conditions: his garden in Giverny, with water lilies, a pond, and a bridge. He also loved to paint on the banks of the Seine. If you need philosophical sayings, we have Friedrich Nietzsche Quotes that is shared a lot on social media.
Claude Monet died on December 5, 1926 from lung cancer, and was buried in a modest ceremony at the church cemetery in Giverny. In 1966, his descendants bequeathed the house and garden to the French Academy of Fine Arts.
With the help of the Claude Monet Foundation, the house and garden were first renovated, and then opened to the public in 1980 and represent the main tourist attractions in Giverny.
*If you are using our images on your website, make sure to put a link back to us. THX.
---
Claude Monet Quotes About Art
Zaandam is wonderful. There is enough to paint here for a lifetime
---
Now I really feel the landscape. I can be bold and include every tone of pink and blue: it's enchanting, it's delicious
---
Color is my daylong obsession, joy, and torment
---
I'm never finished with my paintings; the further I get, the more I seek the impossible and the more powerless I feel
---
Aside from painting and gardening, I am good for nothing
---
People discuss my art and pretend to understand as if it were necessary to understand, when it's simply necessary to love
---
Eventually, my eyes were opened, and I really understood nature. I learned to love at the same time
---
I perhaps owe having become a painter to flowers
---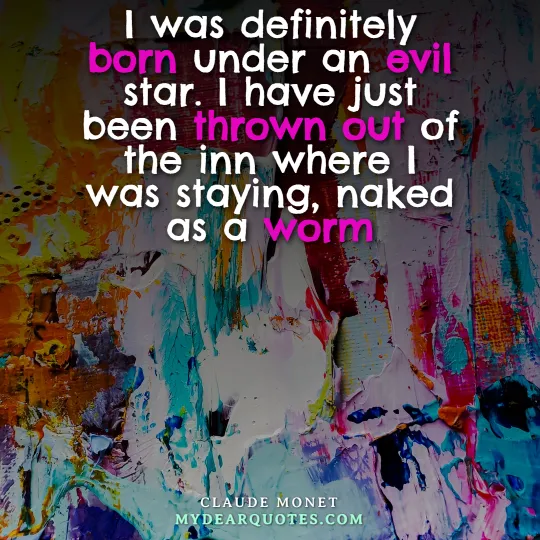 I was definitely born under an evil star. I have just been thrown out of the inn where I was staying, naked as a worm
---
I pass my time in the open air on the beach when it is really heavy weather or when the boats go out fishing
---
Monet Quotes About Flowers
Try to forget what objects you have before you – a tree, a house, a field, or whatever. Merely think, 'Here is a little square of blue, here an oblong of pink, here a streak of yellow,' and paint it
---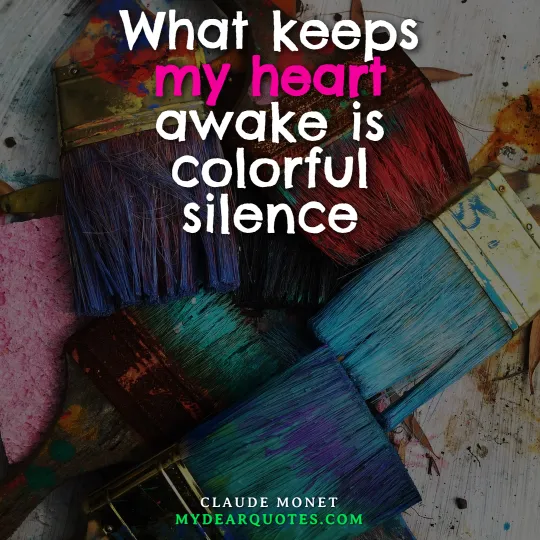 What keeps my heart awake is colorful silence
---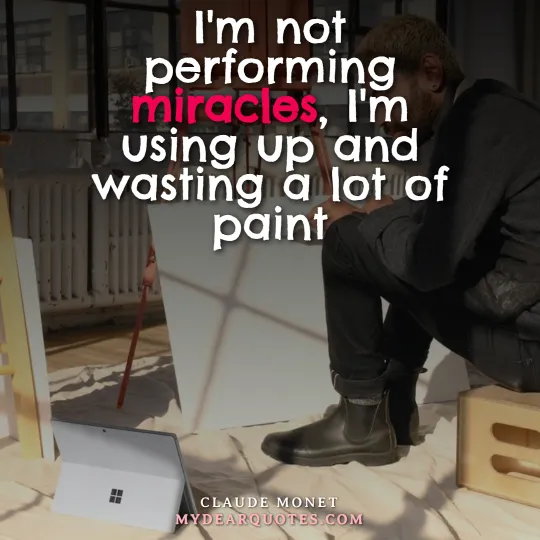 I'm not performing miracles, I'm using up and wasting a lot of paint
---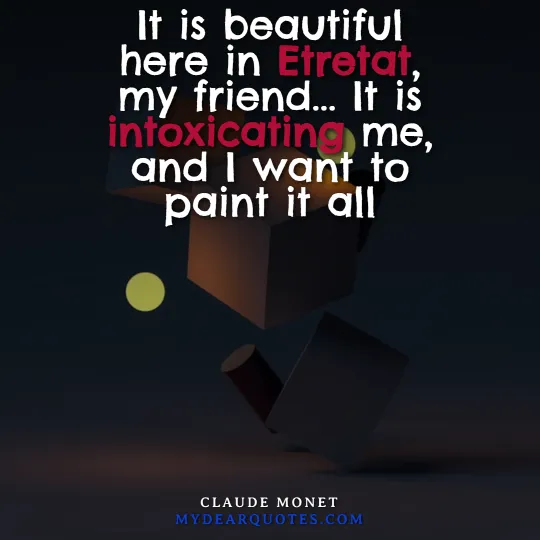 It is beautiful here in Etretat, my friend… It is intoxicating me, and I want to paint it all
---
There's lots to be learned and nature begins to grow beautiful
---
I must have flowers, always, and always
---
It's on the strength of observation and reflection that one finds a way. So we must dig and delve unceasingly
---
The richness I achieve comes from nature, the source of my inspiration
---
I don't think I'm made for any earthly kind of pleasure
---
I get madder and madder on giving back what I feel
---
Monet Art Phrases
I am following Nature without being able to grasp her, I perhaps owe having become a painter to flowers
---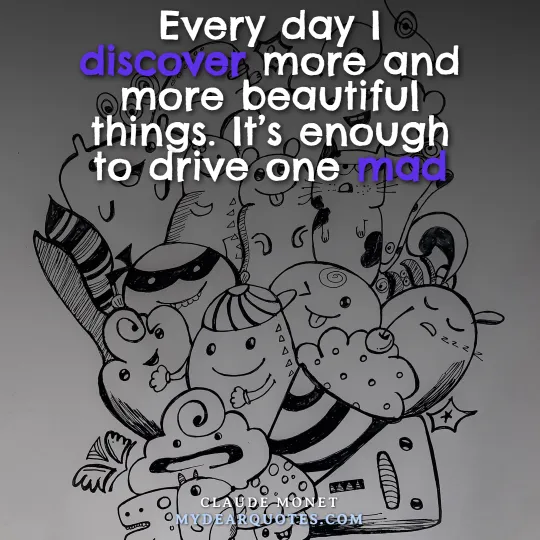 Every day I discover more and more beautiful things. It's enough to drive one mad
---
I have never had a studio, and I do not understand shutting oneself up in a room
---
It is extraordinary to see the sea; what a spectacle! She is so unfettered that one wonders whether it is possible that she again become calm
---
The more I live, the more I regret how little i know
---
Colors pursue me like a constant worry. They even worry me in my sleep
---
All great painters were less or more impressionists. It is mainly a question of instinct
---
Techniques vary, art stays the same; it is a transposition of nature at once forceful and sensitive
---
I've spent so long on some paintings that I no longer know what to think of them, and I am definitely getting harder to please; nothing satisfies me
---
No one is an artist unless he carries his picture in his head before painting it, and is sure of his method and composition
---
I despise the opinion of the press and the so-called critics
---
No, I'm not a great painter. Neither am I a great poet
---
Never, even as a child, would I bend to a rule
---
Every image has a share button on hover. If you liked our article about Claude Monet Quotes, share it on social media.
---
---