Trust In GOD Quotes [Powerful Images]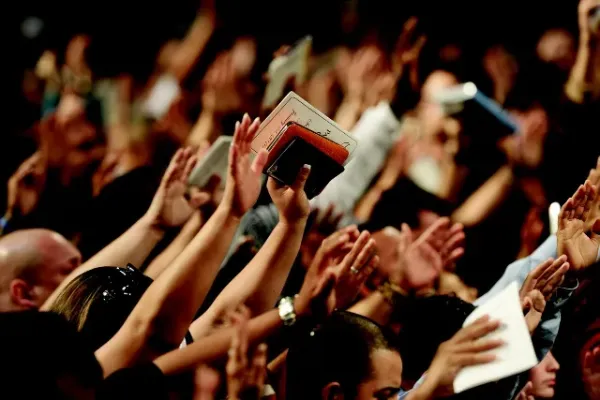 Trust In Our God Quotes To Lift Your Spirit And Put A Smile To Your Beautiful Face. These Messages With Images Are Made To Make Your Day Better And Make You Understand That Trusting God Will Make Thing Better. Let`s Start.
*If you are using our images on your website, make sure to put a link back to us. THX.
---
Why Should You Trust In God?
There are two choices in life. First, we have the choice of trusting in man's limited reason. People's mind creates different philosophies, many world religions, and "between", different cults, and other ideas and worldviews. The key characteristic of man's reason is that it does not last because people themselves are not permanent in this world.
People's reason begins with themselves and ends with themselves. Humans live in a timeless period. Man is born, grows to maturity, has his influence on the world, and eventually dies.
The choice to live by reason encourages a person to judge himself and to progress. If a person thinks objectively about such a way of life, it should encourage him to consider another choice. More positive quotes on Quotela website.
The second choice is to accept God's revelation in the Bible. That we do not rely on our own reason (Proverbs 3: 5). Of course, to accept that the Bible is from God, we must acknowledge God. Faith in the God of the Bible does not omit the use of reason; instead, when we seek God, He opens to us eyes (Psalm 119:18), enlightens our understanding (Ephesians 1:18), and gives us wisdom (Proverbs 8).
Hard Time Trust God Quotes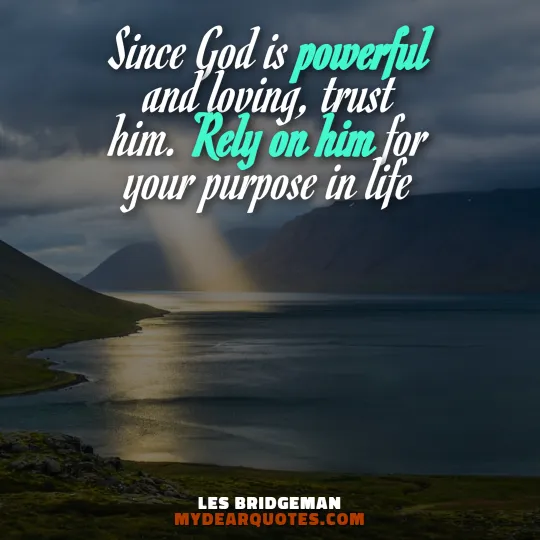 Since God is powerful and loving, trust him. Rely on him for your purpose in life | Les Bridgeman
---
God's grace is sufficient for those that believe and trust in Him until the end | E'yen A Gardner
---
You need to learn how to RELAX and trust what God has for you | Stephanie Carroll
---
You can trust God and have faith in Him to always be faithful to you | Adam Copenhaver
---
There is great value to the trials we have to endure as we learn to trust God during our times of greatest weakness | Gerald Flurry
---
Without trials, there is no trust in God | Lailah Gifty Akita
---
Sometimes when we just stand still, the grace finds us | Mary Davis
---
Surrender, and all will be well. Throw all responsibility onto God. Do not bear the burden yourself | Ramana Maharshi
---
Trust In The Lord Quotes
---
God multiply your blessings. You just need to trust in Him | Gift Gugu Mona
---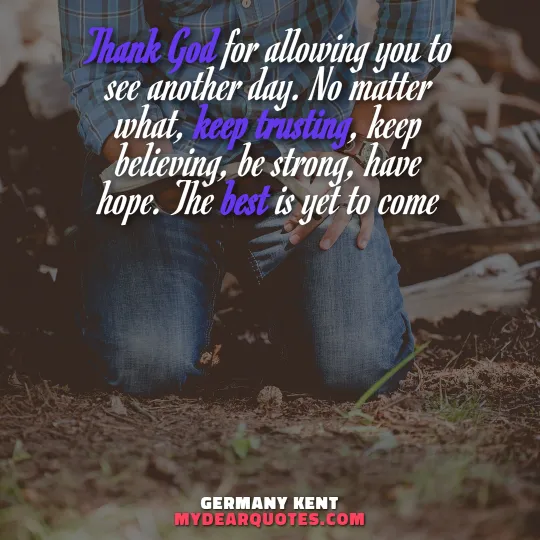 Thank God for allowing you to see another day. No matter what, keep trusting, keep believing, be strong, have hope. The best is yet to come | Germany Kent
---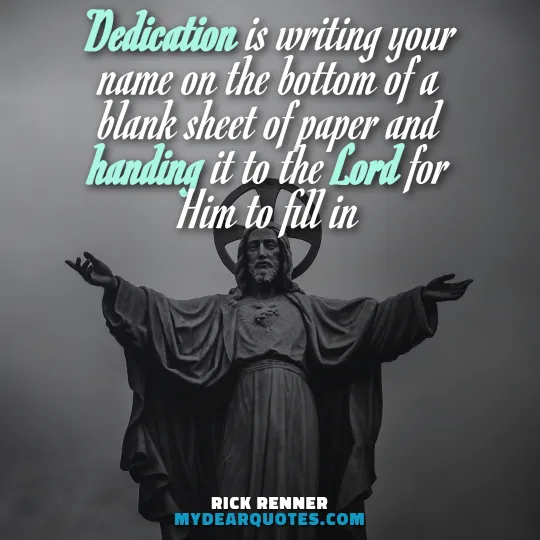 Dedication is writing your name on the bottom of a blank sheet of paper and handing it to the Lord for Him to fill in | Rick Renner
---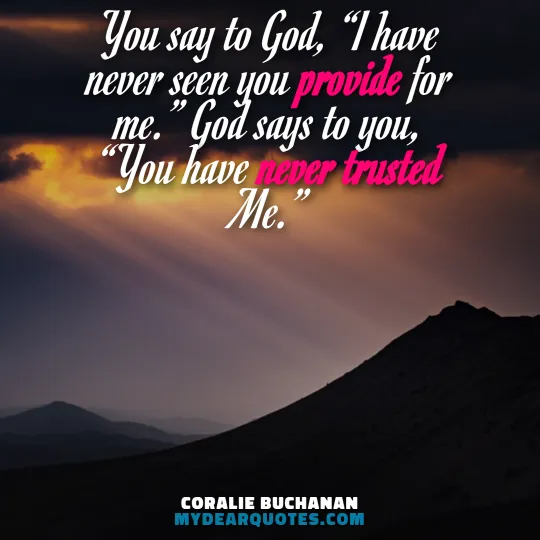 You say to God, "I have never seen you provide for me." God says to you, "You have never trusted Me." | Coralie Buchanan
---
If only we learn to believe in God, trust in Him completely – cooperate with His will – we will be supremely happy | Dada J.P. Vaswani
---
When God takes out the trash, don't go digging back through it. Trust Him | Amaka Imani Nkosazana
---
Faith is taking the first step even when you don't see the whole staircase | Martin Luther King JR
---
In God We Trust Quotes
---
Living by faith means listening to Jesus and choosing to trust him moment by moment | Matt Eachus
---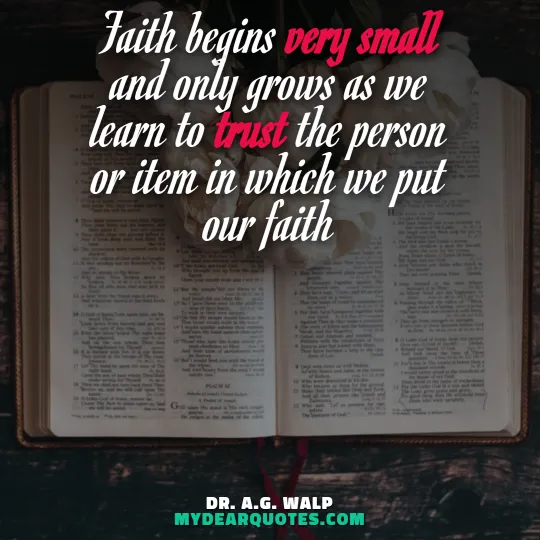 Faith begins very small and only grows as we learn to trust the person or item in which we put our faith | Dr. A.G. Walp
---
Nobody likes to wait, but waiting will help you develop patience and deepen your trust in God | Daree Allen
---
But the one thing that we can trust as eternal, the one thing that will always be true, is that God loves us | Mona M. Hanna
---
God understands your pain. Trust Him to take care of the things you can't | Buffy Andrews
---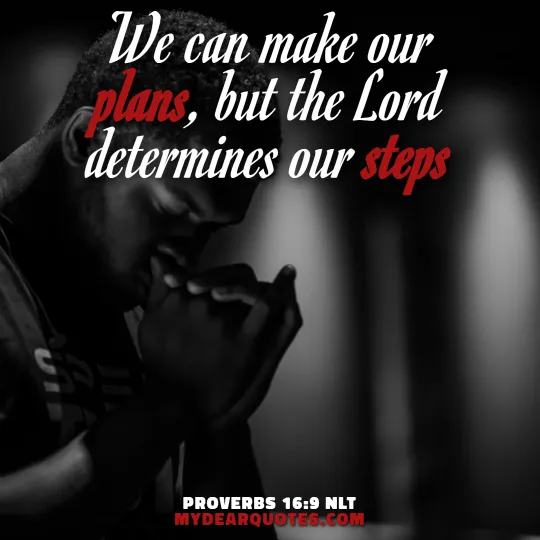 We can make our plans, but the Lord determines our steps | Proverbs 16:9 NLT
---
Never be afraid to trust an unknown future to a known God | Corrie Ten Boom
Powerful Sayings About Trust
---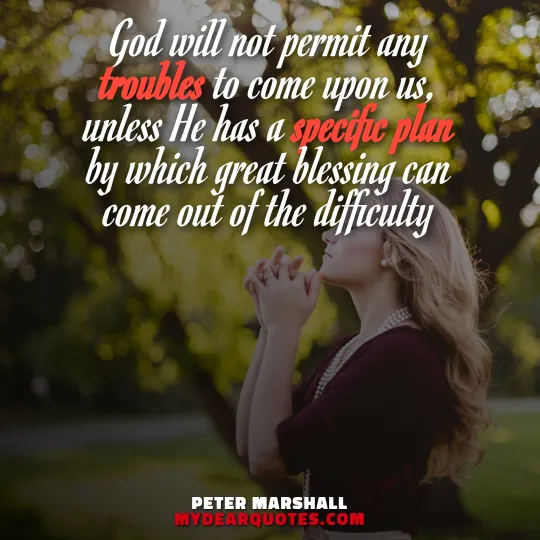 God will not permit any troubles to come upon us, unless He has a specific plan by which great blessing can come out of the difficulty | Peter Marshall
---
The beginning of anxiety is the end of faith, and the beginning of true faith is the end of anxiety | George Mueller
---
I have learned that faith means trusting in advance what will only make sense in reverse | Philip Yancey
---
And those who know your name put their trust in you, for you, O LORD, have not forsaken those who seek you | Psalm 9:10
---
We cannot always trace God's hand, but we can always trust God's heart | Charles Spurgeon
---
God won't light your second step until you have taken the first one | Woodrow Kroll
---
Trust the past to God's mercy, the present to God's love and the future to God's providence | Augustine
---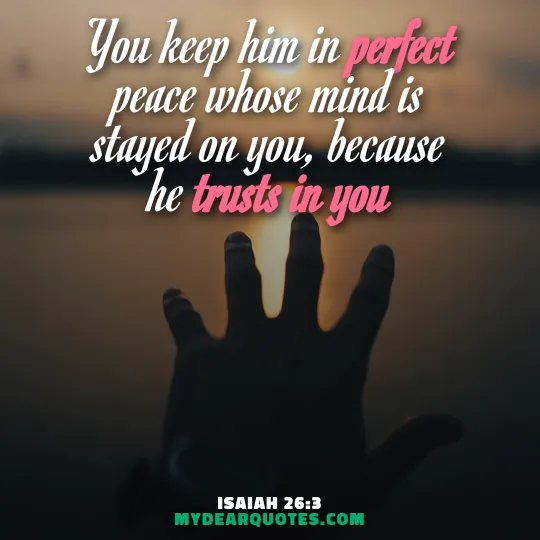 You keep him in perfect peace whose mind is stayed on you, because he trusts in you | Isaiah 26:3
---

Will God Answer My Prayer If I Strongly Believe In Her?
The power of prayer does not come from us: it is not the kind words we say or the kind way we say them or even how many of them we say. The power of prayer is not based on a particular direction in which we look or on a particular position of the body. The power of prayer does not come from the use of an object or an icon or a candle or a relic.
The power of prayer comes from the Almighty who hears and answers our prayers. Prayer puts us in touch with the Almighty God and we should expect possible results, regardless of whether He decides to answer or reject our prayers.
The embroidery is the answer to our prayers, the God to whom we pray is the source of the power of prayer and can and will answer us, in harmony with your perfect will and choice of the moment.
We end our Trust In God Quotes. If you liked our quotes and our images, make sure to use that Share button.
---
---