Law Enforcement Appreciation Day Quotes
Appreciation Day Quotes For Our Law Enforcement Complemented With Beautiful Images For Easier Social Share. Also, You Will Find Quotes Written By Famous People That Shows Gratitude Towards Our Law Enforcement Units. Also you can find some quotes that related to sports on our quotes about basketball blog post.
*If you are using our images on your website, make sure to put a link back to us. THX.
Law Enforcement Appreciation Quotes
---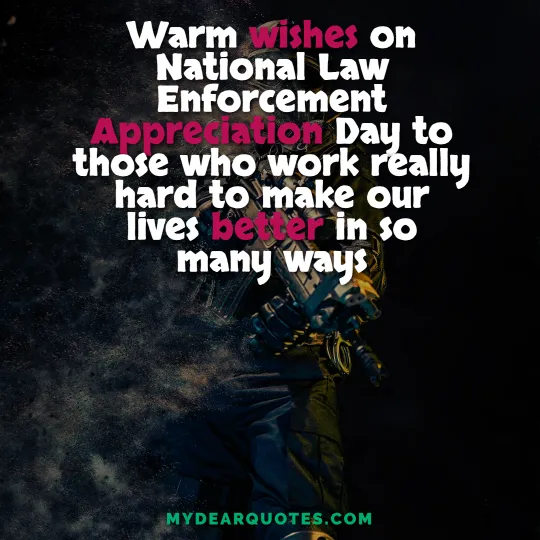 Warm wishes on National Law Enforcement Appreciation Day to those who work really hard to make our lives better in so many ways
---
We know that the world is safe for us because you are there for us. Warm greetings to our Police Officers
---
On the occasion of National Law Enforcement Appreciation Day, we express our gratitude to the officers who are always there for us
---
With all our heart, we thank our officers for being the best
---
When you are there, we know that everything is under control. Thank you
---
We know that you are protecting the law and therefore, we have nothing to fear. Wishing a very Happy National Law Enforcement Appreciation Day to you
---
The occasion of National Law Enforcement Day gives all of us a chance to be thankful to the officers who are guarding us all the time
---
Our Country Is Proud To Have You, Lads. May God Bless You All
---
Wishing a very Happy National Law Enforcement Appreciation Day to all the officers who are out there enforcing the law and protecting us all
---
My Family Sleeps Well At Night. That`s Because We Have You, Officers. Best Wishes To You
Famous Law Enforcement Quotes
---
Police officers put the badge on every morning, not knowing for sure if they'll come home at night to take it off | Tom Cotton
---
We must honor, protect and support our police officers and their families every day of the year | Janet Reno
---
A police force, wherever they are, is made up of amazing people, and I respect them a great deal | Nancy McKeon
---
I had a dream, when I was little, to become a police officer and a crime investigator | Katia Winter
---
It's a thankless job for police officers, period, but specifically for men and women of color protecting and serving | John David Washington
---
Cops work for a cause, not applause | Unknown
---
Real heroes die serving the law, not resisting it | Unknown
---
Blessed are the peacekeepers, for they shall be called the children of God | Matthew 5:9
---
Law enforcement officers are never 'off duty.' They are dedicated public servants who are sworn to protect public safety at any time and place that the peace is threatened | Barbara Boxer
---
A society which chooses war against the police better learn to make peace with its criminals | Unknown
---
---