Lesson Learned Quotes [Shareable IMAGES]
Affirmative Lesson Learned Quotes Because We Have All Made Mistakes In Our Life. It Is Part Of Growing Up As A Human And As A Person.
We All Need To Learn A Lesson From Our Mistakes And This Is What Our Post Is All About. That is why have covered a lot of topics like mindfulness quotes, Hopeful quotes, and aesthetic quotes on our blog.
All Quotes Come With Beautiful Images For You To Share On Social Media.
*If you are using our images on your website, make sure to put a link back to us. THX.
---
Lessons Learned In Life Quotes
There are certain life lessons that you can only learn in the struggle | Idowu Koyenikan
---
The moment you recognize what is beautiful in this world, you stop being a slave | Aravind Adiga
---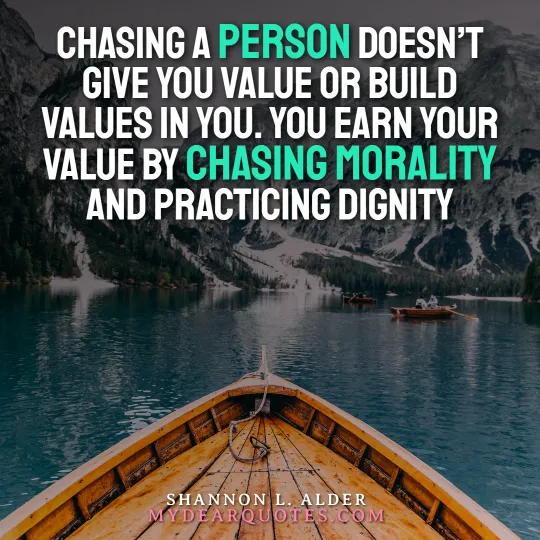 Chasing a person doesn't give you value or build values in you. You earn your value by chasing morality and practicing dignity | Shannon L. Alder
---
If you haven't cried at least once while writing a chapter of your inspirational book, then you have to ask yourself if your're writing fiction | Shannon L. Alder
---
There is so much to learn from failure than from success | Michael Bassey Johnson
---
We cannot change the past. We can only take action in the present and, therefore, change the future | Ken Poirot
---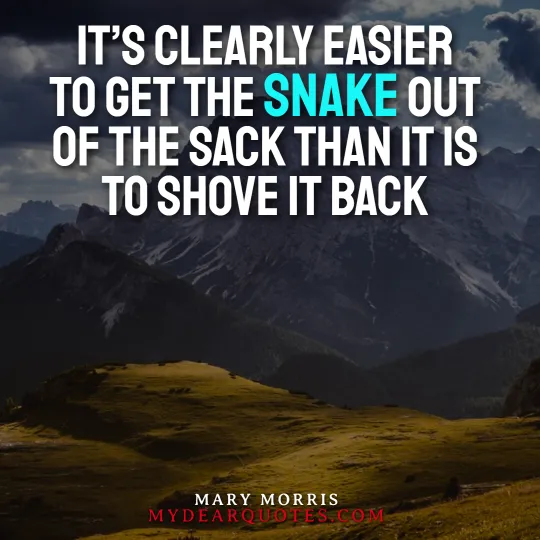 It's clearly easier to get the snake out of the sack than it is to shove it back | Mary Morris
---
Accept yourself, love yourself, and keep moving forward. If you want to fly, you have to give up what weighs you down | Roy T. Bennett
---
Short Quotes On Life Lessons
---
There comes a time in your life when you have to choose to turn the page, write another book or simply close it | Shannon L. Alder
---
One of the most courageous decisions you'll ever make is to finally let go of what is hurting your heart and soul | B. Nicole
---
Straight roads do not make skillful drivers | Paulo Coelho
---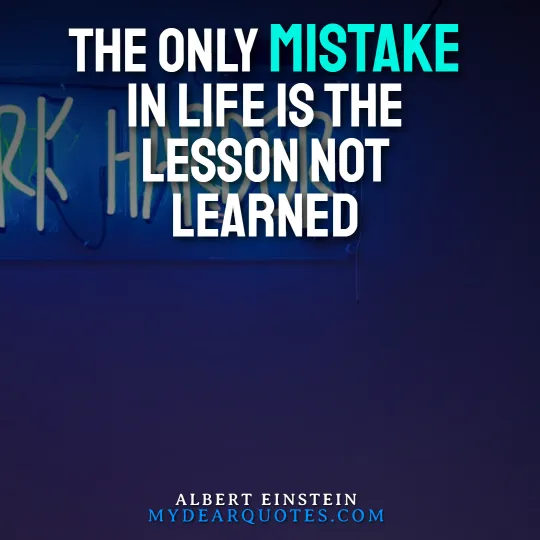 The only mistake in life is the lesson not learned | Albert Einstein
---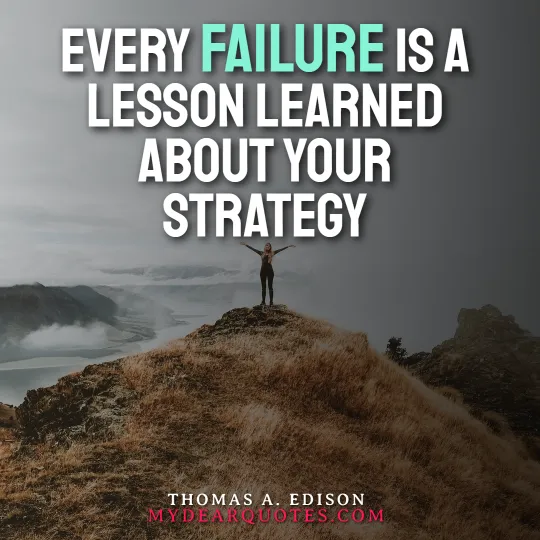 Every failure is a lesson learned about your strategy | Thomas A. Edison
---
Life is ten percent what you make it, and 90 percent how you take it | Irving Berlin
---
On lesson learned – Don't look where you fall, but where you slipped | African Proverb
---
Meaningful Life Lesson Quotes
---
Once you accept that perfection is just a goal, screwing up isn't so hard to handle | Nick Vujicic
---
Ultimately there is no such thing as failure. There are lessons learned in different ways | Twyla Tharp
---
Life is inherently risky. There is only one big risk you should avoid at all costs, and that is the risk of doing nothing | Denis Waitley
---
Not everyone is meant to be in your future. Some people are just passing through to teach you lessons in life | unknown
---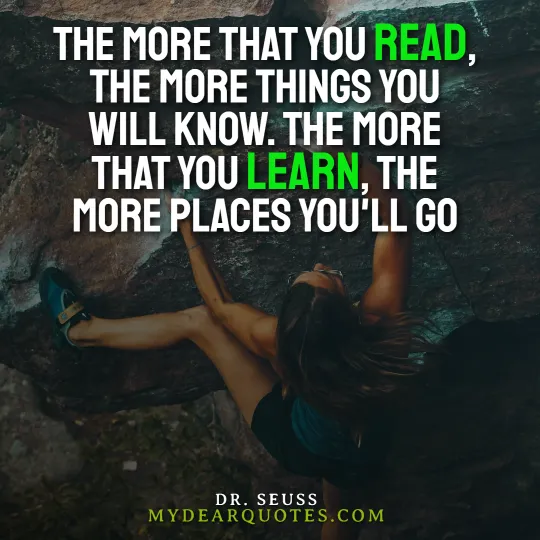 The more that you read, the more things you will know. The more that you learn, the more places you'll go | Dr. Seuss
---
No one is the same, and we all have different life experiences. It's not my place to judge them or for them to judge me. We should all be accountable for our own lives | Joanna Krupa
---
You can deal with stressful life experiences with strength from past ones | Kelly McGonigal
---
Wise Affirmations Continue
---
Life is about creating and living experiences that are worth sharing | Steve Jobs
---
The way to love anything is to realize that it may be lost | Gilbert K. Chesterton
---
One day, you will wake up and there won't be any more time to do the things you've always wanted. Do it now | Paulo Coelho
---
The biggest lesson that I've learnt is that things can change so quickly, never get used to one thing because everything can flip on it's head | Santan Dave
---
I'm very happy with my life. I am what I am. I don't worry about anything that I can't control. That's a really good lesson in life | Tom Watson
---
The ultimate lesson all of us have to learn is unconditional love, which includes not only others but ourselves as well | Elisabeth Kubler-Ross
---
I think in every lesson there's a blessing, and there's so many blessings from all the lessons I've had to go through in life | Alonzo Mourning
---
Every lesson man, every, every relationship, every experience is a blessing. You learn from it, whether good or bad | August Alsina
---

What have I learned in Life?
I learned… that you can't make someone love you. All you can do is be someone you can love. The rest is up to them.
I learned… no matter how much I care, some people just don't feel the same.
I learned that trust is built over the years, and it only takes a second to destroy it.
I learned… no matter how good a friend you are, sometimes they will hurt you and you have to forgive him.
I learned… not to count what you have in your life, but who you have in your life.
I learned… that we should never destroy an apology with an excuse.
I learned that you can use your charm for fifteen minutes. After that, you better know something.
I learned that I should not compare myself with others.
I learned… how you can do something for a moment which you will suffer for the rest of your life.
I learned… that it takes a long time to become the person I want to be.
I learned that you should always greet your loved ones with words full of love. This may be the last time you see them.
I learned… that you can endure for a long time after you conclude that you can't anymore.
I have learned that we are responsible for what we do, no matter how we feel.
I learned that we can control our attitude or that it controls us.
I learned… no matter how passionate the relationship is in the beginning – that passion fades, and then it is better for something else to take its place.
I learned… that heroes are people who do what needs to be done, when it needs to be done, regardless of the consequences.
I learned that money is a bad way to achieve goals.
I learned… my best friend and I can do anything or nothing and in both cases, we will have a great time.
I have learned… the people we expect to destroy us when we are powerless can be the ones who will help us recover.
I've learned that sometimes when I'm angry, I have a right to be angry, but that doesn't give me the right to be cruel.
I learned that true friendship continues to grow, even at a great distance. The same goes for true love.
Hit that share button if you liked our Lesson Learned Quotes.
---
---