Quotes About Basketball [From LEGENDS]
Super Basketball Quotes from some awesome guys like Shaq, Popovich, Pat Riley, Charles Barkley, Jeff Van Gundy, and others. We hope you will enjoy it. Also, please share us on Social Media.
*If you are using our images on your website, make sure to put a link back to us. THX.
Basketball Quotes
---
Ask not what your teammates can do for you. Ask what you can do for your teammates | Magic Johnson
---
There is no such thing as a perfect basketball player, and I don't believe there is only one greatest player either | Michael Jordan
---
"The key is not the 'will to win'… everybody has that. It is the will to prepare to win that is important" | Bob Knight
---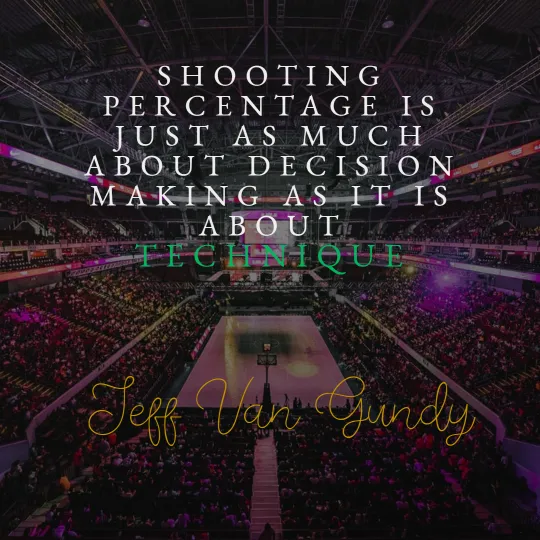 Shooting percentage is just as much about decision making as it is about technique | Jeff Van Gundy
---
What you are as a person is far more important that what you are as a basketball player | John Wooden
---
When a gifted team dedicates itself to unselfish trust and combines instinct with boldness and effort–it is ready to climb | Pat Riley
---
If you are afraid of failure you don't deserve to be successful! | Charles Barkley
---
Good, better, best. Never let it rest. Until your good is better and your better is best | Tim Duncan
---
Some say you have to use your five best players, but I found out you win with the five that fit together best as a team | Red Auerbach
---
What distinguishes a great player is his presence. When he goes on to the court, his presence dominates the atmosphere | Bill Russell
---
Basketball coach quotes
---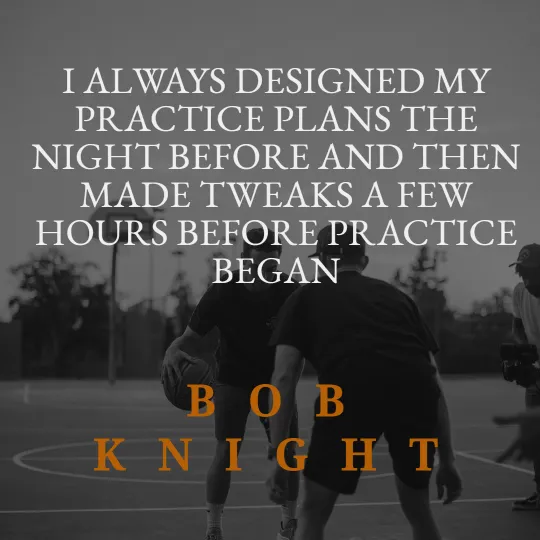 I always designed my practice plans the night before and then made tweaks a few hours before practice began | Bob Knight
---
You have to earn your right to win the game with effort and togetherness | Brad Stevens
---
Basketball is a beautiful game when the five players on the court play with one heartbeat | Dean Smith
---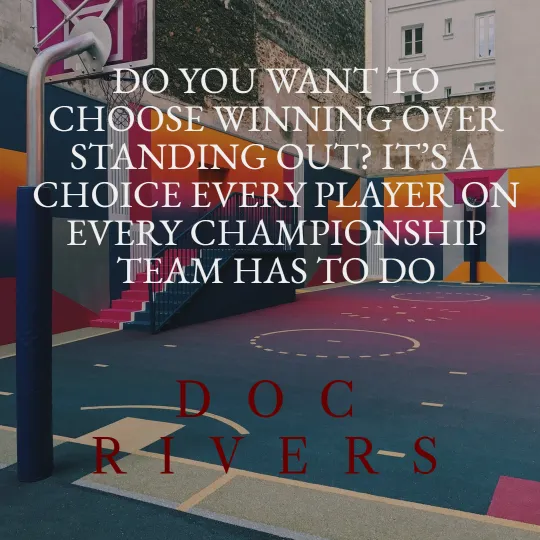 Do you want to choose winning over standing out? It's a choice every player on every championship team has to do | Doc Rivers
---
Recognize and reward players who put the team first, not just the gifted ones | Don Meyer
---
No one is bigger than the team. If you can't do things our way, you're not getting time here and we don't care who you are | Gregg Popovich
---
Winning is overrated. The only time it is really important is in surgery and war | Al McGuire
---
The biggest thing is just routine. I think that's the biggest correlation between golfers and basketball players | Steph Curry
---
We try to stress the little things because little things lead to big things | Steve Alford
---
The reason we win games is not typical of a top 5 team. We're winning on execution and heart and guts and playing smart | Mark Few
---
Need More Quotes?
Great basketball quotes
---
Do you know how I learned to shoot? I watched white people. Just regular white people. They really put their elbow in and finish up top | Joel Embiid
---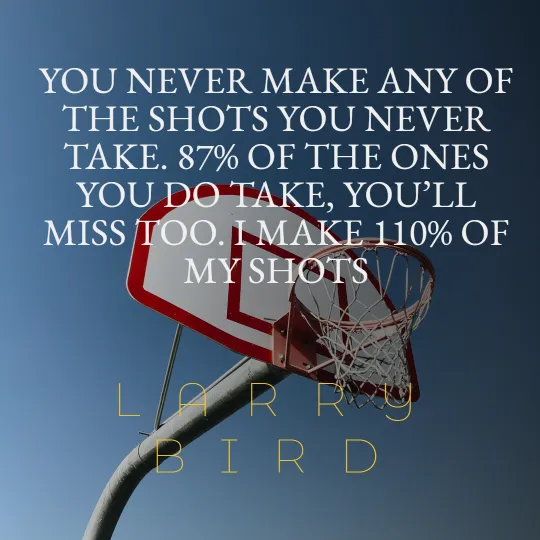 You never make any of the shots you never take. 87% of the ones you do take, you'll miss too. I make 110% of my shots | Larry Bird
---
The two ingredients in success in basketball are playing hard and playing intelligently | Pete Carill
---
Success doesn't stop when you get there | Michael Jordan
---
Do your best when no one is looking. If you do that, then you can be successful in anything that you put your mind to | Bob Cousy
---
Everything negative – pressure, challenges – is all an opportunity for me to rise | Kobe Bryant
---
Hard work does pay, and you just have to continue to work | Jason Kidd
---
I seek to leave the world a little better place than I found it | James Naismith
---
Me shooting 40% at the foul line is just God's way to say nobody's perfect | Shaquille O'Neal
---
One man can be a crucial ingredient on a team, but one man cannot make a team | Kareem Abdul-Jabbar
---
Those were all Quotes about basketball for today. If you liked our post, share it on social media. You can check our tuesday motivation blog post if you need more quotes.
---
---