How do I wish my sister a happy birthday
It's always special to wish your sister a happy birthday! No matter how far away you are or how much time has passed, it's a meaningful way to show your love and appreciation for her. Whether you choose to wish her in person, over the phone, or through a card or letter, there are many ways to make your sister feel special on her birthday. Here are some ideas on how to wish your sister a happy birthday.
What to Write in a Birthday Card for Your Sister
Happy Birthday to the most amazing sister in the world! I hope your birthday is as wonderful and awesome as you are! Let's make this the best birthday ever by eating lots of cake, playing some fun games, and having an amazing time. I love you, sis!
How to Make Your Sister's Birthday Special with Thoughtful Presents
It's your sister's birthday and you want to make it special. You've come to the right place! Here are some present ideas that will show your sister just how much you care.

1. Cat-Themed Everything. Is your sister a crazy cat lady? Then get her a gift that celebrates her feline obsession! From a personalized cat mug to a cozy cat sweater, she'll be sure to love anything with a kitty on it.
2. A Thoughtful Note. Nothing says "I love you" like a heartfelt letter. Take the time to write down your favorite memories with your sister and tell her how much she means to you.
3. A Night Out. Give your sister the gift of a night out on the town. Whether you take her to a movie or a fancy dinner, it will be a night she won't forget.
4. A Homemade Treat. Show your sister how much you care with a homemade gift. Bake her favorite cake or whip up a batch of her favorite cookies. She'll appreciate that you put in the extra effort!
5. A Fun Activity. Take your sister out for a fun activity like mini-golf or a escape room. Not only will it be a great bonding experience, but she'll have a lot of laughs too! No matter what you choose, your sister is sure to feel loved on her special day. Now get out there and make it one to remember!

10 Meaningful Quotes to Share With Your Sister on Her Birthday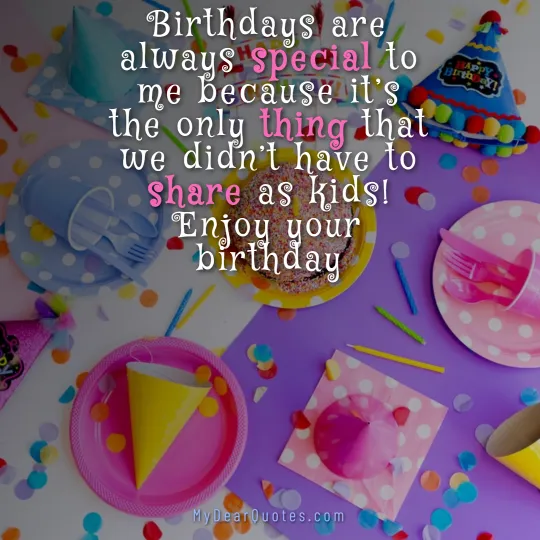 1. "A sister is a little bit of childhood that can never be lost."
2. "A sister is a special kind of friend."
3. "A sister is a forever friend."
4. "A sister is a joy that lasts a lifetime."
5. "A sister is worth a thousand friends."
6. "Sisters are angels who lift us to our feet when our wings have trouble remembering how to fly."
7. "Sisters share childhood memories and grown-up dreams."
8. "Sisters are connected heart to heart."
9. "Sisters are like two sides of the same coin, close but never touching."
10. "Happy Birthday to my one-and-only sister – the only person who knows how to make me smile, even when I don't want to!"

---
---