33+ Famous Leadership Quotes And Sayings
We Have Famous Leadership Quotes From Some Of The Most Recognized Leaders In The World. Our Collection Includes Sayings From Leaders Like Dwight D. Eisenhower, Henry Ford, Martin Luther King Jr, And Many More. Also, All Of The Images Are Shareable, So Don't Forget To Share On Social Media. Find great captions on Founding Fathers Religion Quotes link.
*If you are using our images on your website, make sure to put a link back to us. THX.
In the introduction itself, it is necessary to emphasize one very important thing; you are not born as a leader, you become one throughout life. The qualities that every good leader must develop will be discussed below, and before you think about how it is reserved for the privileged, we will reveal a little secret – it is easier to develop leadership qualities than it seems at first glance. More on God Is Good Quotes.
Awesome And Famous Leadership Quotes
---
Innovation distinguishes between a leader and a follower | Steve Jobs
---
The very essence of leadership is that you have to have vision. You can't blow an uncertain trumpet | Theodore M. Hesburgh
---
A good objective of leadership is to help those who are doing poorly to do well and to help those who are doing well to do even better | Jim Rohn
---
The function of leadership is to produce more leaders, not more followers | Ralph Nader
---
Great leaders are not defined by the absence of weakness, but rather by the presence of clear strengths | John Zenger
---
Look over your shoulder now and then to be sure someone's following you | Henry Gilmer
---
Leadership is the art of getting someone else to do something you want done because he wants to do it | Dwight D. Eisenhower
---
To do great things is difficult; but to command great things is more difficult | Friedrich Nietzsche
---
I must follow the people. Am I not their leader? | Benjamin Disraeli
---
Inspirational Quotes From Famous Leaders
---
A leader is one who knows the way, goes the way, and shows the way | John Maxwell
---
The nation will find it very hard to look up to the leaders who are keeping their ears to the ground | Sir Winston Churchill
---
He who has never learned to obey cannot be a good commander | Aristotle
---
It is absurd that a man should rule others, who cannot rule himself | Latin Proverb
---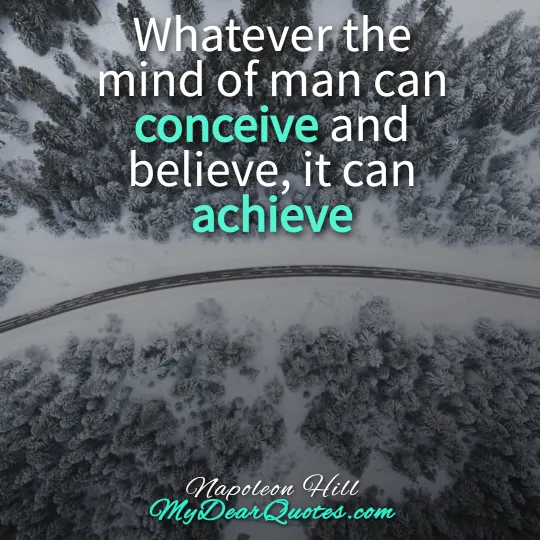 Whatever the mind of man can conceive and believe, it can achieve | Napoleon Hill
---
Leadership is unlocking people's potential to become better | Bill Bradley
---
The quality of a leader is reflected in the standards they set for themselves | Ray Kroc
---
I alone cannot change the world, but I can cast a stone across the water to create many ripples | Mother Teresa
---
Famous Quotes By Business Leaders
---
A man who wants to lead the orchestra must turn his back on the crowd | Max Lucado
---
If the highest aim of a captain were to preserve his ship, he would keep it in port forever | Thomas Aquinas
---
Millions saw the apple fall, but Newton was the one who asked why | Bernard Baruch
---
Leadership to me means duty, honor, country. It means character, and it means listening from time to time | George W. Bush
---
Leaders must be close enough to relate to others, but far enough ahead to motivate them | John C. Maxwell
---
It is amazing what you can accomplish if you do not care who gets the credit | Harry S. Truman
---
People ask the difference between a leader and a boss.The leader works in the open, and the boss in covert. The leader leads, and the boss drives | Theodore Roosevelt
---
A genuine leader is not a searcher for consensus, but a moulder of consensus | Martin Luther King Jr
---
Famous Leadership Sayings Continue
---
To handle yourself, use your head; to handle others, use your heart | Eleanor Roosevelt
---
Don't necessarily avoid sharp edges. Occasionally they are necessary to leadership | Donald Rumsfeld
---
No man will make a great leader who wants to do it all himself, or to get all the credit for doing it | Andrew Carnegie
---
Failure is simply the opportunity to begin again, this time more intelligently | Henry Ford
---
Great leaders do not desire to lead but to serve | Myles Munroe
---
Leadership is the art of giving people a platform for spreading ideas that work | Seth Godin
---
Before you are a leader, success is all about growing yourself. When you become a leader, success is all about growing others | Jack Welch
---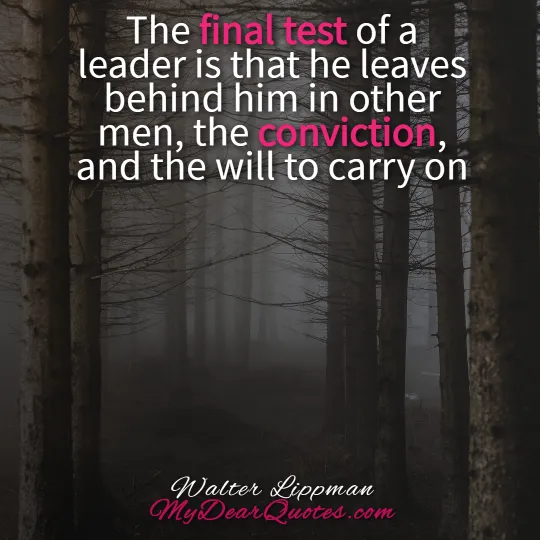 The final test of a leader is that he leaves behind him in other men, the conviction, and the will to carry on | Walter Lippman
---
Each of us has the capacity to become a successful leader, and this is best known to the AIESEC organization, which focuses on shaping the leaders of tomorrow, and is based on emphasizing the virtues that a good leader must possess.
These virtues are divided into 4 large groups and represent the incorporated work of the individual that is needed before taking the position of leader. Every person who has the ambition to develop leadership skills must continuously work on themselves, and in this way, the importance of the first group of traits – self-awareness – comes in first place.
What Traits Does A Leader Have?
SELF AWARENESS
Developed self-awareness is the first step in realizing one's potentials and desires. This trait gives us insight into our inner state and the problems, fears, and doubts we face on a daily basis. To be able to control these doubts, we need to be well acquainted with ourselves and know how to influence our own state with the power of positive thinking.
The power of this virtue is in knowing one's own shortcomings and flaws, but also in acknowledging one's own strengths and virtues. Only then can we successfully perform the tasks ahead of us, because we know what we can and cannot do.
PROBLEM SOLVING SKILLS
Problem-solving skill is in the personality of every quality leader. It develops and adapts to various situations, and its development begins when we first encounter a problem. When faced with a seemingly problematic situation, each person has their own reaction.
This reaction can be emotional, explosive, or static. In an emotional reaction, people are often subject to the pressure and severity of the situation. While this can be very uncomfortable and frustrating, the most important thing is to relax and think rationally.
EMPOWERING OTHERS
Motivation is a key factor in performing team tasks. Every team member must be equally motivated and committed to what they are doing. In doing so, a great role is played by the team leader who represents an encouraging and motivating figure to other members.
Motivating and empowering others can be very difficult if a person is not like that by nature. A team leader takes care of the condition of his members and influences their mood. In order to achieve the empowerment of others, communication is important, especially how we communicate.
GLOBAL CITIZEN
Being a world citizen is the goal of every team leader, and AIESEC was created on this premise of international dialogue. This title is upgraded and developed with each new project and communication.
The meaning of the phrase itself is manifold; global citizen means a person who is open, accepts, and sees beauty in diversity and a person who is curious and eager for knowledge. Acceptance of different cultures, research, and flexibility is imperative, and to have such a person as a leader and even a team member is a real treasure!
Famous Quotes About Leadership ends here. Spread the word on social media if you liked our images.
---
---