Emotional Birthday Wishes For Daughter [With Images]
Super Awesome Emotional Birthday Wishes For Daughter That Will Make Her Special Day Even Better. Show Appreciation And Love To Your Little Princes With Our Birthday Messages And Wishes. They Come With Beautiful Images That You Can Send Or Share On Social Media.
It is a nice gesture when a daughter is given a gift from her mother and father for her birthday, but it is even more beautiful when the most tender and special words are addressed. Certainly, the opus of birthday greetings for a daughter from her parents is large and colorful, but the most important thing is that they are sincere and from the heart, from those who wish her only the best and most beautiful in life. More on Happy Birthday Sister images Funny.
Daughters are especially important to parents because they are sweethearts to fathers, and true heirs to mothers, and they try to "get them on the right path" through life and growing up. Mother's love is very important to daughters because they were born and are a picture and an opportunity of their mothers, and for them, there are always little girls, no matter how old they are.
In the birthday greetings to the daughters of the parents, all those beautiful emotions and tender words are woven, which are enough to express all the love and the biggest and most beautiful wishes for the birthday. You can check Good Morning Messages For Her for extra inspiration.
*If you are using our images on your website, make sure to put a link back to us. THX
---
Emotional Birthday Wishes For Daughter From Mom
Birthday to my sweet Daughter. That was the lucky day for me when you come in my life. You have brightened my world. Your Birth Day is very special for me as I got such a beautiful little Angel in my life. Best wishes on your birthday
---
Happy birthday and enjoy your day, you will be my always my little Angel and remember that age is just a number
---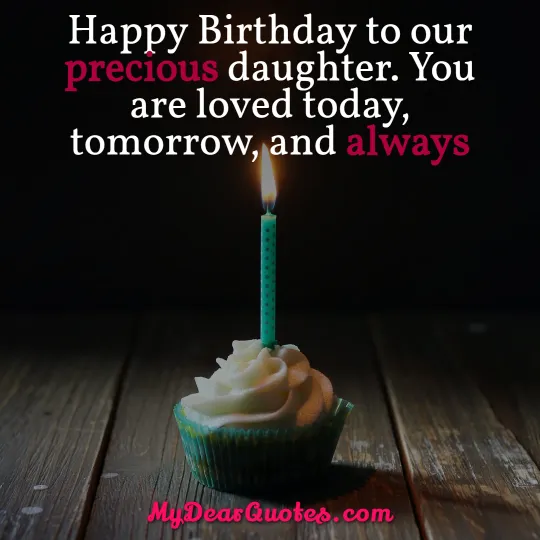 Happy Birthday to our precious daughter. You are loved today, tomorrow, and always
---
Have a Great Day my bundle of joy, my little princess; you make our day, thank you for bringing a smile to our face every day
---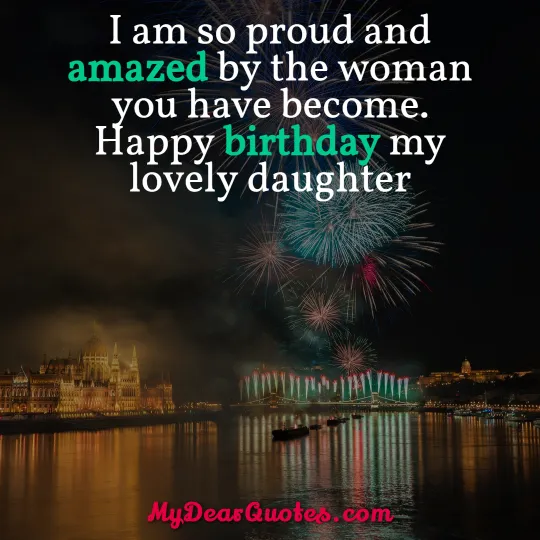 I am so proud and amazed by the woman you have become. Happy birthday my lovely daughter
---
You are not only my daughter but also my best friend. Thank you for being so understanding. Happy birthday dear
---
Being your parent has been the most meaningful part of my life. Thanks for making me a proud parent. Happy birthday dear daughter
---
Dear daughter, on this day I wish you a very happy birthday and pray to God to give you the strength to overcome all obstacles in life
---
Emotional Birthday Quotes For Daughter
---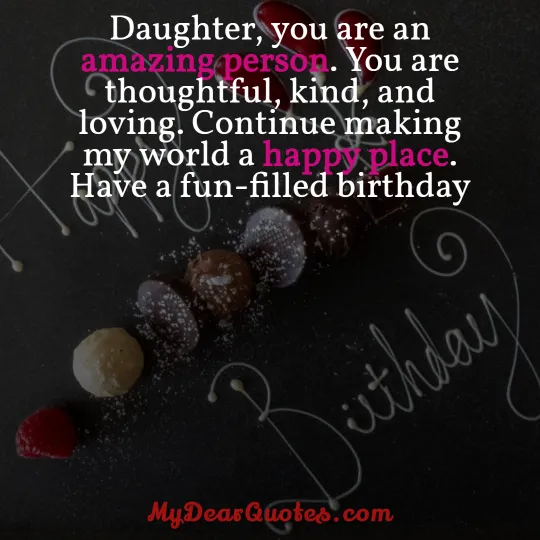 Daughter, you are an amazing person. You are thoughtful, kind, and loving. Continue making my world a happy place. Have a fun-filled birthday
---
After a hard day's work, it is your smile which takes away all the stress. Have a wonderful birthday dear
---
To my daughter, who has become the finest young lady ever- happy birthday, sweetie, I love you so much!
---
You came into this world just when I needed you the most! Happy birthday lovely girl, we love you
---
You make me hopeful for the future! Happy birthday baby girl, I hope you know how much we love you
---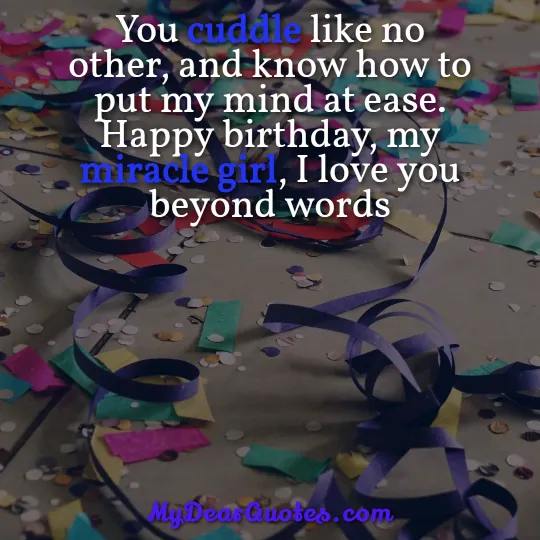 You cuddle like no other, and know how to put my mind at ease. Happy birthday, my miracle girl, I love you beyond words
---
Time flies and I cannot believe you are a teenager already! Happy birthday my pretty girl
---
Happy Birthday Beautiful Daughter Images
---
Happiest birthday to the most beloved daughter. Happiest birthday to the most beloved daughter
---
My world begins with your smile and ends with your hugs and kisses. Have a splendid birthday celebration, my lovely daughter
---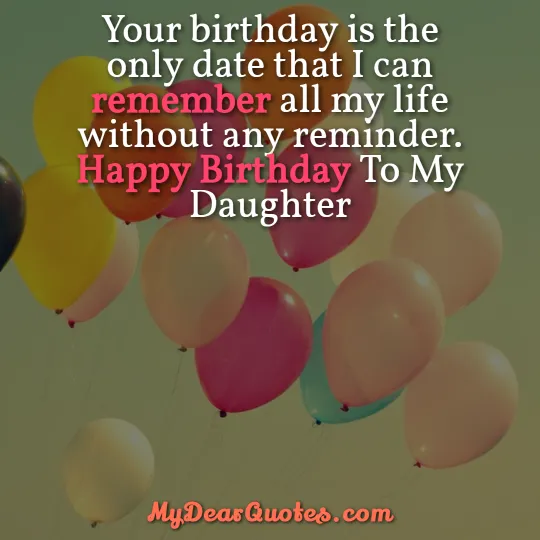 Your birthday is the only date that I can remember all my life without any reminder. Happy Birthday To My Daughter
---
The more you have grown up, the more you have become serious about your career and our well-being. We are more than blessed to have such a caring daughter. Happy birthday sweetheart
---
Two of the best moments in my simple life were your birth and the day you became an independent woman. Happy birthday my gorgeous daughter
---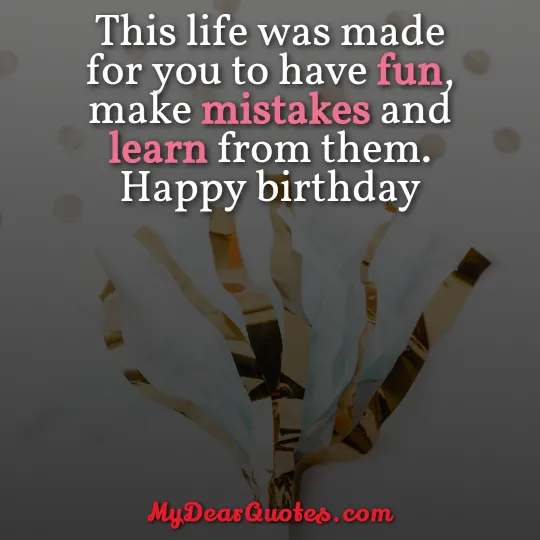 This life was made for you to have fun, make mistakes and learn from them. Happy birthday
---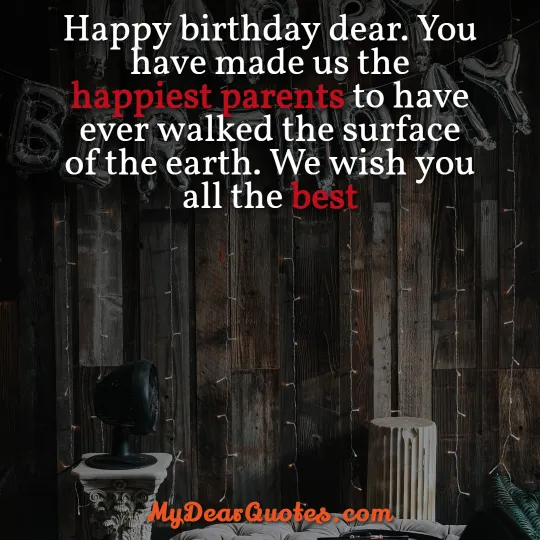 Happy birthday dear. You have made us the happiest parents to have ever walked the surface of the earth. We wish you all the best
More Special And Emotional Sayings
---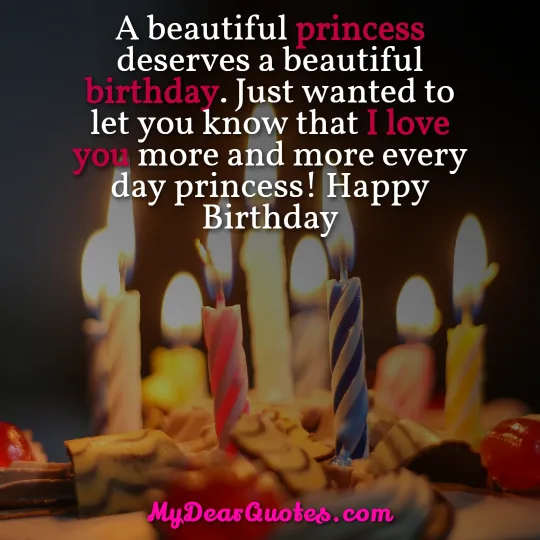 A beautiful princess deserves a beautiful birthday. Just wanted to let you know that I love you more and more every day princess! Happy Birthday
---
Best birthday wishes for a wonderful daughter. If there's one thing I could change about you, it would be… absolutely nothing. I love you just the way you are
---
Happy Birthday Princess! It makes me proud seeing you grow up to be a strong, independent and kind woman
---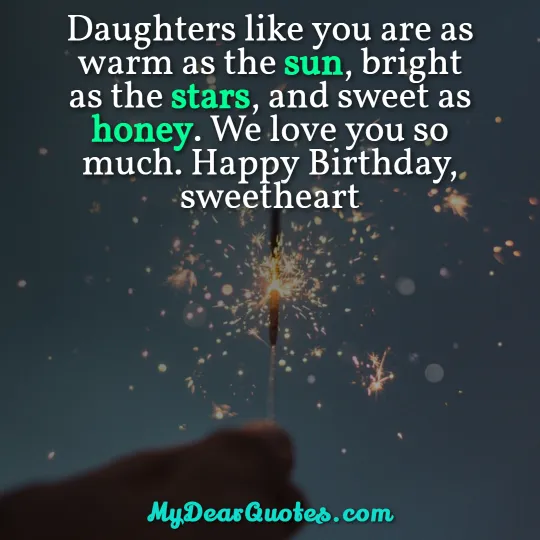 Daughters like you are as warm as the sun, bright as the stars, and sweet as honey. We love you so much. Happy Birthday, sweetheart
---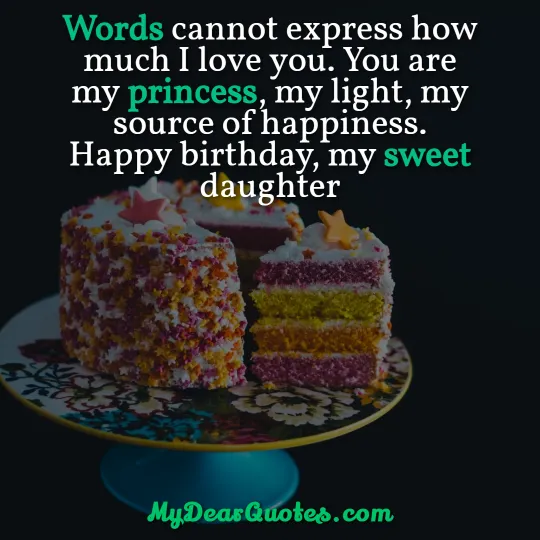 Words cannot express how much I love you. You are my princess, my light, my source of happiness. Happy birthday, my sweet daughter
---
Whenever I am feeling down in life, I just think of you, because your smile lights up my life. Happy birthday to my vivacious daughter
---
Today is so important to everyone who knows you and who loves the amazing person you are. On your birthday and always, you're wished everything wonderful
---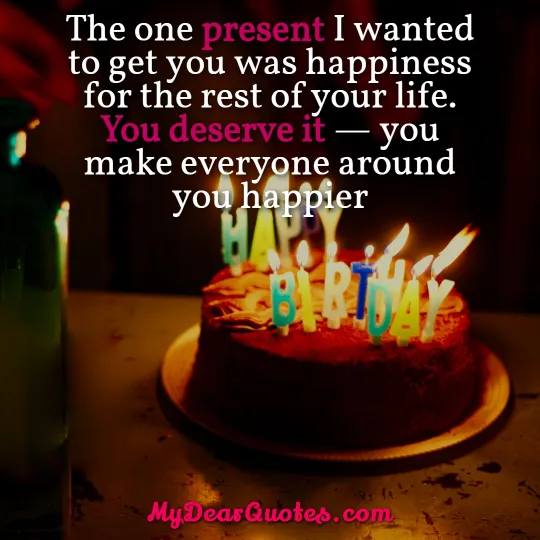 The one present I wanted to get you was happiness for the rest of your life. You deserve it — you make everyone around you happier
---
Science has explained why the mother-daughter bond is so strong
You must have heard the saying "You are just like your mother" hundreds of times, you may find yourself offended because you think you picked up some negative traits, but what is certain – the relationship with the mother is one of the deepest emotional relationships we have in life. Thus, many women will admit that their mother has influenced them the most and has largely determined their life choices. No wonder considering we've been focused on the mother since birth. As we grow older, it shapes our identity through emotions, messages, and behaviors, which define our relationship with others.
According to a 2016 study on 35 families, the part of the brain that regulates emotions is more similar to mothers and daughters than any other intergenerational pairing. This means that mom is more likely to understand where your reactions are coming from when you face a problem because she might imagine herself in your place.
The study also has potentially useful implications when it comes to our understanding of mental health conditions. Fumiko Hoeft, an associate professor of psychiatry at the University of California, San Francisco, explained that the corticolimbic system examined was strongly associated with depression. Therefore, the experiences of the mother's mental health are good predictors of the daughter's feelings.
Research has found that the bond between mother and daughter is still stronger than other types of intergenerational family relationships during all life changes. Moreover, mothers and daughters have been shown to influence each other in different ways than other relationships.
If you liked our Emotional Birthday Wishes For Daughter post, feel free to share it via Social Media.
---
---