35 Sweet Good Morning Messages For Her With Images
Sweet Good Morning Messages For Her Complemented With Beautiful Images To Show Your Love And Dedication To The Most Beautiful Girl In The World. All Images Are Shareable, So You Can Share Them On Facebook, Twitter, Pinterest, And So On. Find more custom images on Quotela.
*If you are using our images on your website, make sure to put a link back to us. THX.
Morning messages are a small sign of attention, with which you can make your loved one happy. Happiness is in the little things, and romantic, sweet love verses can make your girlfriend or wife smile.
Funny, romantic, short or long… morning messages are great way to show appreciation for most couples. Whether it's a simple "Good morning", a message you came up with yourself, or a classic romantic poem, you are beautifying the beginning of the day for your loved one.
---
Good Morning Text For Girlfriend
Get up and kiss the man who loves you the most
---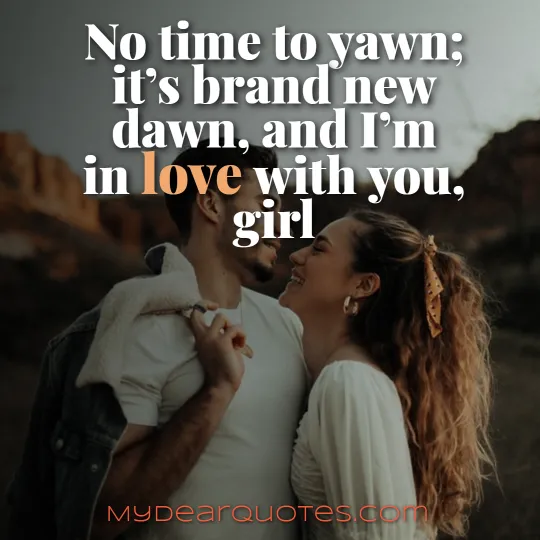 No time to yawn; it's brand new dawn, and I'm in love with you, girl
---
Wake up, my Queen. Life is calling on this beautiful day
---
Wake up and kiss me, girl! I'm ready for my morning goosebumps
---
I am truly blessed to be able to call you my love. Good morning, lovely
---
Good morning baby. I just wanted you to know how much I care for you. You're always in my thoughts
---
Good morning beautiful. Hope you have a day full of thoughts about me and my love
---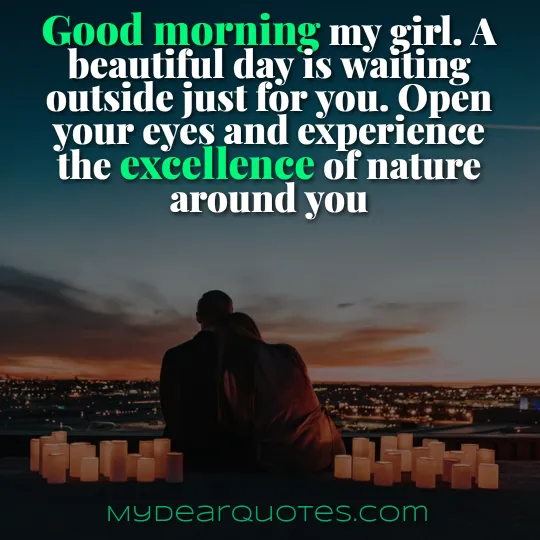 Good morning my girl. A beautiful day is waiting outside just for you. Open your eyes and experience the excellence of nature around you
---
Romantic Good Morning My Love
---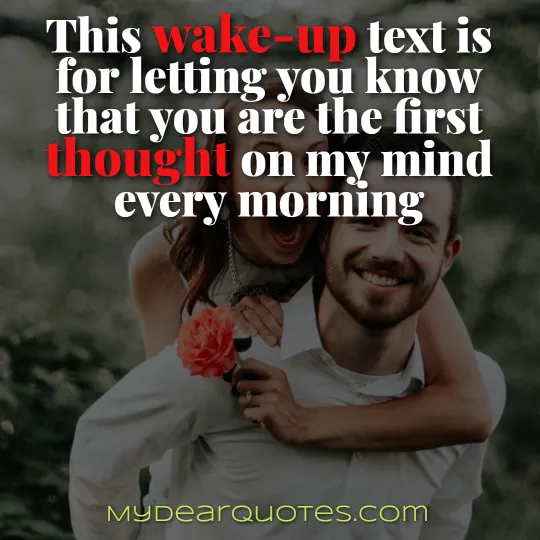 This wake-up text is for letting you know that you are the first thought on my mind every morning
---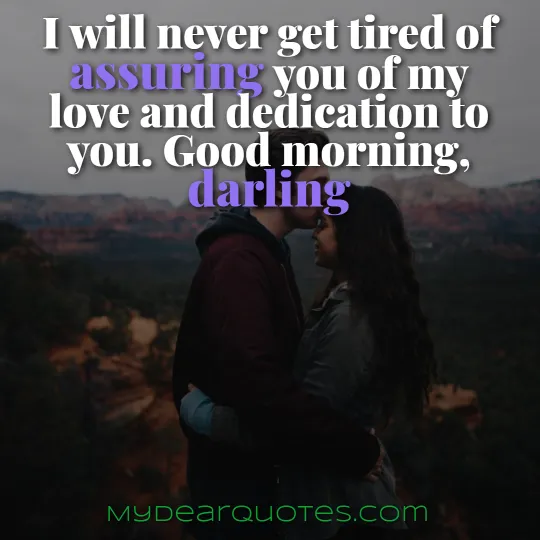 I will never get tired of assuring you of my love and dedication to you. Good morning, darling
---
Good morning, gorgeous. You spoiled me with your care and kindness, and now I cannot start my day without you
---
You are the shore I wish to return, after a hectic and tiring day to satiate my life
---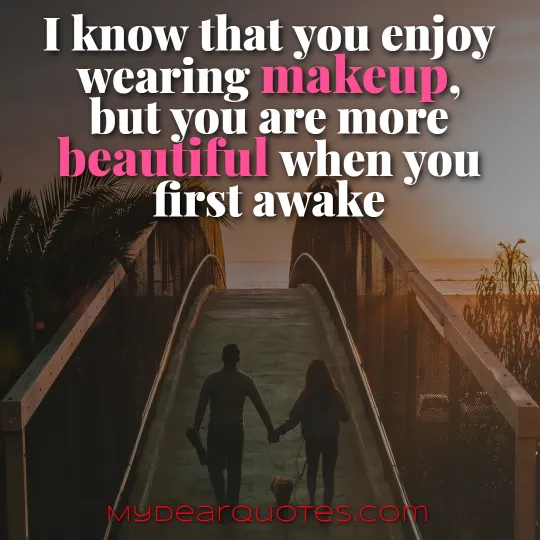 I know that you enjoy wearing makeup, but you are more beautiful when you first awake
---
As I open my eyes each day, all I want to see is you. Good morning, my dear, I sent you hugs and kisses in my thoughts
---
Morning, Darling! I Wish You To Get Everything You Want And Deserve Today. You Deserve A Lot
---
Good Morning Lovely Text
---
Every morning I thank the world for giving you to me. You are my sweetest addiction, I can't live without you
---
Good morning, my sweetheart. I literally just woke up and you're the first person on my mind. I love you
---
The best feeling is goosebumps from your kisses, I want to feel them for the whole life
---
I hope your day be filled with joy and love. I'm always here if you ever need me
---
The best part of the morning is my body in your arms! I love waking up by your side, cutie
---
Good morning, baby. Hope your morning is filled with peaceful energy and positive thoughts. I just wanted to remind you that you're strong, smart and beautiful, and nothing can stop you
Sweet Morning Text For Her
---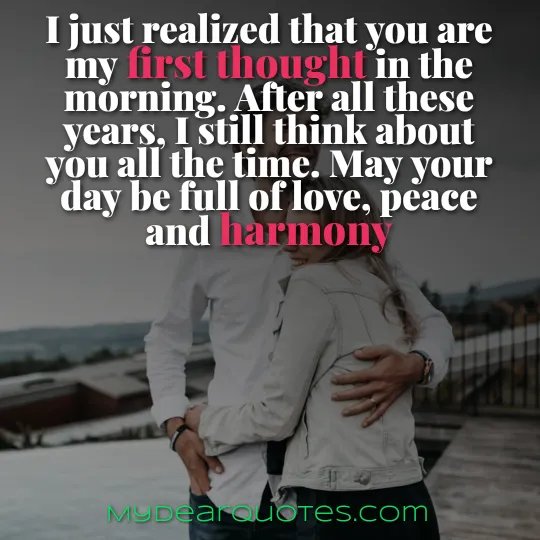 I just realized that you are my first thought in the morning. After all these years, I still think about you all the time. May your day be full of love, peace and harmony
---
Did you know that I have dreams about you almost every night? You're on my mind 24/7. I feel like you are all I think about, and I love it
---
Hope you're having the best morning ever, sunshine. You have everything to make this world a better place, and don't you ever forget that I will always be by your side to show you support
---
Sending all my love to the most beautiful sleeping beauty God has ever created. Can't wait to see you and kiss those caramel lips till they're numb
---
Waking up without you by my side is a torture. I want to hear your voice every morning, baby, and someday I will. I promise you that
---
Hi, baby! It's a beautiful morning, and I hope that you're enjoying every second of it. May your day be full of pleasant surprises and happy moments
---
We all have our morning rituals. Some people can't live without their morning coffee, others can't start their day without meditation. I can't start my day without texting you first
---
7 Love Quotes To Go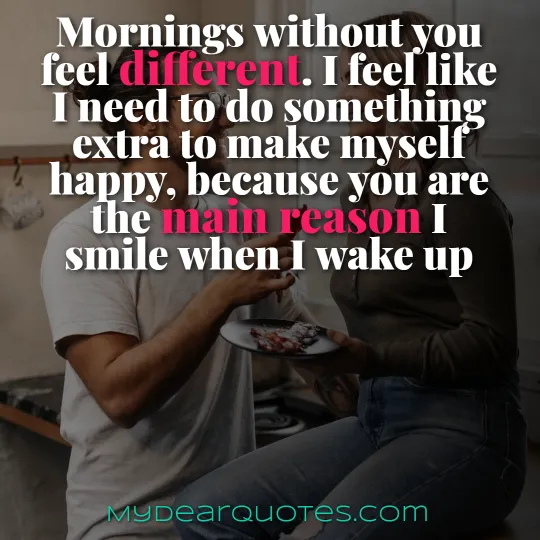 Mornings without you feel different. I feel like I need to do something extra to make myself happy, because you are the main reason I smile when I wake up
---
Rise and shine, baby! The Sun is up, a new day is here, and we've got a lot to do. May you morning be filled with good vibes
---
Hey beautiful, I would make a whole nation standstill just to see your pretty face and tell you Good morning
---
If I had a wish, I would pray we both lived long enough to see our grandchildren. I'm happy to call you mine. Good morning my love
---
Good morning sleepy face. Leaving you in bed every day and finding you comfortable at home makes my days and nights. Go out and chase your dreams
---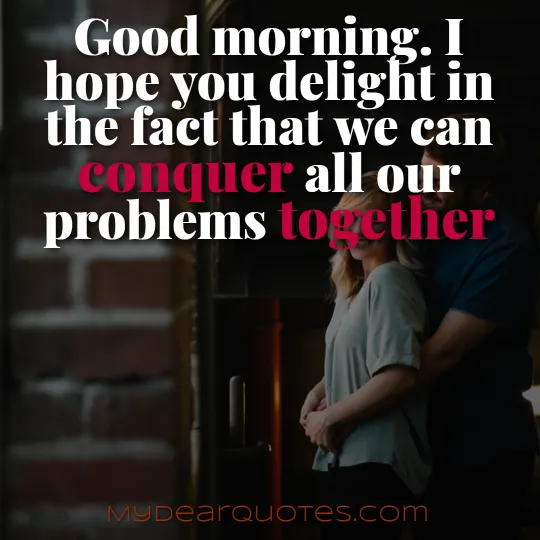 Good morning. I hope you delight in the fact that we can conquer all our problems together
---
Time and tide waits for no one, dear one. Wake up and chase your dreams. You are one in a million
---
10 Things You Will Hear From A Man That Loves You
Sometimes it's hard to be sure if the man you're seeing really loves you. Since guys often express themselves indirectly, these phrases can help you conclude that.
Unlike men, you can tell a woman is in love by her look and smile. It is harder to see those signs in a man's face. But there are some phrases that will let women know that their guy care's for them.
I've noticed that you…
Can i help you with…
This reminded me on you…
Where were you… I was so worried…
You look perfect with that…
I will be there for you…
I miss you when…
When you are not here I…
I talked with my mom about you…
Hey Buttercup(he gave you a nickname)…
Sweet Good Morning Messages For Her have images. Send some of them to your loved one. Make her day… special.
---
---