30+ Epic WAYNE DYER Quotes With SHAREABLE Images
Best-Selling Author Wayne Dyer Quotes From the Great Spiritual And Inspirational Author. All Of The Quotes Come With Beautiful Pictures For Social Sharing.
Dr. Wayne Dyer (1949-2015) was a doctor of psychology, writer, and lecturer of contemporary motivational literature and one of its most prominent representatives. He has written more than 40 books, many of which are long-standing bestsellers. Check quotes by David Goggins on the link.
Wayne Dyer was originally engaged exclusively in private therapeutic practice, occasionally writing articles on the subject for journals.
Below we have a collection of some of his most famous and inspiring sayings. If you need different proverbs, visit quotes by Les Brown and find extra inspiration with images on that blog post.
*If you are using our images on your website, make sure to put a link back to us. THX.
---
Dr Wayne Dyer Quotes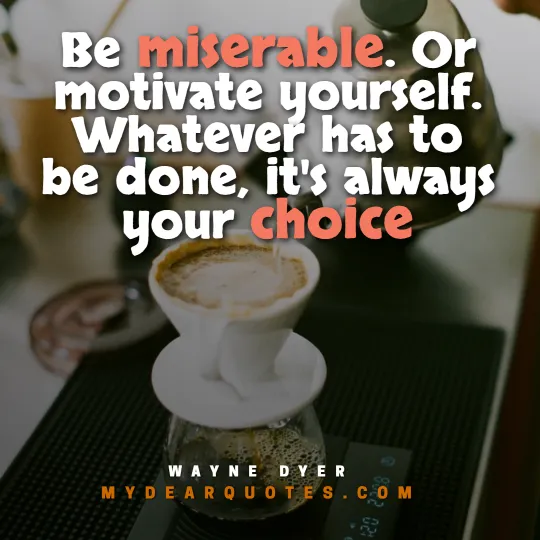 Be miserable. Or motivate yourself. Whatever has to be done, it's always your choice
---
Love is the ability and willingness to allow those that you care for to be what they choose for themselves without any insistence that they satisfy you
---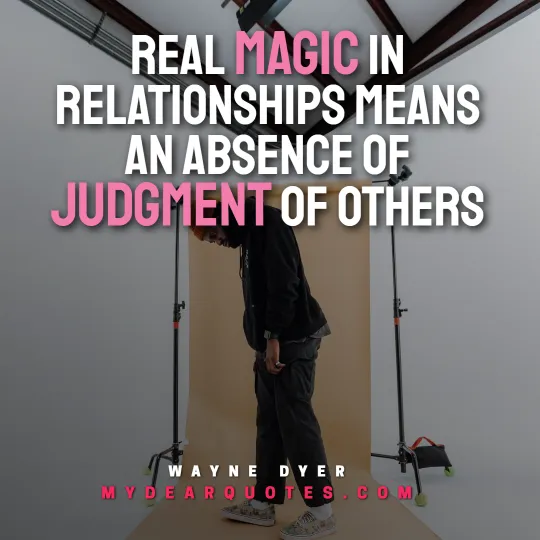 Real magic in relationships means an absence of judgment of others
---
I cannot always control what goes on outside. But I can always control what goes on inside
---
Everything is perfect in the universe – even your desire to improve it
---
When you judge another, you do not define them, you define yourself
---
Change the way you look at things and the things you look at change
---
Wayne Dyer Daily Quotes
---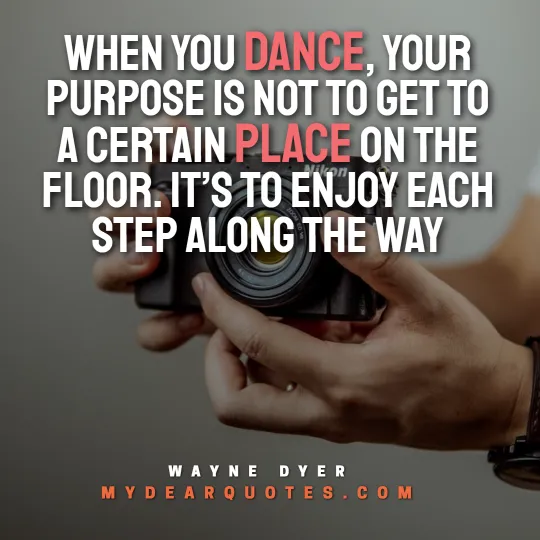 When you dance, your purpose is not to get to a certain place on the floor. It's to enjoy each step along the way
---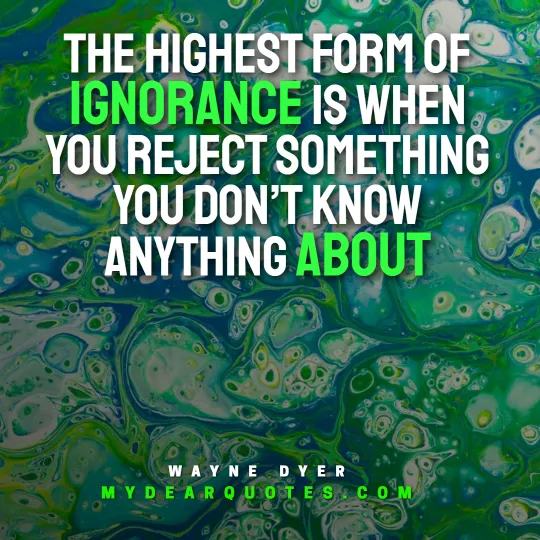 The highest form of ignorance is when you reject something you don't know anything about
---
Passion is a feeling that tells you: this is the right thing to do. Nothing can stand in my way. It doesn't matter what anyone else says. This feeling is so good that it cannot be ignored. I'm going to follow my bliss and act upon this glorious sensation of joy
---
When the choice is to be right or to be kind, always make the choice that brings peace
---
If you knew who walked beside you at all times, on the path that you have chosen, you could never experience fear or doubt again
---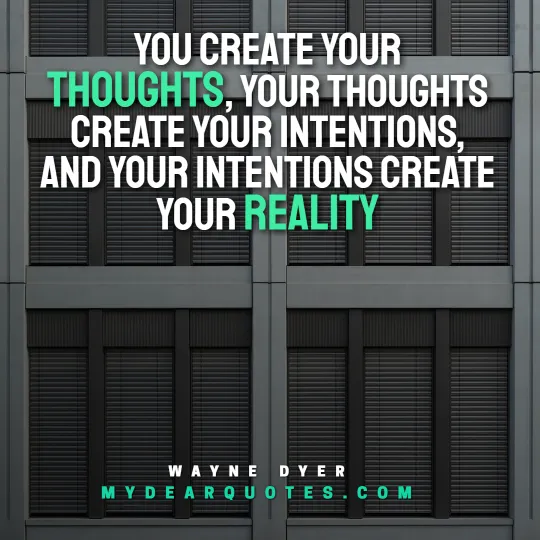 You create your thoughts, your thoughts create your intentions, and your intentions create your reality
---
Wayne Dyer daily inspiration
---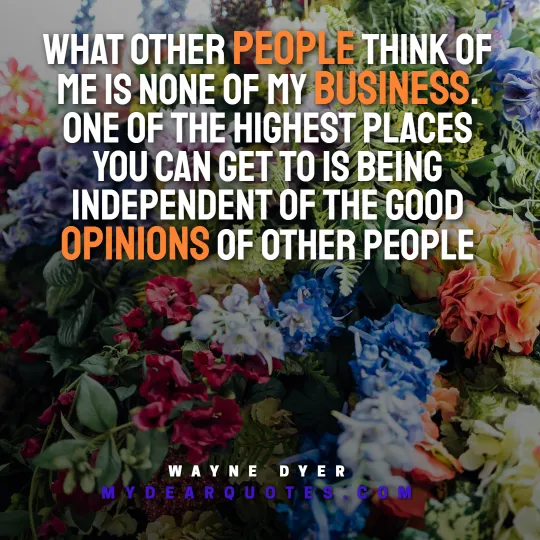 What other people think of me is none of my business. One of the highest places you can get to is being independent of the good opinions of other people
---
Know that everything will happen at just the right time, at just the right place, with just the right people
---
How people treat you is their karma, how you react is yours
---
Here is an affirmation for today: I feel passionately about my life, and this passion fills me with excitement and energy
---
Miracles come in moments. Be ready and willing
---
A mind at peace, a mind centered and not focused on harming others, is stronger than any physical force in the universe
---
Circumstances do not make a man, they reveal him
---
Best-Selling Sayings And Phrases
---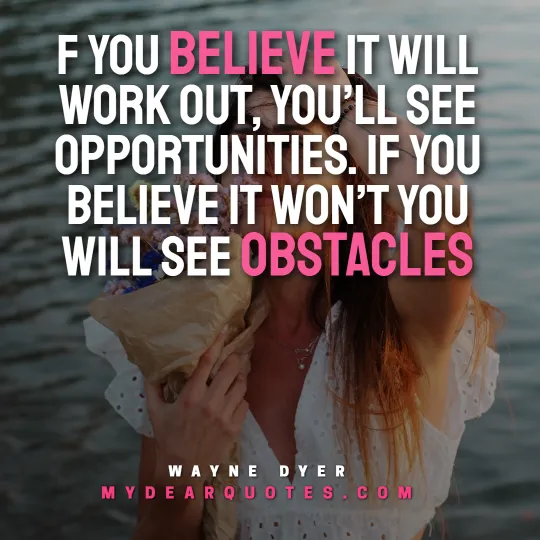 If you believe it will work out, you'll see opportunities. If you believe it won't you will see obstacles
---
Doing what you love is the cornerstone of having abundance in your life
---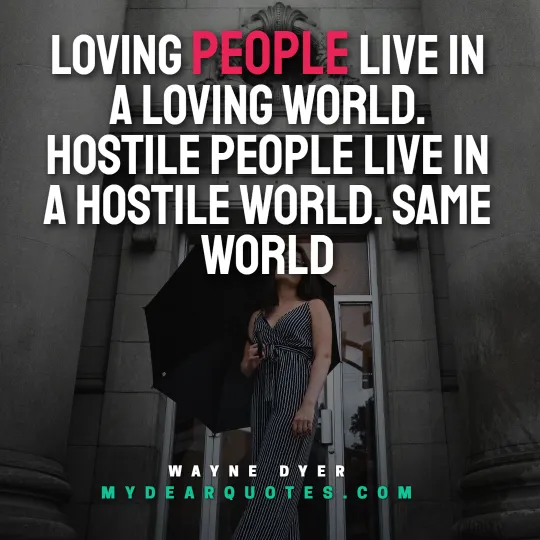 Loving people live in a loving world. Hostile people live in a hostile world. Same world
---
My goal is not to be better than anyone else, but to be better than I used to be
---
There is no scarcity of opportunity to make a living at what you love. There's only scarcity of resolve to make it happen
---
With everything that has happened to you, you can either feel sorry for yourself or treat what has happened as a gift. Everything is either an opportunity to grow or an obstacle to keep you from growing. You get to choose
---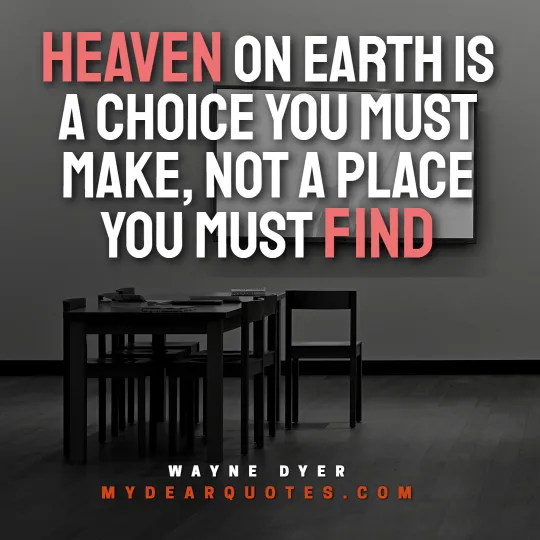 Heaven on Earth is a choice you must make, not a place you must find
---
A belief system is nothing more than a thought you've thought over and over again
---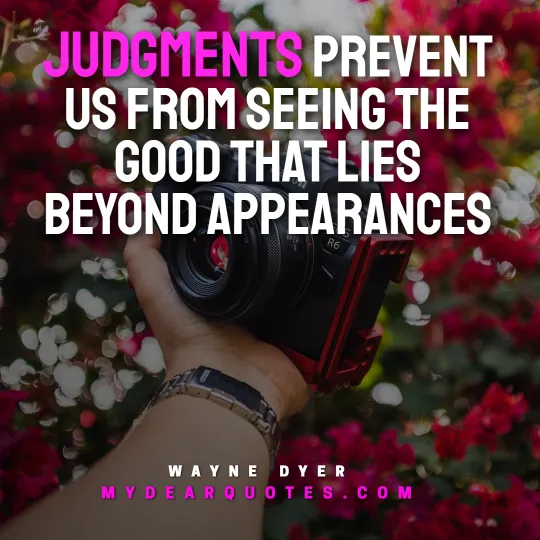 Judgments prevent us from seeing the good that lies beyond appearances
---
Peace is the result of retraining your mind to process life as it is, rather than as you think it should be
---
7 Wayne Dyer Rules For Better Life
To live the way you want to, you have to be a little rebellious. You have to be willing to fight for yourself. You may upset those who care so much about controlling your behavior a little – but if you are willing to try, you will find that being yourself, not letting others think for you, is joyful, precious, and a fulfilling way of life.
You don't have to be a revolutionary, just be a human being who tells the world and everyone in the world, "I will be my own and I will resist anyone who tries to stop me."
There is a special kind of freedom at your disposal, if you are willing to accept the risks it entails – the freedom to wander the field of life wherever you want, to choose everything yourself. An individual has the right to decide for himself how he will live his life, as long as it does not violate the same rights of others, and every person or institution that hinders someone else's freedom should be seen as a manipulator and oppressor.
The life of every being is unique, separate from any other life, in the true sense of the word. No one else can live your life, feel what you feel, enter your body and experience the world the way you do. This is the only life you have and it is too precious to allow others to use it as they see fit.
You never have to be a victim again. Never! But to be able to function as someone who is not a victim, you need to think carefully about yourself and your life and learn to recognize the many situations in which your strings are pulled by others.
Being free does not mean giving up responsibility to loved ones. Being free, in fact, means free choice to be responsible. But nowhere is it written that you have to be what others want when their desires are at odds with what they want for themselves.
The freest people in the world are those who have a sense of inner peace. They simply refuse to be affected by other people's whims and live their own lives quietly and productively. These people enjoy freedom by not allowing themselves to be constrained by defined roles, which prescribe them to behave in a certain way just because they are parents, employees, Americans, or adults.
We end our Wayne Dyer Quotes post on a high. When you hover over pictures, you get a share option. Use it if like our pictures. Thank You.
---
---