33+ Never HURT Your Mother Quotes. She Is EVERYTHING
Never hurt your mother quotes from some of the most influential people on the planet. You only have one life, you only have one mother. So pay attention to this post.
Why should we respect our mothers
Moms are pretty damn wonderful! As much as they sometimes seem to have superpowers, they are all human and none is perfect … but despite occasional stumbles, they are irreplaceable, and the love between mother and child is unique. From a negative perspective, we have quotes about selfish parents that dont do their job correct.
Whether you're thinking about how much she does for you and how great she is (but you don't know how to put it into words) or need a little reminder of why she's wonderful (if she's been through lately), you've come to the right place.
You may not be fully connected to the following reasons, because everyone is different, every mother is different, and these relationships can be complex. For more mother quotes visit Losing A Mother Quotes.
Below you can find a list. That list will remind you why moms are special.
That unconditional love she has for you – There may be times when she doesn't do it like everyone else, but she will always love you. No matter what you do, how many times you mess up or how many bad decisions you make, Mom will still love you.
Her support – She is always there for you when you need her. She may not support all your decisions, but she will always support you. She is the shoulder to cry on and the person whose opinion you always rush to ask when you have a dilemma.
Her strength – Your mom had to be pretty damn strong just to get through labor, but since then she has had to be strong every day. She must be strong for herself, but she is also strong for you. You know that she is a pillar of strength that you can always rely on for support.
Her vulnerability – Although it may seem so at times, she is not perfect and has her worries and insecurities. But you love her despite that.
Her independence – When you were a child, it probably seemed to you that you were the whole reason for her existence. But as you grew up, you realized that she, in addition to being a mother, is also her own person and has a life outside of you.
*If you are using our images on your website, make sure to put a link back to us. THX.
---
Never hurt your mother quotes with images
When you look into your mother's eyes, you know that is the purest love you can find | Mitch Album
---
A father's goodness is higher than the mountain, a mother's goodness deeper than the sea | Japanese Proverb
---
Never hurt your mother because she is the only one who is with you in your difficulties | Ankith MS
---
Don't get involved with anyone who doesn't respect his mother | Mia Farrow
---
Life began with waking up and loving my mother's face | George Eliot
---
One good mother is worth a hundred schoolmasters | George Herbert
---
My mother was the dearest, sweetest angel. She didn't talk; she sang. She was a tower of strength | Jayne Meadows
---
A mother is not a person to lean on, but a person to make leaning unnecessary | Dorothy Canfield Fisher
---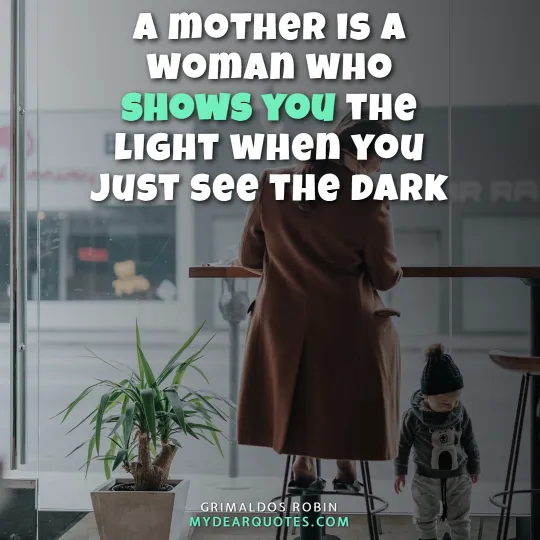 A mother is a woman who shows you the light when you just see the dark | Grimaldos Robin
---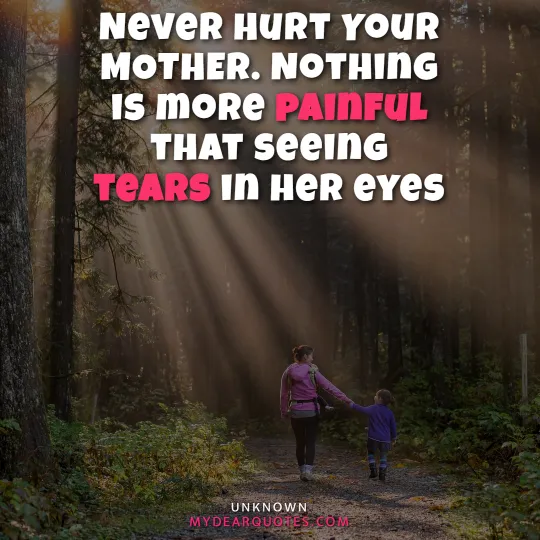 Never Hurt Your MOTHER. Nothing is more painful that seeing tears in her eyes | Unknown
---
Don`t hurt your mother quotes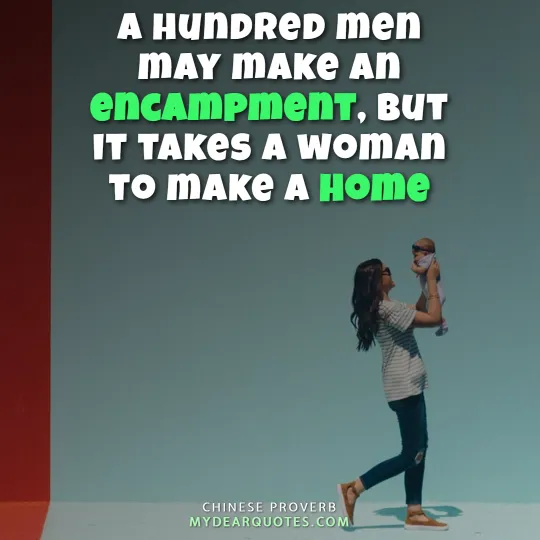 A hundred men may make an encampment, but it takes a woman to make a home | Chinese proverb
---
The father is always a Republican toward his son, and his mother's always a Democrat | Robert Frost
---
A mother always has to think twice, once for herself and once for her child | Sophia Loren
---
To describe my mother would be to write about a hurricane in its perfect power | Maya Angelou
---
I believe the choice to become a mother is the choice to become one of the greatest spiritual teachers there is | Oprah
---
The best place to cry is on a mother's arms | Jodi Picoult
---
My mom is the greatest mom in the whole wide world. She's done everything for me to make my dreams come true | Josh Hutcherson
---
As my mom always said, 'You'd rather have smile lines than frown lines | Cindy Crawford
---
Acceptance, tolerance, bravery, compassion. These are the things my mom taught me | Lady Gaga
---
My mom had four kids, one with special needs. She had a full-time job, and she still came home and made dinner for us every night, from scratch | Eva Longoria
---
A mother's arms are more comforting than anyone else's | Princess Diana
---
A mother understands what a child does not say | Jewish Proverb
---
A mother is your first friend, your best friend, your forever friend. Never hurt your mother | Unknown
---
The influence of a mother in the lives of her children is beyond calculation | James E. Faust
---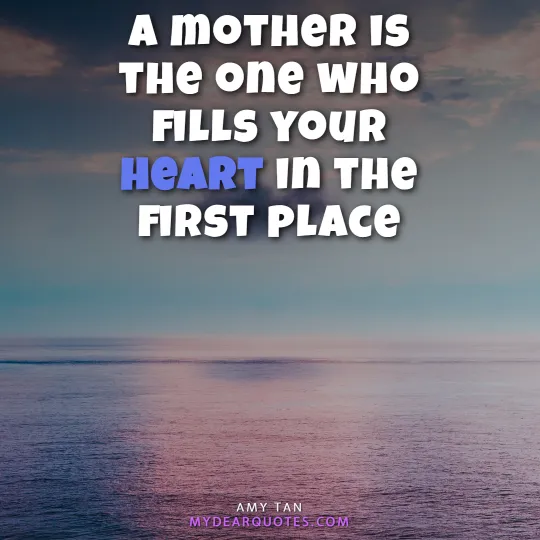 A mother is the one who fills your heart in the first place | Amy Tan
---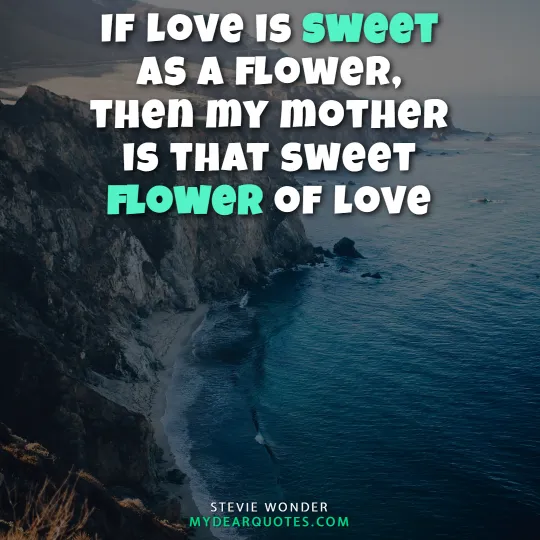 If love is sweet as a flower, then my mother is that sweet flower of love | Stevie Wonder
---
Mothers are like glue. Even when you can't see them, they're still holding the family together | Susan Gale
---
Mothers can forgive anything! Tell me all, and be sure that I will never let you go, though the whole world should turn from you | Louisa May Alcott
---
I want my children to have all the things I couldn't afford. Then, I want to move in with them | Phyllis Diller
---
God could not be everywhere, and therefore he made mothers | Rudyard Kipling
---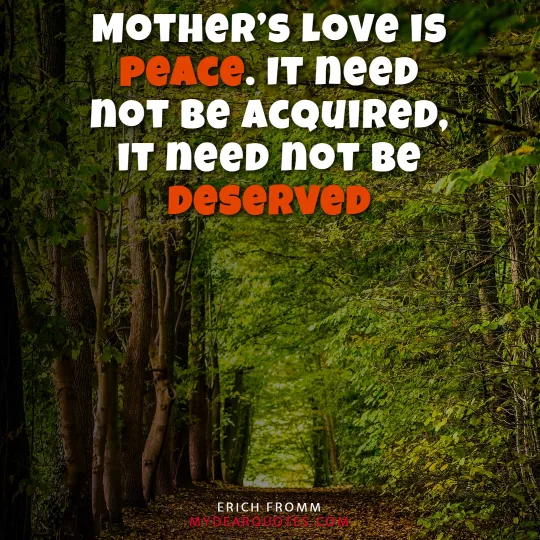 Mother's love is peace. It need not be acquired, it need not be deserved | Erich Fromm
---
A mother and daughter's love is never separated | Viola Shipman
---
Little souls find their way to you whether they're from your womb or someone else's | Sheryl Crow
---
If you liked our never hurt your mother quotes, hit the share button.
---
---