Funny Thursday Quotes [+HILARIOUS Images]
Funny Thursday Quotes To Make This Odd Day A Bit More Tolerable. He's Fridays Younger Brother. He's Just A Bit More Depressing And Boring. We Have A Collection Of 34 Sayings And Images To Help You Push Through This Day. More on motivational quotes for tuesday. Let's Start.
*If you are using our images on your website, make sure to put a link back to us. THX.
Silly And Funny Thursday Quotes
---
I wish you a tolerable Thursday. That's all any of us can hope for | April Winchell
---
Thursday is perhaps the worst day of the week. It's nothing in itself; it just reminds you that the week has been going on too long | Nicci French
---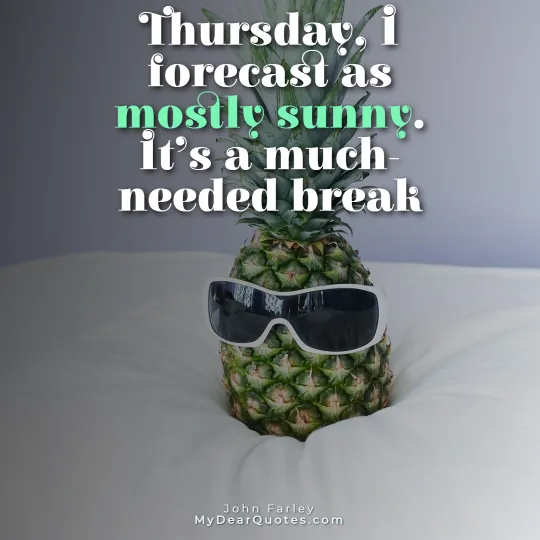 Thursday, I forecast as mostly sunny. It's a much-needed break | John Farley
---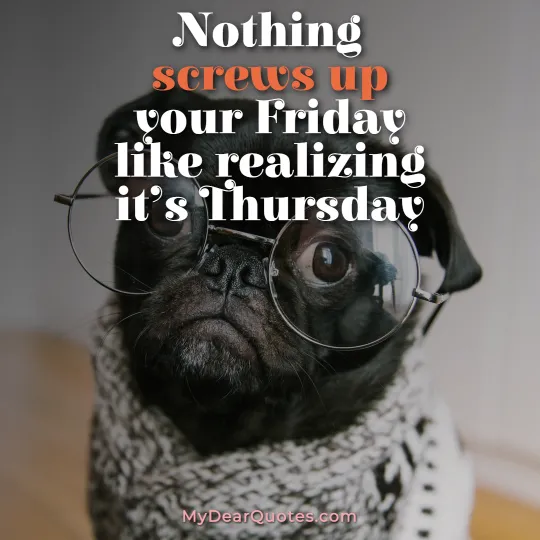 Nothing screws up your Friday like realizing it's Thursday
---
I wait until Thursday to ask people about their weekend plans, so there's a better chance they're already busy
---
This must be Thursday. I never could get the hang of Thursdays | Douglas Adams
---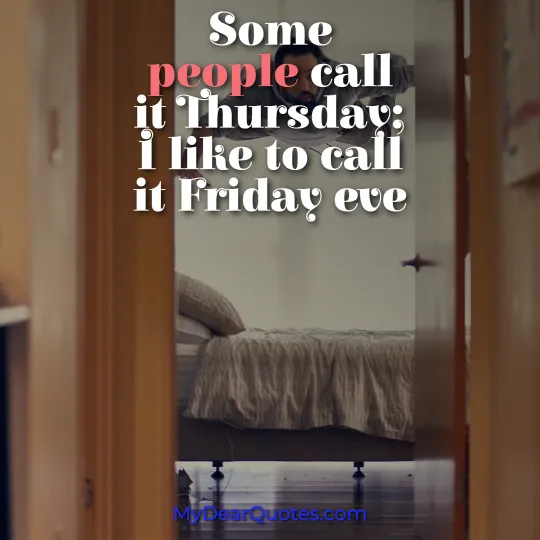 Some people call it Thursday; I like to call it Friday eve
---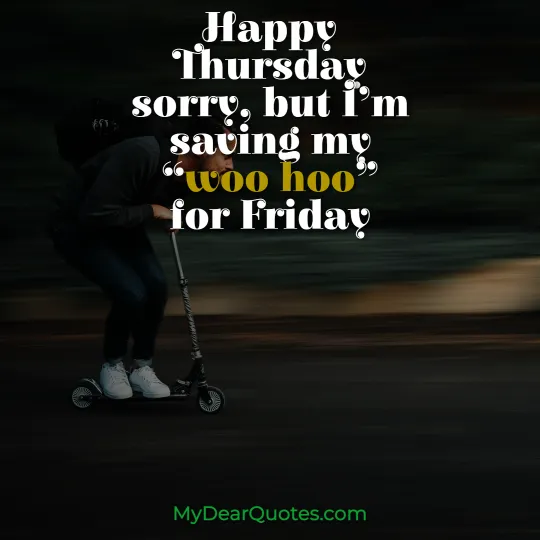 Happy Thursday sorry, but I'm saving my "woo hoo" for Friday
---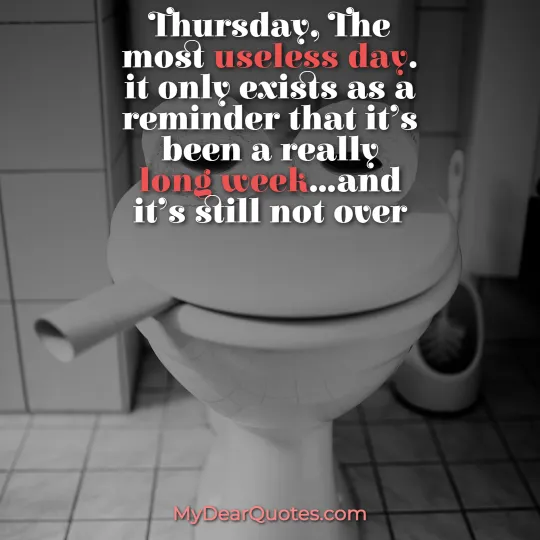 Thursday, The most useless day. it only exists as a reminder that it's been a really long week…and it's still not over
---
Good Morning Thursday Funny Words
---
Thursday mornings are just wannabes. They wannabe Saturday mornings but they're not
---
Better days are just around the corner. They are called Friday, Saturday, and Sunday
---
The only worst thing than Thursday morning is Thursday hangover morning
---
I woke up alive. Great. Wait, it's Thursday morning. Damn it
---
Thursday mornings suck. They are more depressing than my EX
---
Thursday mornings are like man's nipples. Completely unnecessary
---
Thursday mornings are horrible. The only thing that works is Vodka
---
Rise and shine. It's a beautiful day outside. Oh, wait. Its Thursday
---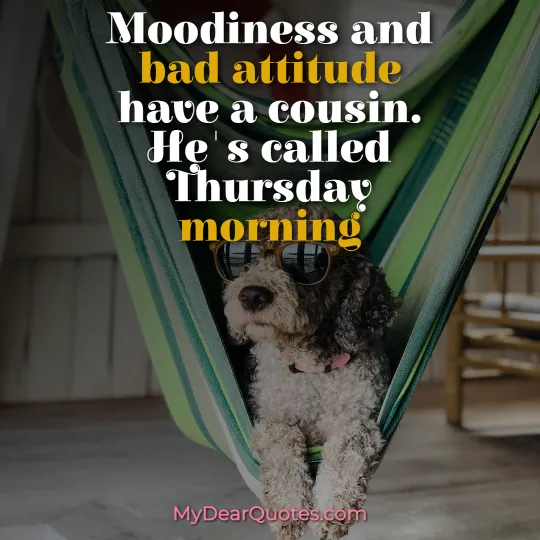 Moodiness and bad attitude have a cousin. He's called Thursday morning
---
The only good Thursday morning is when its a national holiday
---
Happy Thursday Funny Images
---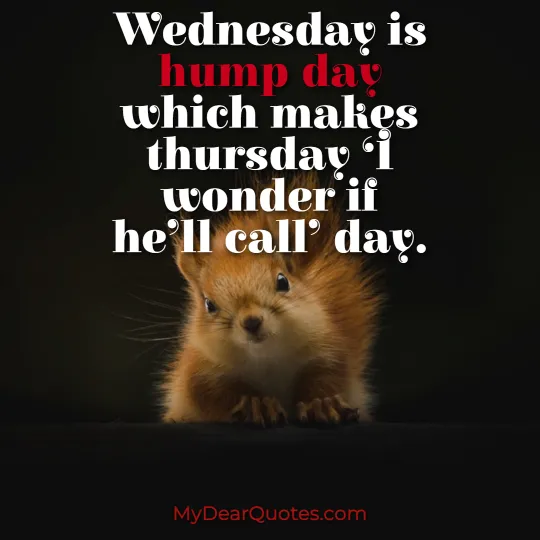 Wednesday is hump day which makes thursday 'I wonder if he'll call' day
---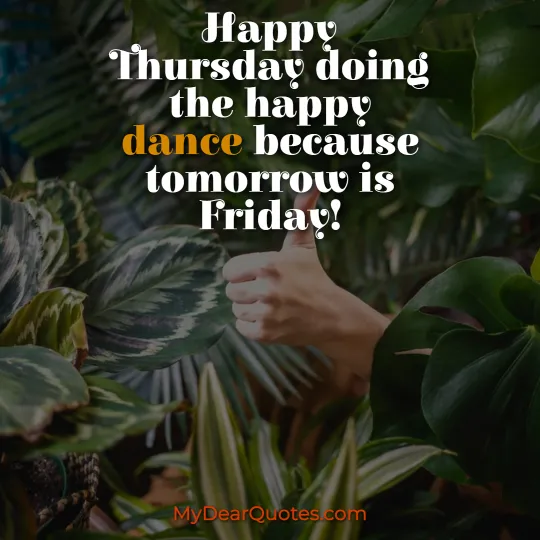 Happy Thursday doing the happy dance because tomorrow is Friday!
---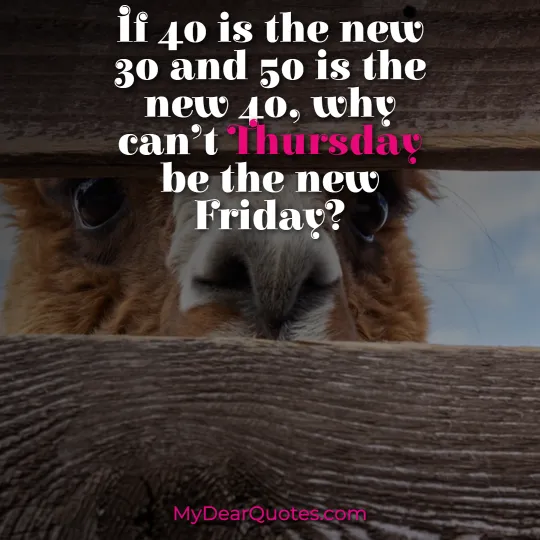 If 40 is the new 30 and 50 is the new 40, why can't Thursday be the new Friday?
---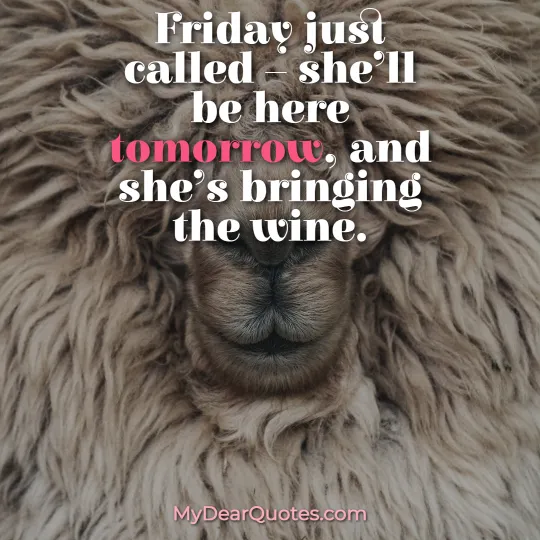 Friday just called – she'll be here tomorrow, and she's bringing the wine
---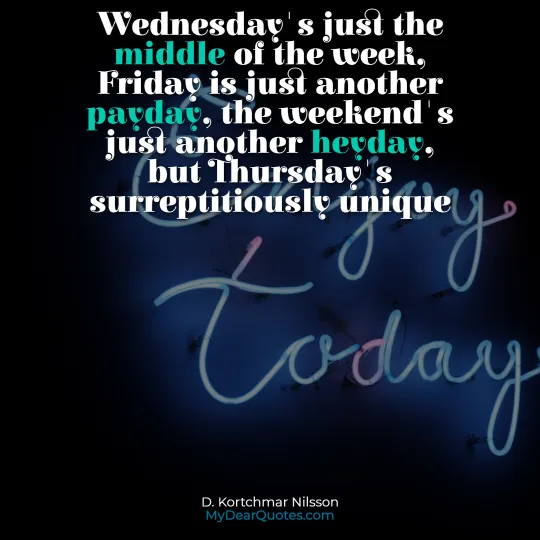 Wednesday's just the middle of the week, Friday is just another payday, the weekend's just another heyday, but Thursday's surreptitiously unique | D. Kortchmar Nilsson
---
On Mondays, Wednesdays, and Fridays we use the wave theory; on Tuesdays, Thursdays, and Saturdays we think of flying energy quanta or corpuscles | William Henry Bragg
---
And whether it is Thursday, or the day is stormy, With thunder and rain, or the birds attack each other, We have rolled into another dream | John Ashbery
---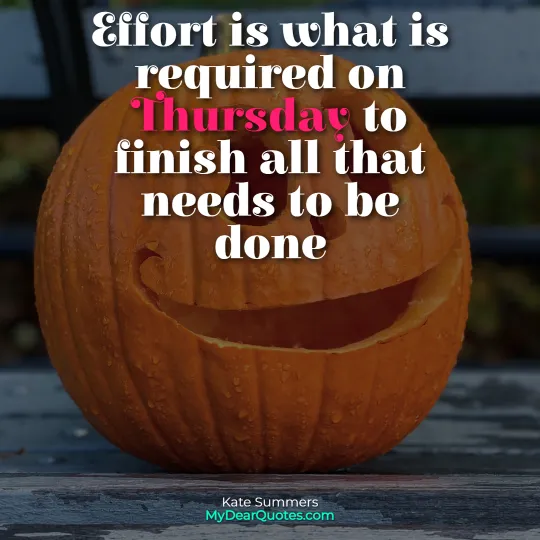 Effort is what is required on Thursday to finish all that needs to be done | Kate Summers
---
On Thursday noon I liked you well, And fondly felt that we must dwell Not far apart, whatever befell | Thomas Hardy
---
6 Hilarious Sayings Left
---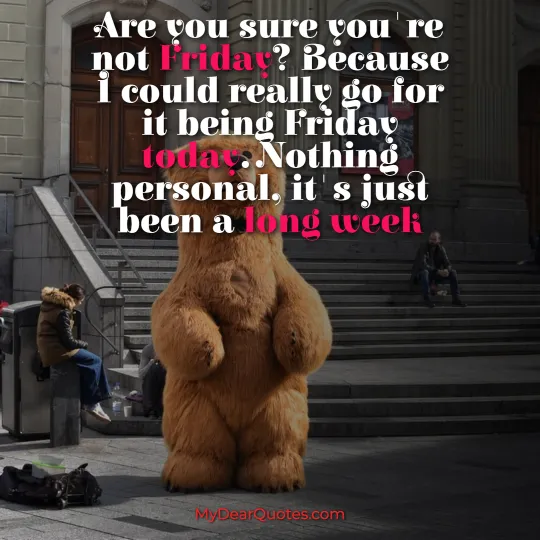 Are you sure you're not Friday? Because I could really go for it being Friday today. Nothing personal, it's just been a long week
---
OMG this is such a dull day. Hang on! I think I can see Friday on the horizon
---
Has it been a hard and challenging week? Just hold on for one more day
---
It's Thursday. Or as I like to call it: Day 4 of the Hostage Situation
---
It's punch in the face day. What? Yeah, it's Thursday
---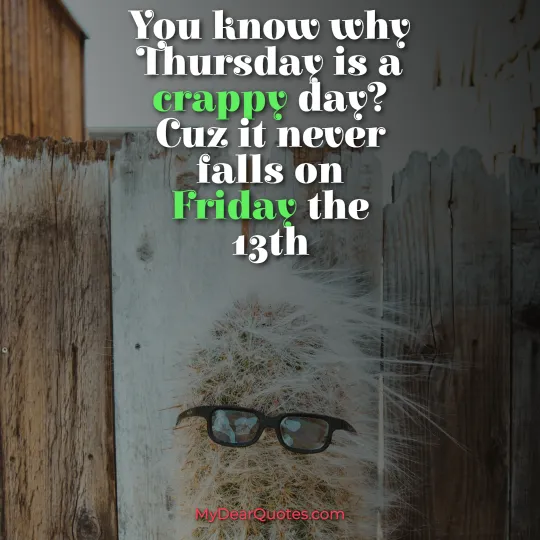 You know why Thursday is a crappy day? Cuz it never falls on Friday the 13th
---
---