29+ Anniversary Quotes For Husband
Heart-Warming Anniversary Quotes For Husband Complemented With 29 Beautiful Pictures. You Can Send These Images To Your Hubbie Or Share Them On Social Media. It's The Best Way To Start Your Anniversary Day. With some positive quotes For Your Man.
*If you are using our images on your website, make sure to put a link back to us. THX.
---
Why are anniversaries equally important as weddings?
A wedding is one of the biggest events in life. The days before the wedding are usually filled with parties, rehearsals, wedding dresses, cake tastings, preparations around the ceremony, and after-parties. Then comes the wedding day itself, with all its pomp. However, the wedding is just the beginning of a new phase in life, and a lot follows after the wedding itself. We bring you 6 reasons why a wedding anniversary is equal if not more important than a wedding:
Opportunity to remember the wedding day. Many couples invest all their energy in wedding planning – financially, physically, and mentally. They live for the day. After investing so much in the celebration, it makes sense to occasionally look back on it.
Why did you decide to get married? You can easily get involved in work, family responsibilities, and other daily tasks that take up all your time. Over time, couples who were in love over their ears fall into a daily rut and forget about each other. That doesn't mean love disappears necessarily, but the attention you used to give each other has shifted to something else. After a while, two people sometimes feel like they've separated, or even don't know each other at all. Life's worries and commitments are sometimes hard to put aside but you can always take a break and celebrate your wedding anniversary to remind yourself why you came together in the first place.
Create new memories. The celebration of a wedding anniversary does not have to move entirely along the path of remembrance. Try to think outside the box so you can spice up your marriage with new memories. Plan a date by doing something you two have never done before, or come up with a unique gift for your spouse.
Opportunity to set goals. Some couples are organized in setting goals regularly, but many think only about financial or business goals. Other goals that are not necessarily material in nature are also very important in relationships. If setting goals for your marriage is not part of your usual routine, an anniversary can provide the perfect opportunity to think about which direction you want to develop your marriage.
An excuse to do something fun. If you feel like you rarely go out together and do something exciting, a wedding anniversary is a perfect excuse to get out of your routine and relax. Even if you go out regularly, another reason to celebrate is always welcome, right?
Experts say it's important. That's right: researchers have found that couples who celebrate important dates in their relationship stay together much longer than those who don't. You can do everything easily if it is your style. It is important that you respect each other and that your relationship feels special!
---
Happy Anniversary Quotes For Husband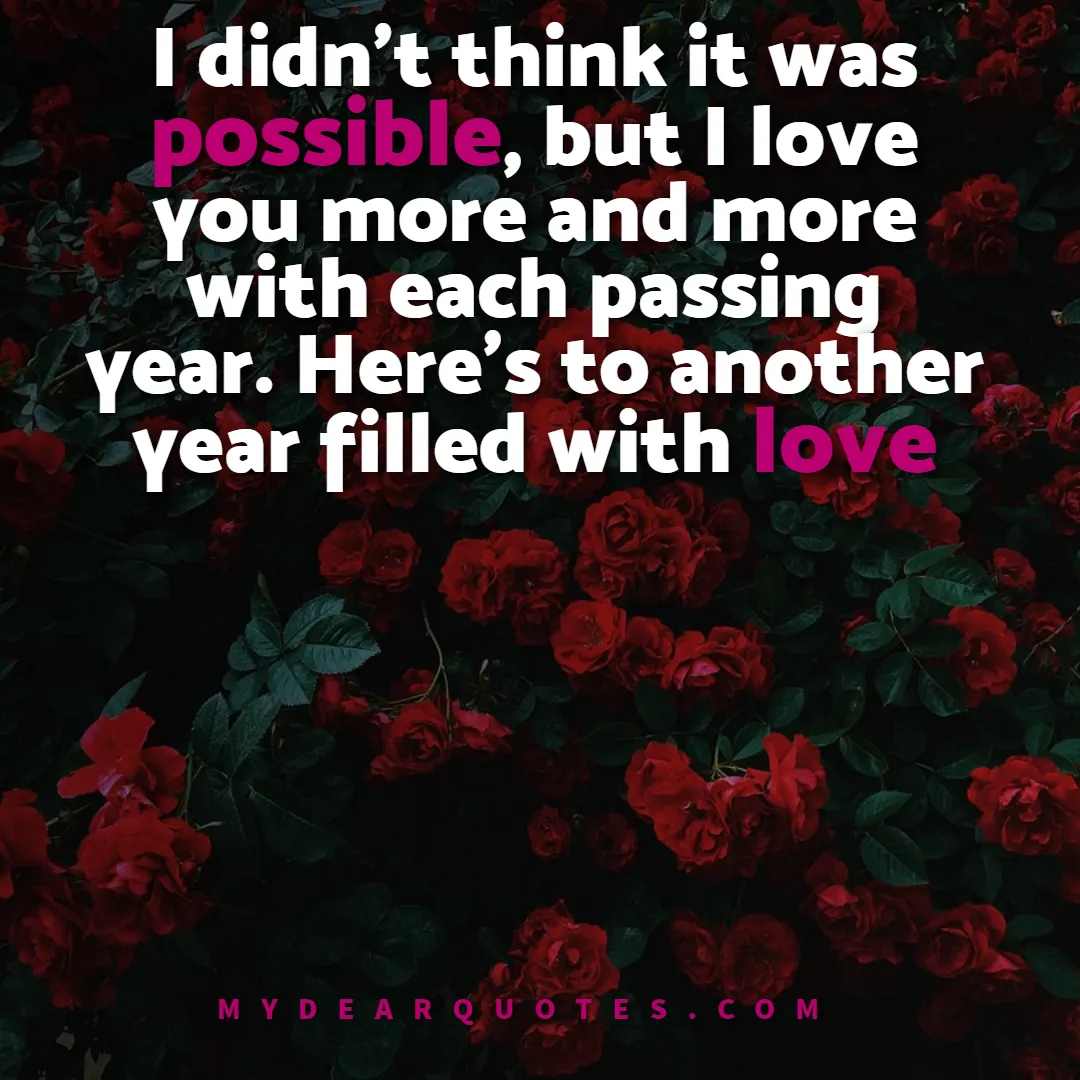 I didn't think it was possible, but I love you more and more with each passing year. Here's to another year filled with love
---
Sometimes I wonder how you put up with me. Then I remember, oh I put up with you. So we're even
---
The first year was magical, the rest will be the same too… I cherish the warmth of being wrapped, in the love given by you
---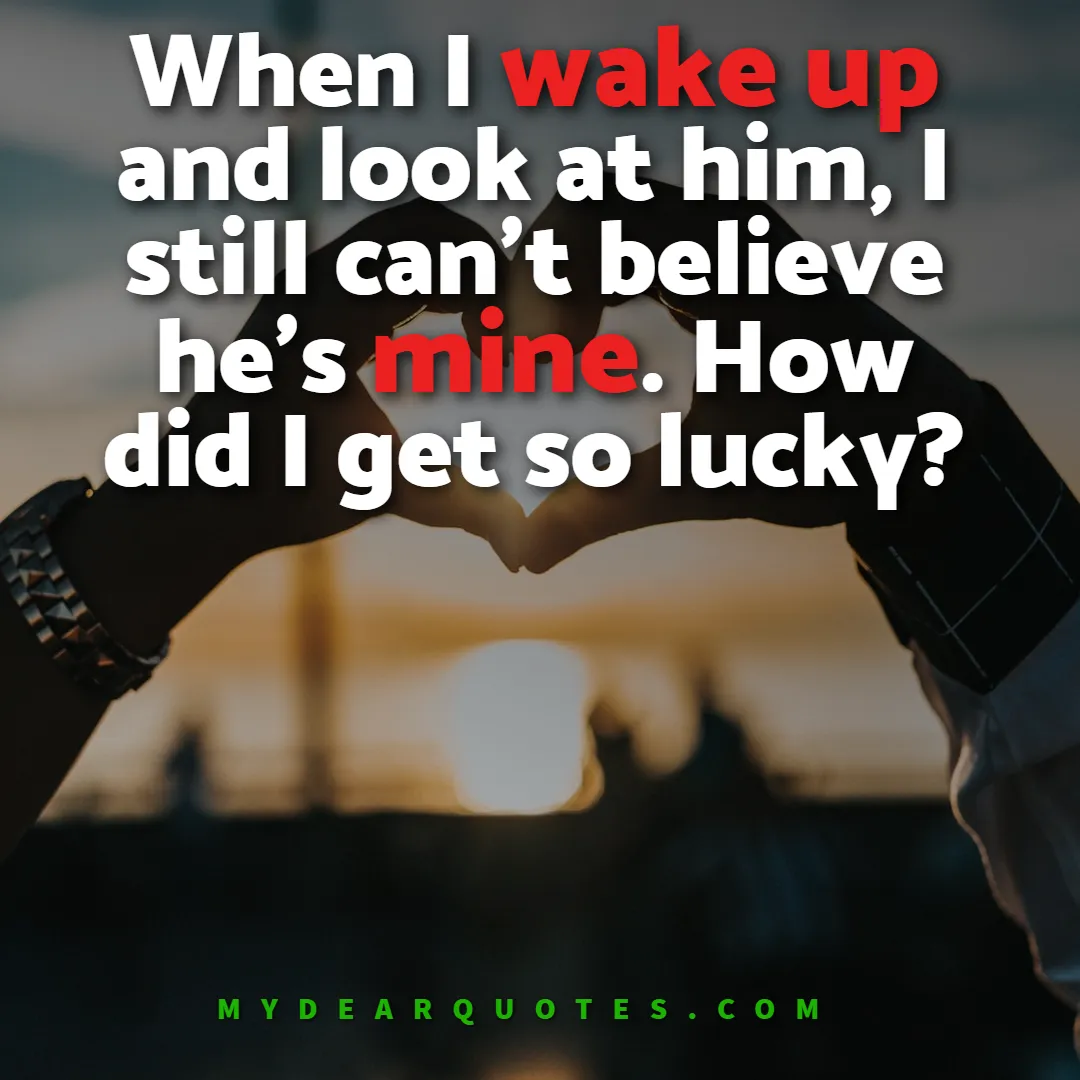 When I wake up and look at him, I still can't believe he's mine. How did I get so lucky?
---
You make me laugh even when I don't want to smile. Happy anniversary my sweet Husband
---
Happy Anniversary, Husband. It's another milestone of our happily ever after. Thank you for all the love and special care!
---
Happy anniversary dear husband! Life wouldn't be so wonderful If you weren't there to hold me up every time I fall
---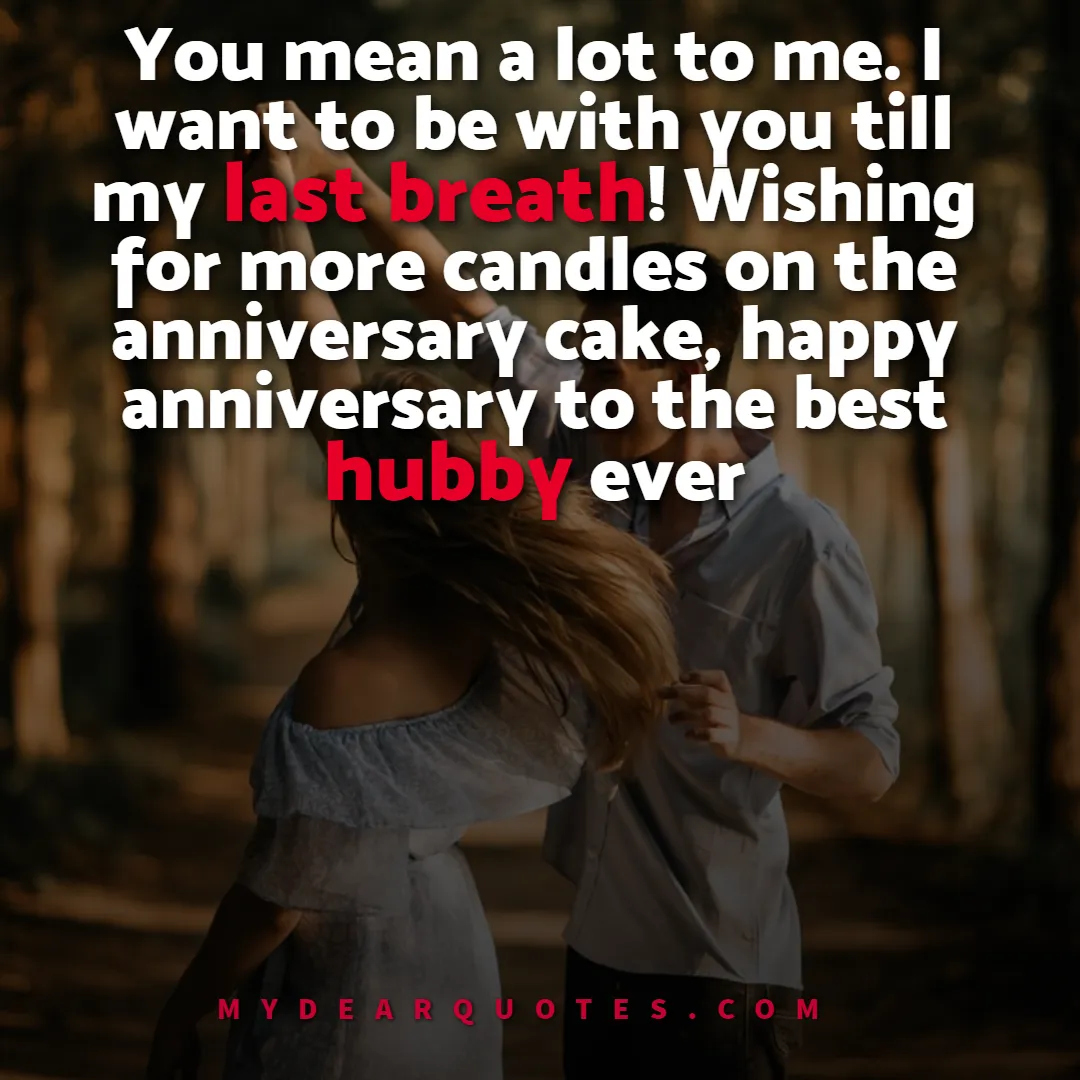 You mean a lot to me. I want to be with you till my last breath! Wishing for more candles on the anniversary cake, happy anniversary to the best hubby ever
---
Loving Anniversary Message To Husband
---
Sweetheart, you are the man of my dreams! I love you so much. Happy anniversary
---
My dear, you are truly my other half! I love every little thing about you. Happy Anniversary to you
---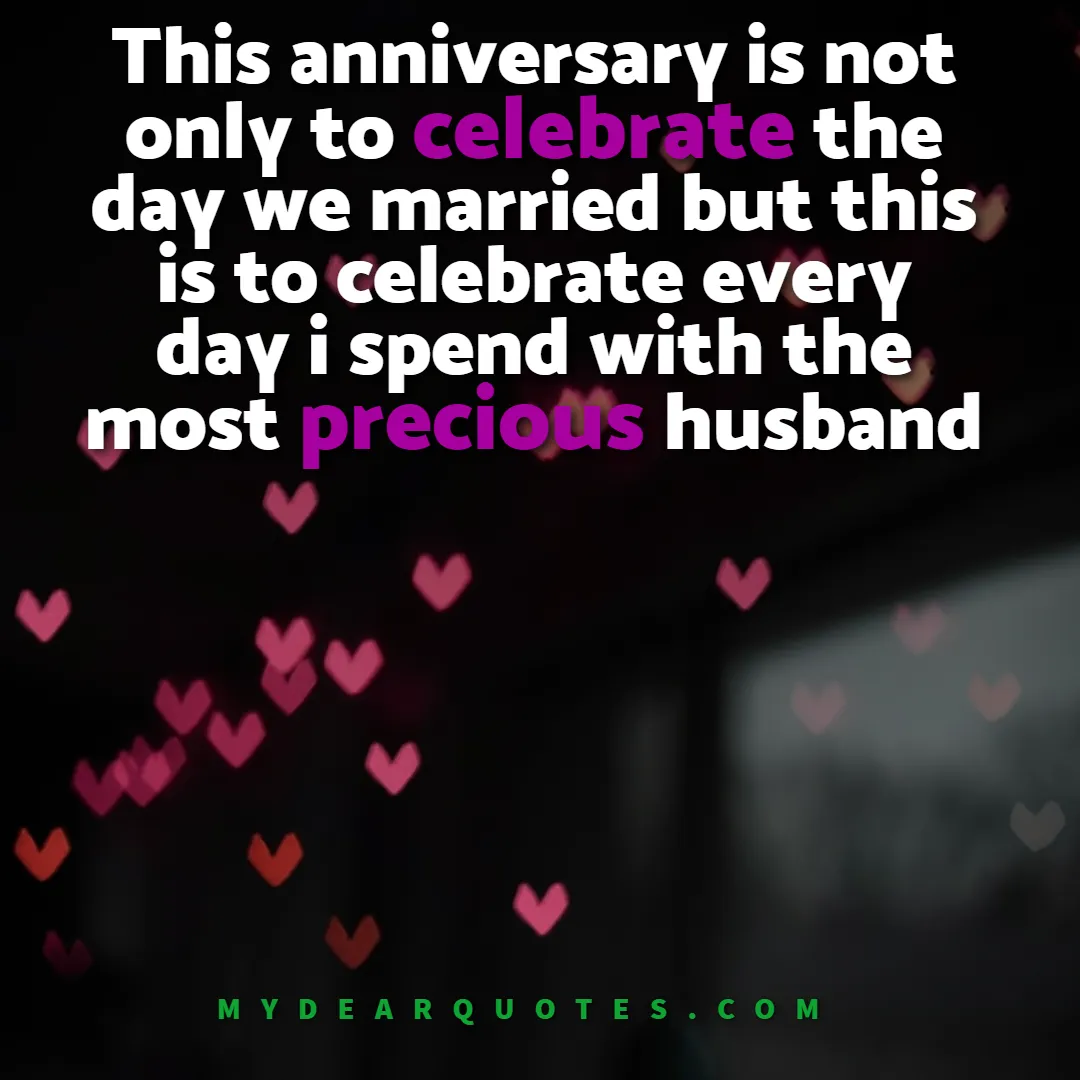 This anniversary is not only to celebrate the day we married but this is to celebrate every day i spend with the most precious husband
---
You are the man of my dreams, my soul mate and my idea of the perfect husband! Never ever change baby – you are a champion at loving me
---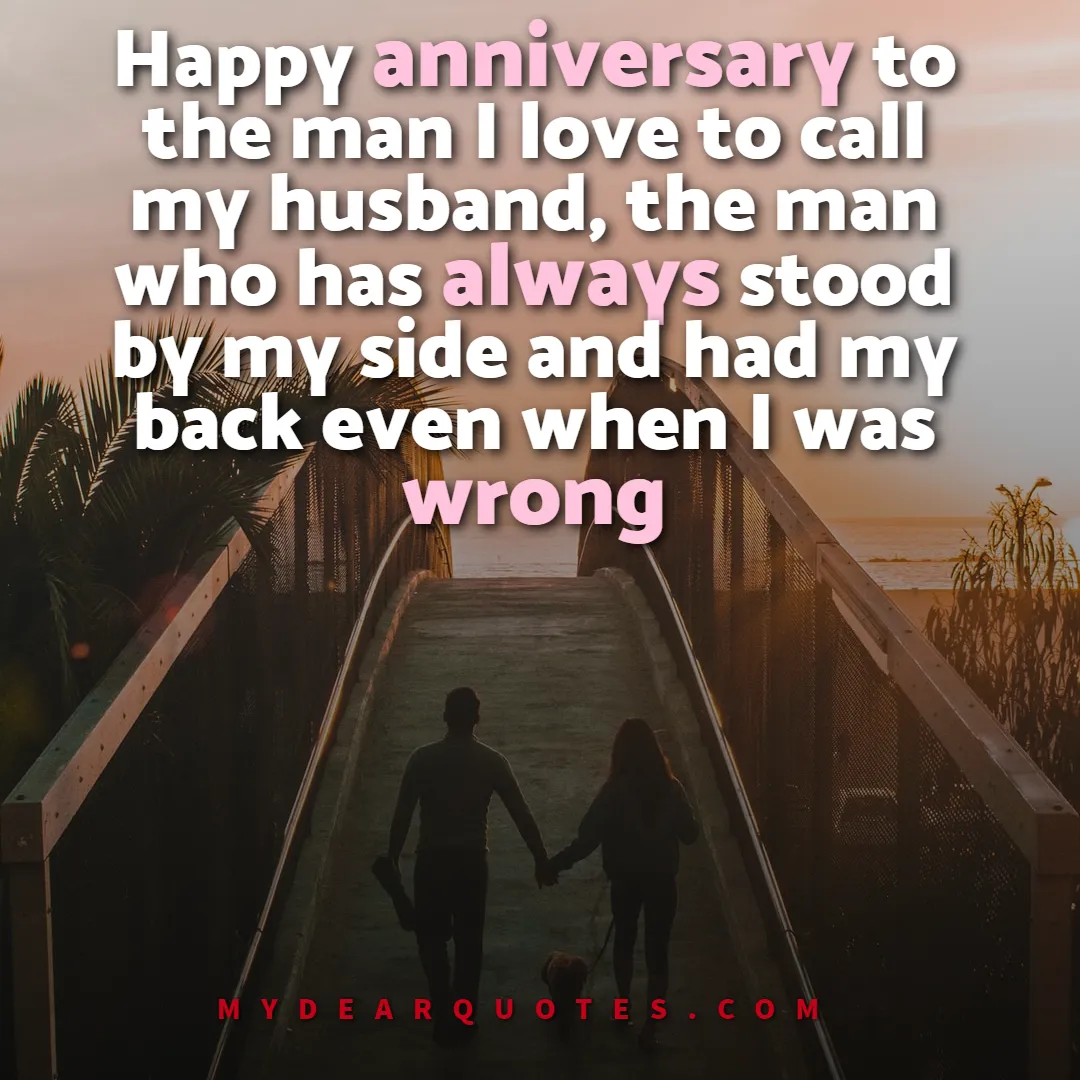 Happy anniversary to the man I love to call my husband, the man who has always stood by my side and had my back even when I was wrong
---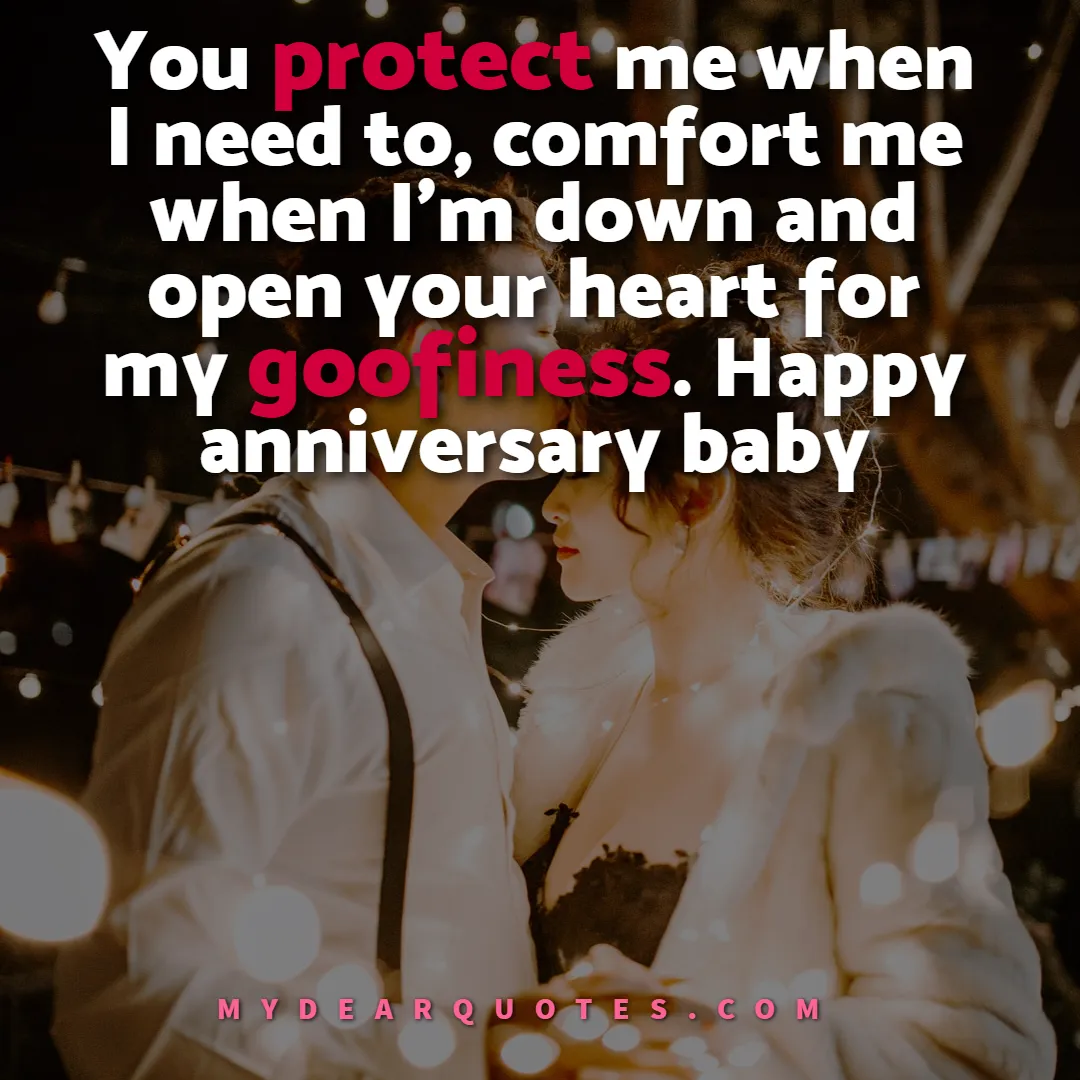 You protect me when I need to, comfort me when I'm down and open your heart for my goofiness. Happy anniversary baby
---
The best thing that ever happened to me was meeting you and then falling in love with you
---
Tender Sayings For Your Husband
---
Thank you for being my best friend, my lover, my husband, my soulmate, my superhero. Happy anniversary
---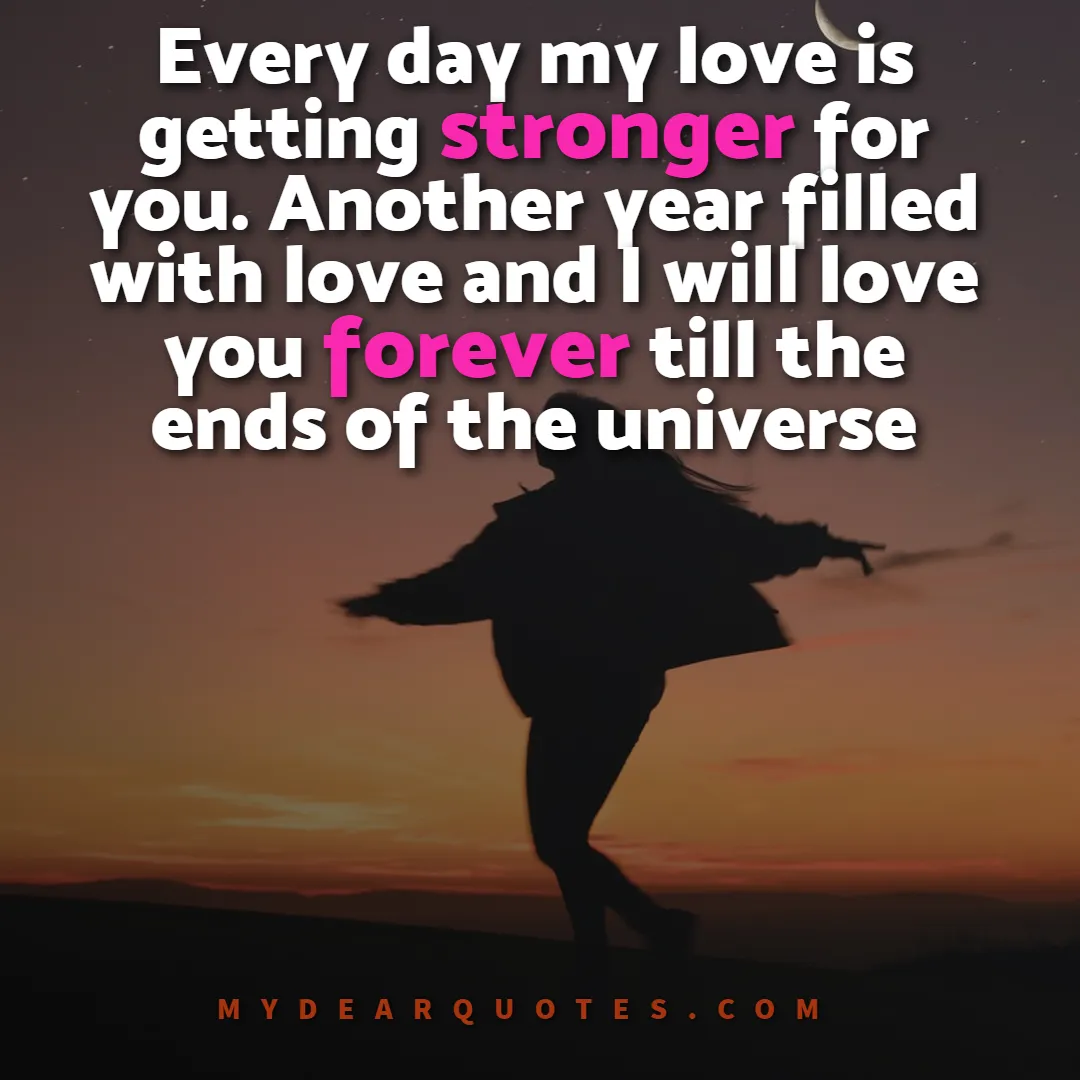 Every day my love is getting stronger for you. Another year filled with love and I will love you forever till the ends of the universe
---
My life has become happier and better with you, without you, I'm incomplete. Thank you for making me a disciplined and better person
---
I don't want our marriage to be perfect but as the best adventurous and memorable ride of my life that two people can have
---
Since day one we met, my all fairy tale dreams have come true. Thank you for everything. It is the best day of my life. I Love You and Happy anniversary to you, my hubby
---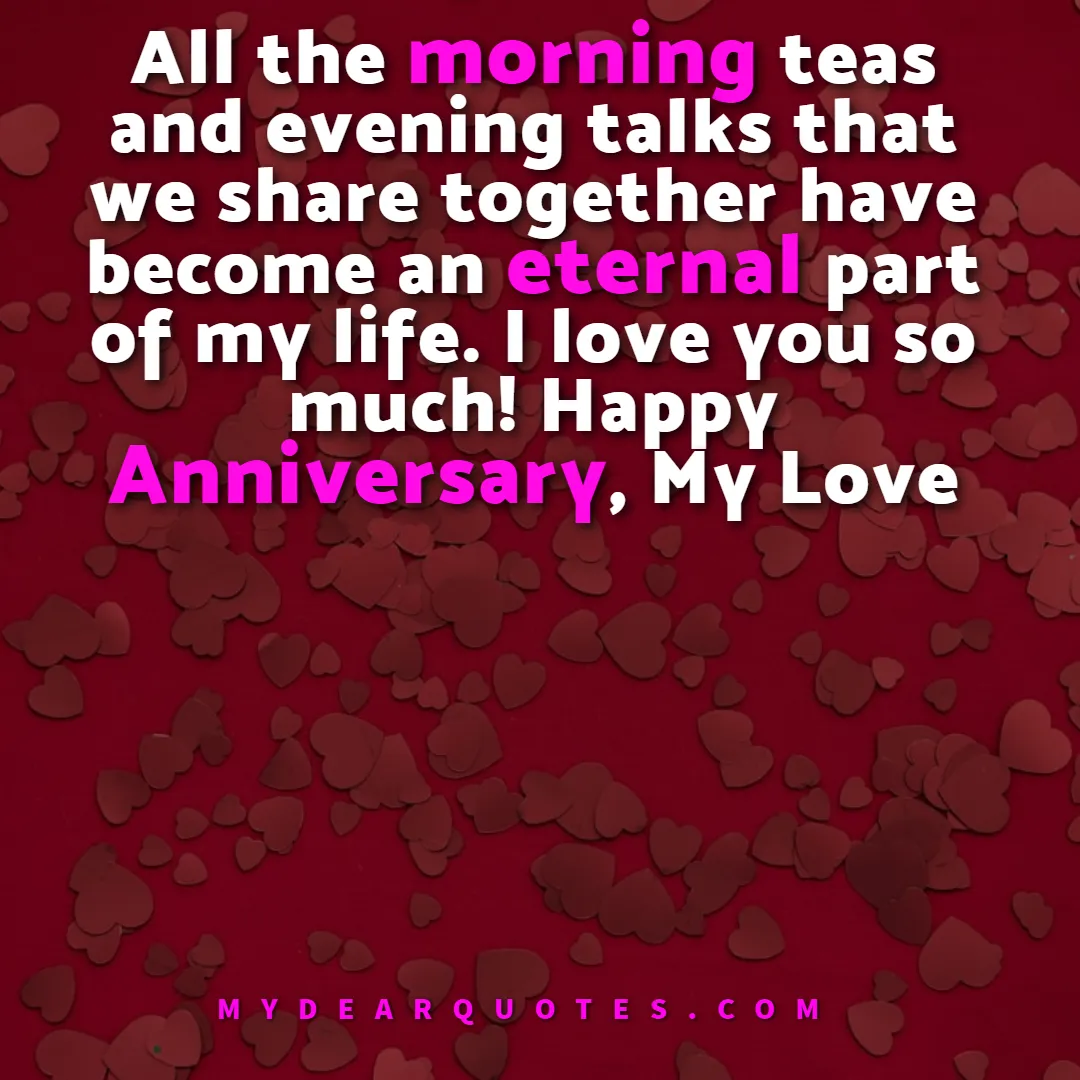 All the morning teas and evening talks that we share together have become an eternal part of my life. I love you so much! Happy Anniversary, My Love
---
With each coming Anniversary, the bond and connection that we share become stronger and better
---
Sweet Loving Messages Continue
---
Our wedding anniversary can be a momentary celebration, but our marriage is a lifetime one
---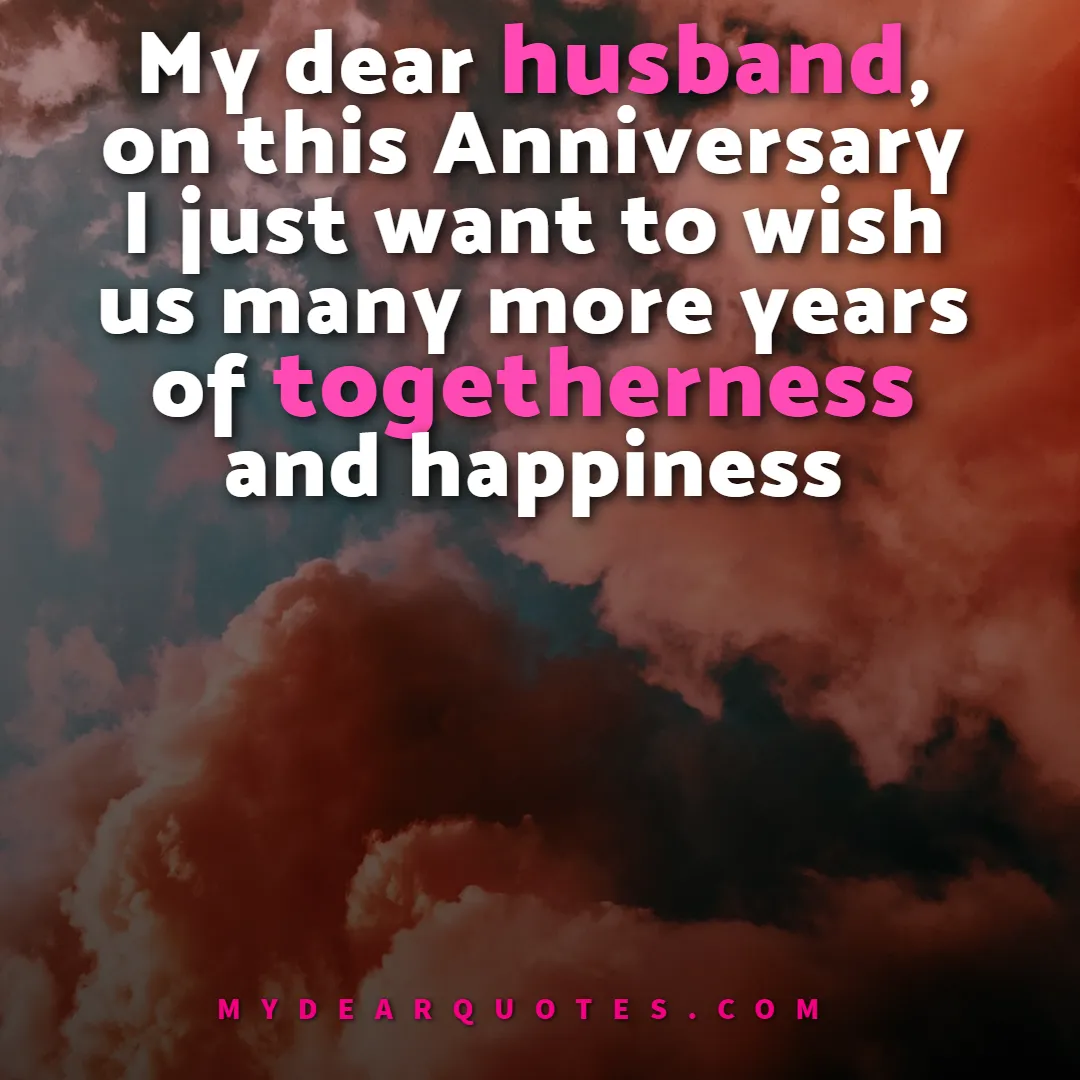 My dear husband, on this Anniversary I just want to wish us many more years of togetherness and happiness
---
You are everything for me. I love you. Happy Anniversary
---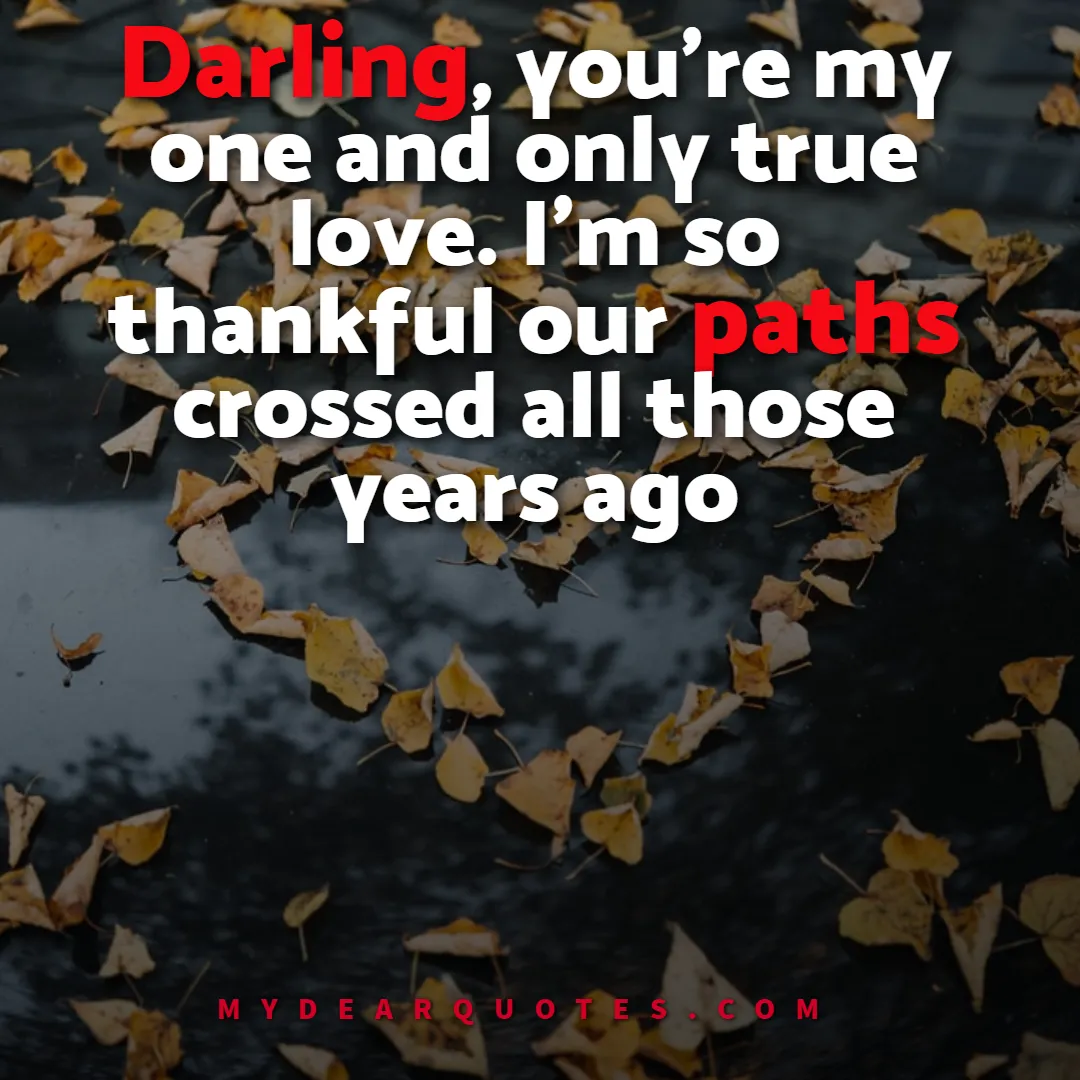 Darling, you're my one and only true love. I'm so thankful our paths crossed all those years ago
---
On our anniversary I can't wait until we can be alone and you can hold me close in your arms
---
Happy Anniversary to the man I love. Thank you for being my knight in shining armor! Love, your Princess
---
I want to thank you for being not only my husband but also my soulmate and the biggest supporter of me

If you enjoyed our Anniversary Quotes For Husband, hit that like and share button.
---
---